February 1 class.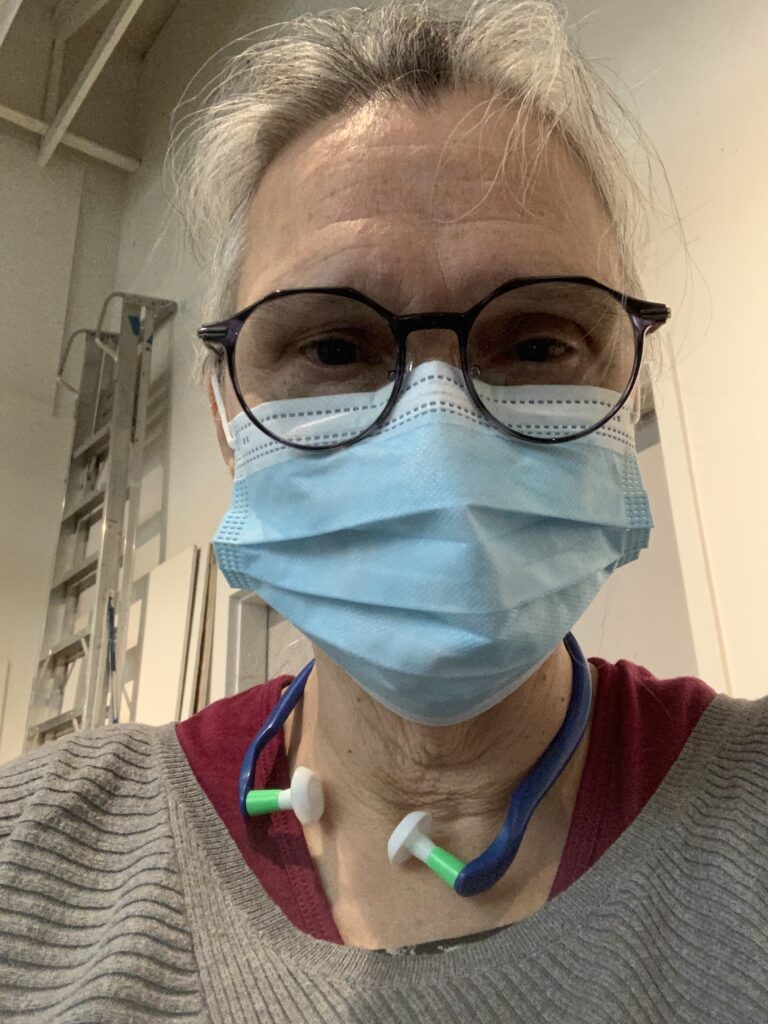 I went into this morning's class not feeling connected to either project from Unit 1 or Unit 2. I felt like I didn't have a good handle on what I'm supposed to do, and I think that's because when I start to think about either project, my imagination starts to wander off in many directions, possibilities.
Oh, yes, this is a familiar feeling, that free-floating above the earth, as if I am a helium balloon getting tossed about by air currents. Sometimes I even dip deeply and dangerously close to the earth, scraping my knees on reality. But I'm grateful for that; that's when a friend or family member feeds me a meal with vegetables in it, clucking disapprovingly at my tongue, stained red from cinnamon hearts.
While the others are watching the safety videos, I sit at my work station and review each of the assignments. To get connected, I have to read each word of each assignment again, underlining the key asks.
In my sketch book, I write:
Unit 1
multiples – sand, paint, embellish – minimum of five (so now I know the types of things I can do with my teeth)
document everything (okay, I can live with that)
some in-situ photographs (yes, good reminder; I can take my teeth places and photograph them)
Then I wrote the following two lists, and that is the end of my notes for unit 1. Clearly, while sitting in the studio, all these words and sentences were enough to convince myself that I know what to do next.
principles
balance
proportion
rhythm
variety
repetition
emphasis
unity
elements
line
plane
volume
mass
form
space
scale
texture
light
value
colour
time
And so, having re-read and written down these notes, I am ready to proceed with unit 1, next steps…
Unit 2 – Totally Differently (due April 12)
how can a material process and treatment invite us to see something totally differently?
Re-invention of the everyday; visioning unthinkable ideas.
And I recall when watching many of the videos, the idea of failure, or not measuring up, was a motivation for some of the artists…
The Uncanny
I watched a documentary (on Topic streaming service) about the artist …whose name I can't recall (updated – Penny Slinger). A feminist surrealist artist who made a film with her appalling male friend whose name I also can't remember (updated – Peter Whitehead)…and I can't find the film again (updated – Lilford Hall (1969) …but the point is, in the film, they attempted to depict "the uncanny". This particular female artist did this work with her collaborator in England, then moved to South America (?) (California) where she has lived a quiet life, mostly, but has worked as an artist and writer. The documentary was focused on the extreme importance of this early film as perhaps the quintessential surrealist film; but can I find it, or anything about it online? No. There was some connection between the male collaborator and Max Ernst. (okay I found it again and have updated this post…)
Move forward a couple of weeks, and I watched a series on Prime called "Little Fires Everywhere", in which one of the female leads, played by Kerry Washington (of Scandal fame), is an artist. In flashback scenes of her time in art school, her mentor (later to be her lover) is depicted as pushing the character to find the uncanny.
Searches of "the uncanny" online took me to London Freud museum and an exhibit about the uncanny.
the exhibit features artists like Martha Todd:
Elizabeth Dearnley:
https://elizabethdearnley.co.uk/
Lili Spain:
Karolina Urbaniak:
https://karolinaurbaniak.com/projects (in particular, photographs of Martin Bladh's self inflicted cuts)
Martin Bladh:
http://www.martinbladh.com/about
As I wander through these artists' websites and their works, I'm starting to get a better, and contemporary, sense of the uncanny. I see the connections between my interest in the human body and their work, some of which startles or even shocks me. But that's because it is uncanny…
A conversation with Angela Somerset provided me with access to Jeanne Randolph and Di Thornicross. Well, kind of. I've likely mispelled "thornicross" as I can't find anything about her. But what I've learned about Randolph so far is taking me into the territory where I'd like to explore.
Jeanne Randolph (also author of Psychoanalysis and Synchronized Swimming)
https://www.cliffeyland.com/asa04.html
https://umanitoba.ca/centres/ccwoc/writer_in_residence/JeanneRandolph.html
I'm looking for Randolph's essay, "The Amenable Object", but so far it has managed to elude being easily found online. Not to be found anywhere, and her books, when available for purchase, are more than $100…but I'm really curious to read her. She sounds and looks fascinating.
PROJECT OVERVIEW TOTALLY DIFFERENTLY UNIT 2
At the risk of taking myself down a rabbit hole from which there is no escape, I have chosen to explore the Totally Differently project by focusing on dolls. I feel as if this is not QUITE what the assignment is supposed to be about, as the assignment talks about material process and treatment as being the element(s) that are altered, but what I plan to do in my project is to take the idea and purpose of a doll, and subvert that by representing dolls in wood, metal and fibre.
At the same time as I made this decision, I started reading about dolls and their place in western culture; as toys, they are generally assumed to be either a positive or neutral presence in a child's life. As collectors' items, they tend to be seen as creepy, and doll collectors themselves seen as creepy, as are their collections seen to be creepy (see information about "the uncanny" above for details); the creep factor comes from, according to some writers, the expectation that a human body and face is accompanied by affect, emotionality, a personality. Dolls, however, have no affect, and demand that living humans provide the emotional content. In large numbers, emotionless and motionless dolls become even creepier. Attempts to make dolls more lifelike by giving them voices, softer skin, the ability to make sounds like burps or cries, or enabling them to make what look like voluntary movements, add to the creep factor rather than helping humans to respond to them more favourably.
For this project, I decided to use dolls as the basis for the subversion and what I am subverting is the observation that dolls are often used by young children as human-like friends who are responsive to the child's imagination and who are likely soft enough and pliable enough and safe enough to be put into their own strollers, taken in the child's bed, or hugged tightly by the child.
My project is perhaps a bit mean. I'm taking this type of doll, the type of doll that is safe and friendly to a child, and re-machining the doll into three different forms, none of which are particularly user friendly, using wood, metal, and fibre.
WOOD
For the wood portion, I plan to make FIVE 15-inch wooden dolls on stands. Each doll will have either small velcro strips on her body, or magnetic tape, whichever works best to hold the interchangeable clothes that I'll make for those dolls. This portion will be "interactive", in that the viewer can dress or undress the dolls with the clothes provided. However, the wooden dolls are not "cuddle friendly", and their clothes will not be either.
Update Feb 13: I've made more than 10 wooden figures, not all "dolls". I've decided to make a small wooden Scottish Maiden to include with my doll display. Originally when the idea appeared to me, it appeared as a guillotine, but when I started reading about the guillotine, I learned about the Scottish Maiden, and given my roots, I thought that would be a good path to follow. Dark, I know, and I'm not sure why I'm going down this path, but likely has something to do with humanities' dark side. We are dark, we are light, we celebrate, we urge love, and we destroy. it's all there. I haven't completely worked through my own darkness, I guess.
Scottish maiden:
https://www.nms.ac.uk/explore-our-collections/stories/scottish-history-and-archaeology/the-maiden/
An overview of shadow puppetry (lots of good information here)
Adhere and Deny
About Grant Guy: Guy's object/puppet designs are unique creations that include inked-faced figurines made from toilet paper rolls, toy puppets composed of wood, yarn and buttons, sculpted rocks, glass jars filled with sand, handcrafted matryoshka dolls, and assemblages of domestic objects functioning as performance sculpture.
http://www.canadiantheatre.com/dict.pl?term=Adhere%20%26%20Deny
Adhere and Deny is transitioning from a theatre company to a special projects company; it's interim name is The Circus of Objects.
Canadian Academy of Mask and Puppetry
Heinrich von Kleist's quintessential essay "On the Marionette Theatre".
https://southerncrossreview.org/9/kleist.htm
Marionettes
Images of Puppets on strings
https://www.dreamstime.com/photos-images/puppet-strings.html
Puppets in Prague appears to be a good resource for traditional marionette-making and includes instructions for stringing marionettes.
https://www.puppetsinprague.eu/instructions/stringing_puppet.html
METAL
Using the scraps of sharp metal found in the waste bin in the shop, I will create ONE extremely unfriendly metal "doll". Child must beware of handling, and the doll would not pass any safety tests.
Update Feb 13: As I re-emerge into this project (I love long term projects, as my imagination has time to wind through and act on different possibilities and I'm learning so much from this opportunity), I've imagined a possibility for the metal doll. I've got the head started, using welding wire, and I keep thinking what I've heard Angela say a few times now: something like making sure that any element added to a sculpture does not distract from the properties of the sculpture…so, that seems different from assemblage, where each element added (in the assemblages I've done) is designed to complement and disrupt at the same time. This is different. Only add what will enhance the flow of the piece; take away what disrupts. I think this is an important principle of design.
So, for the metal "doll", I will get some fairly strong elastic and create an internal mechanism for the doll that will mean that the doll's arms, legs, hands, feet, and neck will all articulate to some extent, using the tension of the elastic to ensure that the pieces return to a resting state after being pulled or bent. I'll look on the internet to see what I can find, but what I'm finding with this project over all is that I am being drawn to things that move: the guillotine, the elasticized doll, and I am also thinking about wooden puppets now, and have started to imagine a "stage" of my own making, where these dolls and other figures I make could act out a theatre of the absurd type of drama…using my big wooden rabbit as a kind of centre piece, or "god" type of character. Hmmm. That reminds me…I'm also thinking of building a "float" for the big wooden rabbit so that it can be pulled around on by a string…diagrams to come. My brain has been resting, but I woke up this morning with the ideas coming together, so now it's time to pull some of this together so that I have time for another rest period and more creating…maybe two or three more cycles until the end of the project?
Okay, there is such a thing as "doll stringing elastic".
https://www.etsy.com/ca/market/doll_stringing_elastic
FIBRE
This component is the least thought through, but at this point (Feb 5) my plan is to create a "string doll" from the pieces of polypropolene rope that I have collected from the beaches of the Comox Valley, mostly at Goose Spit and the far end of the Air Park.
String dolls are common in Thailand, apparently, but all I can find is a commercial website about how the Thai string dolls are fair trade. See website just below. More information is needed here, but if I go ahead with this project, then I will need to collect quite a bit more rope, and because I'm using rope to make a doll and not string, it will be much larger than the Thai dolls. Also, the Thai dolls actually use a soft string; the rope found on the beaches is both dirty and scratchy, not appealing as an item to hug.
More needed/more to come on this.
Update Feb 13: rope dolls.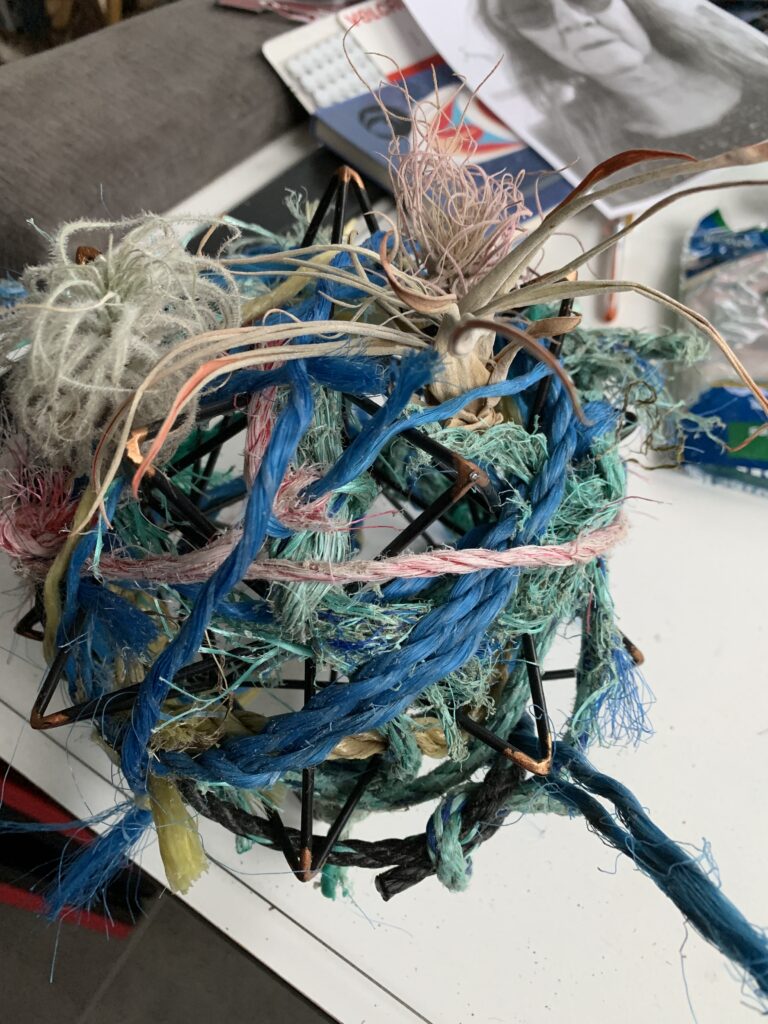 Voodoo dolls: (not sure how far to go there, but it's worth including now in case I want to return)
https://www.learnreligions.com/are-voodoo-dolls-real-95807
next up:
articles about dolls:
Avant-garde dolls: Marie Vassilieff's portrait-dolls and the rise of a new aesthetic genre.Authors:Richard, Julie, richard.julie6@gmail.comSource:Sculpture Journal; 2019, Vol. 28 Issue 2, p193-210, 18p
Abstract:This article studies the 'portrait-dolls' of the French-Russian artist Marie Vassilieff, active in Paris between the world wars. She made puppets that represented many famous artists of the École de Paris during the interwar period, many of which were presented in several exhibitions, many organized by her patron, the French fashion designer Paul Poiret (1879–1944). The article argues that Vassilieff created a new genre of portrait sculpture, which functioned as effigies, mementoes and decorative artefacts for the interwar Parisian avant-garde. Her portrait-dolls belong to the history of avant-garde puppets and marionettes, used in the performances of Sophie Taeuber-Arp and Hannah Höch among others, but also served a primitivist interest in the magical and uncanny character of figurative toys. [ABSTRACT FROM AUTHOR]
http://ezproxy.nic.bc.ca:2048/login?url=http://search.ebscohost.com.ezproxy.nic.bc.ca:2048/login.aspx?direct=true&db=aft&AN=139519286&site=eds-live
the ontogeny of dolls: materiality, affect, and self in afro-cuban espiriti…
http://ezproxy.nic.bc.ca:2048/login?url=http://search.ebscohost.com.ezproxy.nic.bc.ca:2048/login.aspx?direct=true&db=aft&AN=137032428&site=eds-live
The American Girl: Playing with the Wrong Dollie?
http://ezproxy.nic.bc.ca:2048/login?url=http://search.ebscohost.com.ezproxy.nic.bc.ca:2048/login.aspx?direct=true&db=hus&AN=119499151&site=eds-live
Article about "reborning" called "Playing with Dead Things"
https://pianob.unibo.it/article/view/6635
"Are Dolls Real"
http://ezproxy.nic.bc.ca:2048/login?url=http://search.ebscohost.com.ezproxy.nic.bc.ca:2048/login.aspx?direct=true&db=a9h&AN=5260924&site=eds-live
Bauhaus Theater of Human Dolls
http://ezproxy.nic.bc.ca:2048/login?url=http://search.ebscohost.com.ezproxy.nic.bc.ca:2048/login.aspx?direct=true&db=hus&AN=505037915&site=eds-live
You Play With Dolls
http://ezproxy.nic.bc.ca:2048/login?url=http://search.ebscohost.com.ezproxy.nic.bc.ca:2048/login.aspx?direct=true&db=edo&AN=116629168&site=eds-live
PAPER DOLLS
History of Paper Dolls
https://www.womenshistory.org/articles/history-paper-dolls-and-popular-culture
This next link goes to University of Chicago photographed archives of paper dolls and paper clothes. Fascinating.
https://www.lib.uchicago.edu/e/scrc/findingaids/view.php?eadid=ICU.SPCL.PAPERDOLLS
the following link to a children's book not related to paper dolls…an archived book about Little Fanny, from 1825
http://fsu.digital.flvc.org/islandora/object/fsu%3A476496#page/Page+8/mode/2up
some contextual background to
"dolls" explaining why I'm drawn to representing dolls for unit 2
YARN DOLLS
As a child, I used to make yarn dolls with the scraps left over from my mother's knitting. I loved them, and I loved that I could create a doll so quickly from bits of yarn. Very easy to make.
set design
http://www.laurencefuller.art/blog/2015/7/12/david-hockney-all-the-worlds-a-stage
Rope and Knots
A short history of rope:
https://www.lowtechmagazine.com/2010/06/lost-knowledge-ropes-and-knots.html
an introduction to knots:
https://www.lowtechmagazine.com/2010/06/how-to-tie-the-world-together-online-knotting-reference-books.html