CONTEXT in which I explain/remind myself of the history that is behind my current direction in unit 2
A few years ago I discovered that the barn on my property was filled with "things" that I had been collecting for several years (20 years). These things included art supplies: paints, pencils, canvasses, paper. But they also included dolls, tissue paper, glue and glue guns, photo frames, tiny furniture, chests of drawers, string, ceramic figures…
I think, in retrospect, that the collection of things was my way of "mentally ordering" myself? As long as I continued to collect these things that might some day have a use, there was a deep part of myself that was satisfied.
When I opened the barn door in 2016, I found these things packed away in boxes, stacked in corners, piled up behind old chairs. Well, there was even an easel or two, a wood-burning set, large canvas tarps.
I asked an artist friend how I should use these things. She told me just to start doing stuff.
So I did.
On this page are a series of photographs of some of the assemblages that I made between 2017 and 2019. I'm including them here because I think they provide some context for the work of Unit 2 of FIN 131, and to provide a record. I have a few others that I have not photographed, but when I moved from my house and barn into a condo in 2018, I literally "opened the barn door" and invited friends to take what they wanted. So some pieces have gone to other places. And some have fallen apart, and some deliberately dismantled and thrown away. But the photographs here represent most of what I have left.
I'm hoping that this stage of the project of unit 2, as I re-photographed and upload the images here, will also be instructive in my creative process.
I think I should start with a painting, though, because in retrospect, it's probably the beginning of my working with dolls.
I'm not sure when I actually started this painting, but I'm sure that I began working on it again in 2015, when I opened the barn door.
This is a 16 x 20 inch acrylic painting on a stretched canvas which has been glued to the back of another slightly larger canvas, and a braided cord glued to the join where the two canvasses meet.
I recall working on this painting in the barn, and becoming extremely agitated with the process of the painting, because I couldn't do what I wanted to do. So I slashed the painting and decided to put one of the dolls that was lying around into the slash.
I had not yet removed her clothes, so before I put her in, I cut off the clothes from the right side of her body to reveal the workings beneath. I imagined that this figure was bursting through the limitations of the flat plane, and good for her. I was quite proud of her!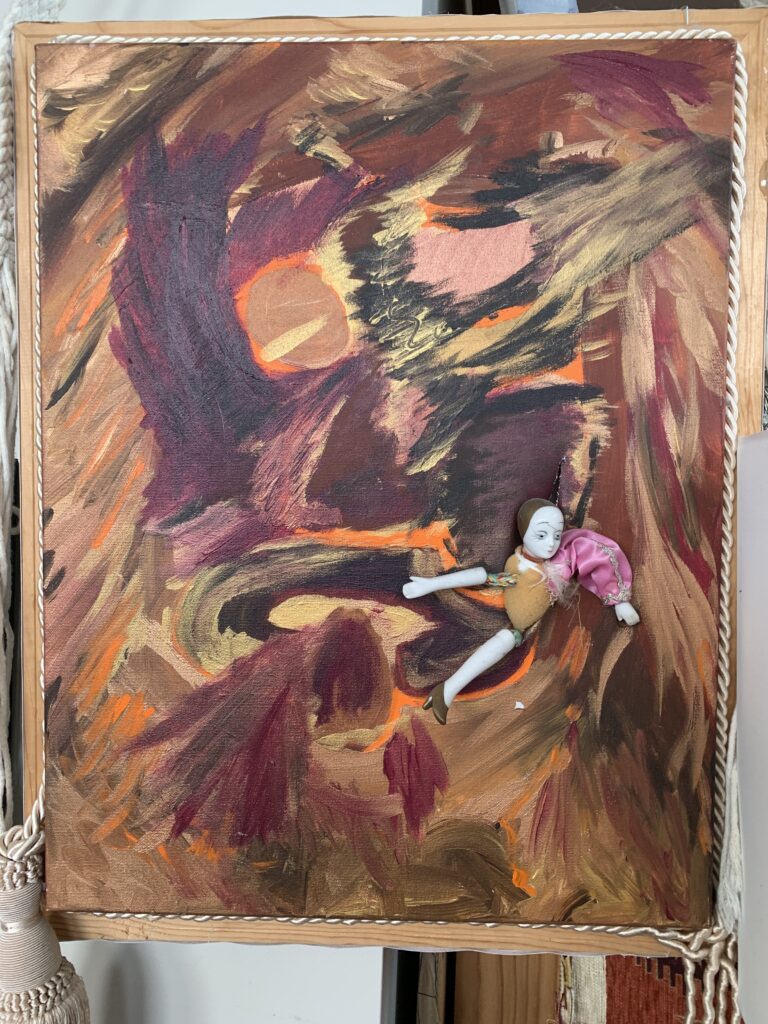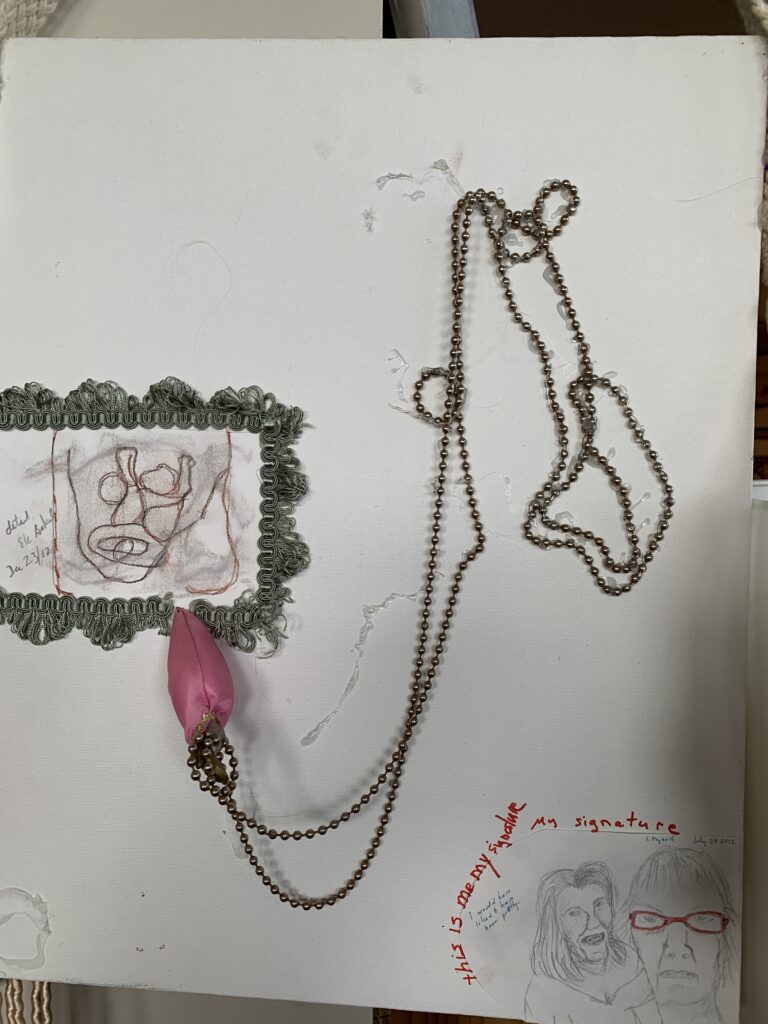 This is the back of the painting. I'll start with the figure, whose leg, stuck in the canvas, is still clothed and is chained to the flat canvas with a chain that I had found on the road. The chain is glued to the canvas.
But, back to the image that had led to the painting in the first place. On the left of this photograph is a small diagram dated December 23, 2002 and inscribed with the words Ek Bakal. I had drawn this small sketch on a trip to Mexico, using a small sketchbook that I had taken with me. (for years I traveled with sketchbooks, but seldom used them, because I didn't really know what to do…). It's one of the few sketches I had done while in Mexico, and the painting uses the shapes of the sketch as its basis. Ek Bakal at that time anyway was an infrequently visited site; we had to drive down some pretty rough dirt roads to get there, and were the only ones at the site. This face, and others, were carved into the rock.
Here is a close-up of the sketch.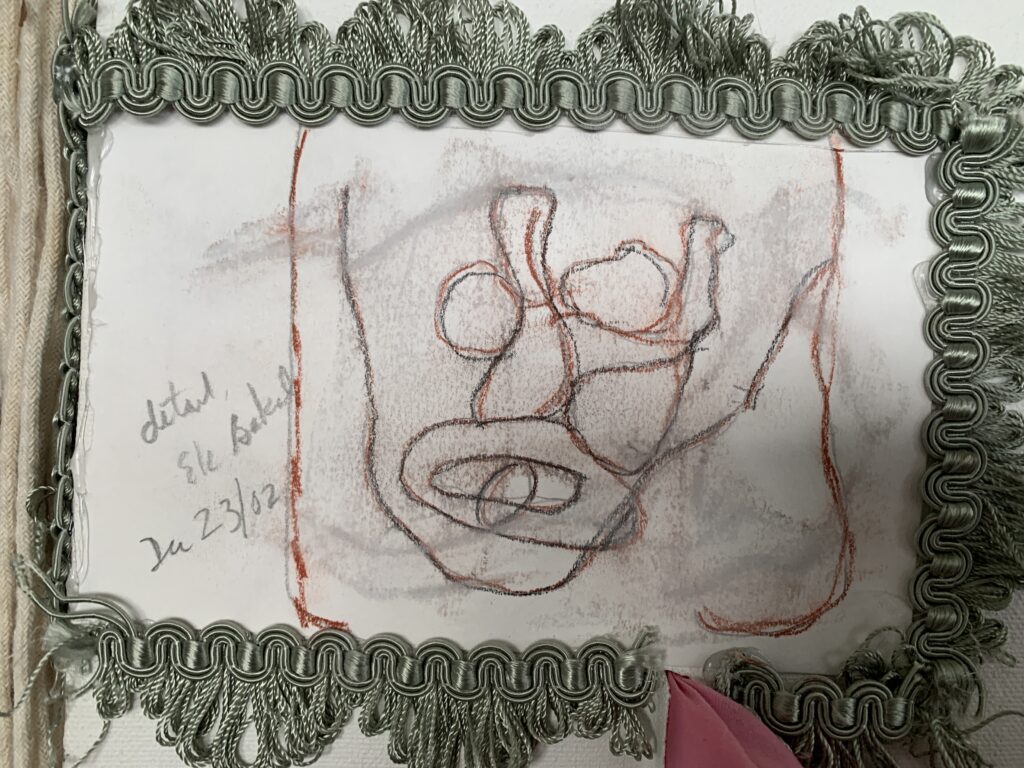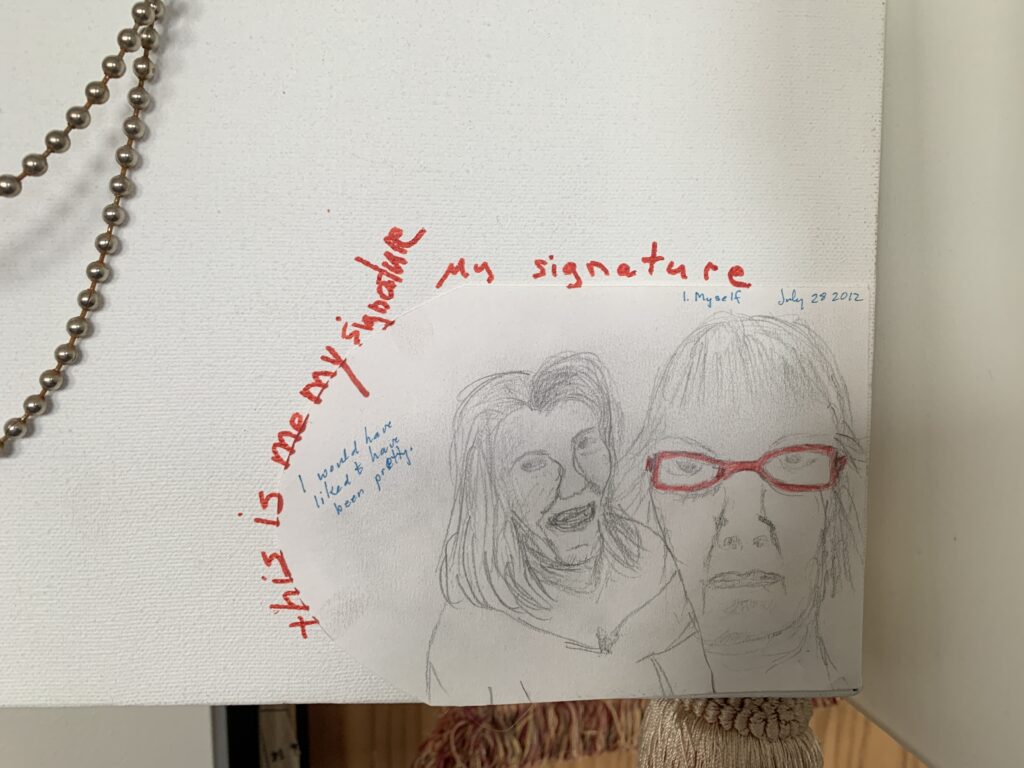 And here is my "signature" sketch, drawn in another sketchbook in 2012. I cut it out of the sketchbook and glued it to the back of this painting. I added the red words at the time of glueing it to the back of the painting.
I really didn't have any sense of what I was doing other than wanting to somehow make sense of life and my self. In 2012 I was on the verge of turning 60, and although I don't consciously worry about that sort of thing, I think that in my self I am aware of that self who is adding years to her life, and I feel intensely curious about that process.
I showed this piece to a friend in Alberta, and she immediately wanted to buy it, and I immediately could no longer work on it, so it remains unfinished and I had to tell her I couldn't sell it to her.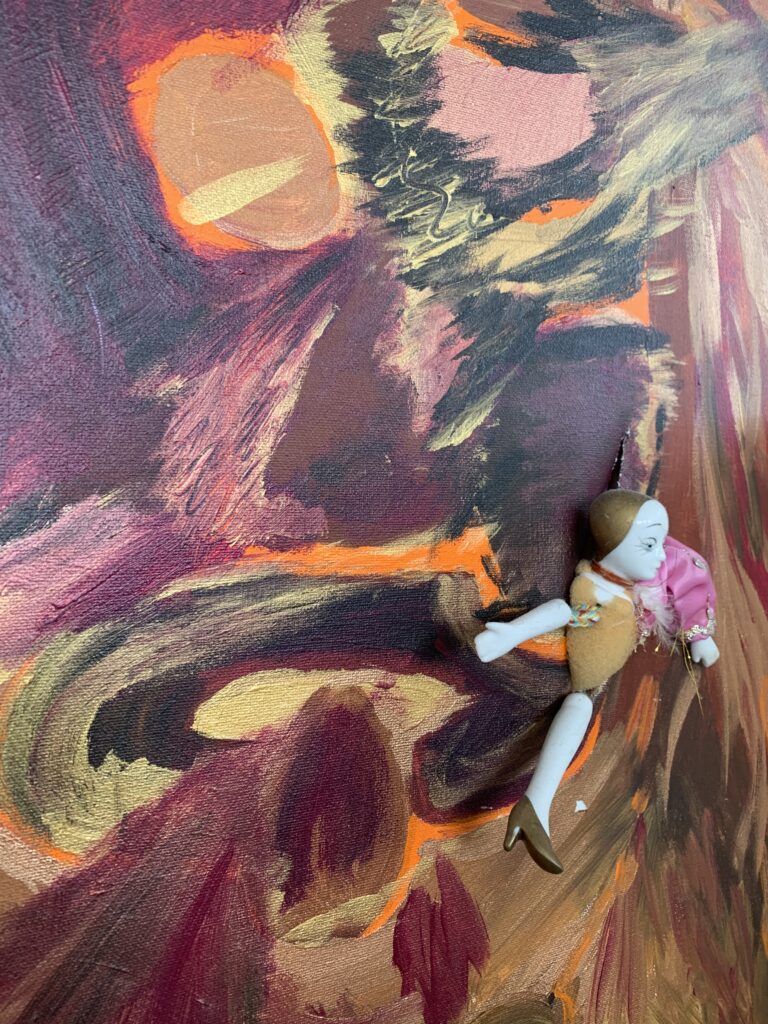 And that is the beginning of the story behind my interest in dolls.
And now for the assemblages…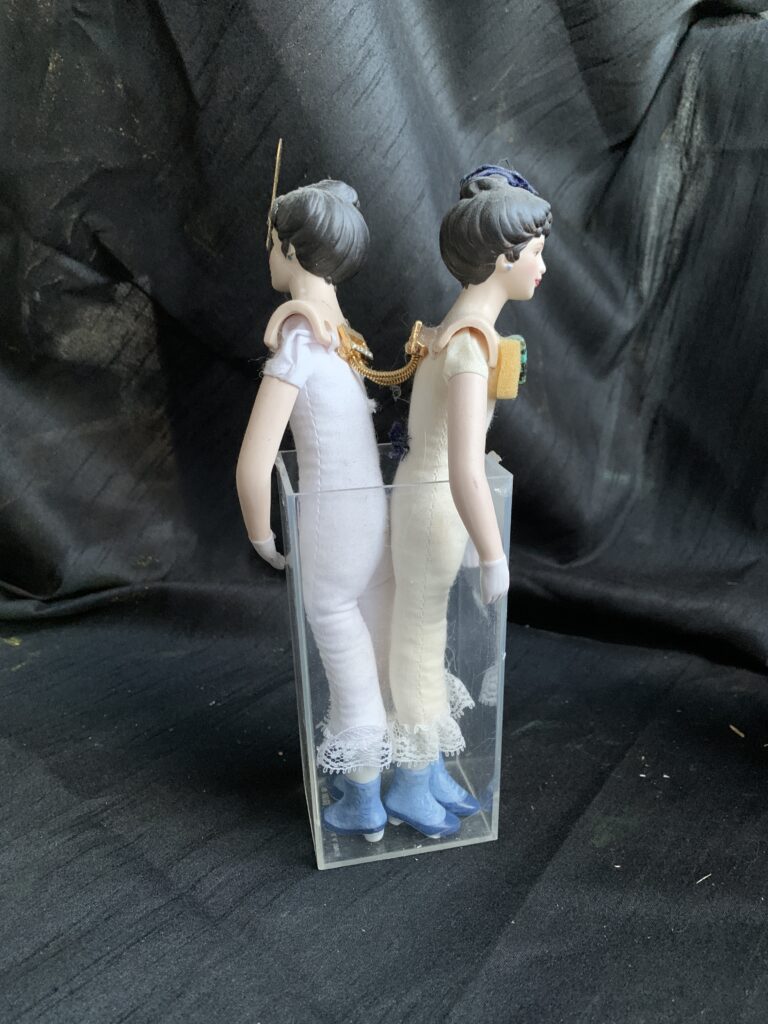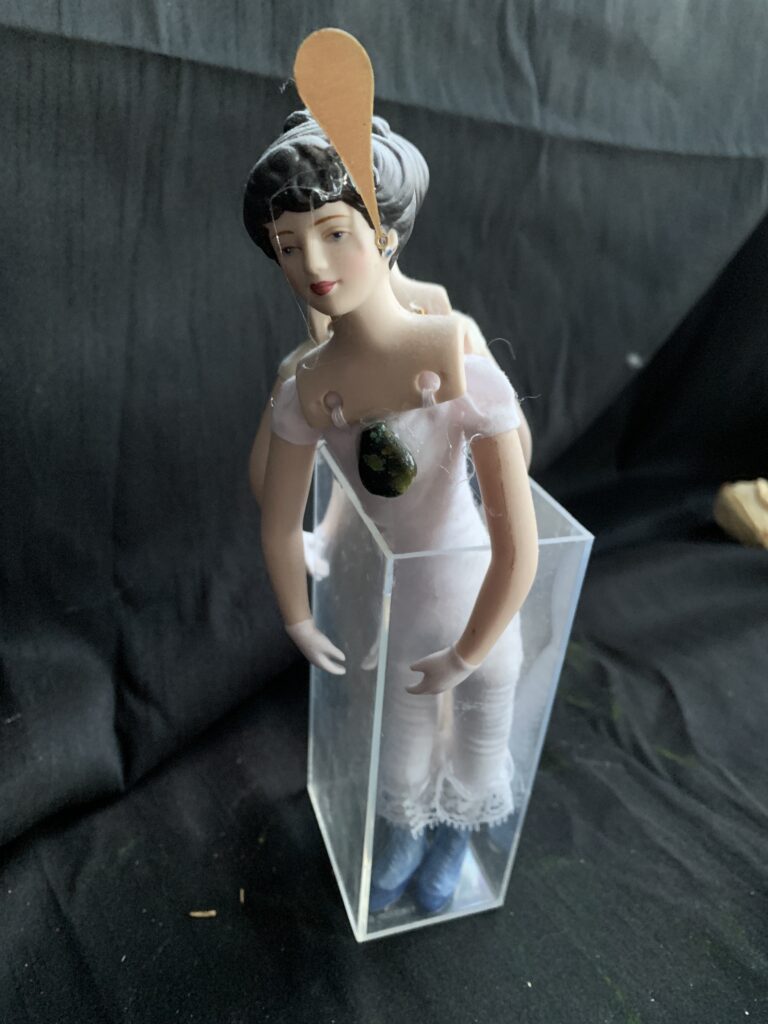 I didn't care about/worry about the glue showing. It seemed somehow part of the message of unclothing, making visible. I found two identical figures in a thrift shop in Campbell River and already had the plastic box. I used a clasp from an old piece of costume jewelry to join them at the back. They are connected, but cannot see one another.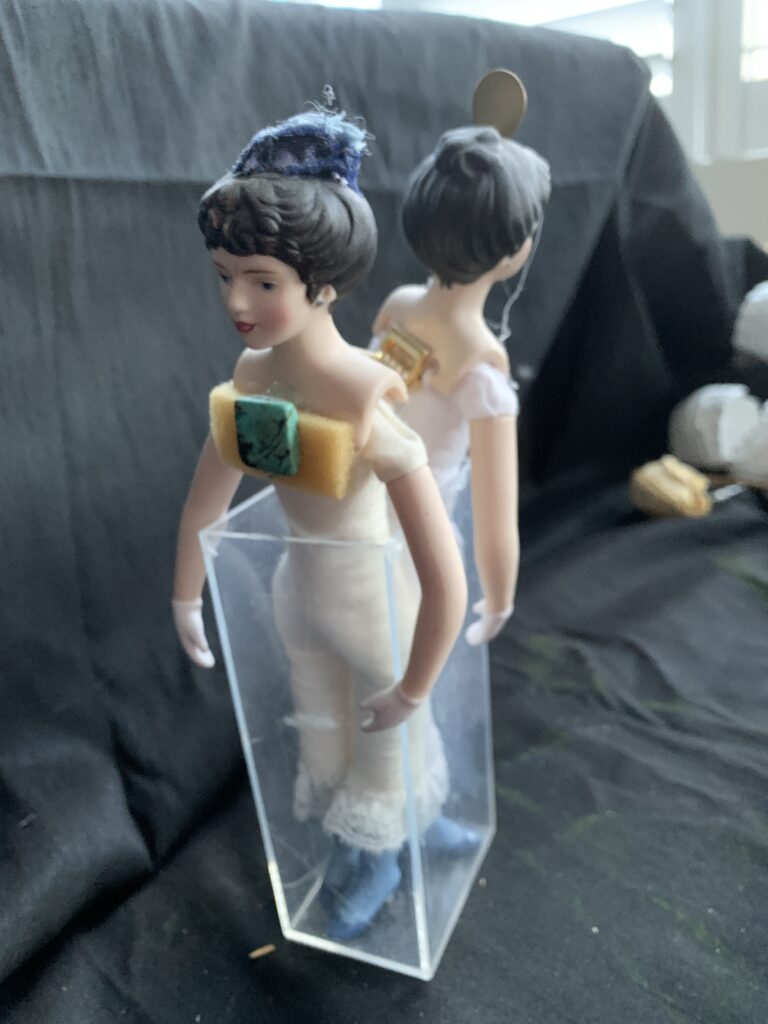 This next assemblage is called What is a Girl? It's probably mostly self explanatory, but the pieces are meant to be an interpretation of the description of what a girl is as written on this old piece of wrapping paper I found in a thrift store. My cat Aurora became interested while I was photographing this one.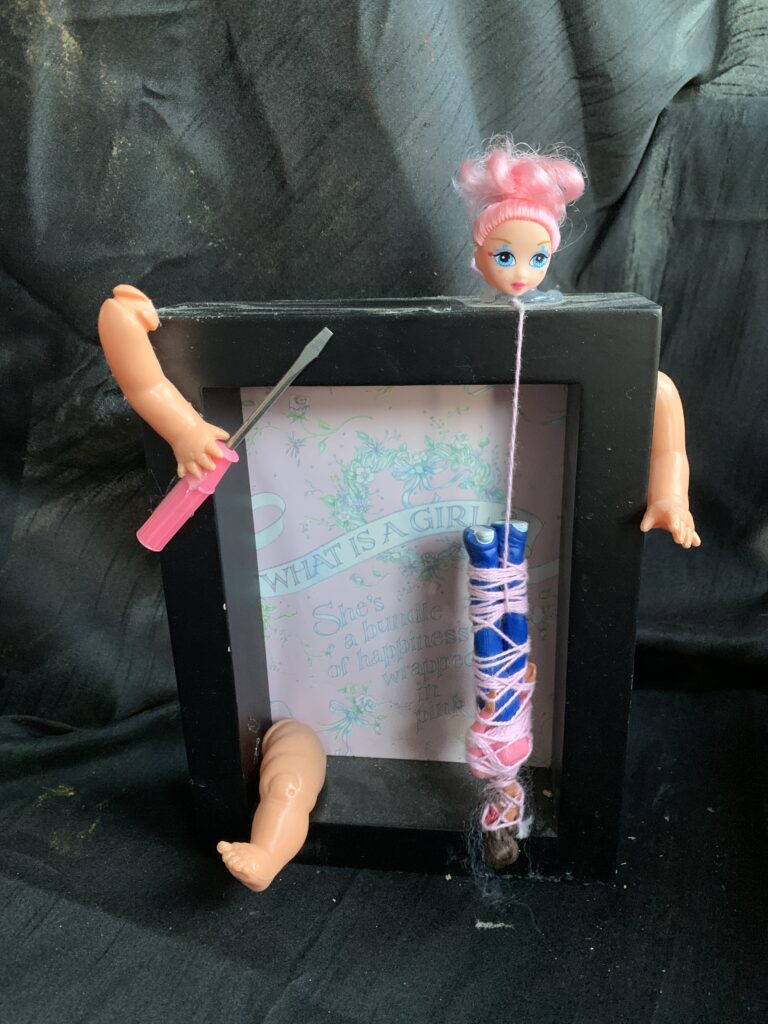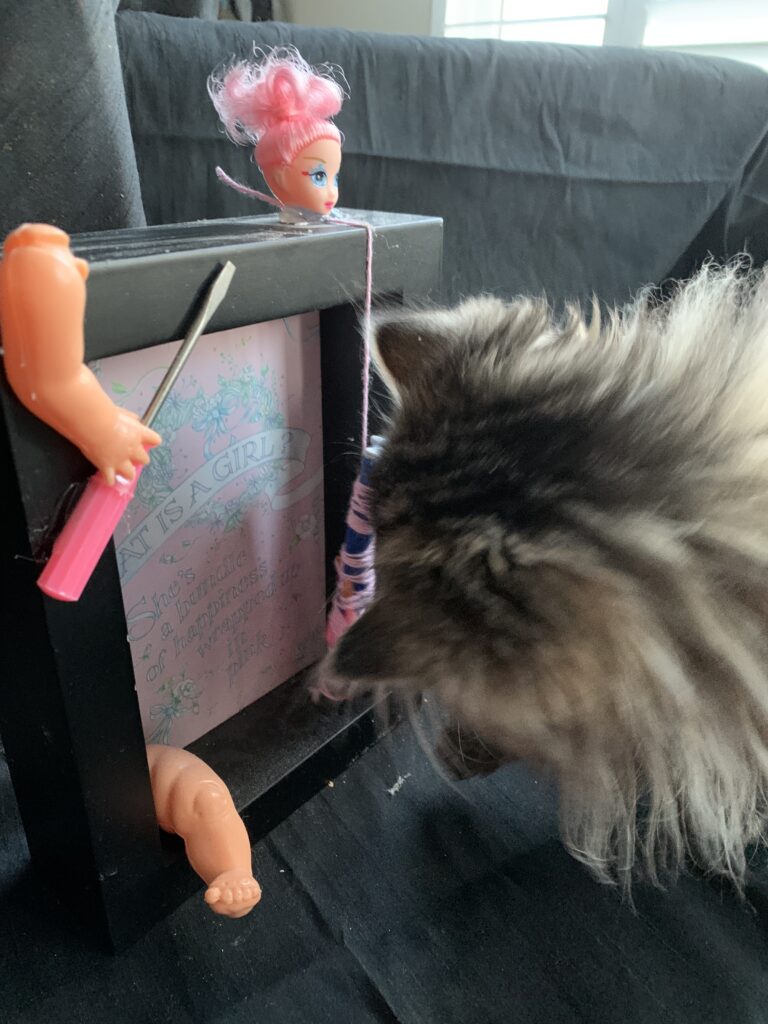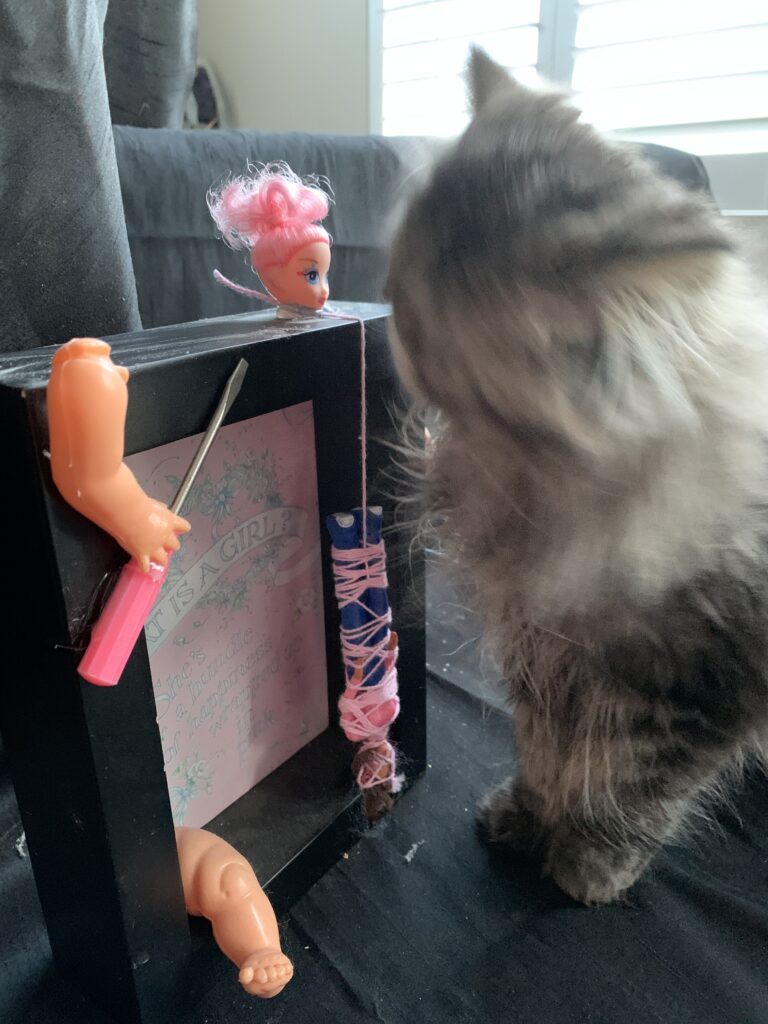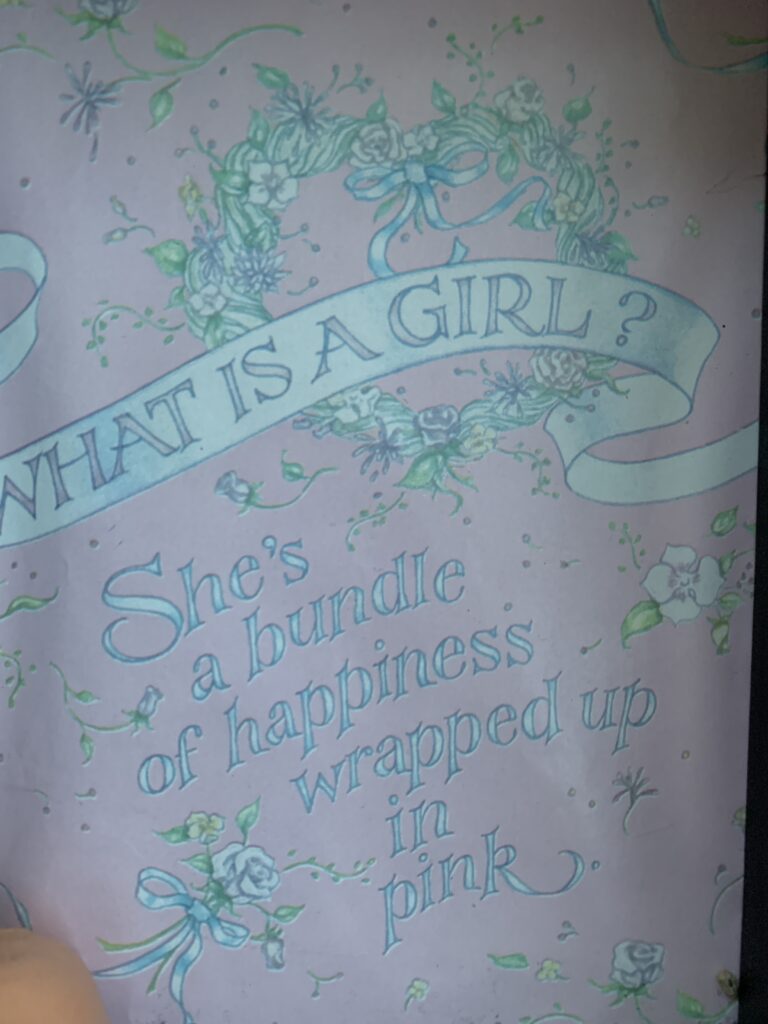 This next one, also intriguing to Aurora, doesn't have a name…the figure, some sort of Disney character, I think, is trapped in the bottle. The rungs of the ladder are too far apart for her to climb. There is a dice in the sand. The bottle is corked.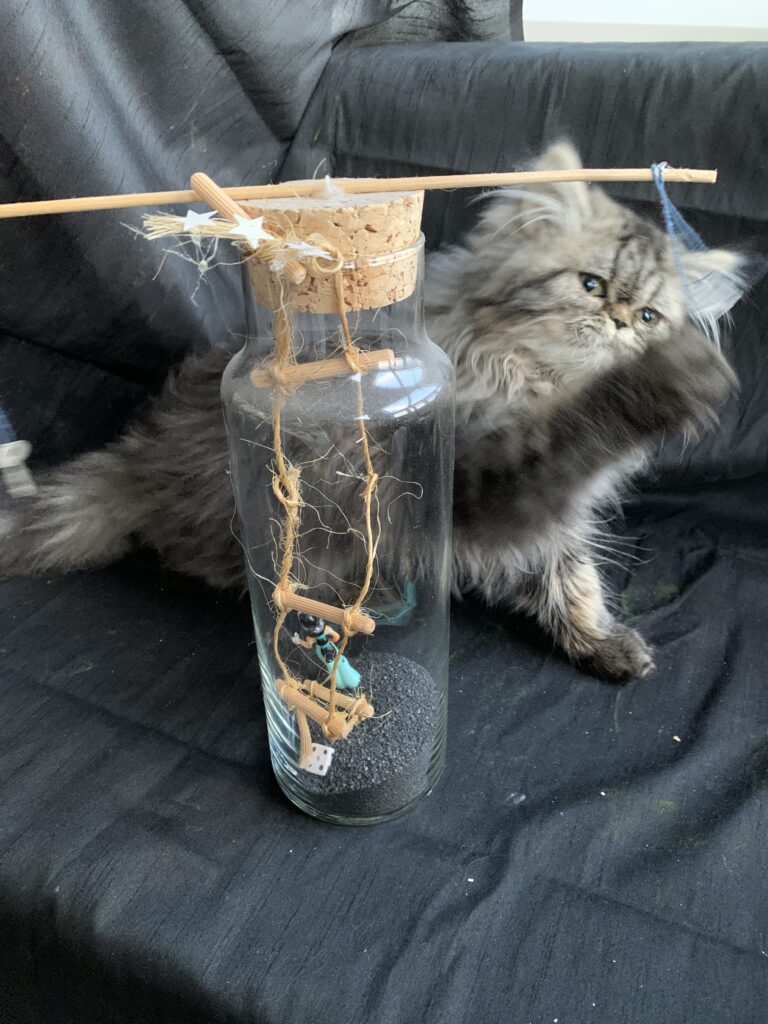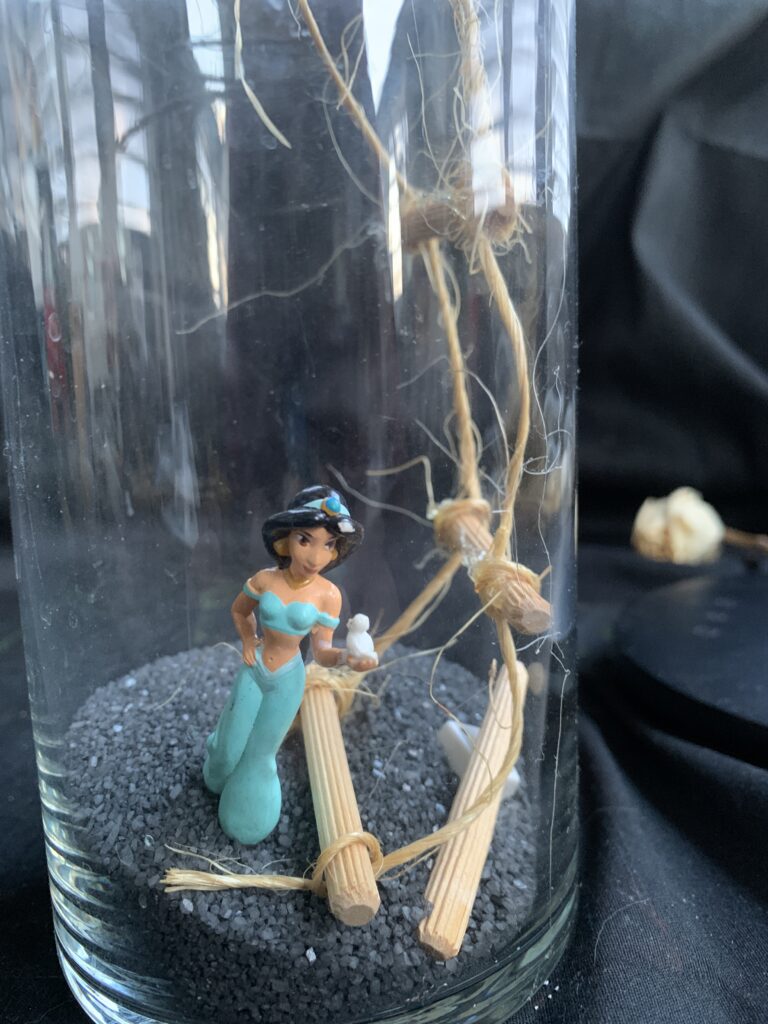 The key is hanging on the outside of the bottle. I'm pretty sure she can never reach it, as the cork prevents anything from escaping the jar; the stars and the key are unattainable.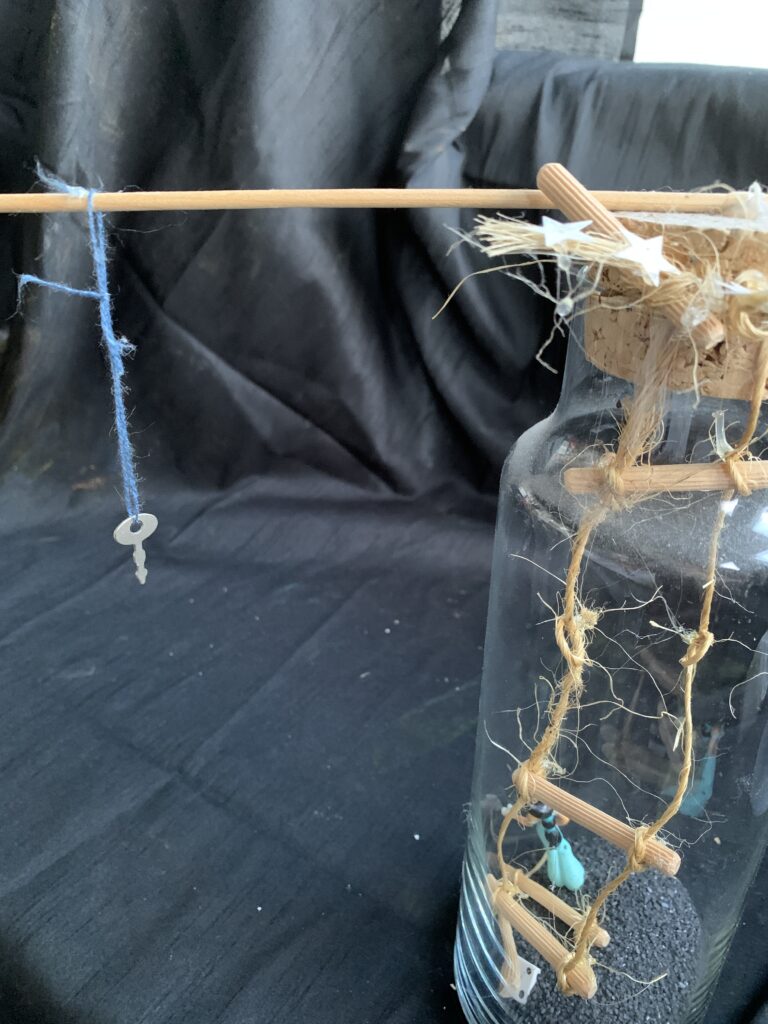 The next assemblage (cat included for scale) is of two girls embedded in a block of wood. I've used various parts of different dolls and their clothes, glued to the outside of the block, for detail. Also, that's my sketch of a body on a piece of paper glued the block to the right.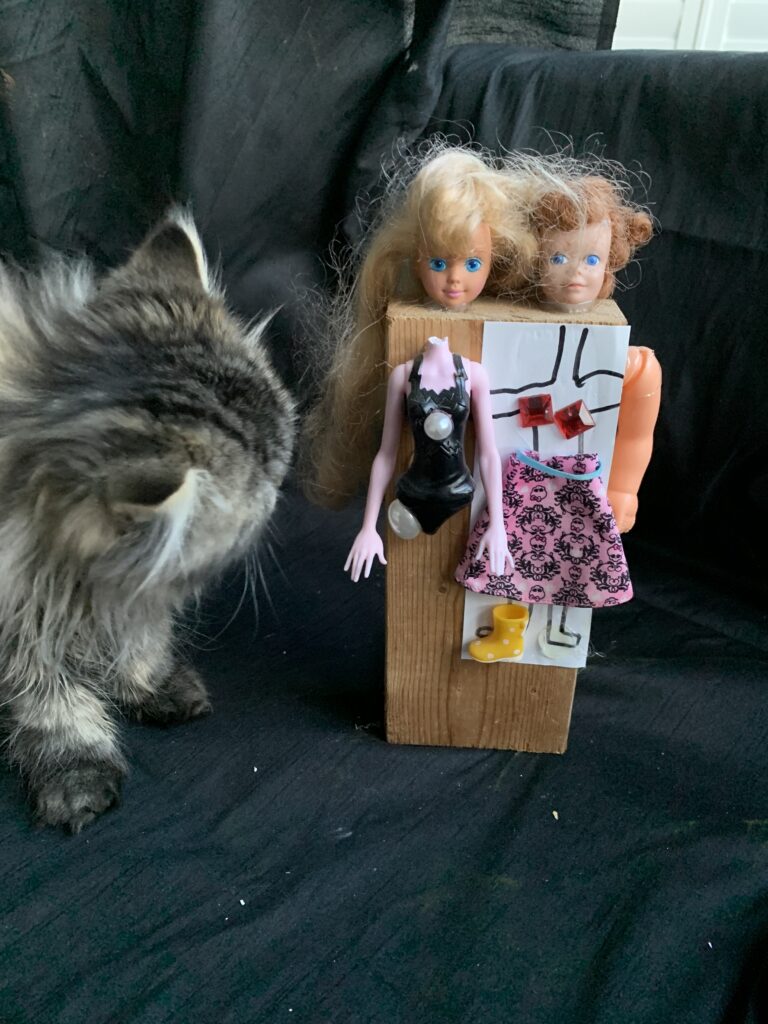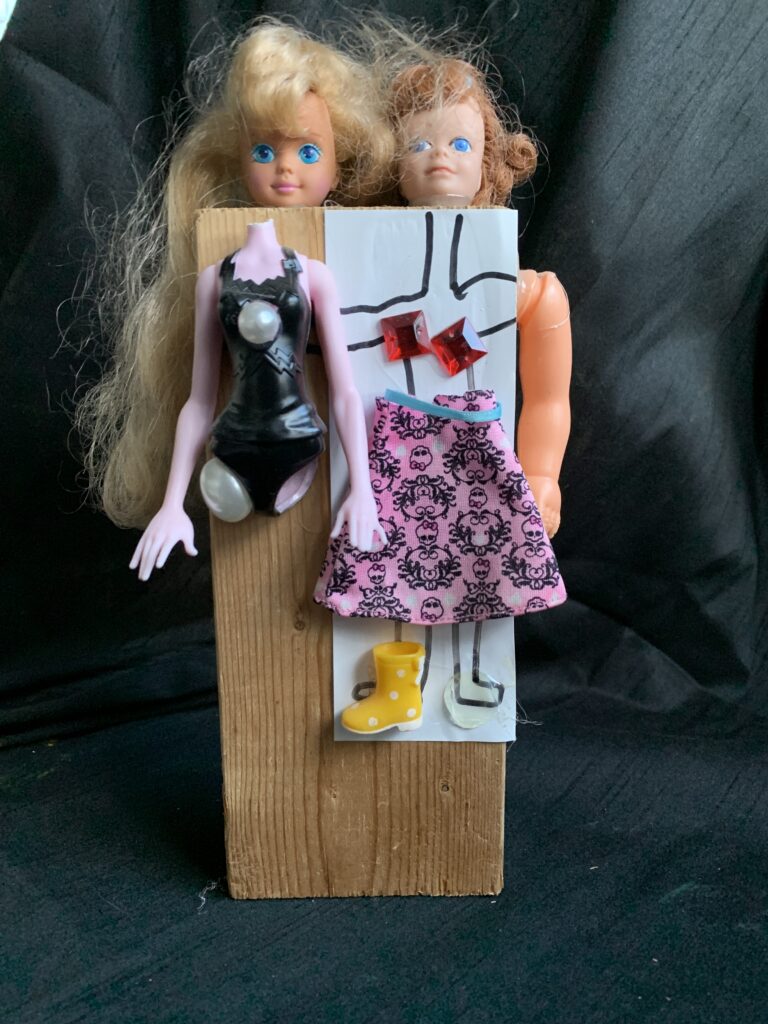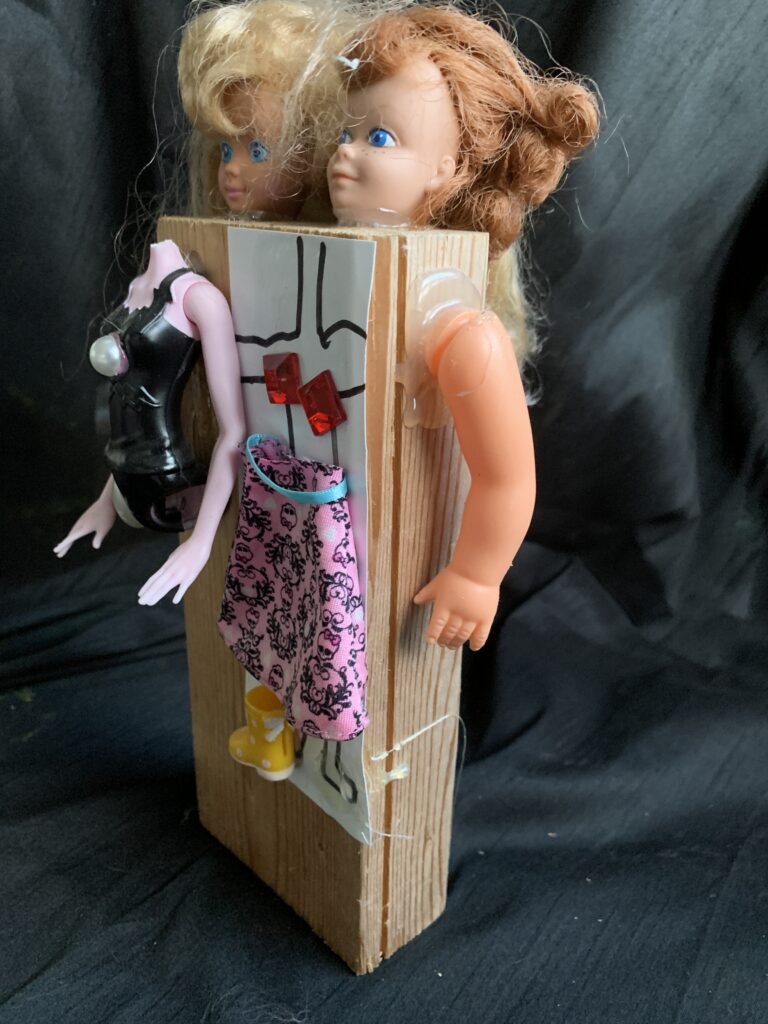 Two dolls in a styrofoam box, zippered together. What more can I say? I'm starting to see a theme here, I mean, beyond the dolls. Often two of them together. Always confined, whether one or two.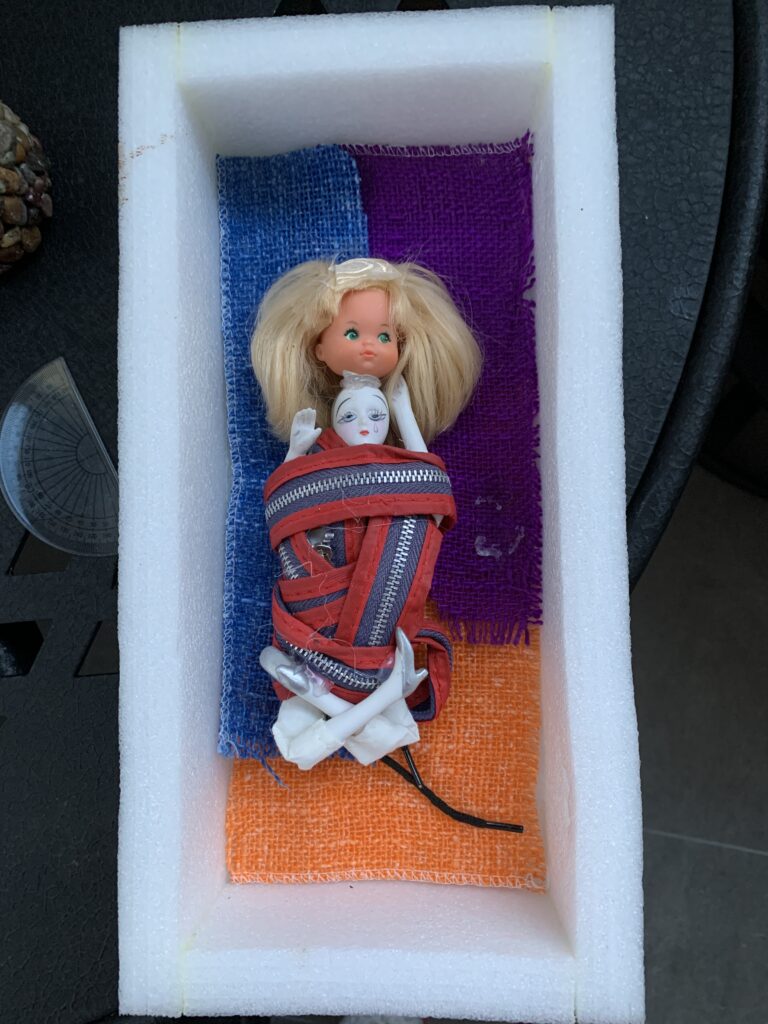 This next one is a little lighter, called "Talking to the Buddha". Another doll stripped of her wardrobe, and sitting on a little bench trying to explain herself to the Buddha, who is laughing. As I put these photographs up here, I love her hat all over again, and can see how futile it is to try to explain yourself to the Buddha. Funny indeed.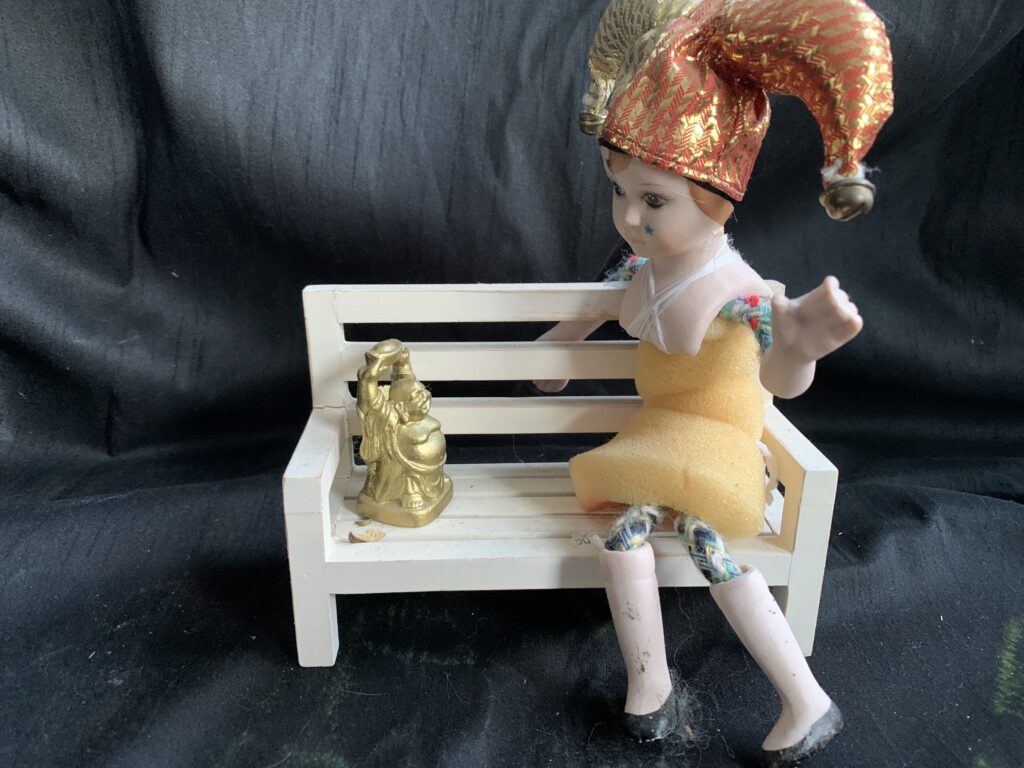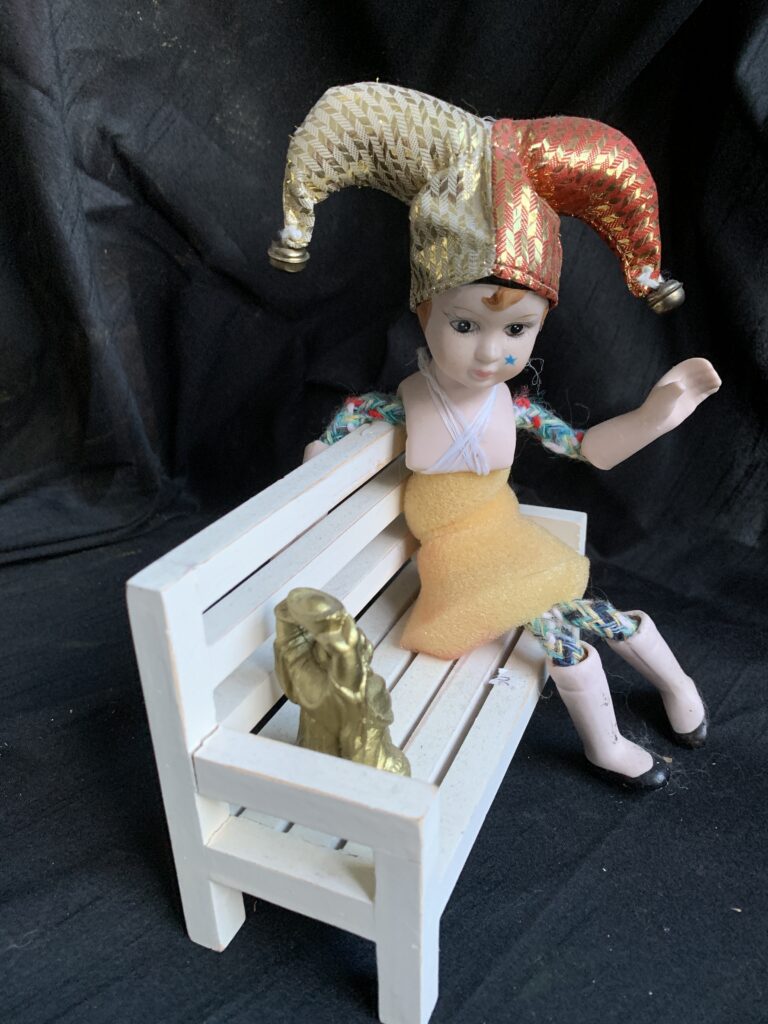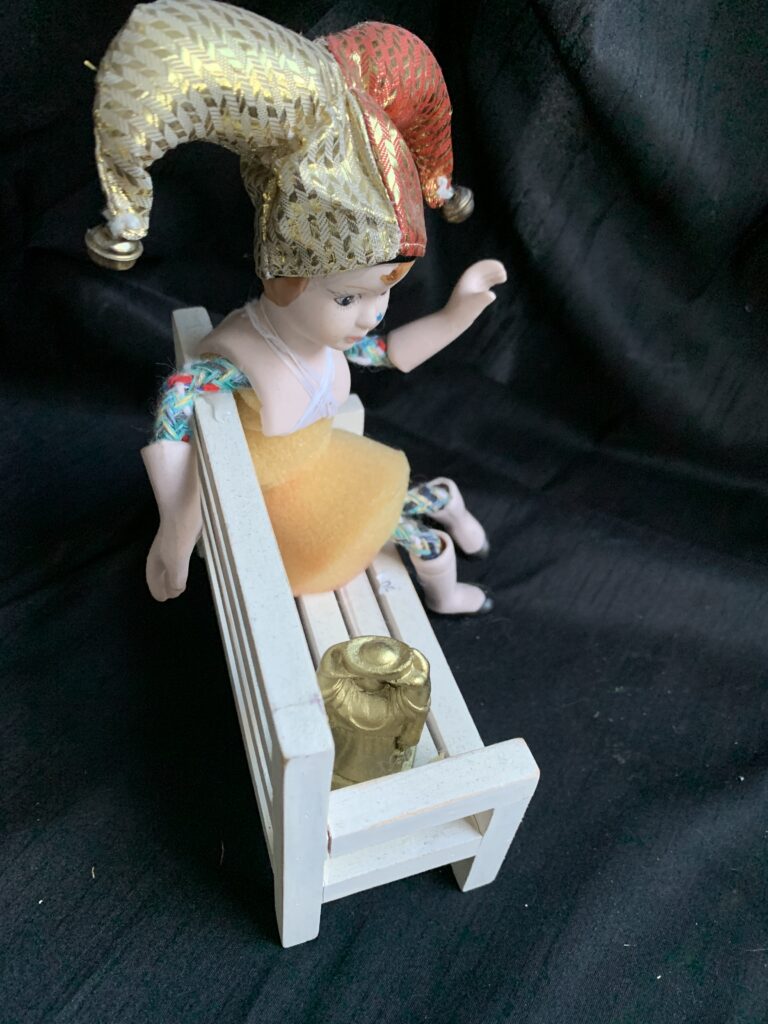 The next assemblage is meant to be ironic. It's called "Get Well Soon".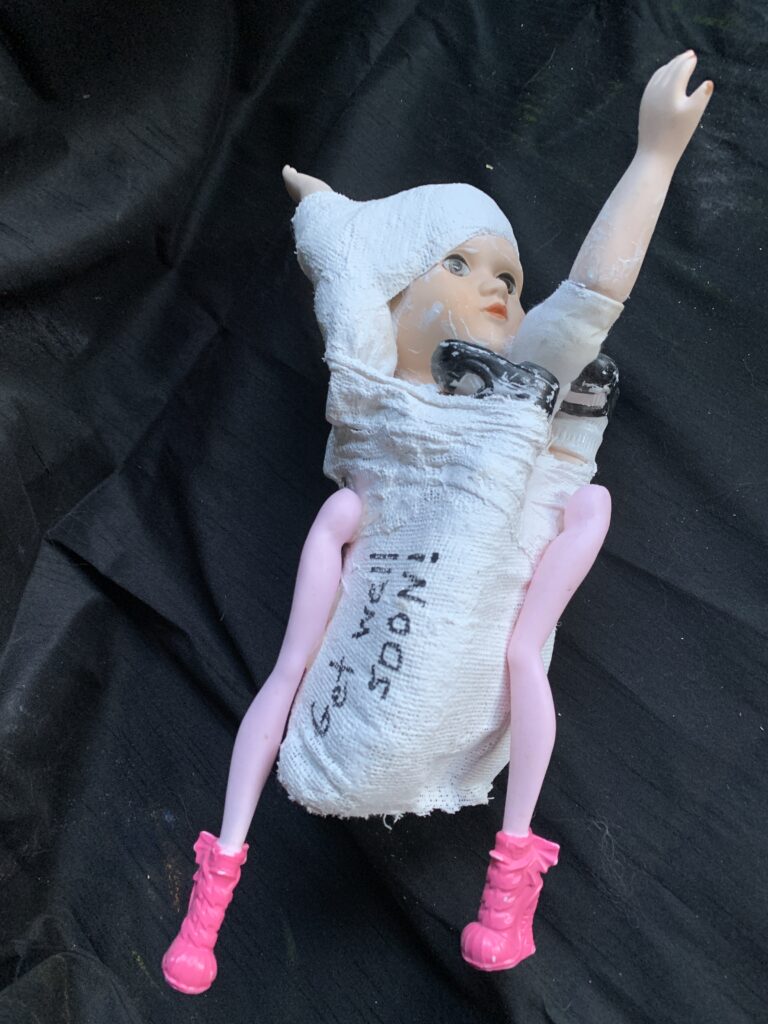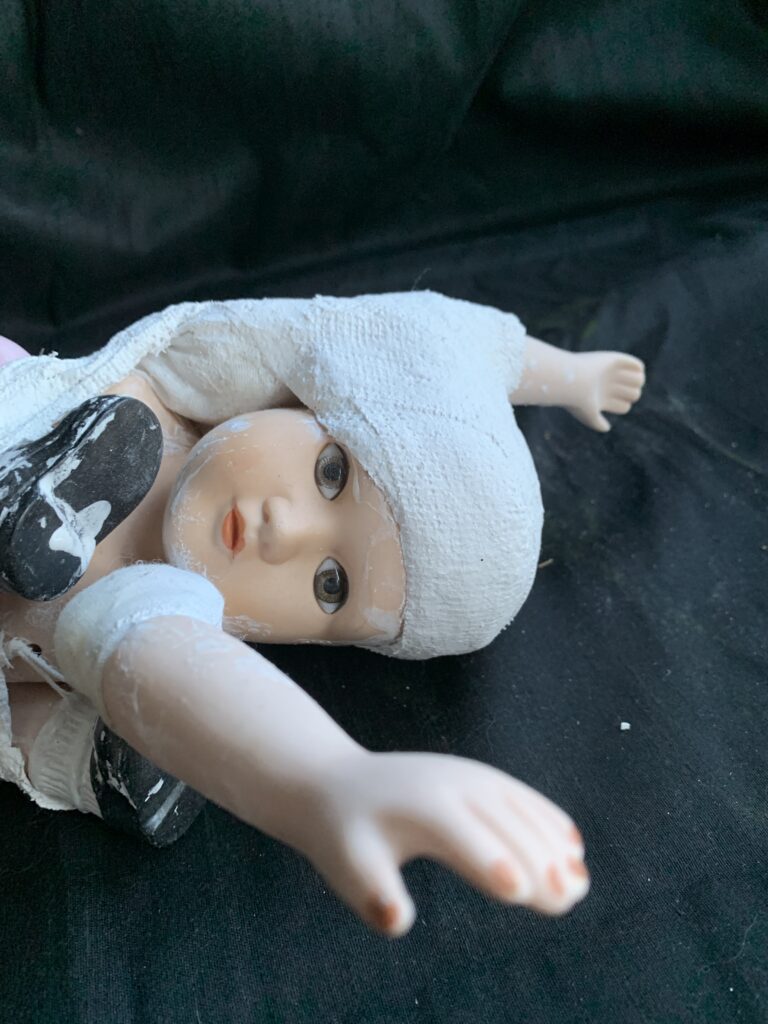 For a while I worked with Barbie dolls, not something I had wanted to do, but someone gave me a bag of Barbies, so I played around a bit. This one is hanging in my window, and so is in silhouette in the next shot, followed by a few shots with a background in place.
Like most of the others, she is confined: she is confined by a plaster cast. Shards of mirror are glued to her arms and back.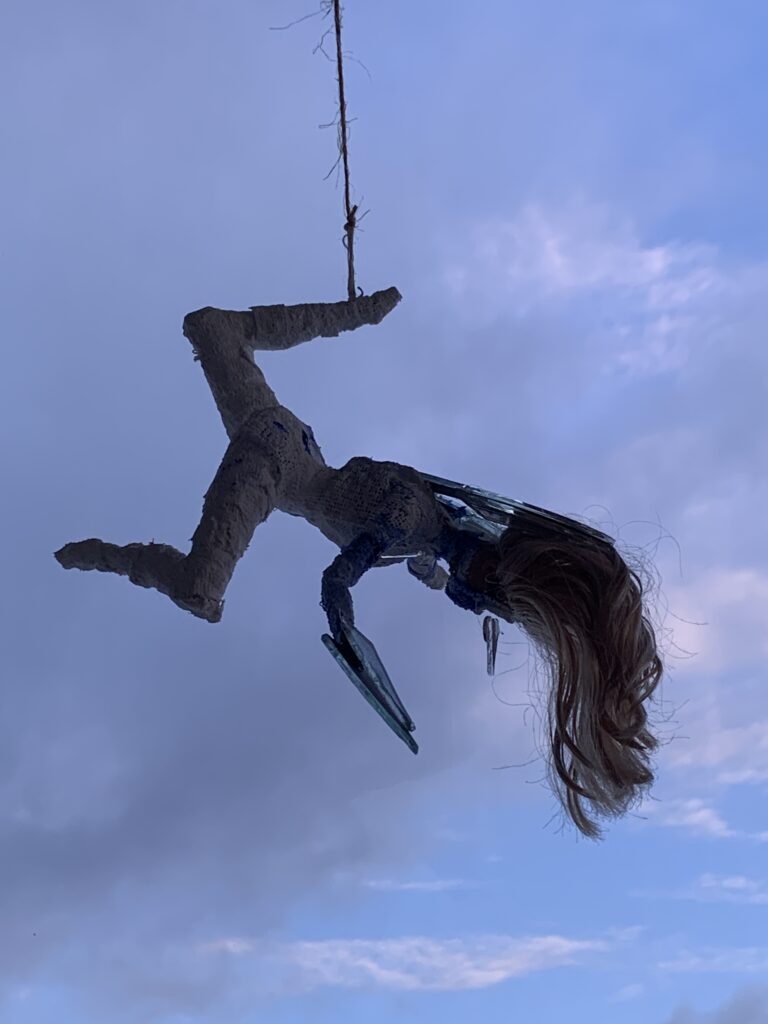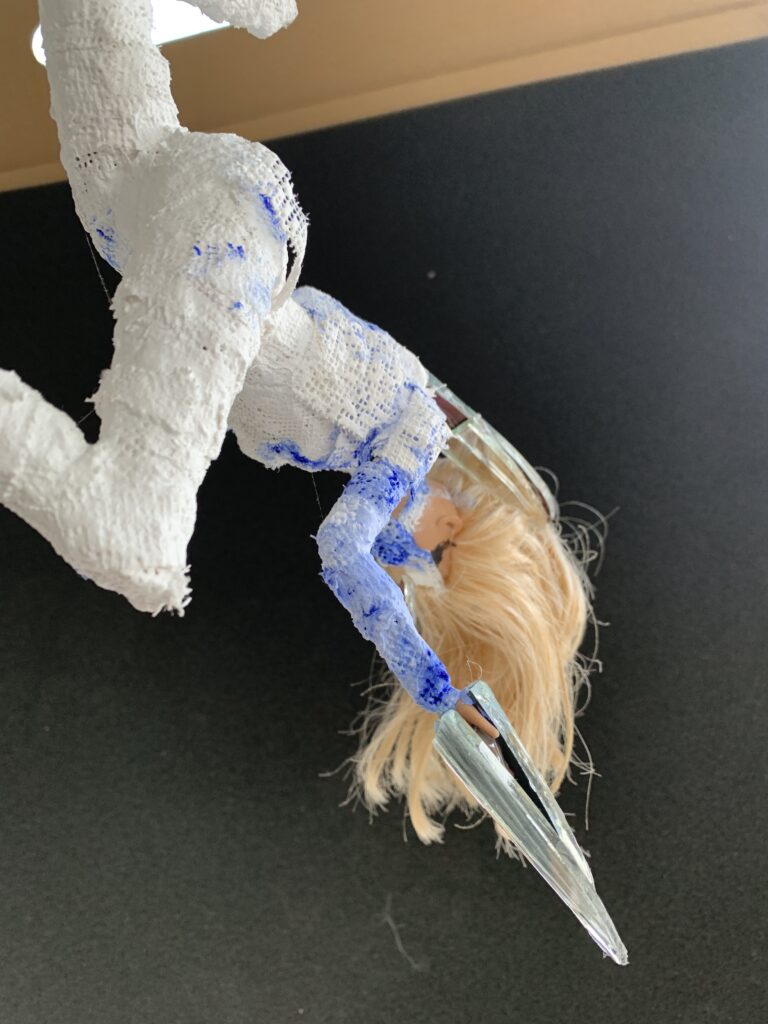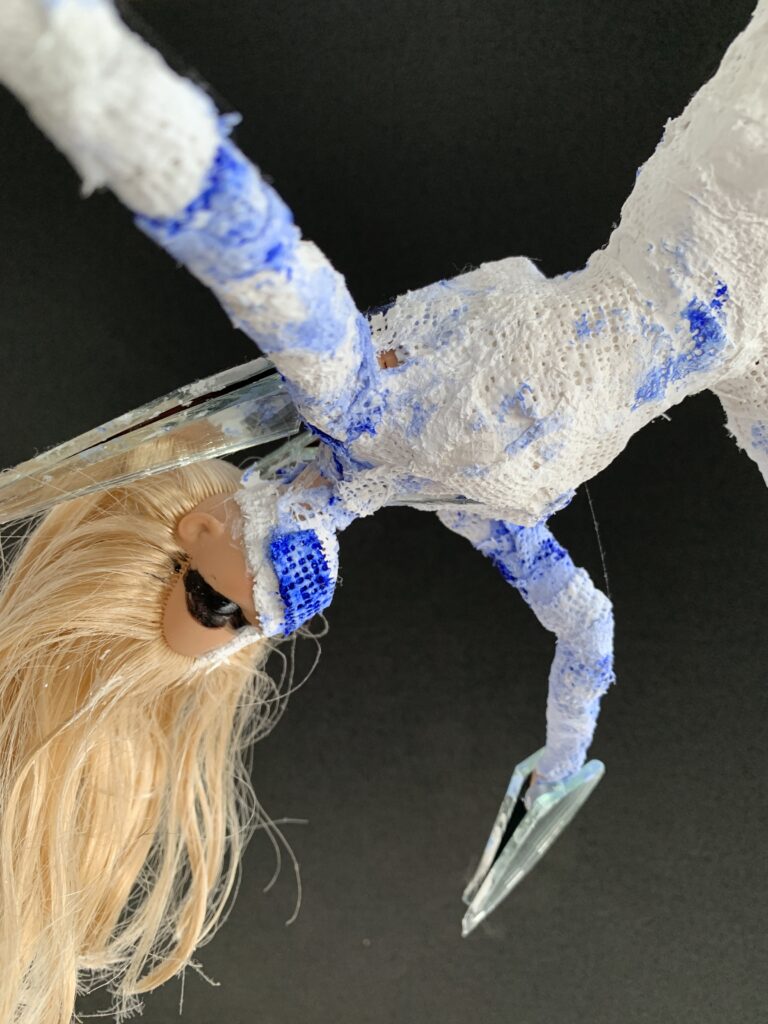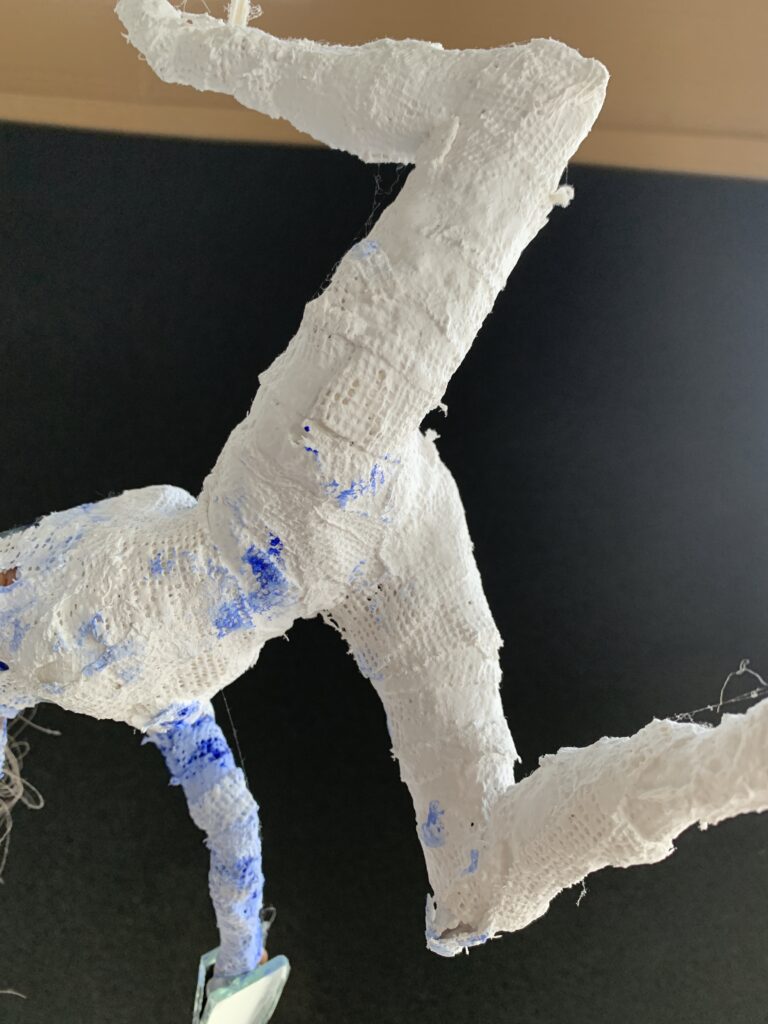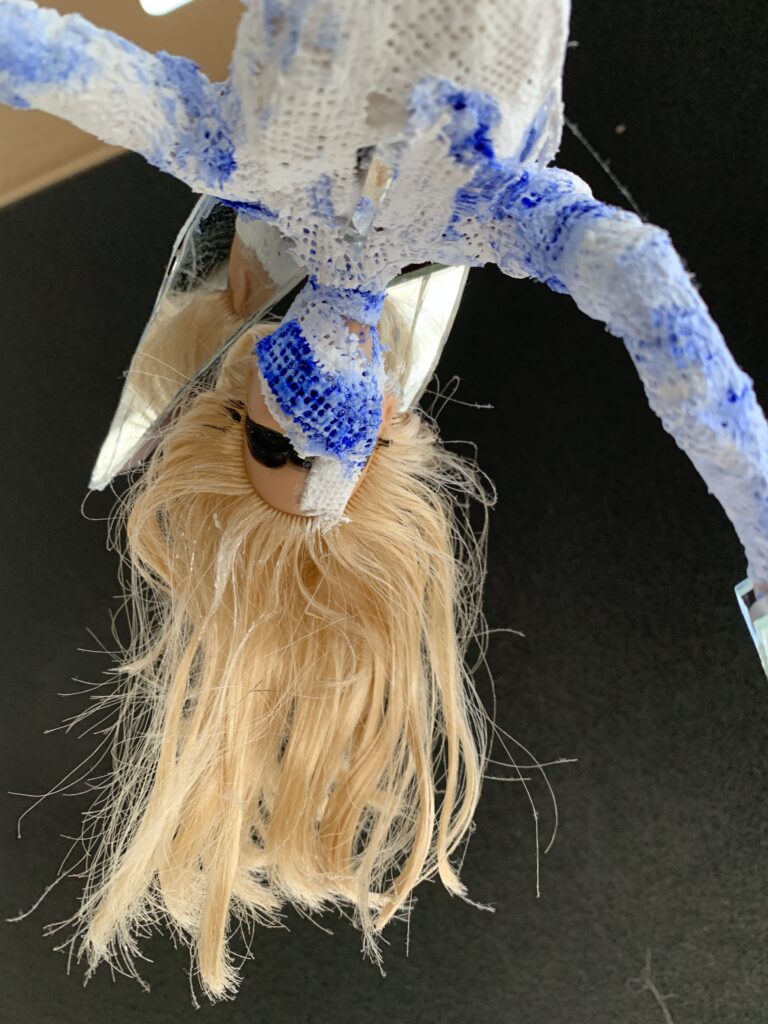 The following one is also an image of confinement, confined by blocks of wood, dowlings, string, and wooden balls. She is a thrift store doll. I deliberately do not clean up their hair, or remove price tags.