Desiderium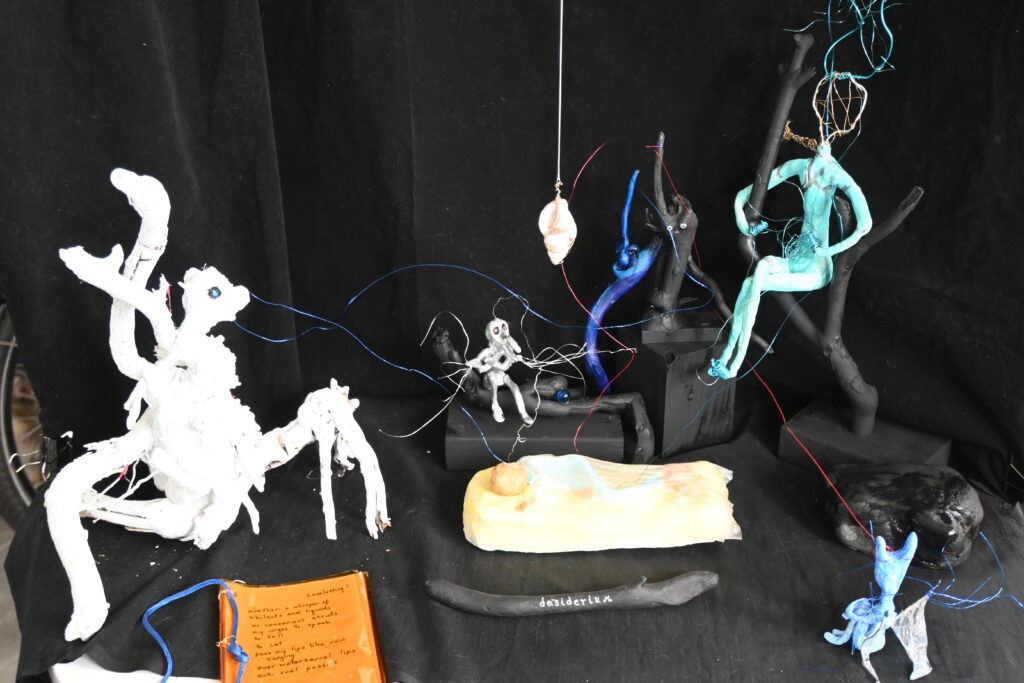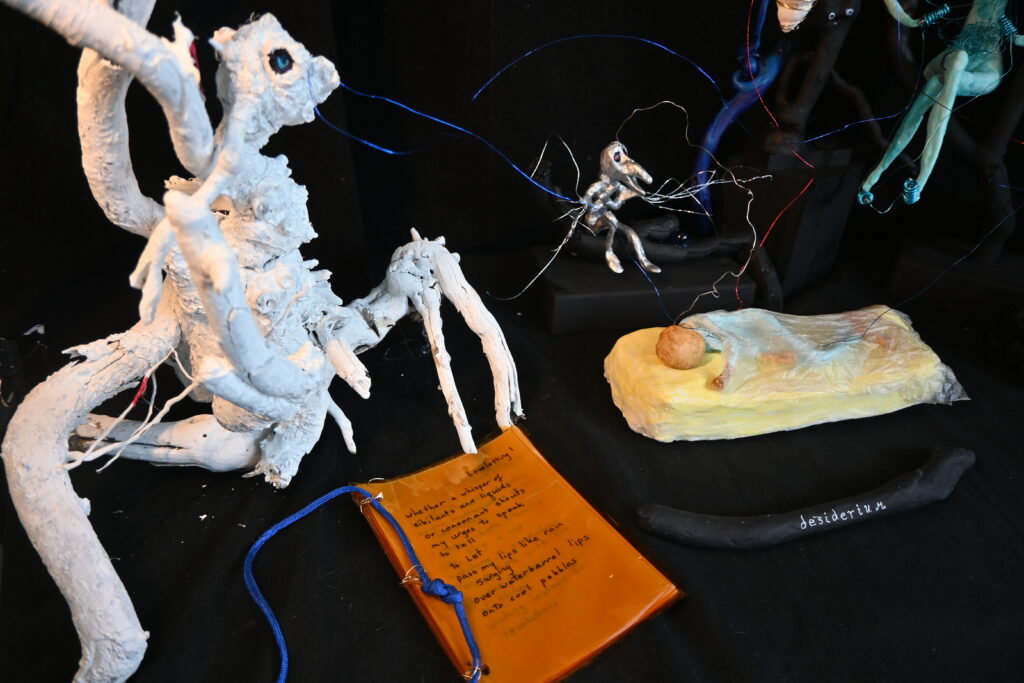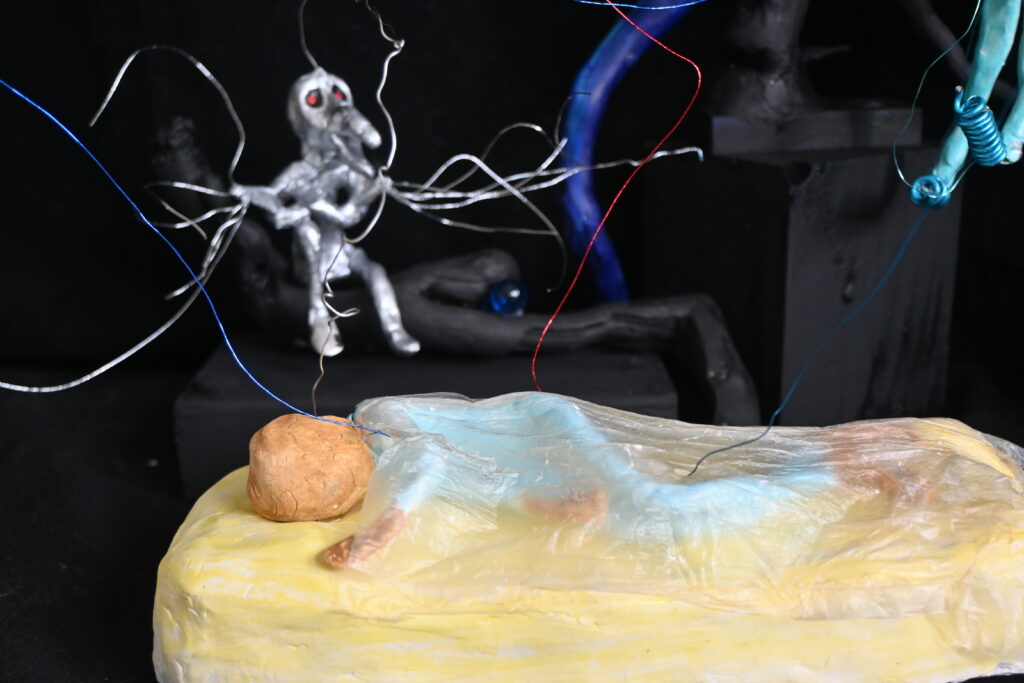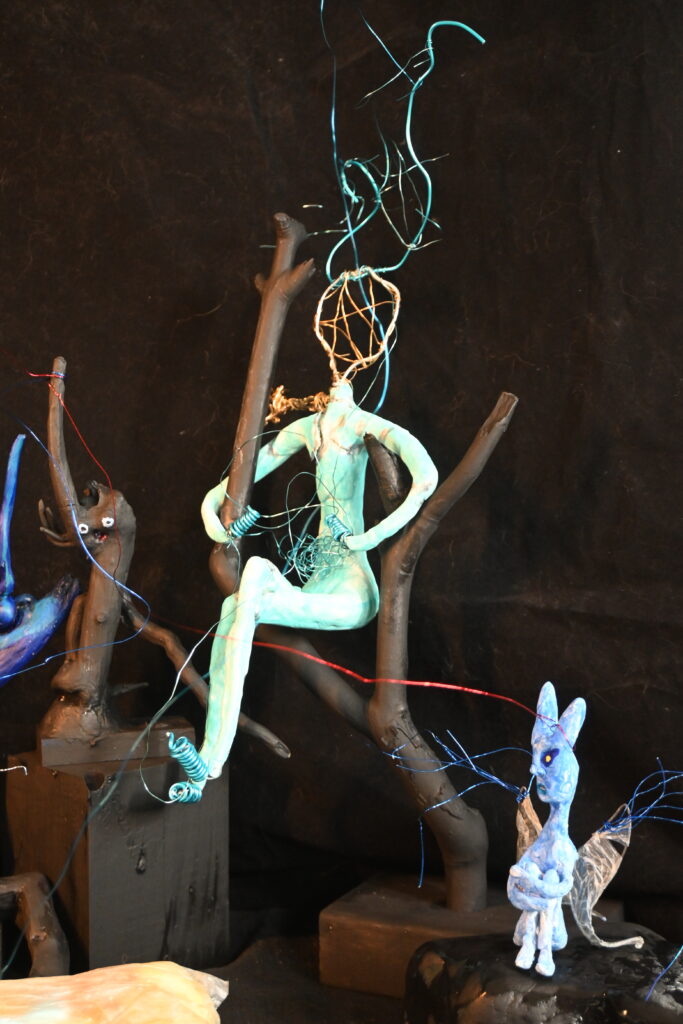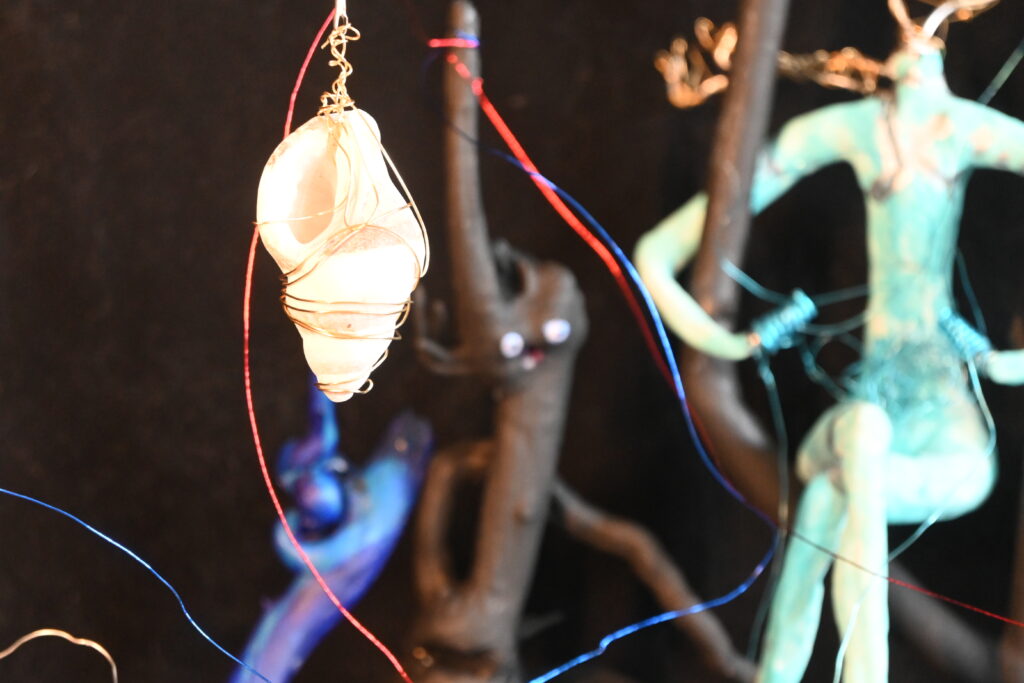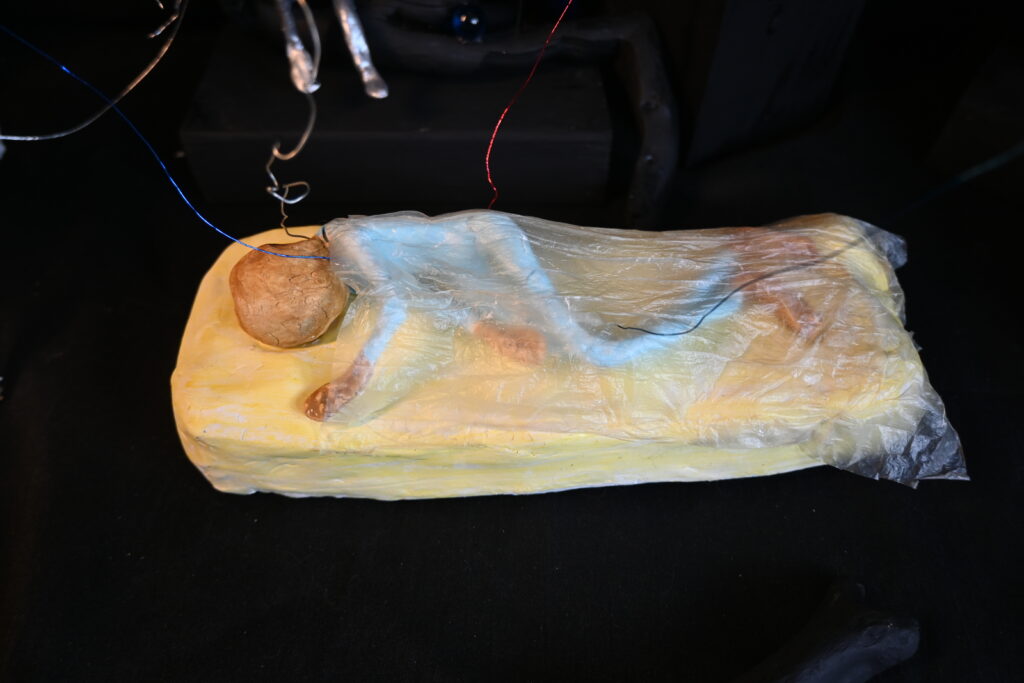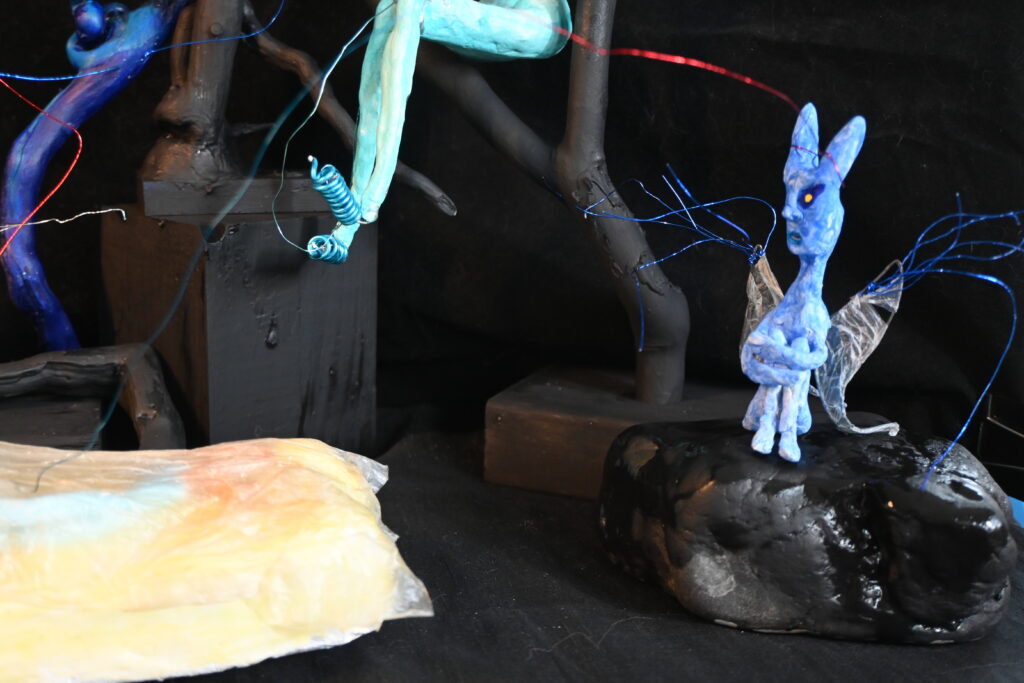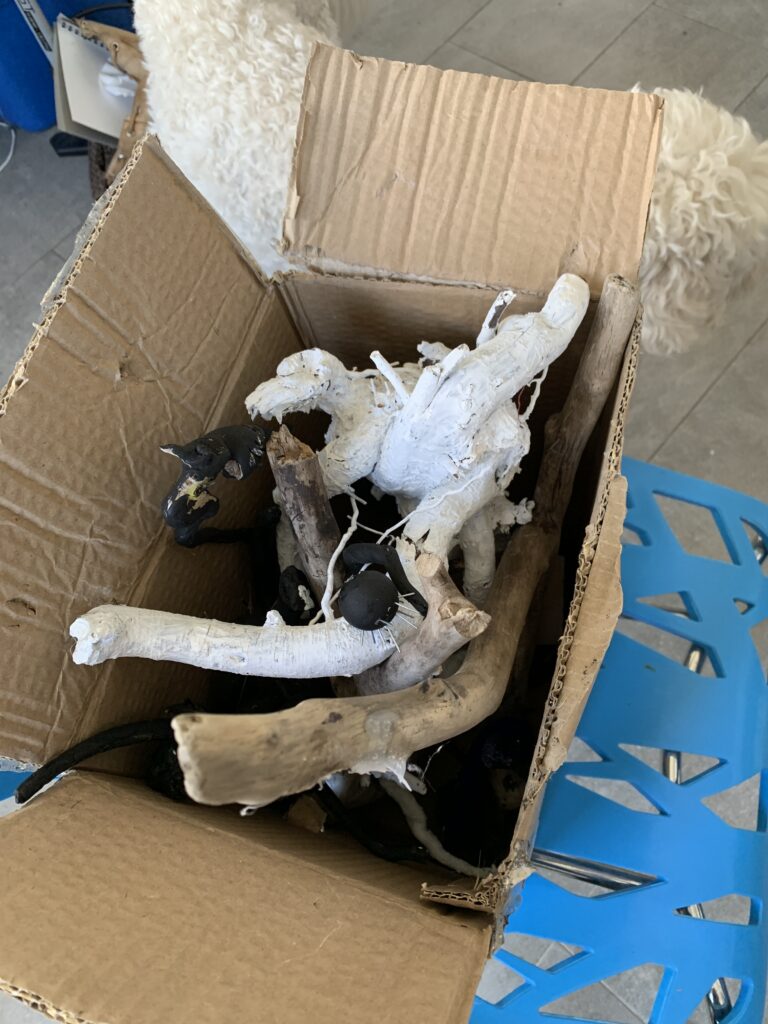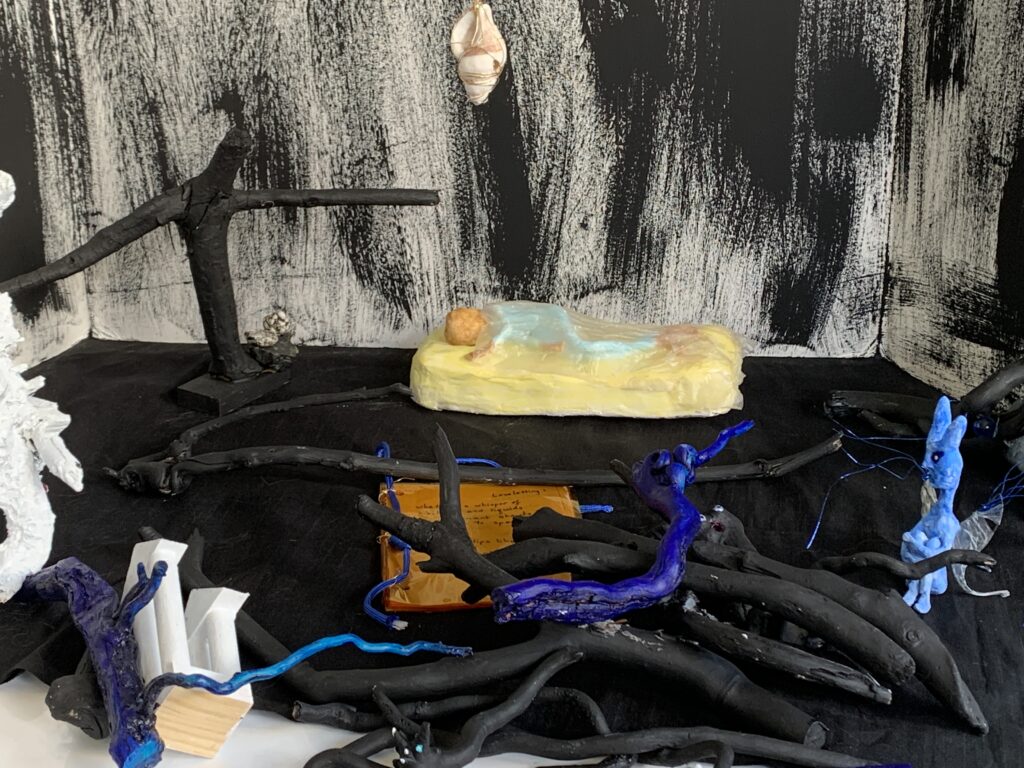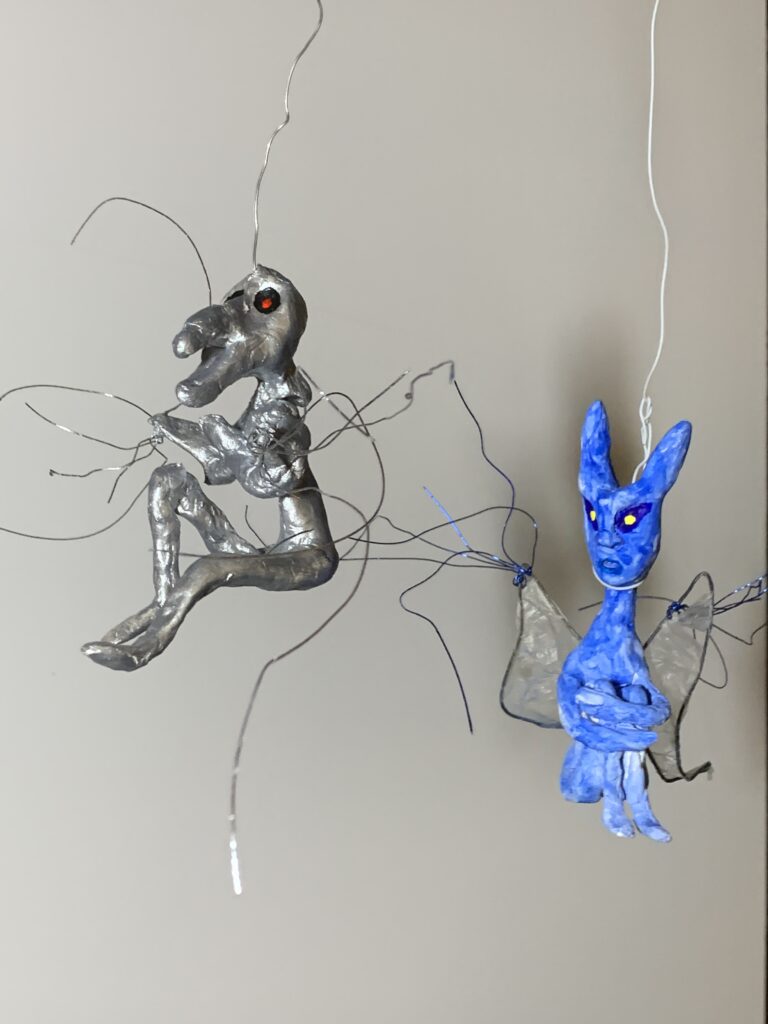 So, just as a reminder, this is what I started with: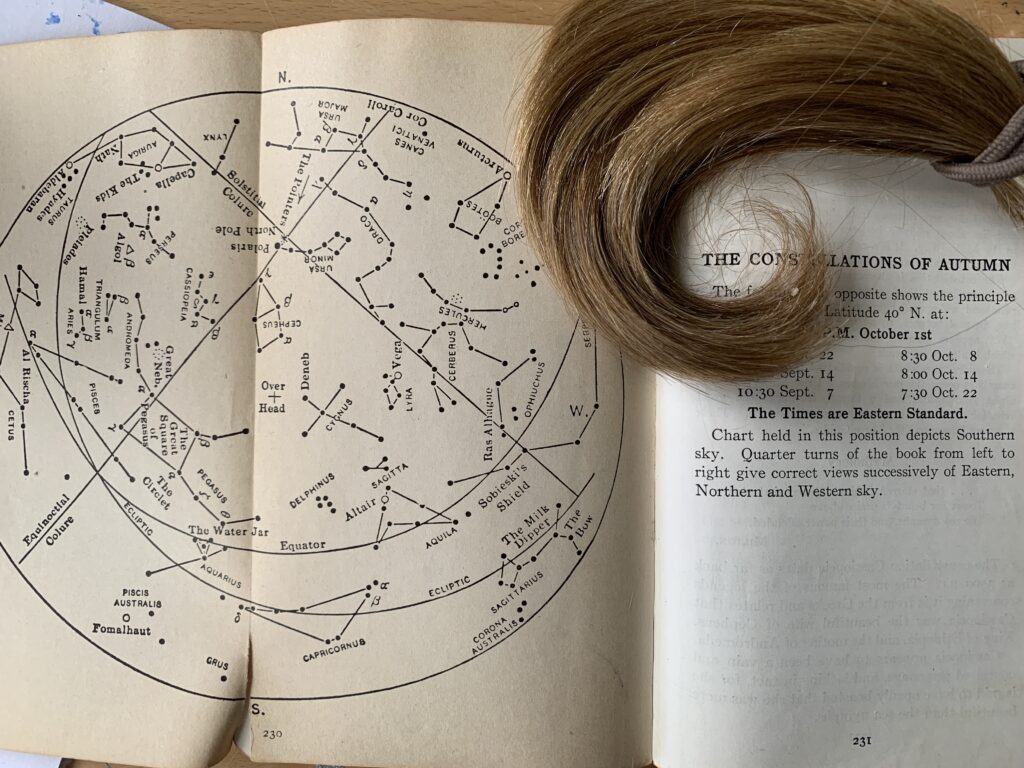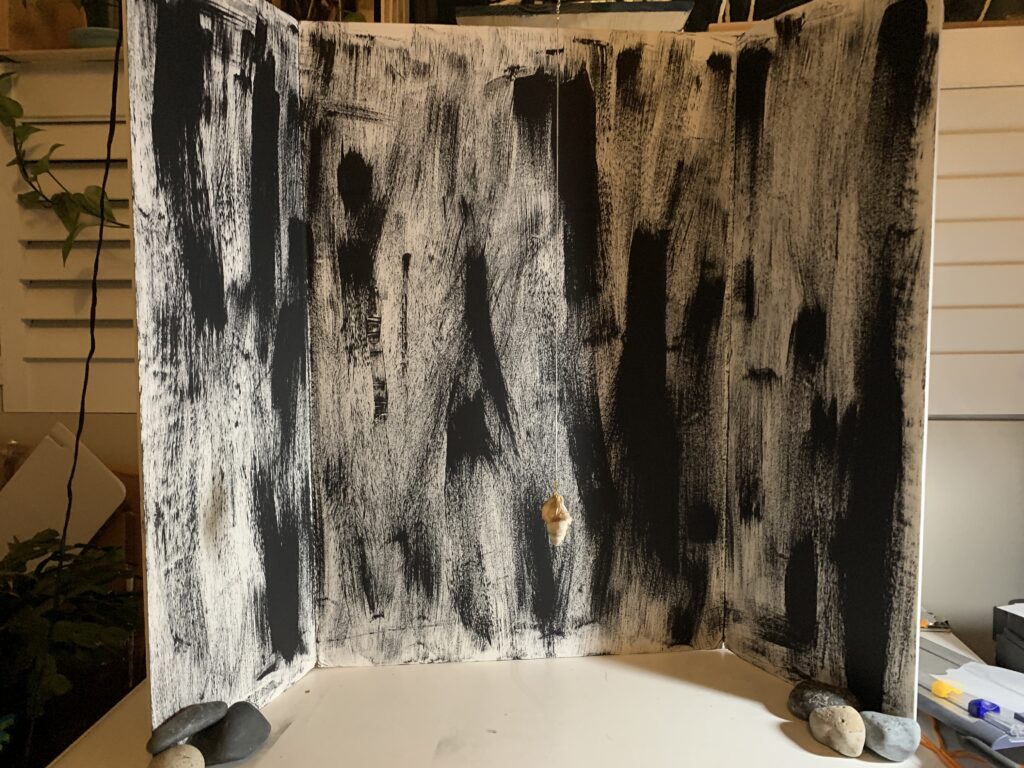 After I got the display board up, I needed to decide how to arrange the book and the hair. I had been planning to use the hair to make Celtic knots to use as bookmarks in the book of constellations and to write a series of letters from a sailor to his lover.
What I ended up with was quite different. The other figure that I worked on this fall was a depiction of what my father looked like in his final hours. I had done a sketch of him in November 2019, about six weeks after he died, and used that sketch as a basis for this piece.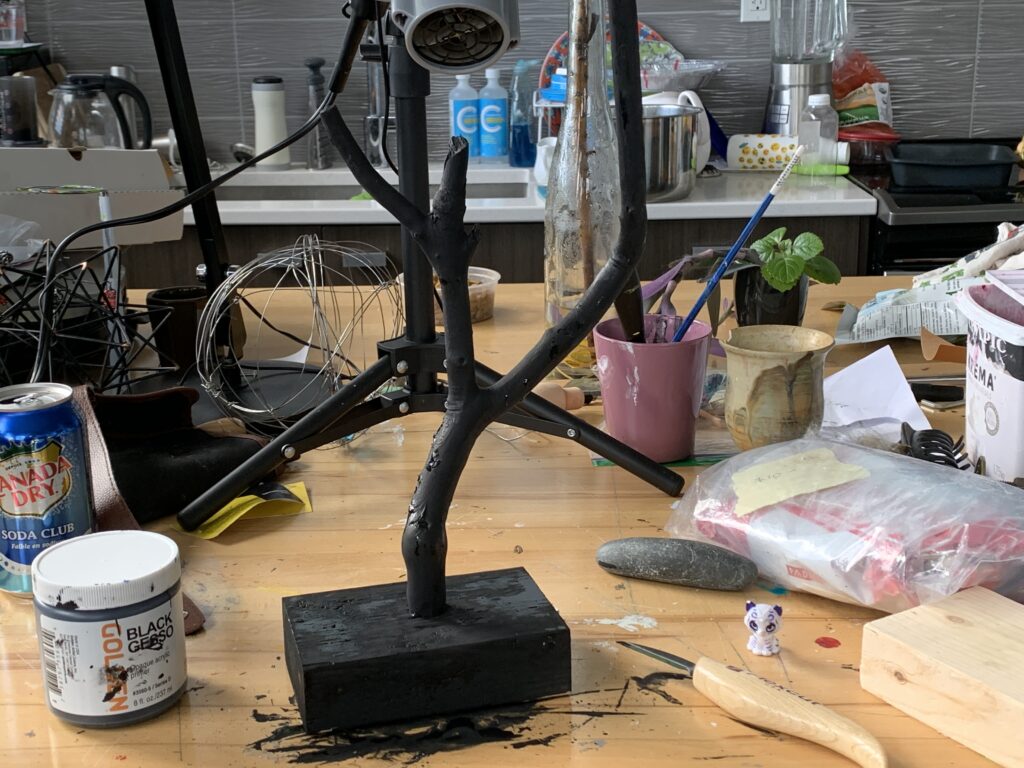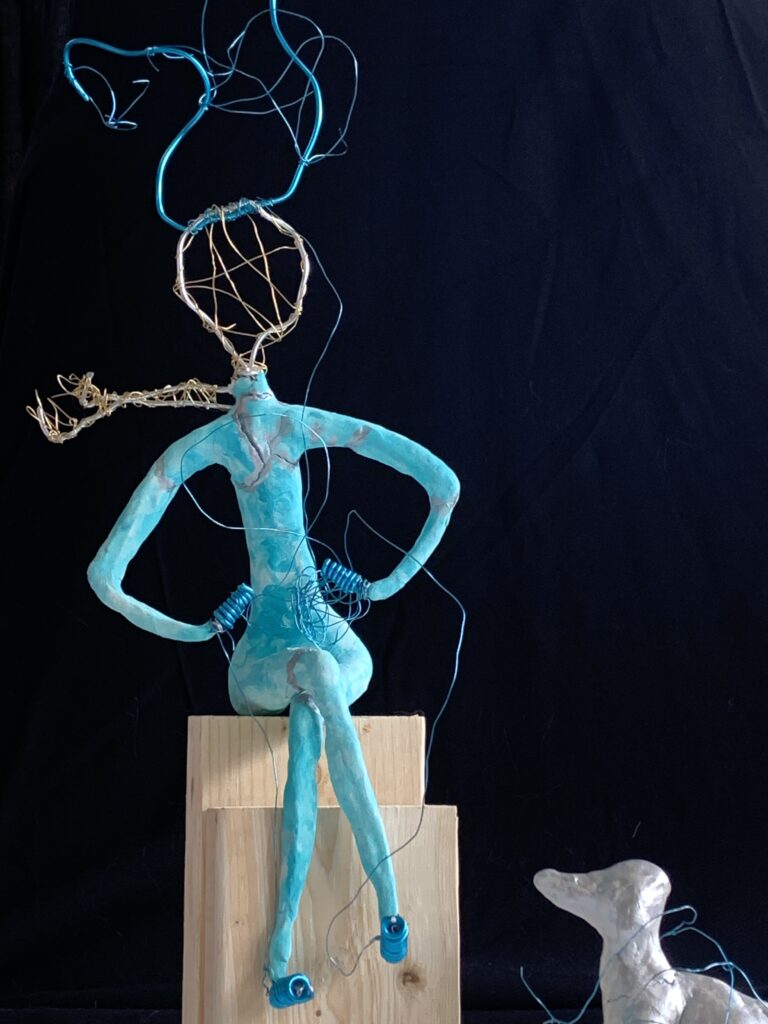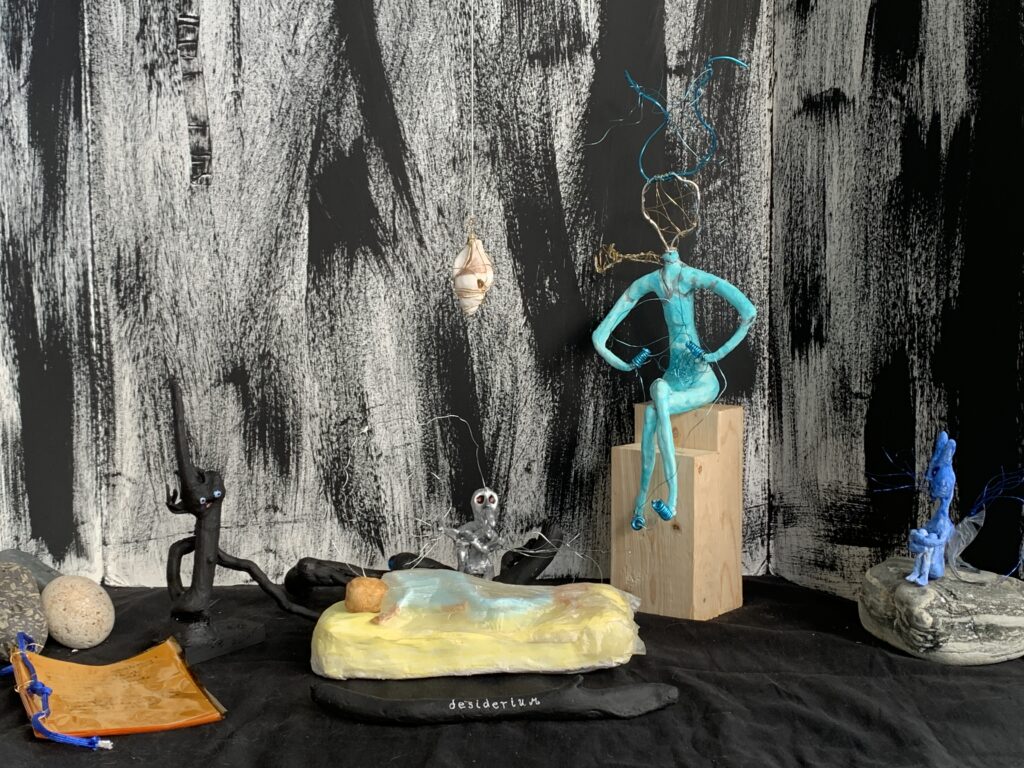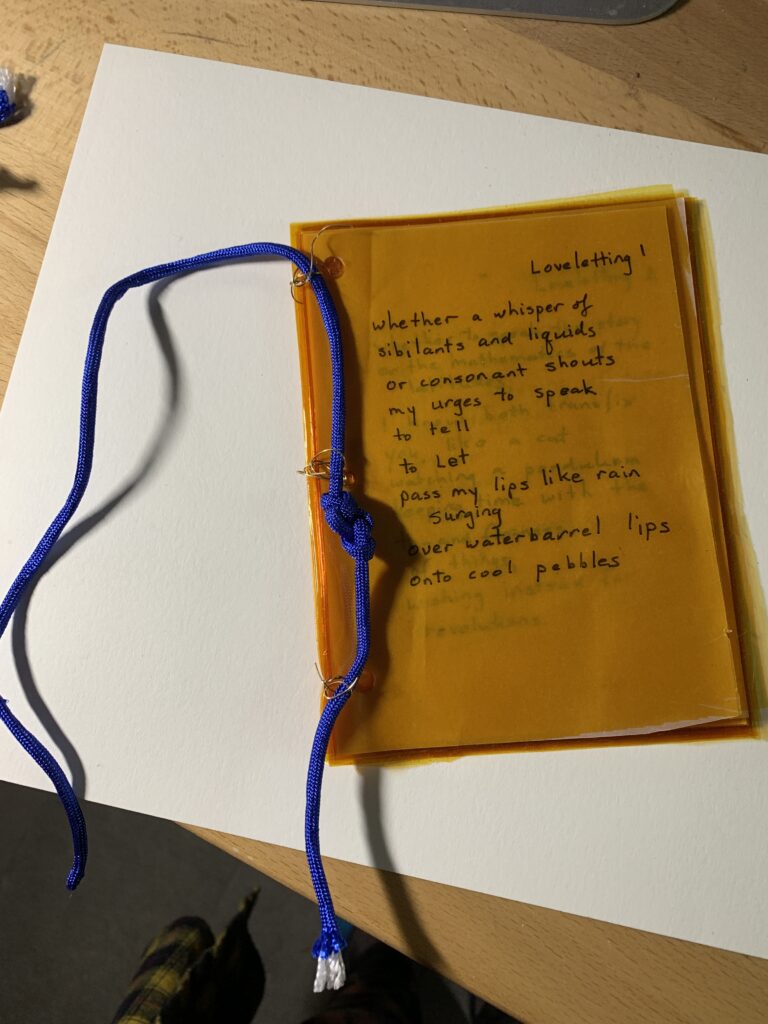 I believe that what I am making is a memorial for my father, who died at 98 just before COVID broke out; we had been planning to have a service for him in the spring of 2019, but COVID prevented that from happening.
This piece is a memorial for my father.
It's called Desiderium, a word which means: an ardent desire or longing; especially: a feeling of loss or grief for something lost. (https://www.merriam-webster.com/words-at-play/heres-that-thing-youre-feeling)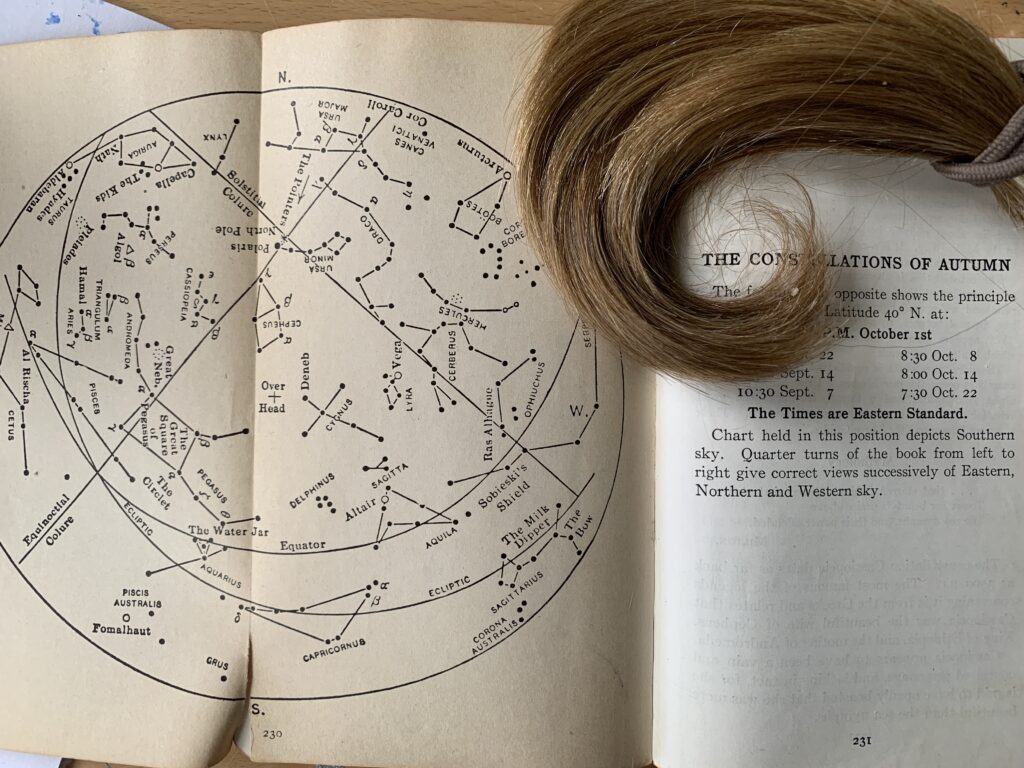 I've decided to work on the book and the hair. Here is the plan:
create a "route" for a sailor to have taken across the seas and figure out which constellation is visible when and where.
create a celtic knot for each of four locations (keep the project limited because of time…ideally this could be much bigger…perhaps as big as the number of constellations). Do test knots with twine and then move on to using the hair.
familiarize myself with the mythology associated with each constellation and choose constellation to work with based on the connection between the mythology and the sailor's life.
For each of these four locations, the sailor will have created a different celtic knot that connects him to his beloved to the mythology of the constellation to his life as a sailor.
Write four short love poems to accompany the knots and held within the pages of the book.
Research:
At this stage, I expect I will focus on the following five knots, and likely reduce that to four for this project:
Trinity Knot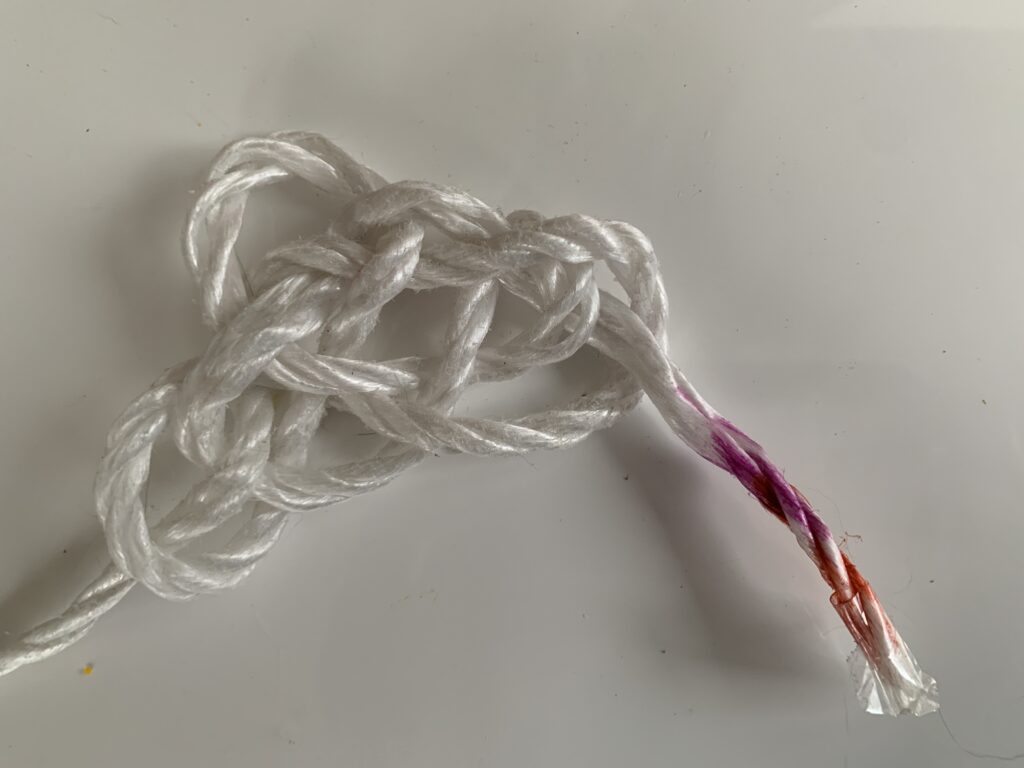 Sailor's knot
This was a terrible video. I found another one related to a crochet project, but the explanation was much better: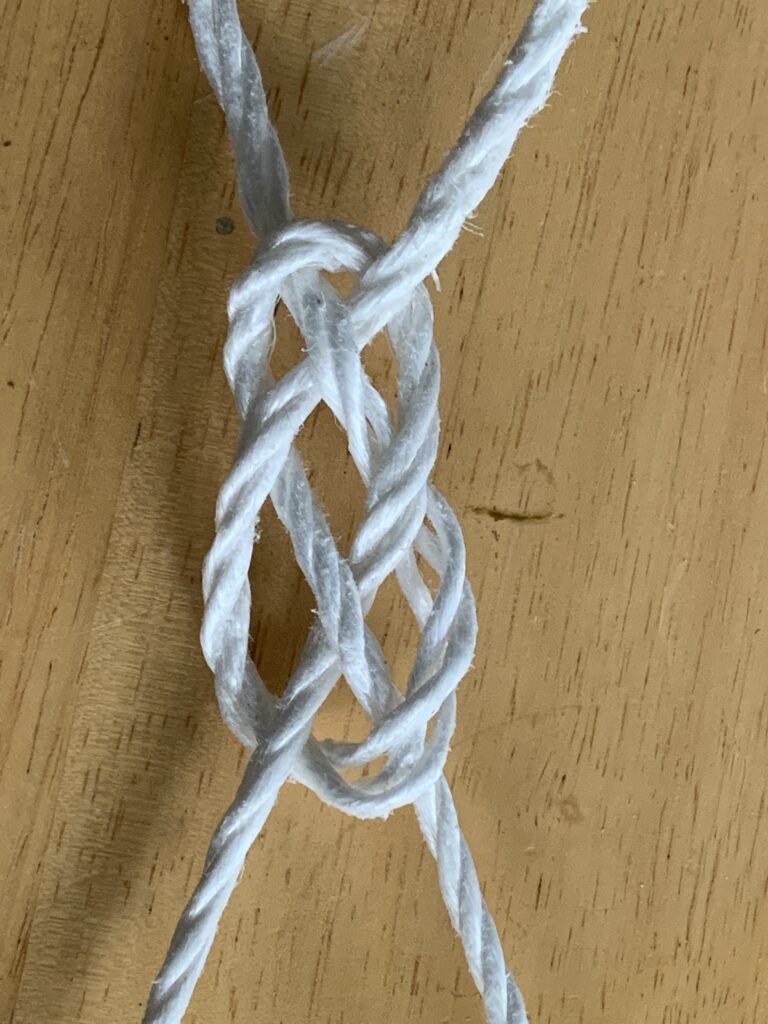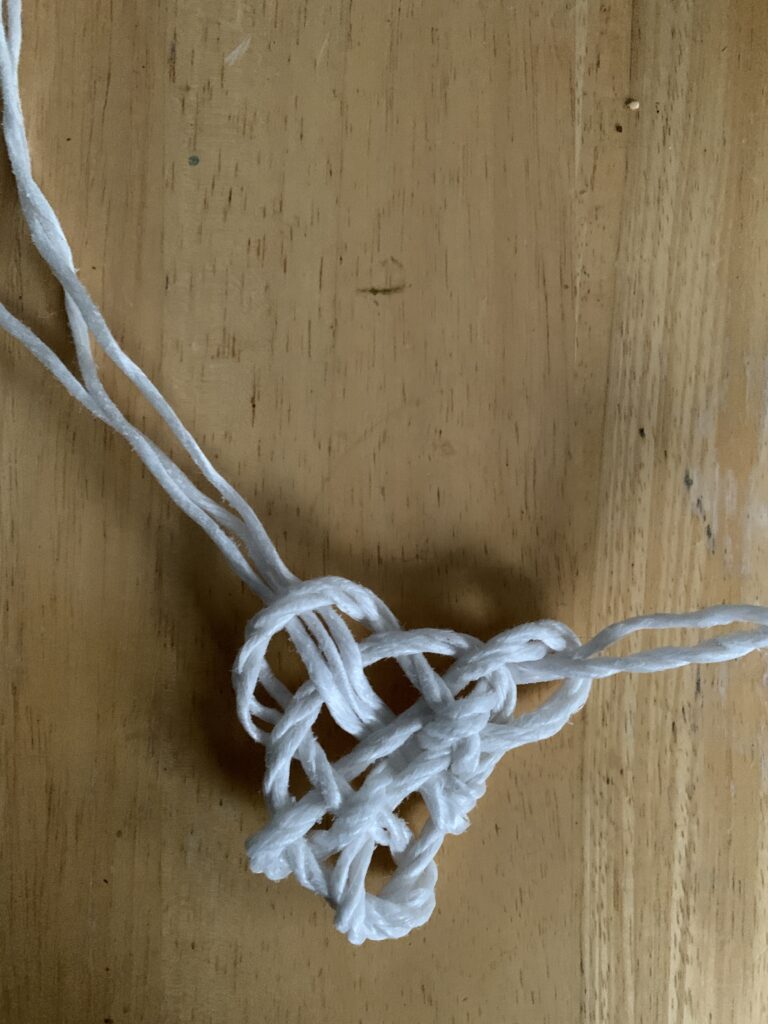 Solomon's knot
Here is another, better, video:
SOLOMON BAR
ETERNITY KNOT
http://www.free-macrame-patterns.com/eternity-knot.html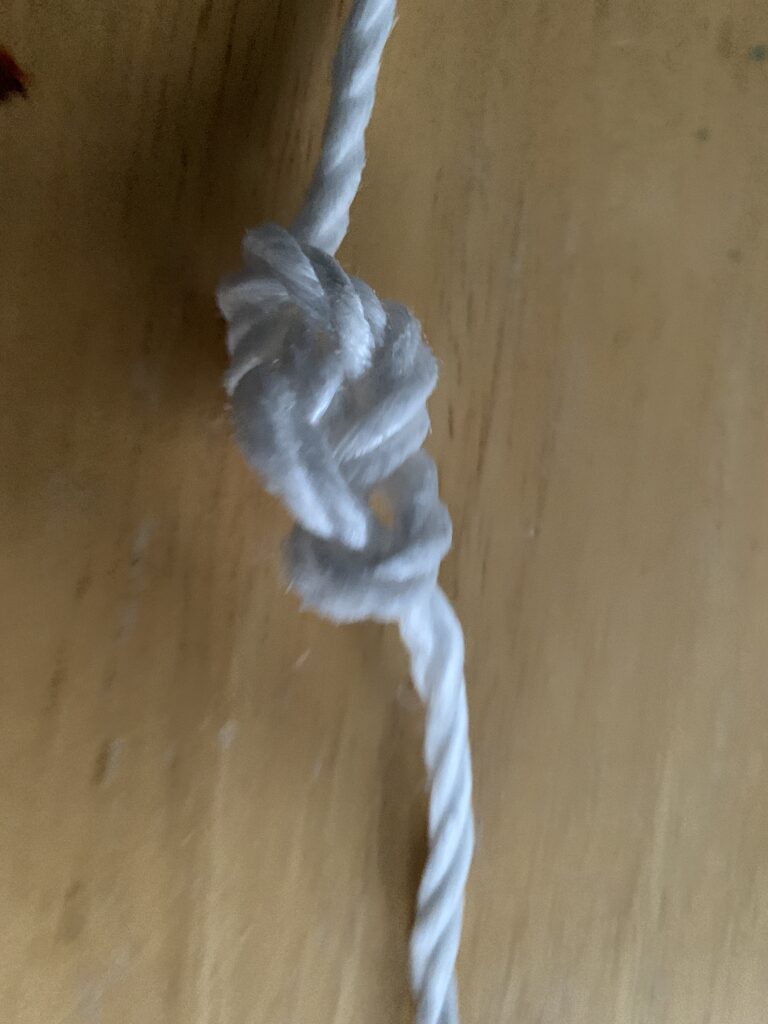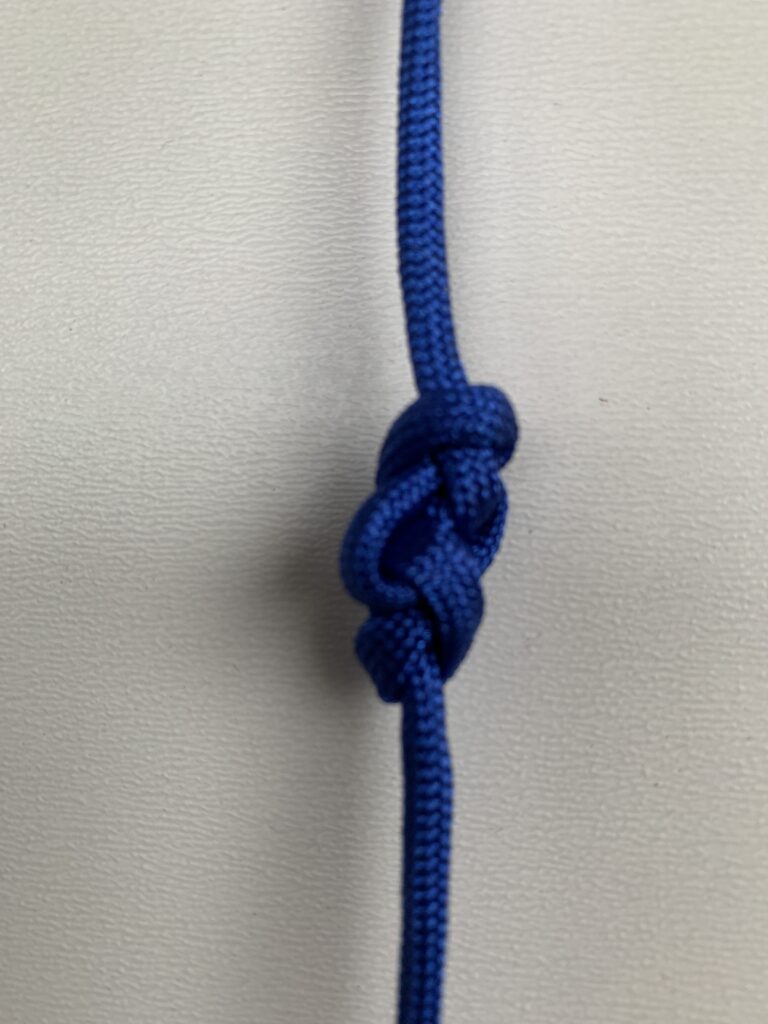 I've chosen these five because each has some sort of connection to love, connecting, spirituality. The love poems will in some way make a connection between love and the love of eternity, the eternal nature of their love.
MAPS AND CONSTELLATIONS Research
This morning I looked for a map, and found amongst my random possessions a map of Greece. Given that I've been to Greece five times and spent more time there than anywhere else in the world other than Canada, I decided to settle on a map of Greece to help me limit the constellations that I choose for this project.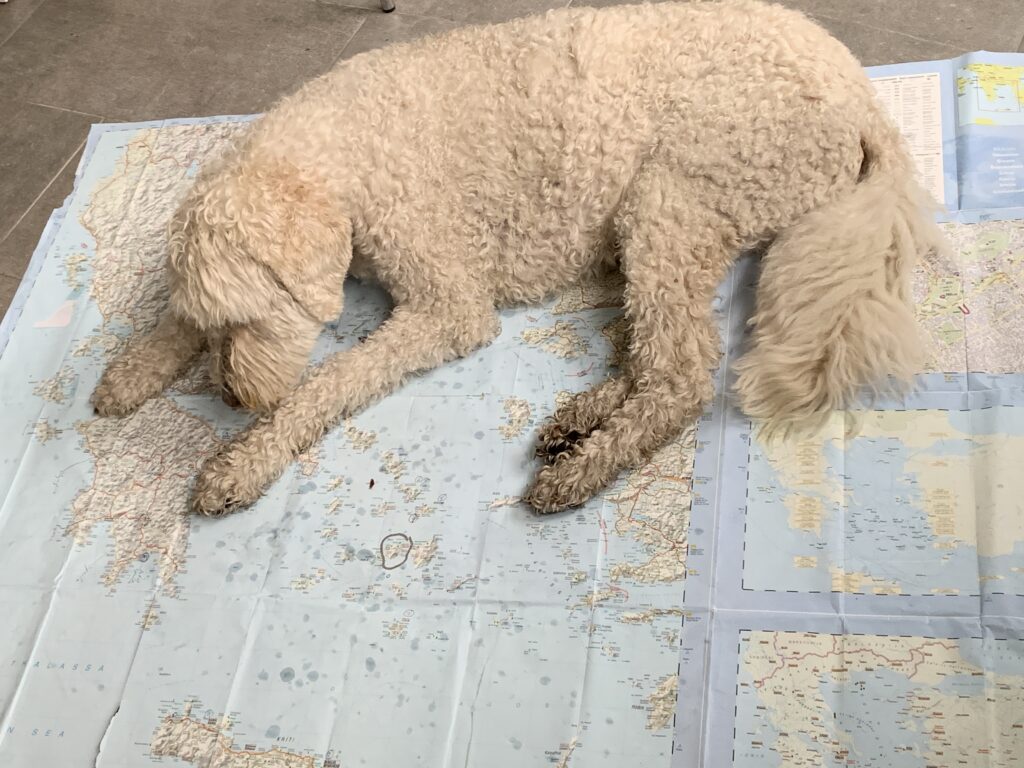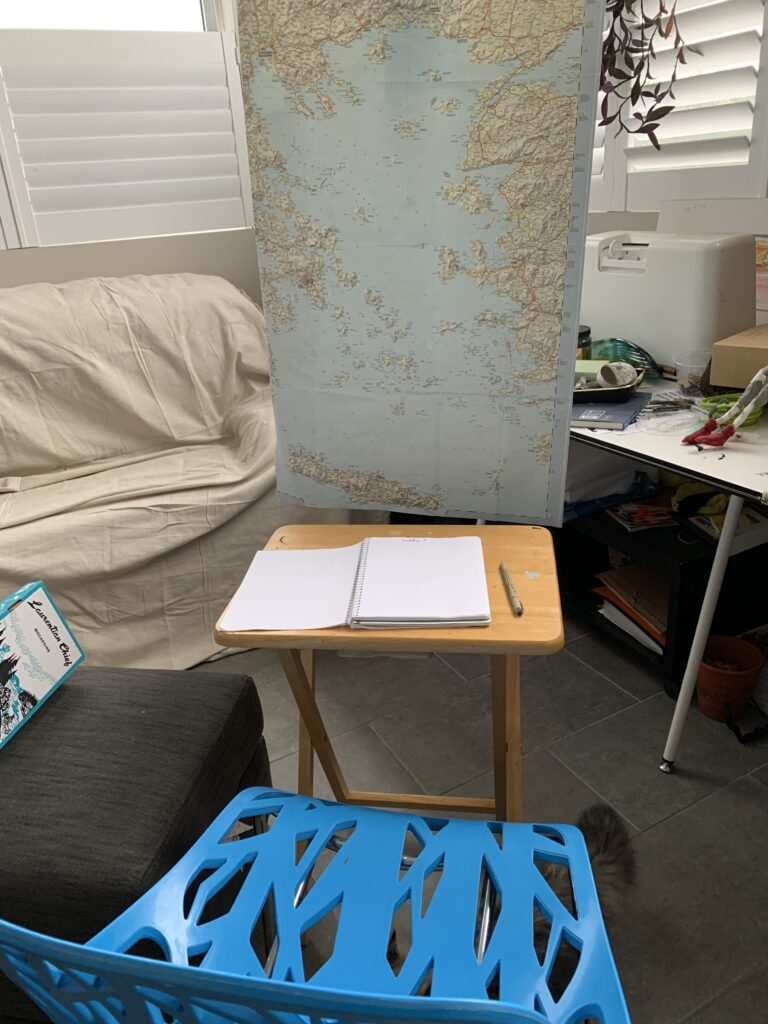 So, I "googled" constellations seen from Greece, and found the following resources:
The first one is the most helpful to my current project as it provides geographic details of the latitudes within which the constellations can be seen.
https://www.constellation-guide.com/constellation-map/zodiac-constellations/
As a result of my initial review of these sites, I have narrowed my constellations down to four related to the zodiac:
Taurus, Gemini, Cancer, Leo.
I will also include the Pleiades in my writing. Interesting fact: the word "zodiac" means "circle of animals". I have a superficial understanding of the zodiac and astrology and am more interested in the astronomical features of the zodiac. At least for now.
https://www.constellation-guide.com/constellation-names/greek-constellations/
https://www.theoi.com/greek-mythology/star-myths.html
https://www.loc.gov/collections/finding-our-place-in-the-cosmos-with-carl-sagan/articles-and-essays/modeling-the-cosmos/ancient-greek-astronomy-and-cosmology
https://www.underluckystars.com/blog/the-origin-of-the-greek-constellations/
https://physics.weber.edu/schroeder/ua/starmotion.html
Bloodletting reminder information:
https://www.medicalnewstoday.com/articles/bloodletting-why-doctors-used-to-bleed-their-patients-for-health
Greece map possible locations/Odysseus research
https://www.nationalgeographic.org/maps/travels-odysseus/
NEXT STEPS:
Do the same knots over again with paracord when it arrives on Friday. In the meantime, do the research on Victorian Hair Jewelry and figure out how to prepare hair in order to use it for knotting it.
Also, create the sailing route and connect that route to constellations and their related mythology. Start to think about poems, and probably start to write them while doing the reading/research on the constellations and mythology.
Useful links:
https://www.rookiemag.com/2013/12/diy-victorian-hair-jewelry/
http://www.victoriana.com/Jewelry/victorian-hair-jewelry.html
Getting organized for the Process Book (the real one)
I've become so accustomed to using WordPress for organizing my ideas and recording the process of my work, that I'm a bit perplexed about how to start with an actual, real process book. Also, I think I've forgotten how to use a pen for writing actual words.
So, I decided to start here, online, and once I get everything organized here, I'll "copy" it, or print it out, or whatever it takes, and migrate it over to the tangible book.
I'll give this a try.
October 4 update:
Nothing but frustration, really, with this project. Not really to do with the project itself, but cleaning my printer heads did not make the printer work, and I had a sewer backup into my apartment on Friday which has caused ongoing disruption to my work and living space. I fear I will not be able to "complete" my process book, and I've been recording my progess on this blog, but can't even print it out to put into the process book as per my original intention…
I've reduced the elements of the project to the following sketch: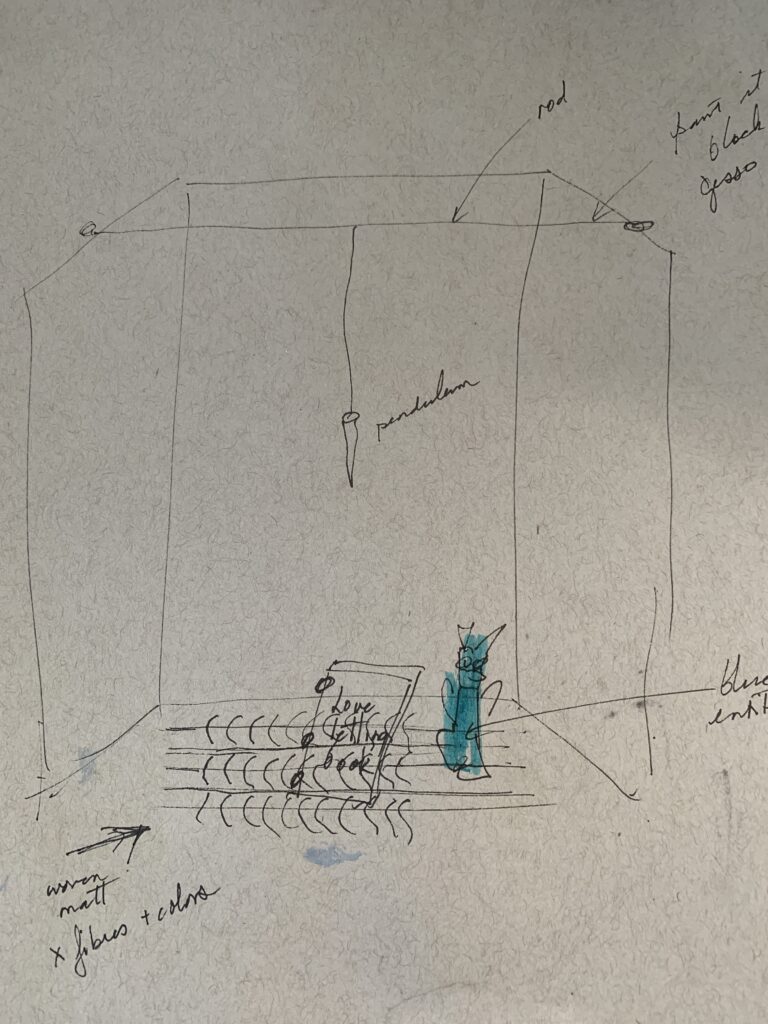 Next steps:
paint the background black gesso
rewrite the poems into a little "book"
"bind" the book
put one knot into the book as book mark
weave the mat for the base
find (or create if I cannot find) the pendulum
hang pendulum across the top of the frame
get blue figure for placement in the scene
decide on a name
make label
pack it all up for transport on Wednesday evening
review checklist to make sure I've done everything for the assignment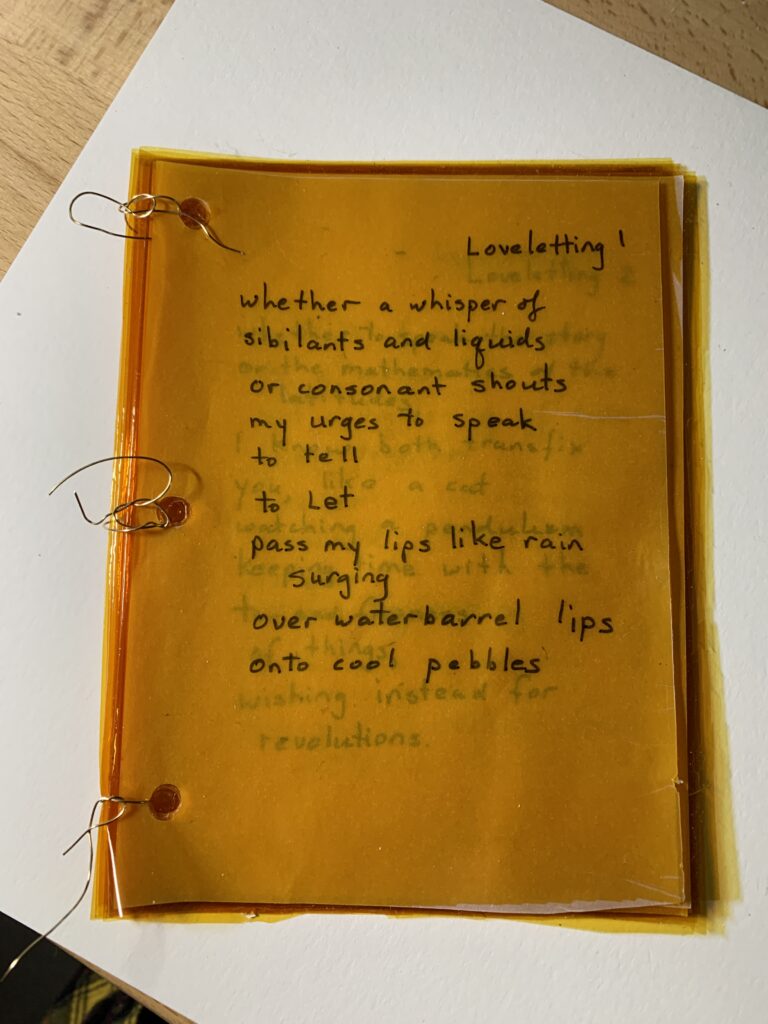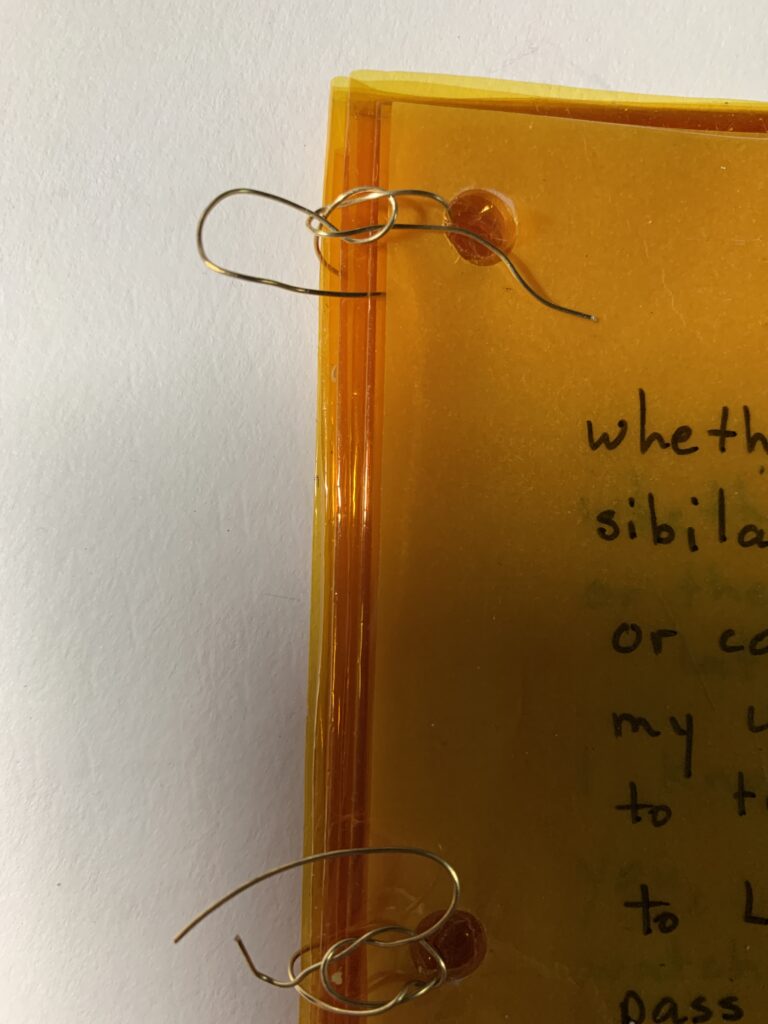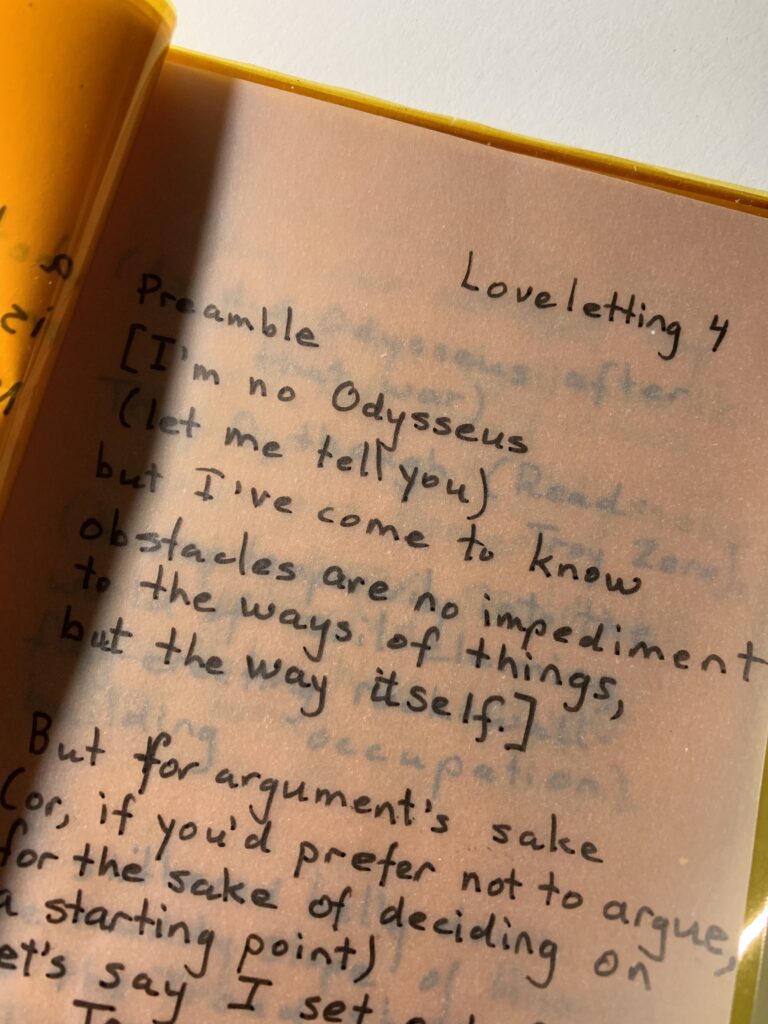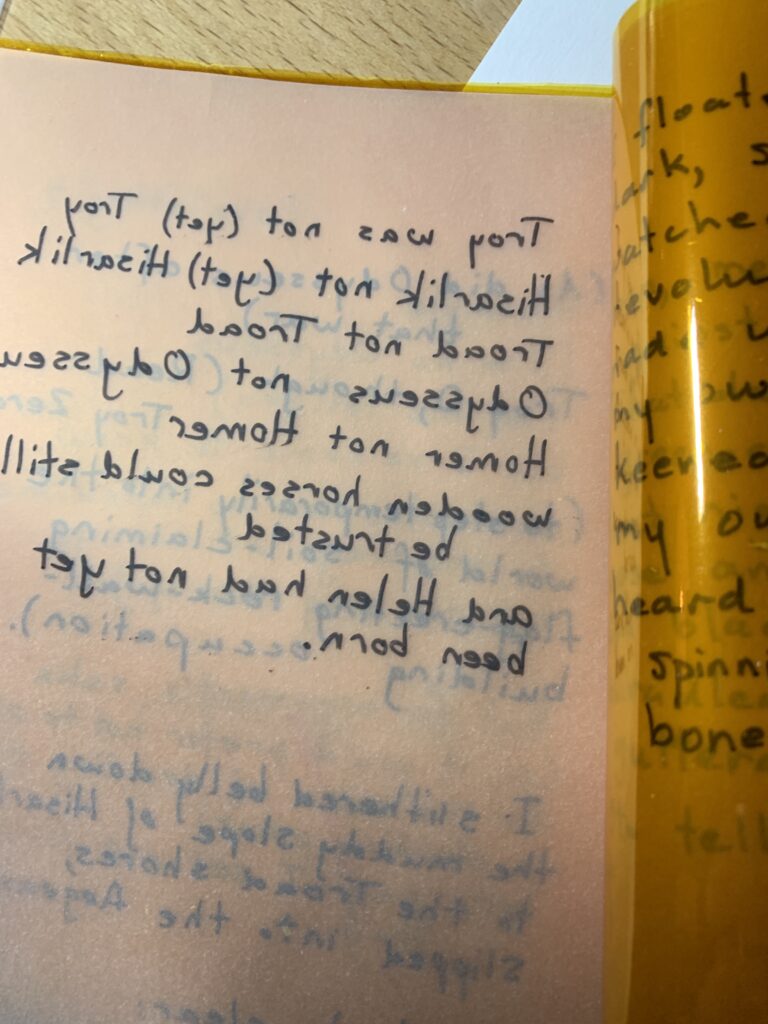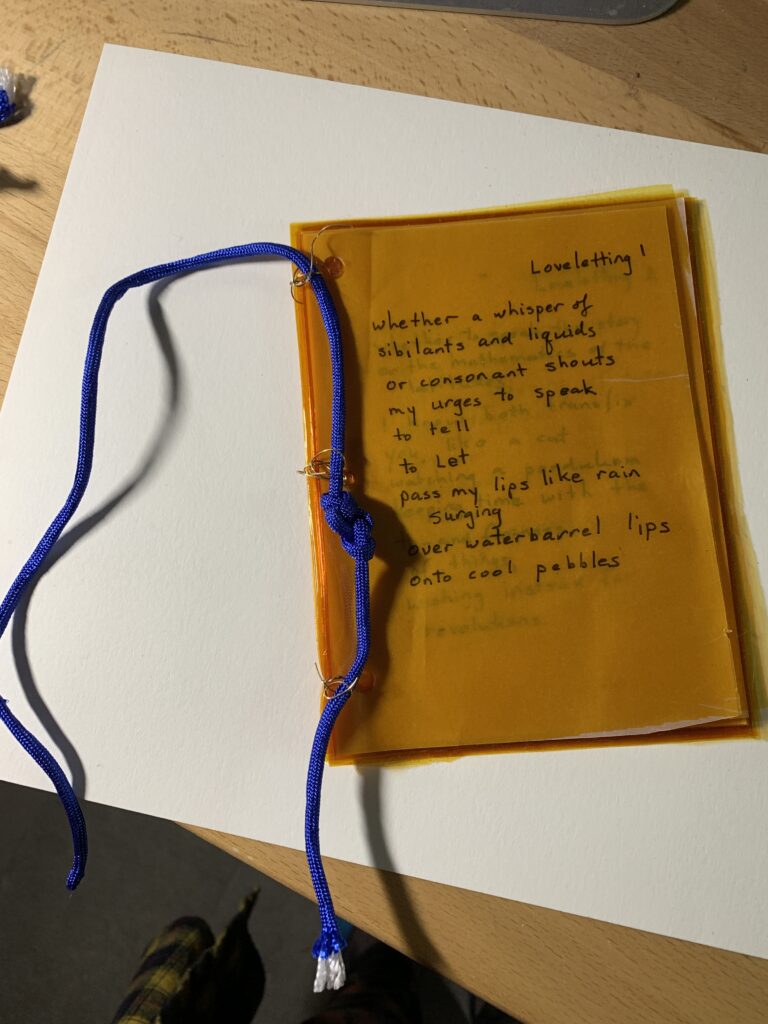 Next steps (October 4)
I've painted the stand with gesso, but I realize that the stand I have is too large, so I'll have to find another way to support the pendulum. Update: no, I'm going to use the "stand" that I have.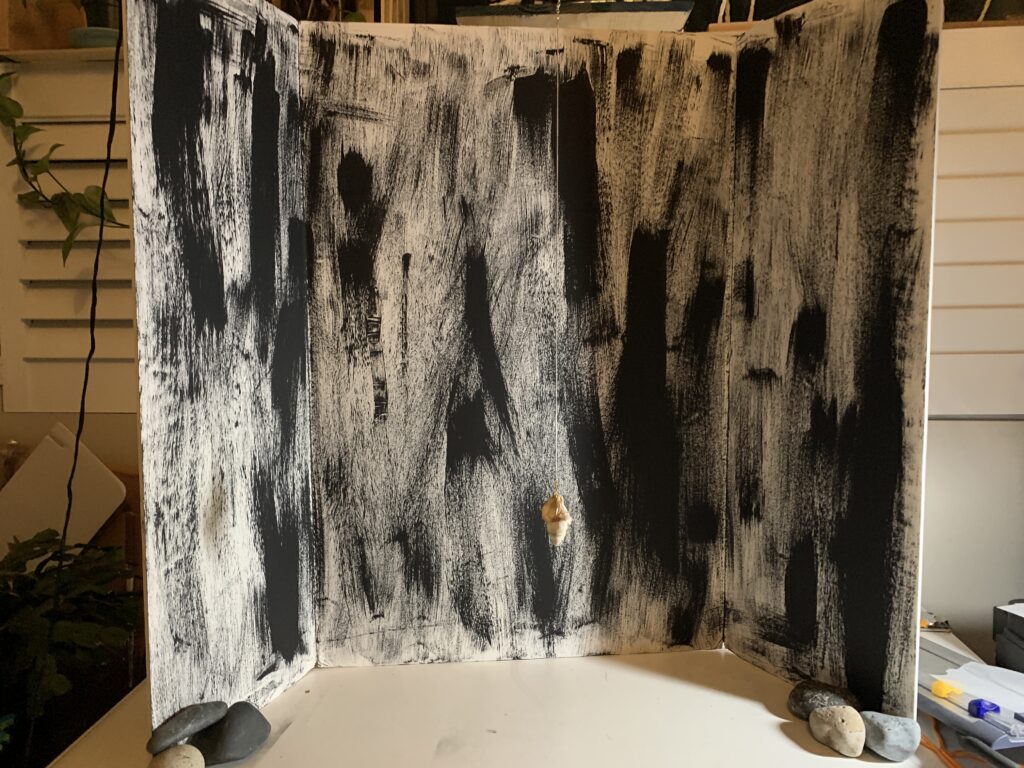 so, make the pendulum; okay I've made the pendulum out of a shell, some jeweler's wire, and a silver chain.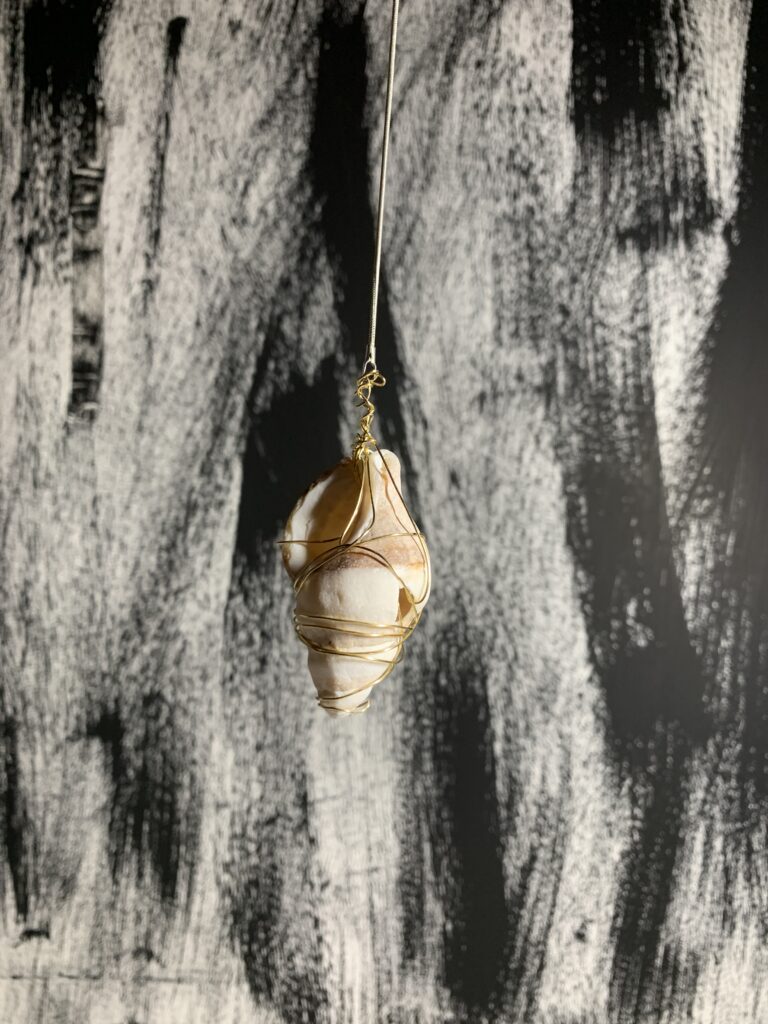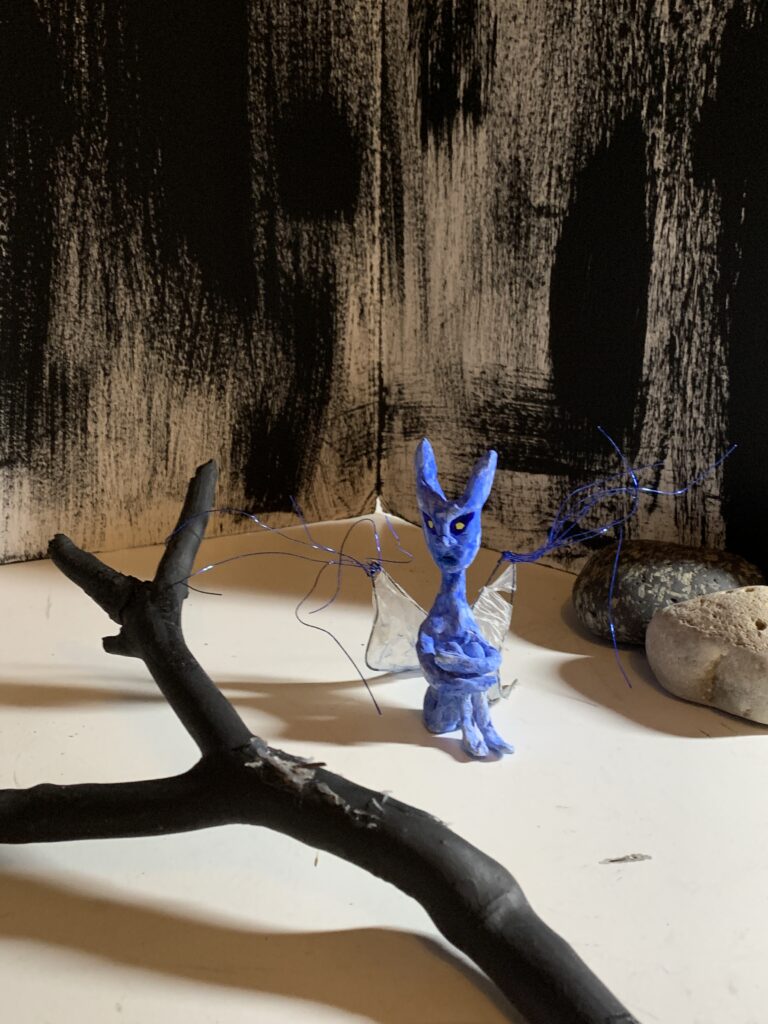 https://www.learnreligions.com/pendulum-divination-2561760
weave the mat
decide on a name
As I start to discuss just below the previous photograph, somehow I'm trying to get at emotions that don't have names. I've come up with Desiderium, which means "an ardent desire or longing; especially: a feeling of loss or grief for something lost" https://www.merriam-webster.com/words-at-play/heres-that-thing-youre-feeling/desiderium, and that could work here, but I'm just not sure yet. I'll keep looking.
make label
fill out self-assessment
find guidelines to make sure I've done everything required for the assignment.
Selecting Non-Precious Items for Lab #2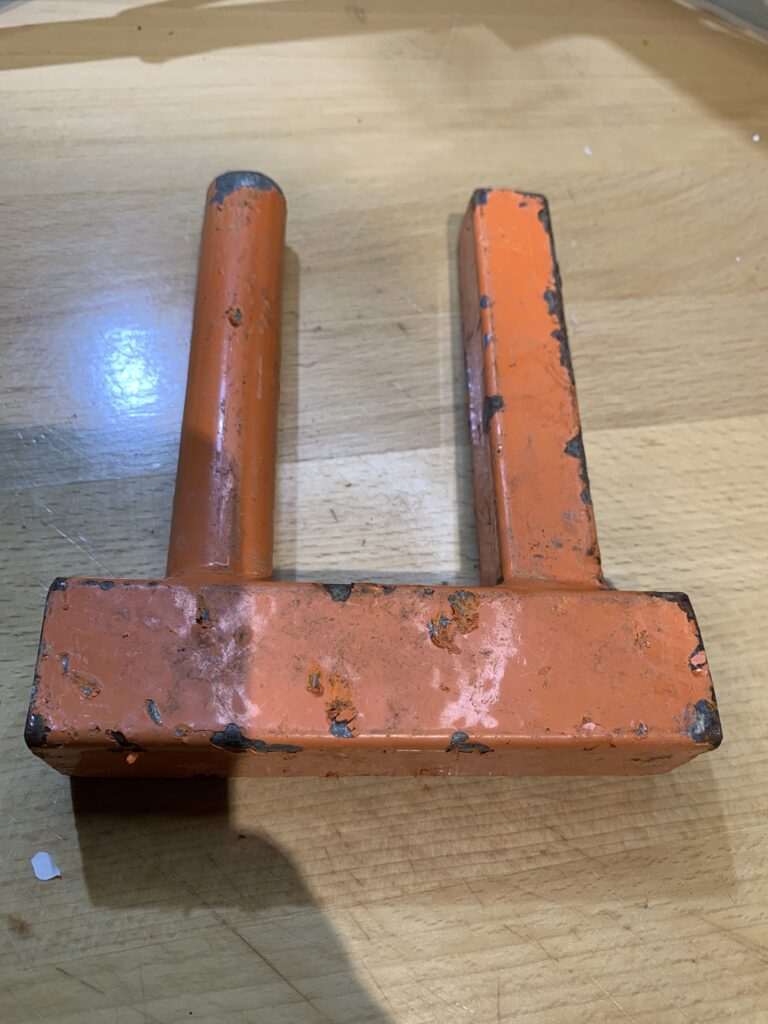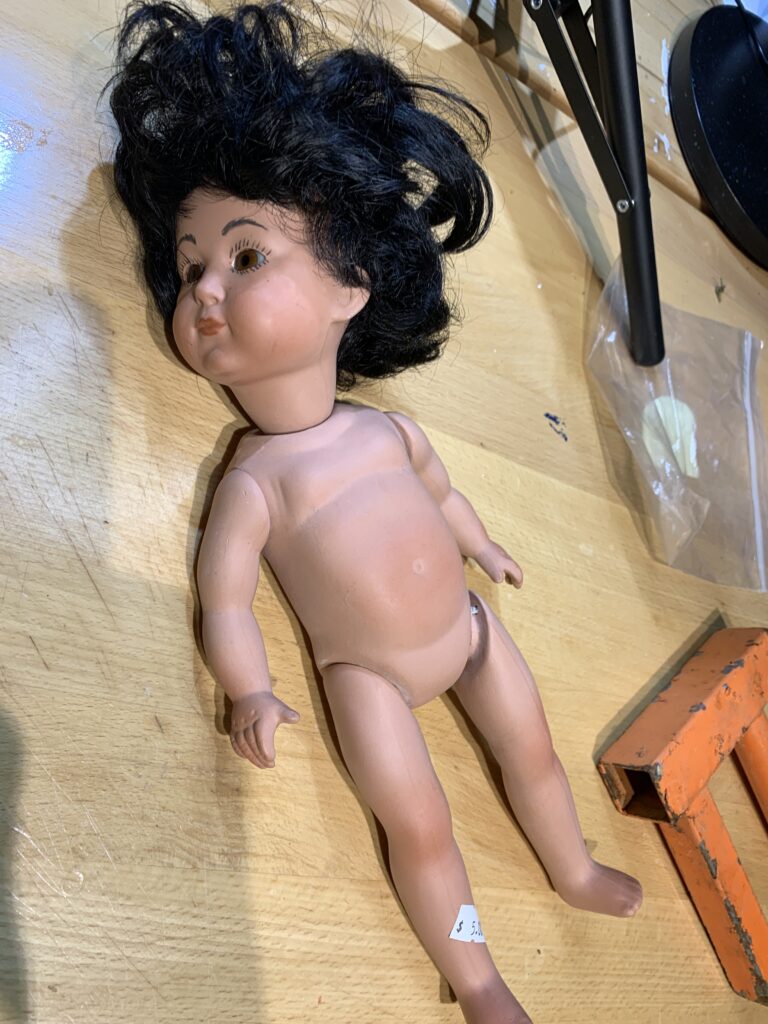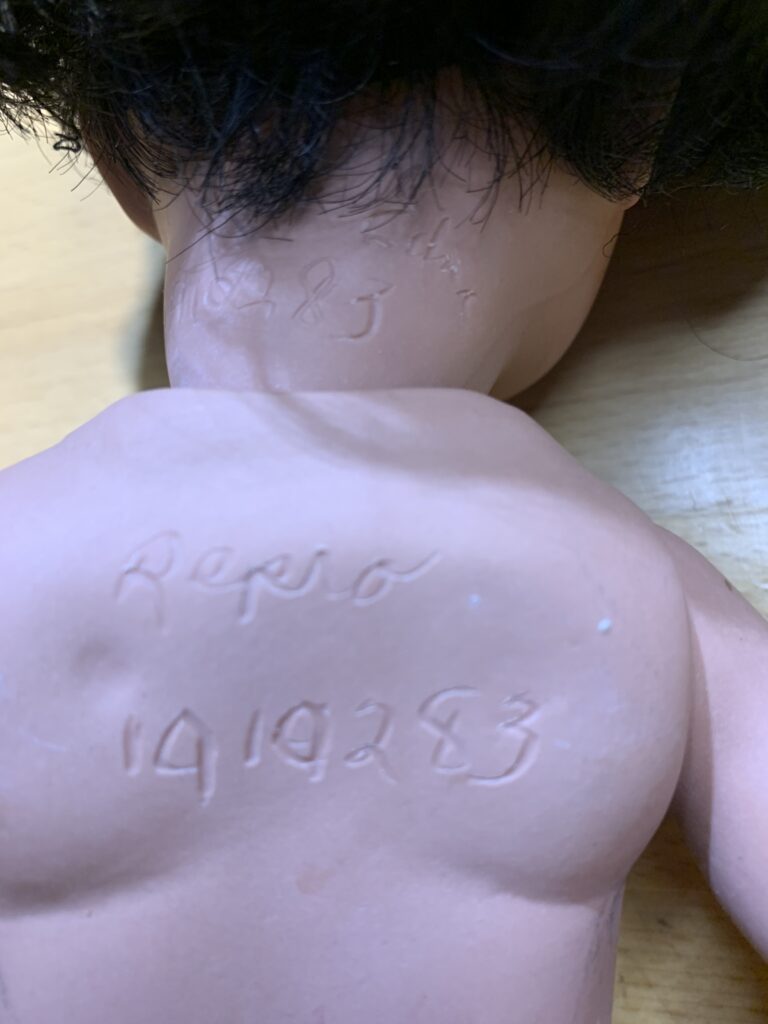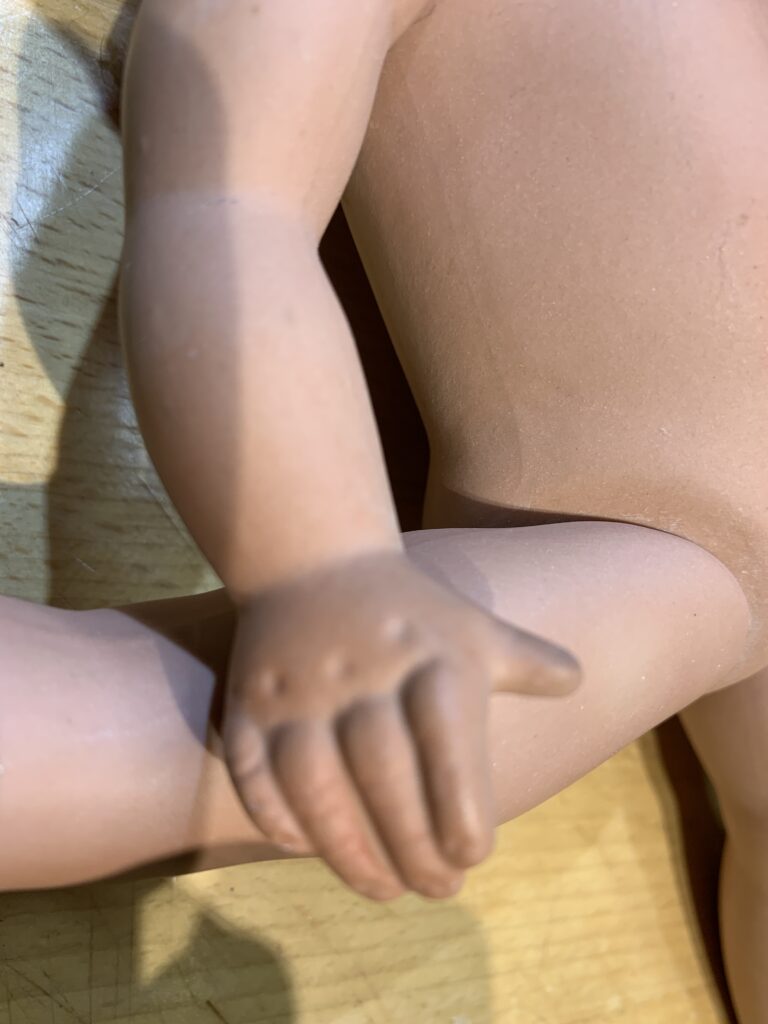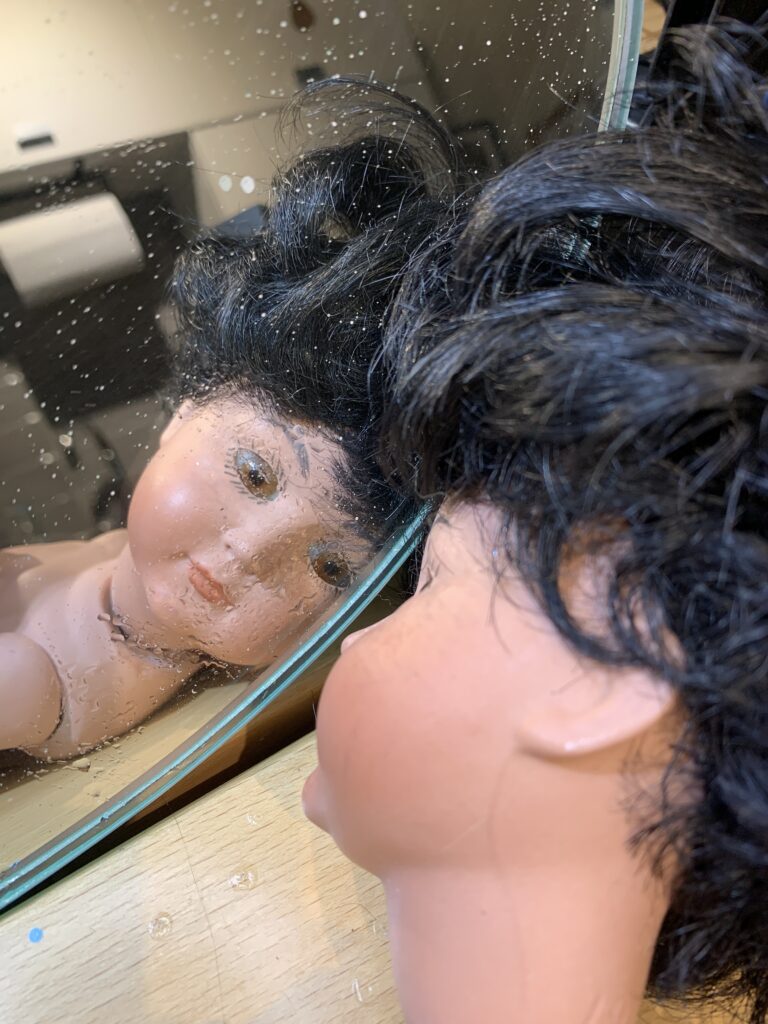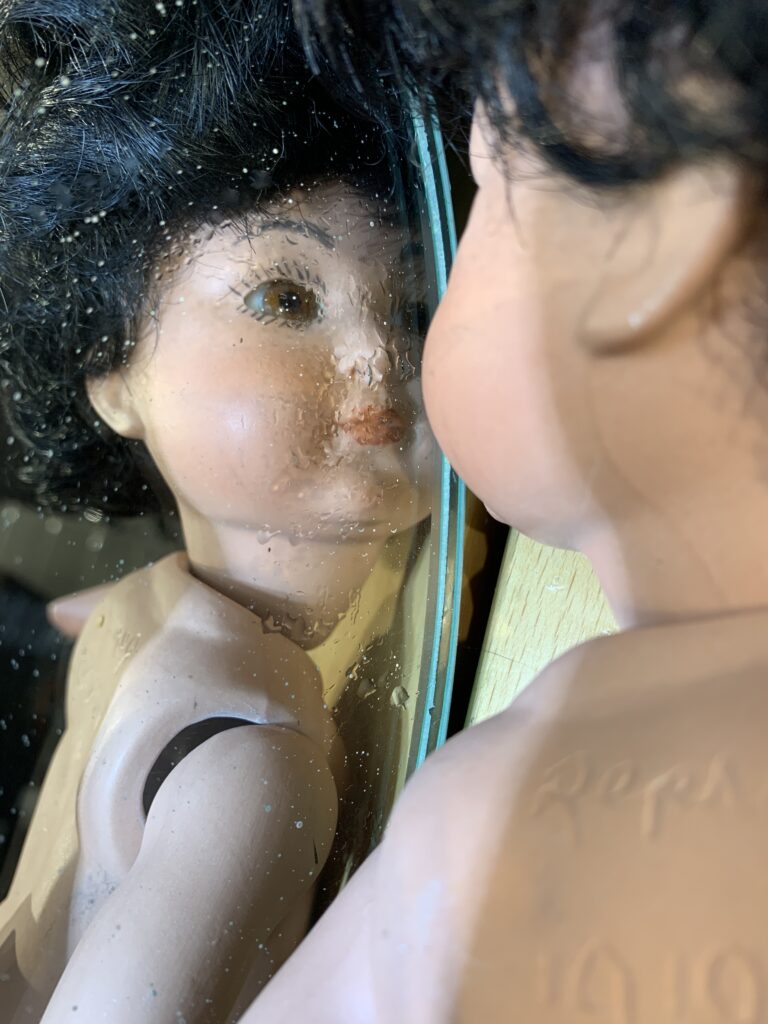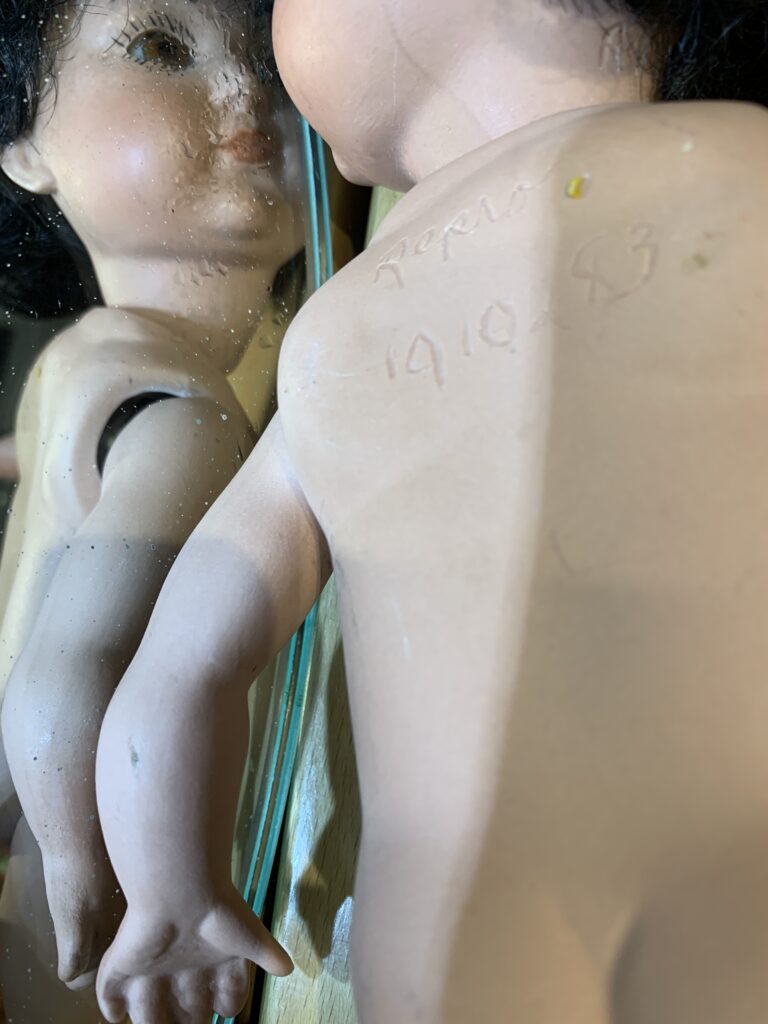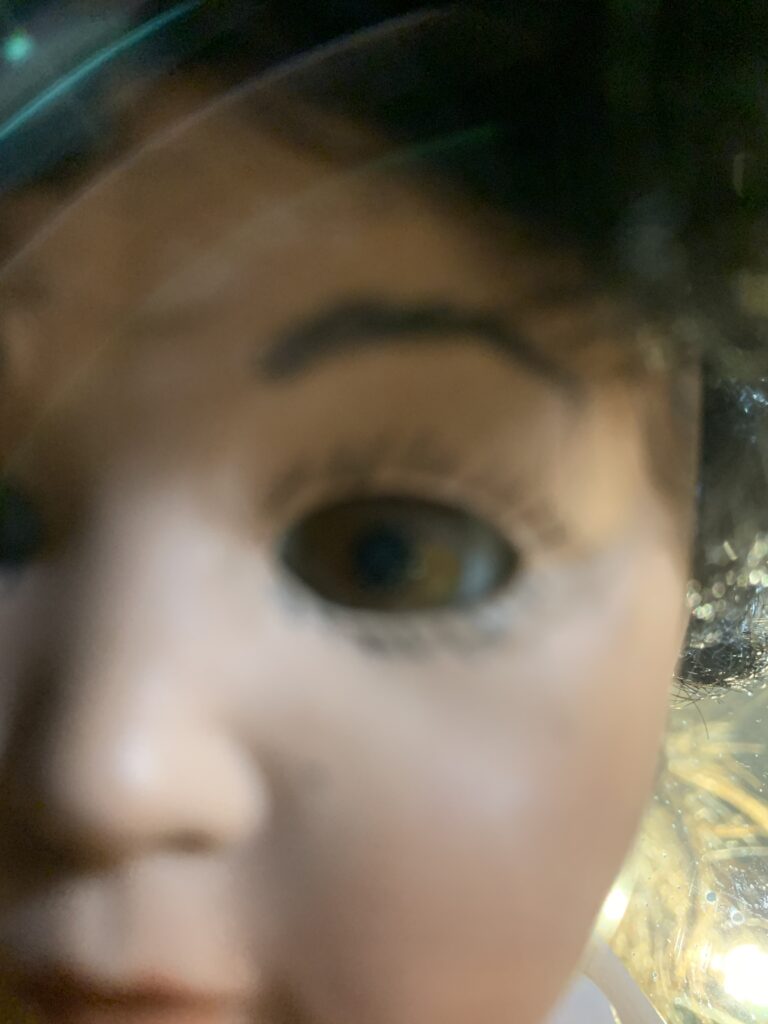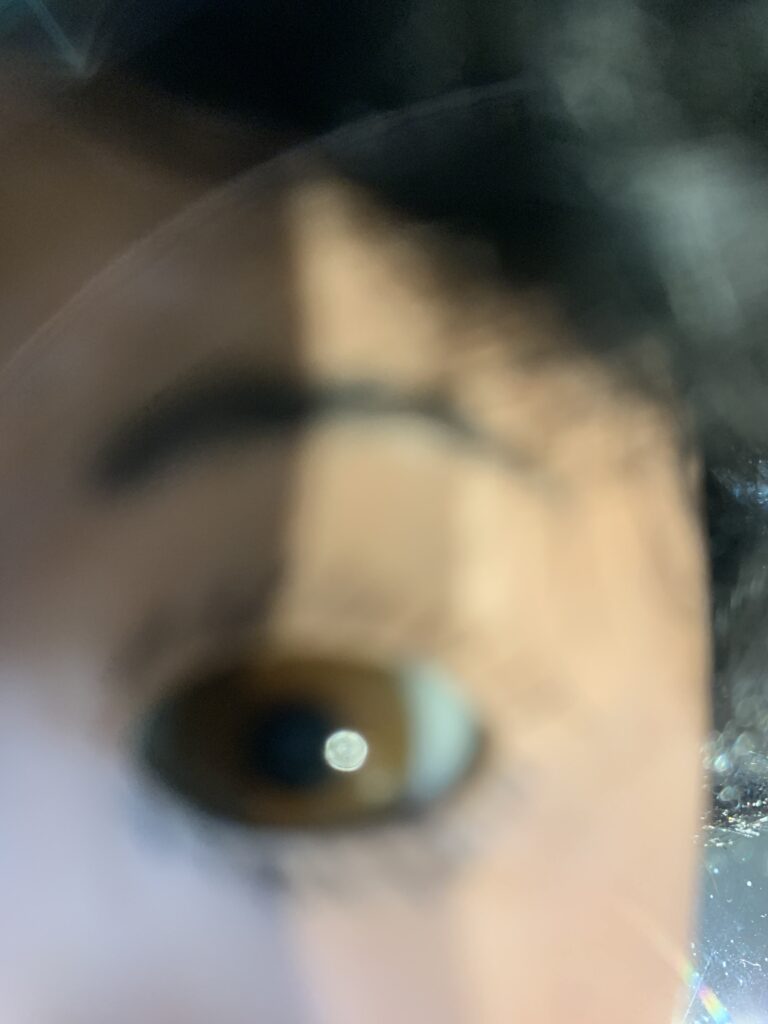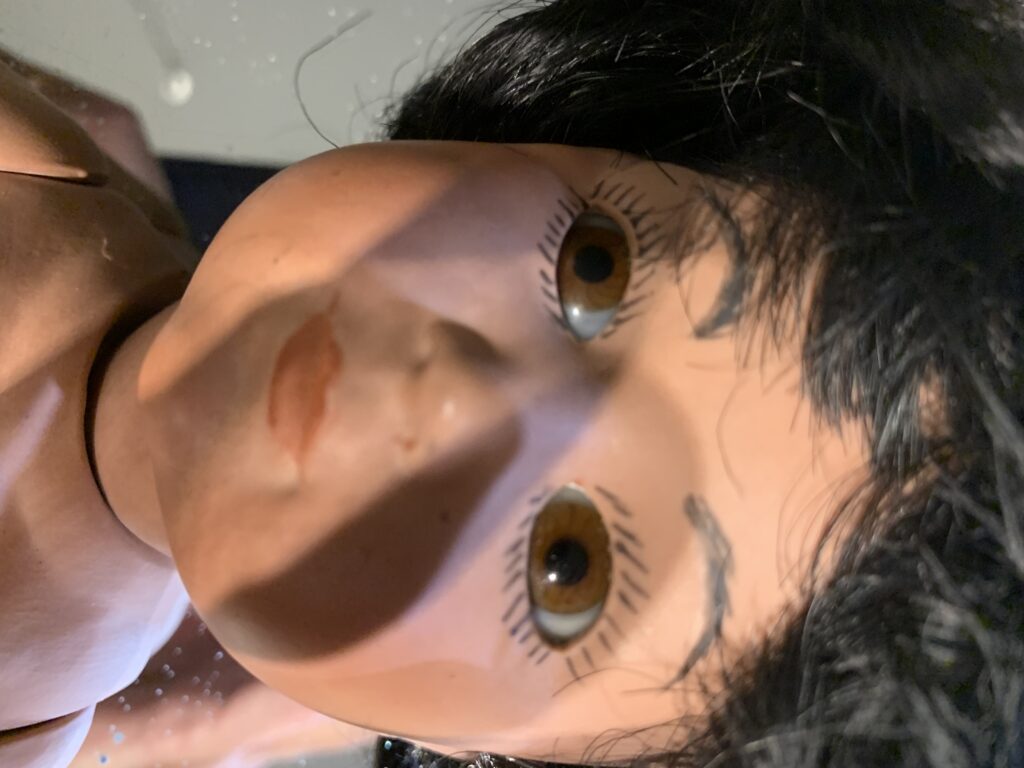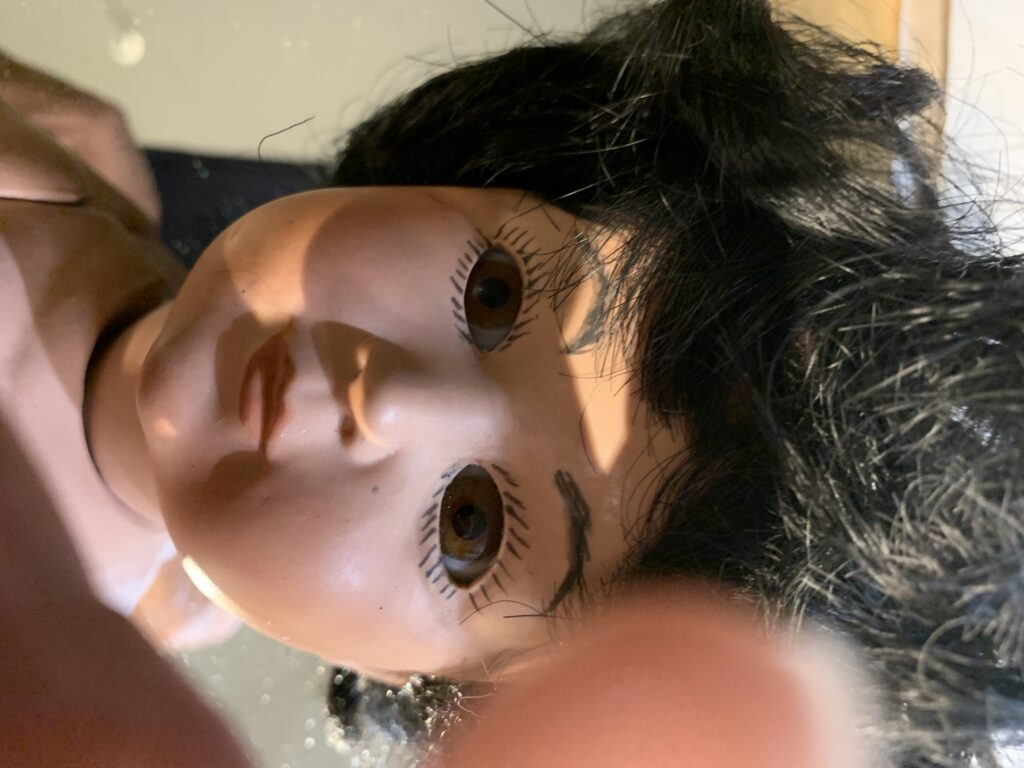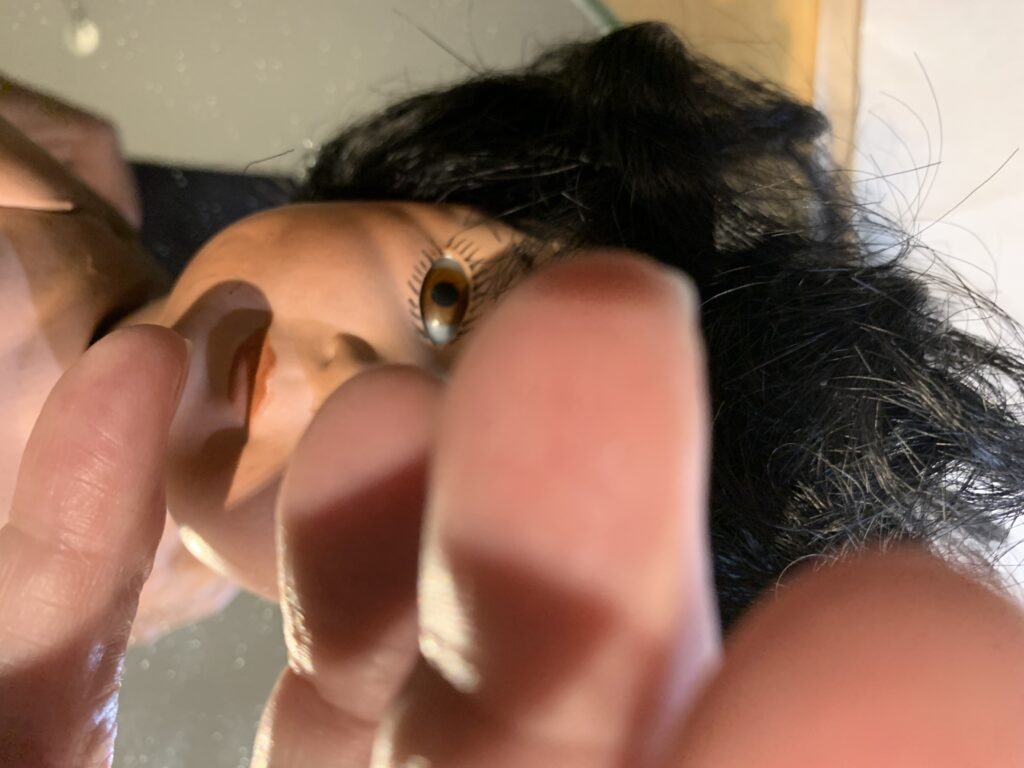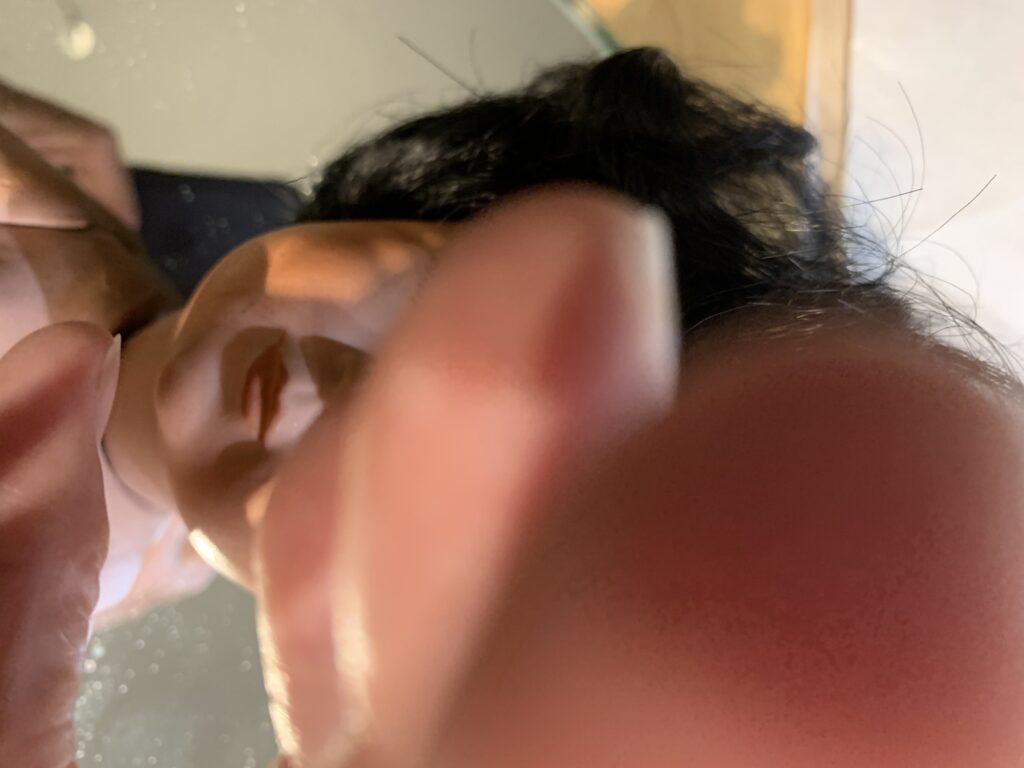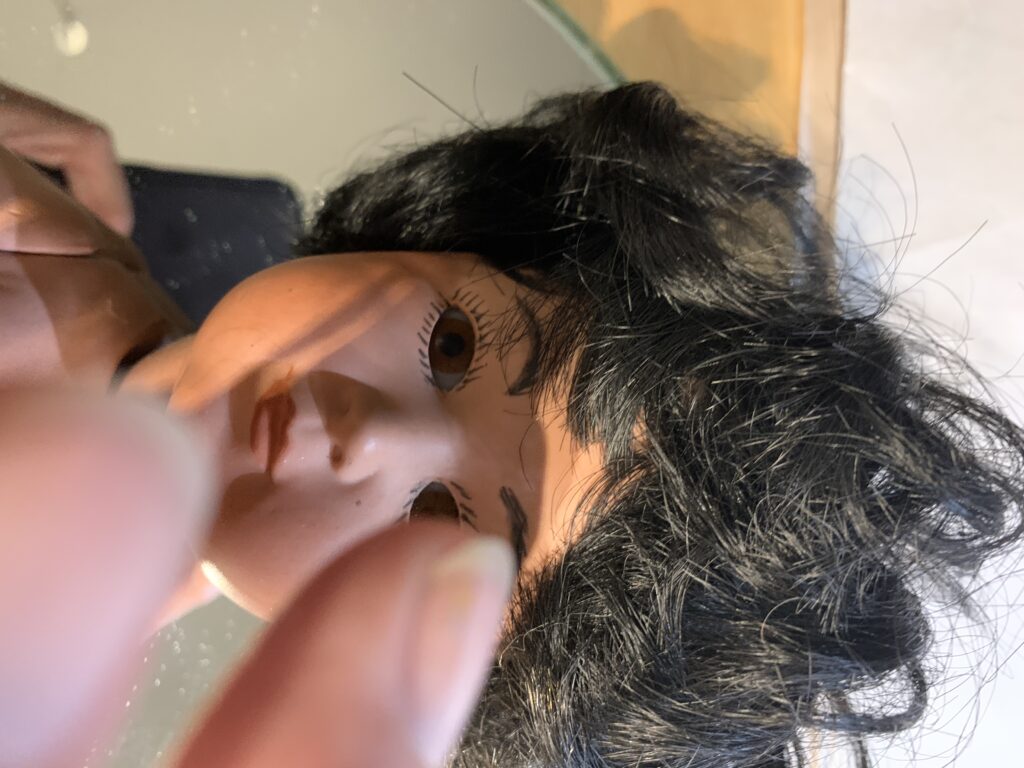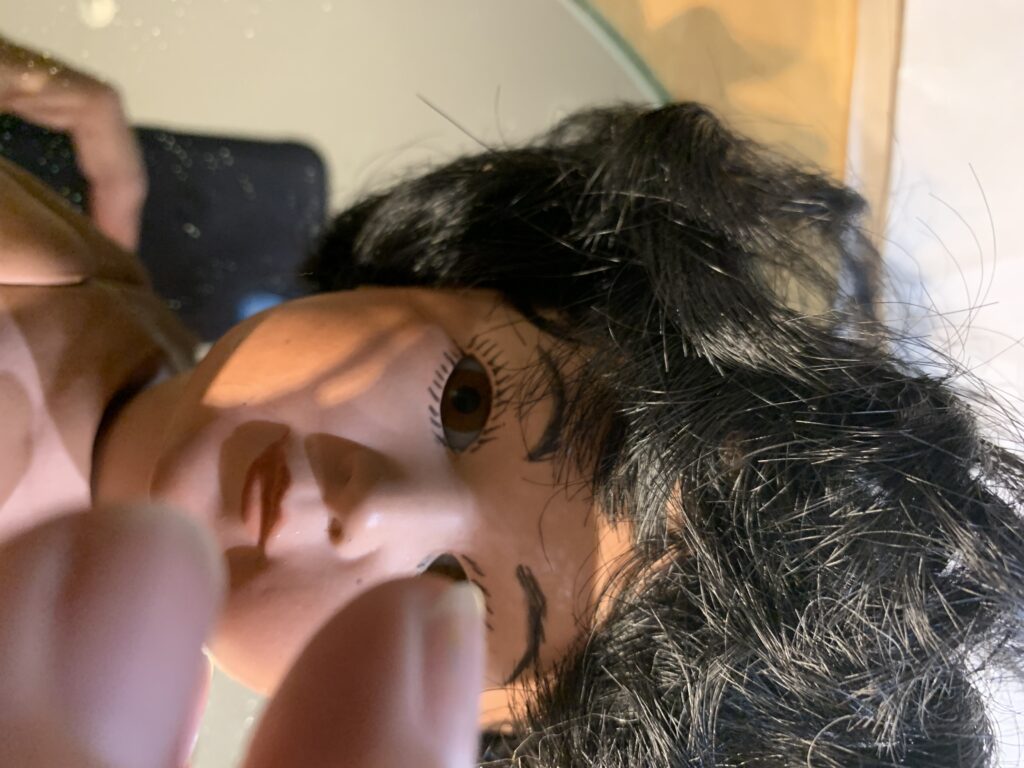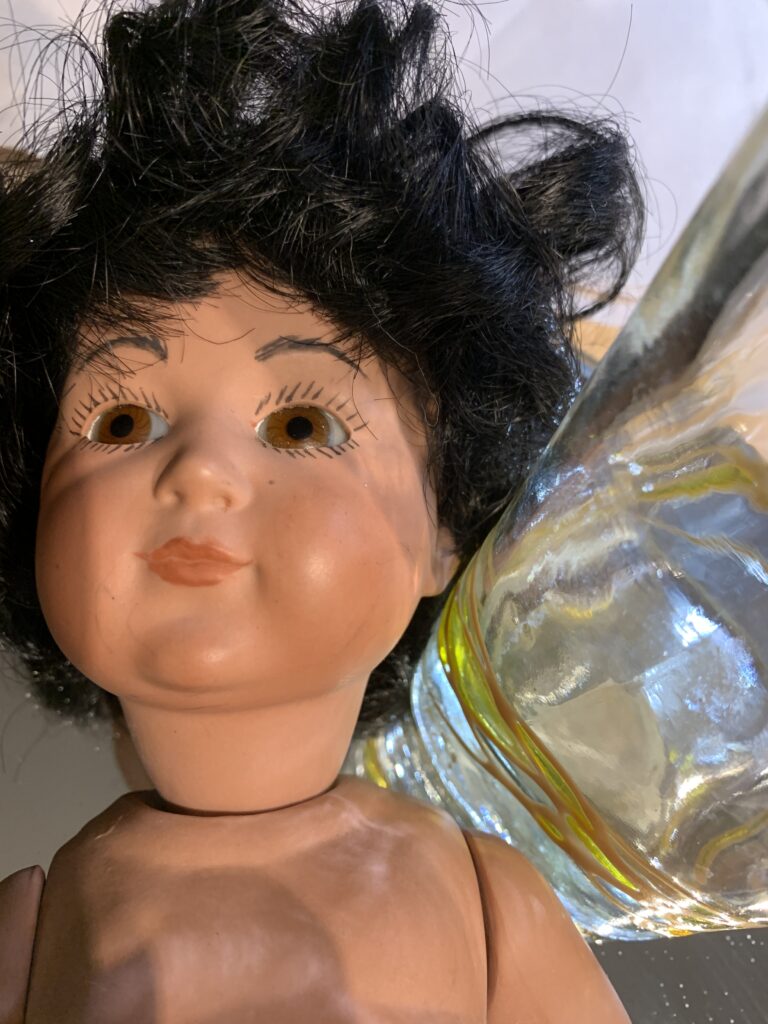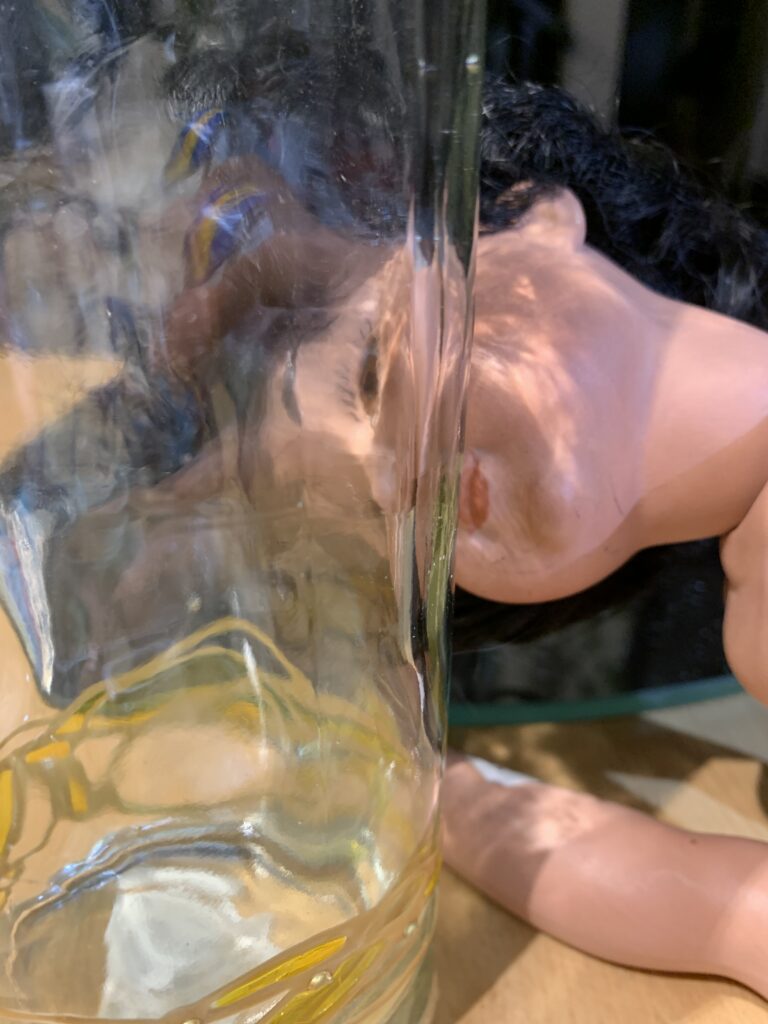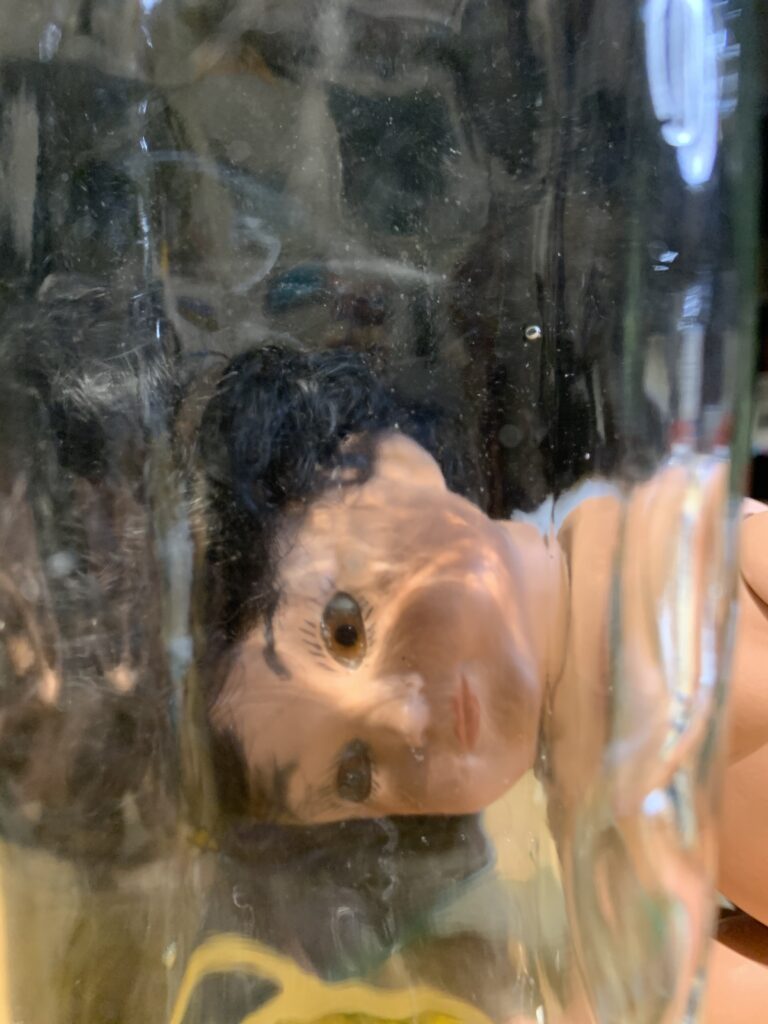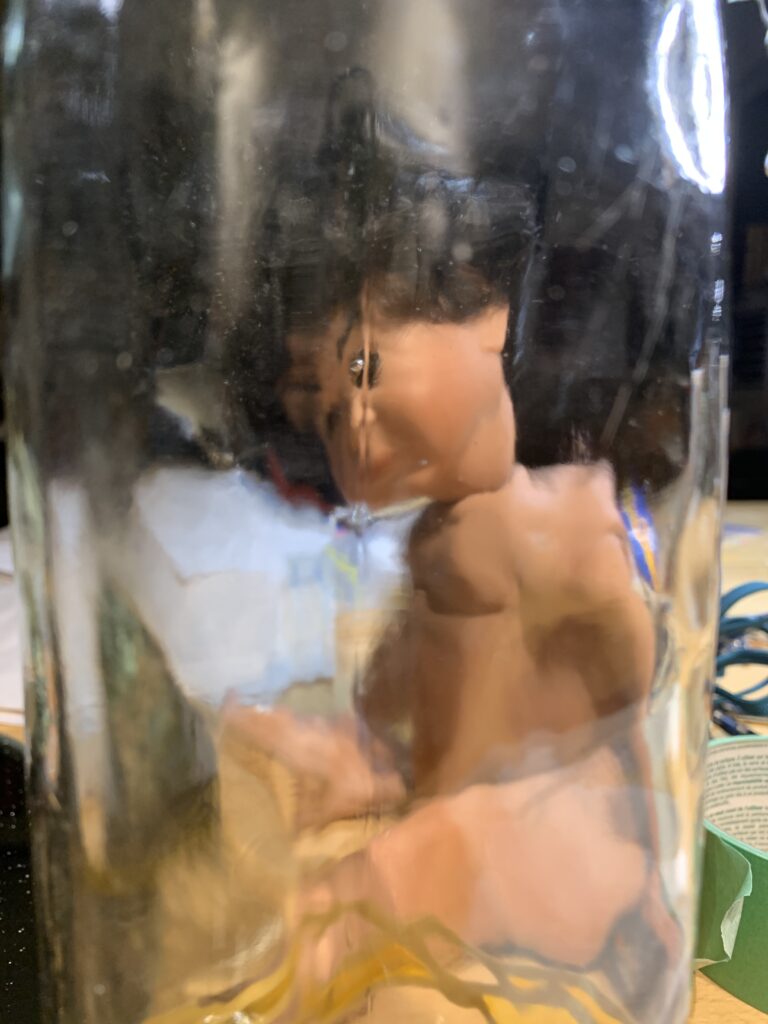 That's the end of the digression. This is why my homework takes me so long, I guess.
And here are the other items, none of which inspired a photoshoot.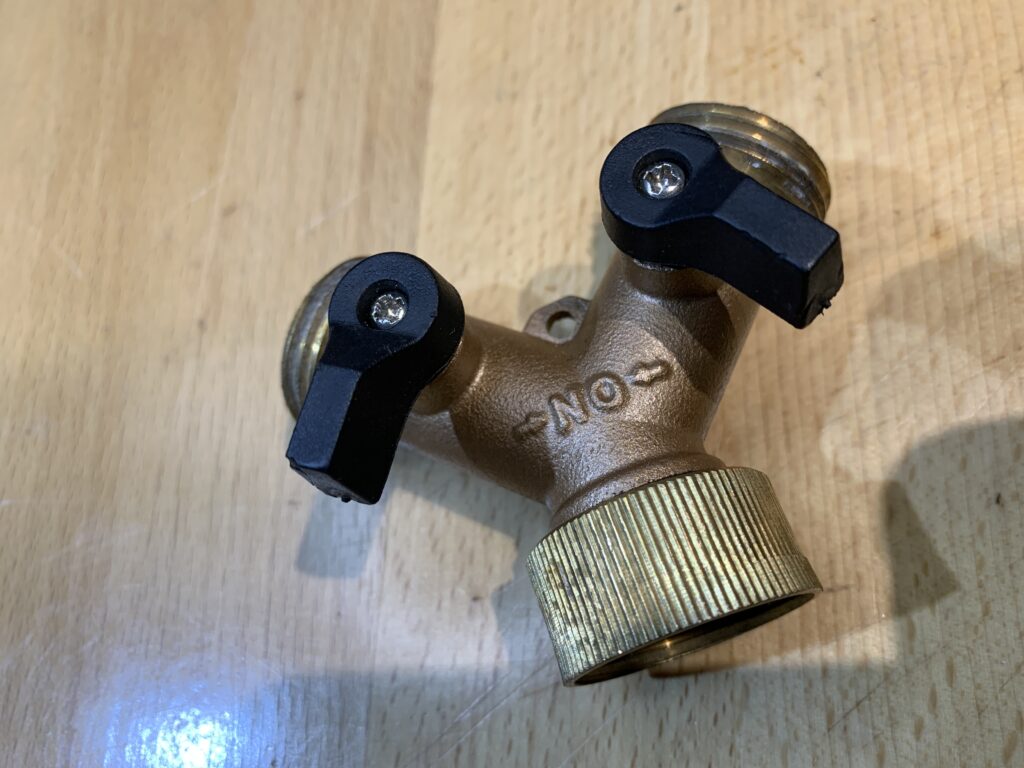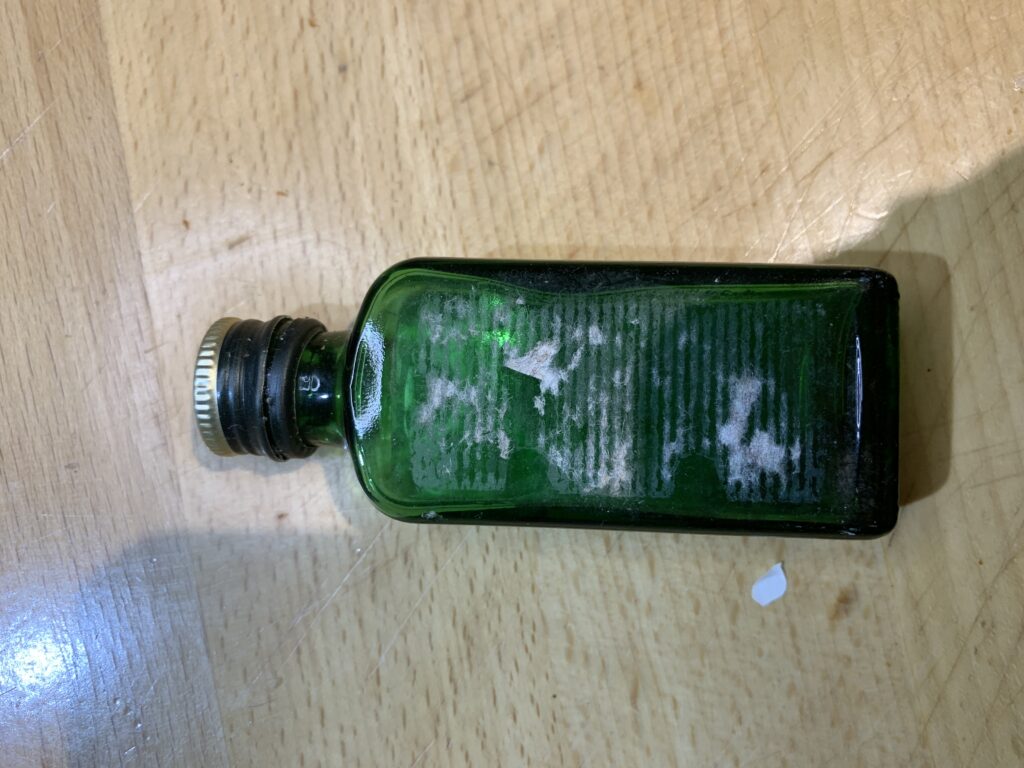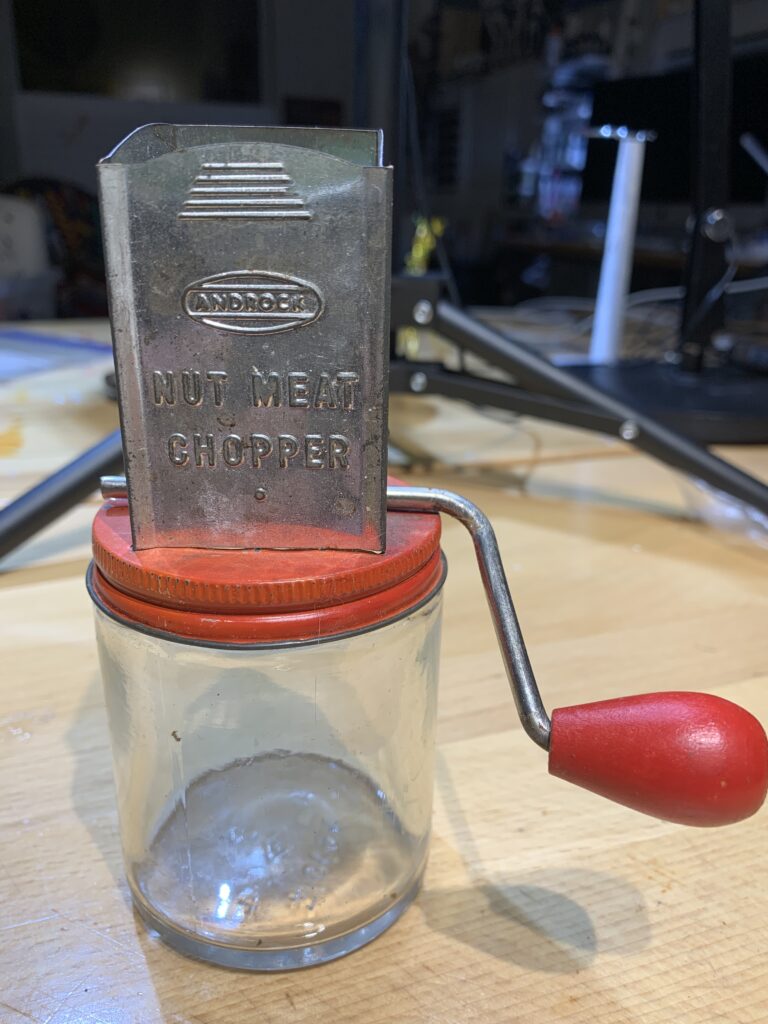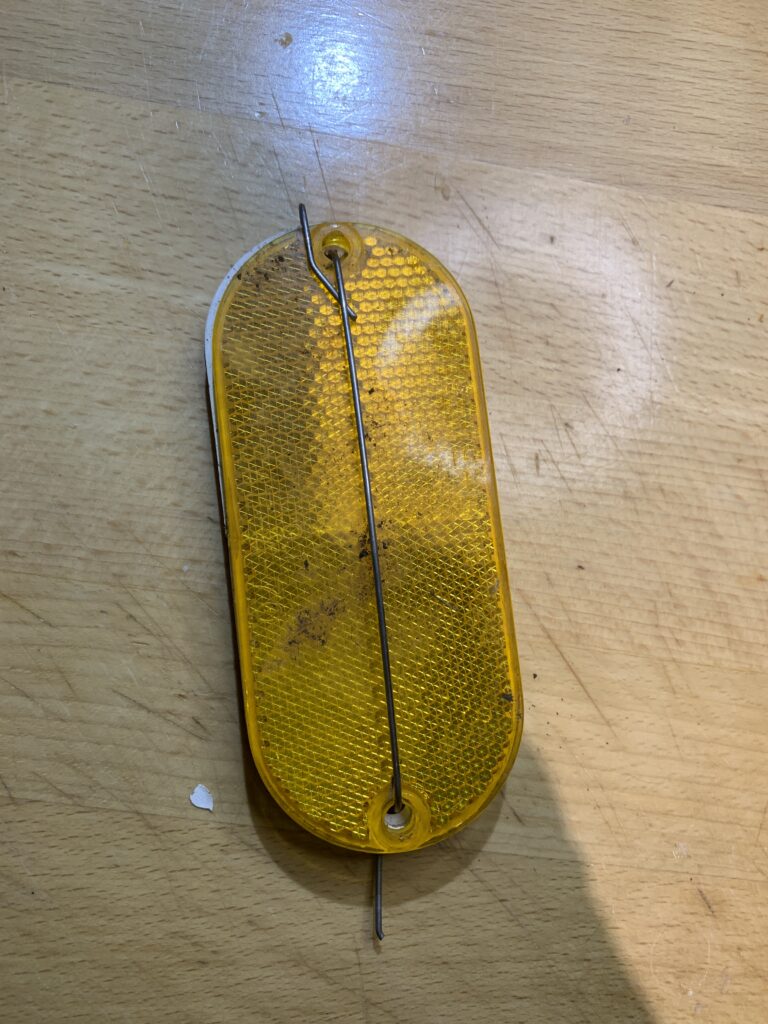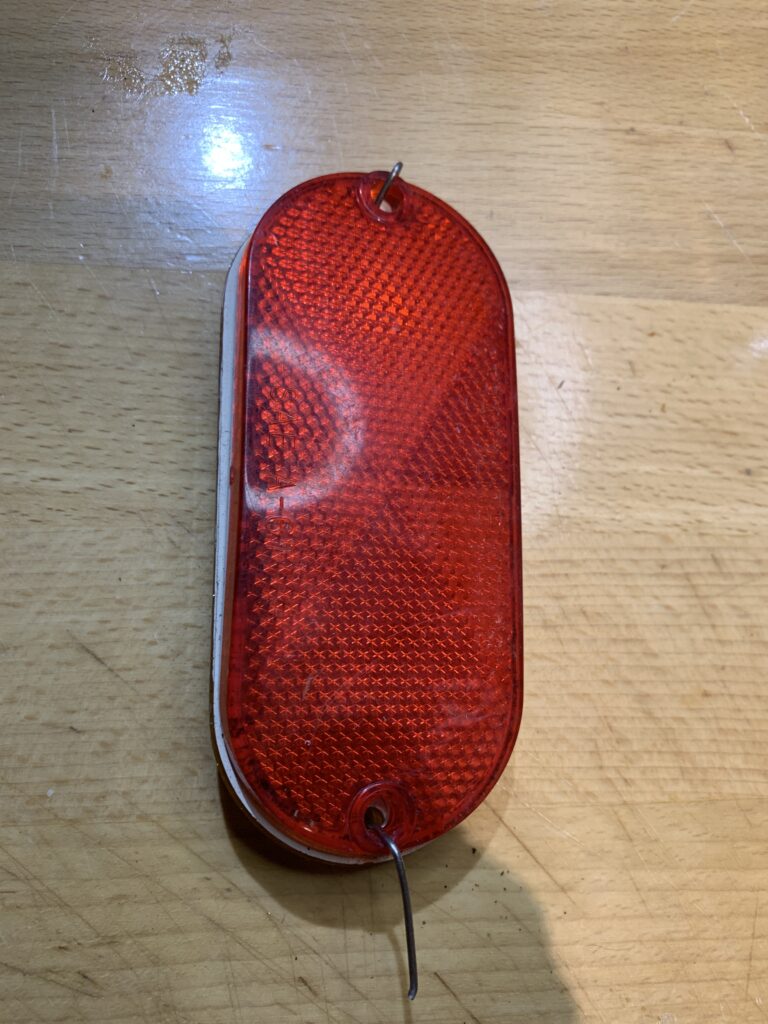 yeah, so, I find stuff in ditches, and I bring it all home because it might be useful some day. i have too much stuff like this. glad to get rid of it, although I think I'm going to miss the doll (um, I DID manage to retrieve her head, as it did not become part of anyone's project).
The Lab itself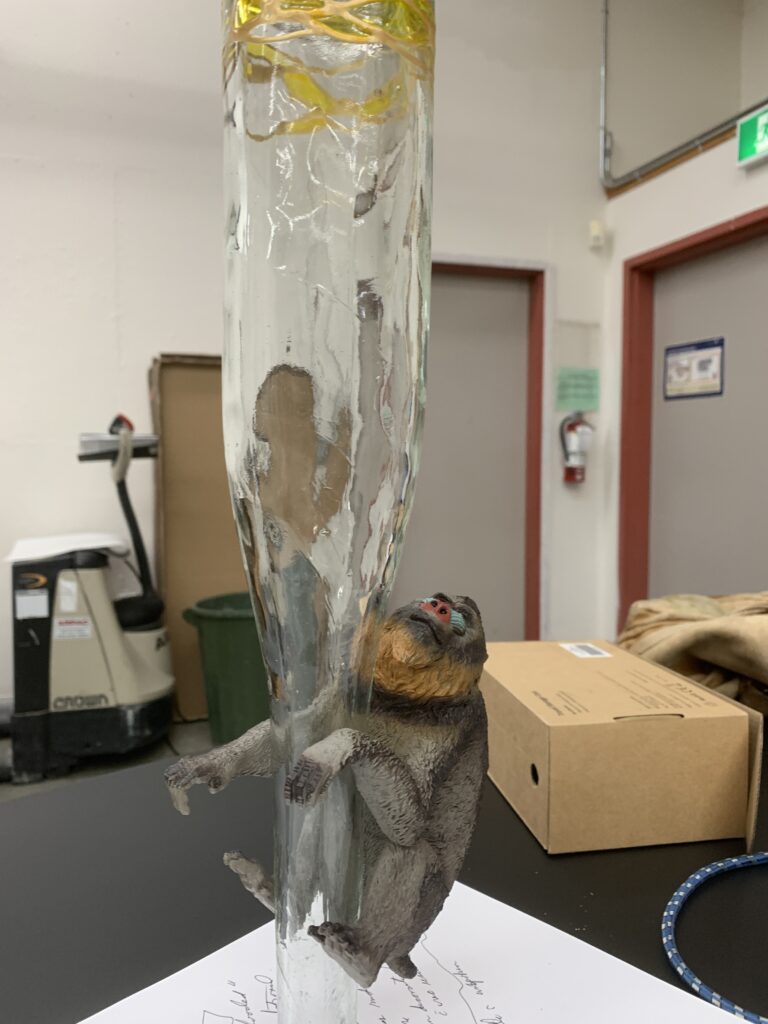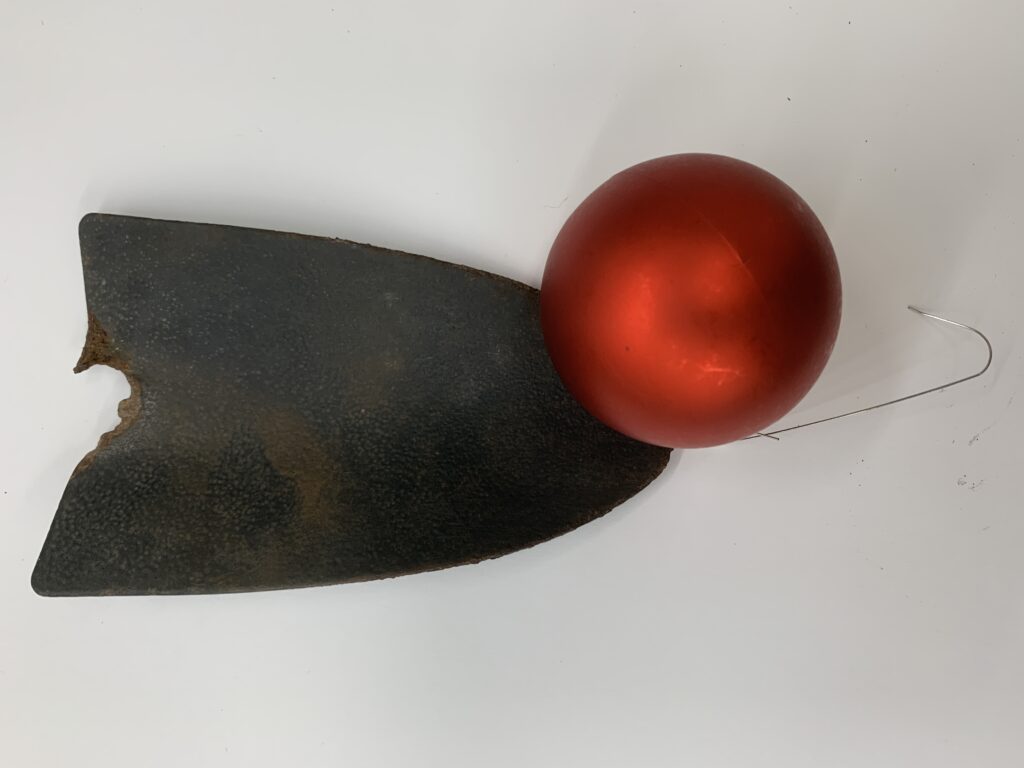 But…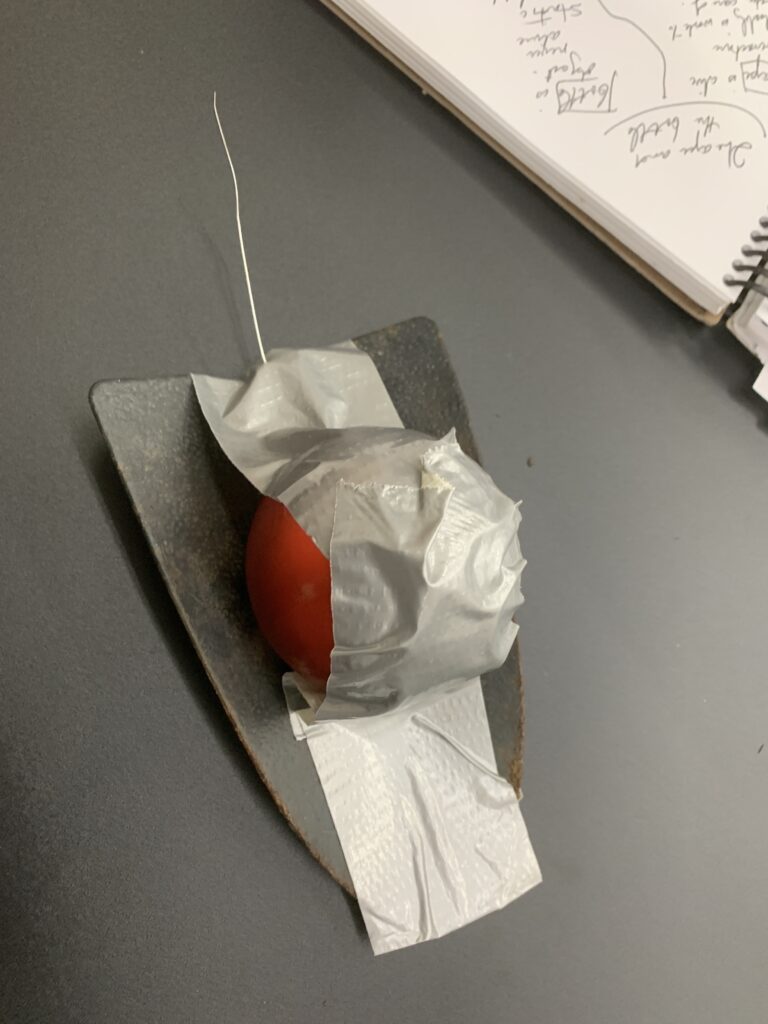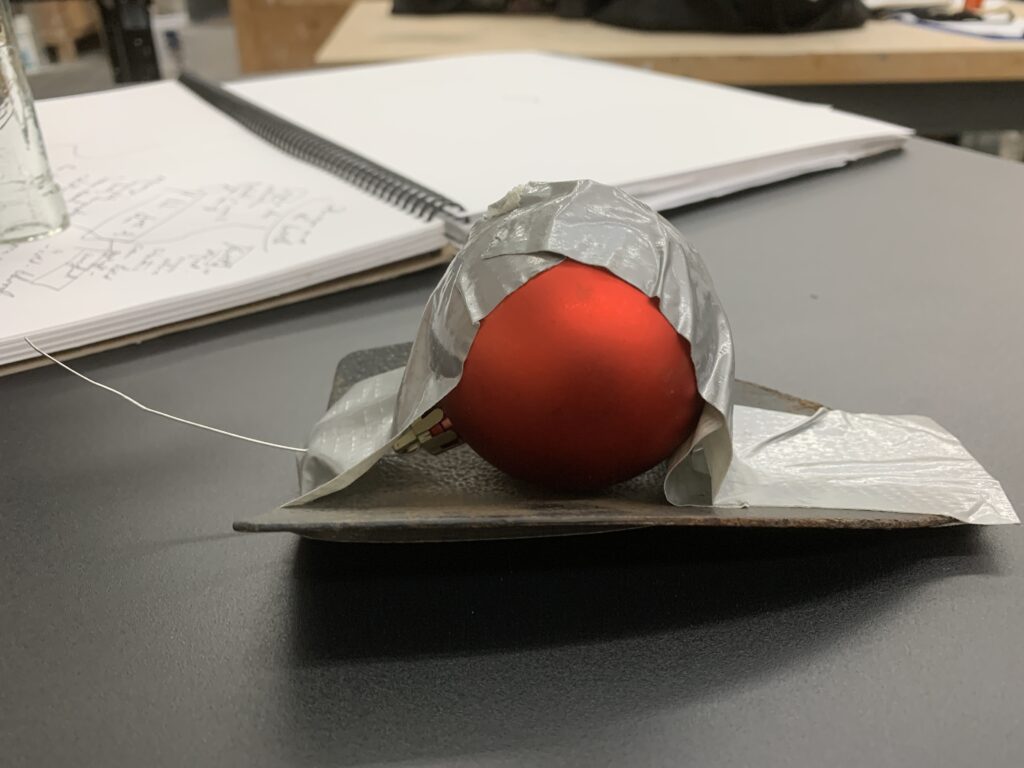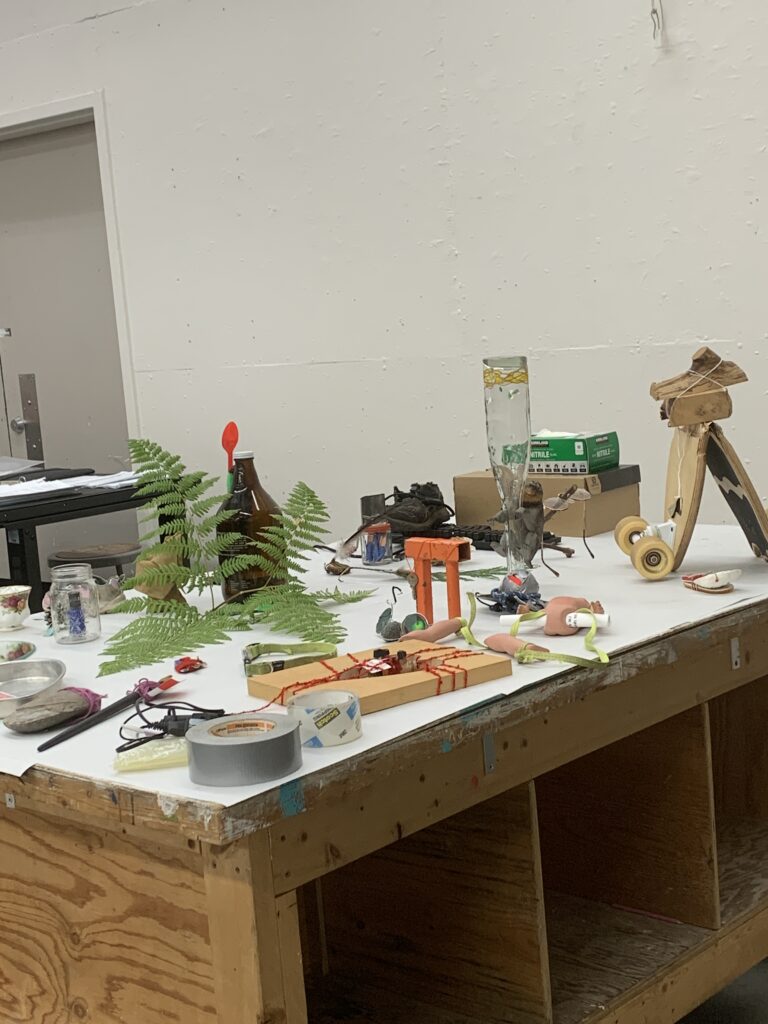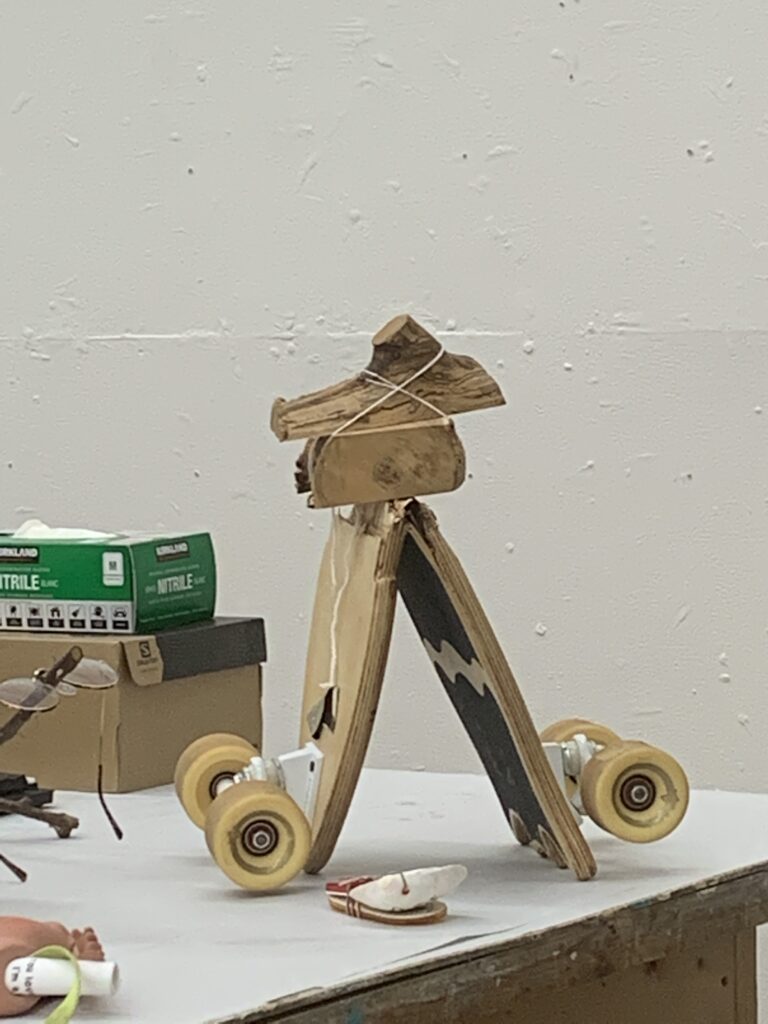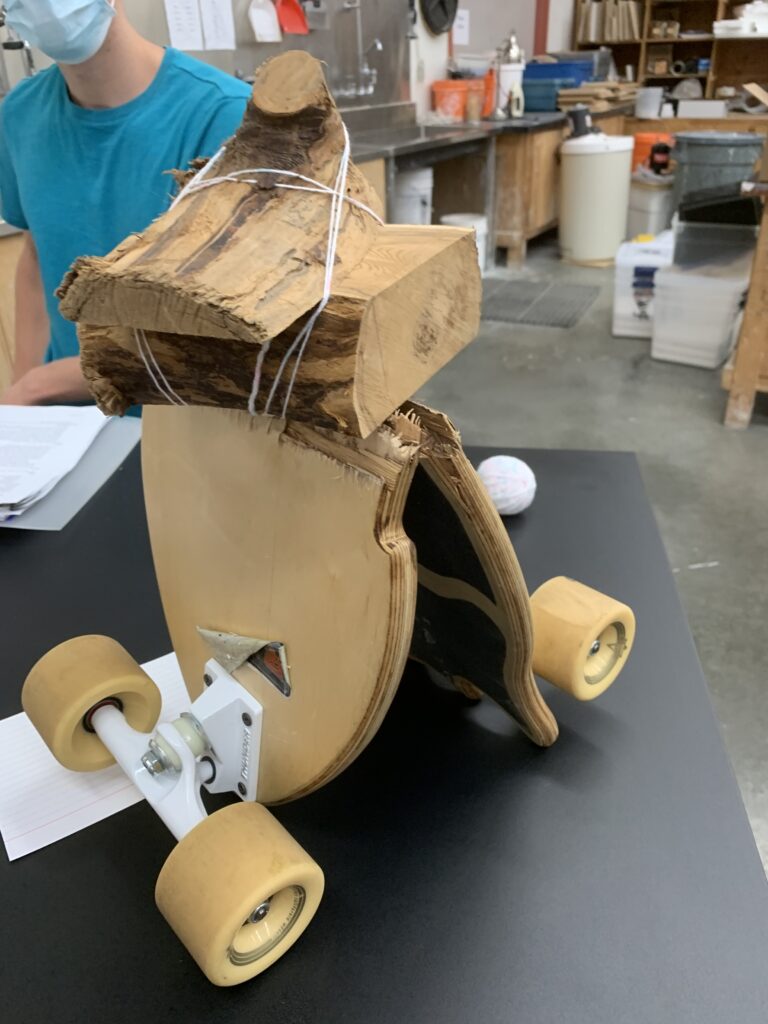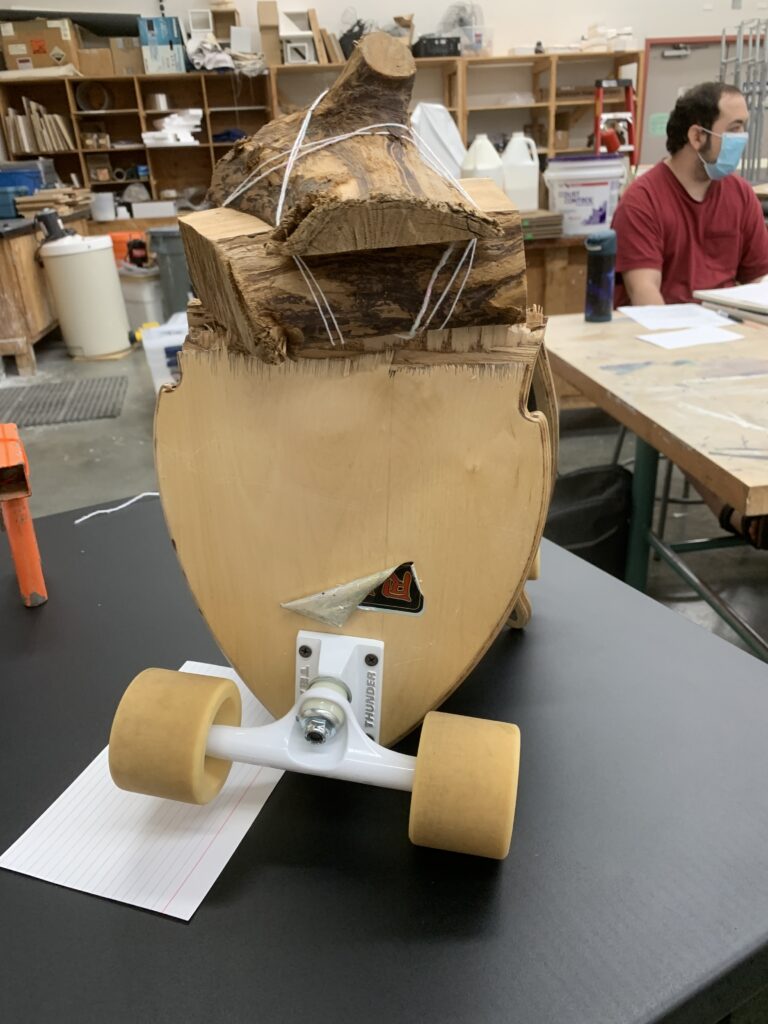 Then we had to write things. Here are my things:
I was able to retrieve the doll's head from the table. She now has a new and rewarding life back at my place: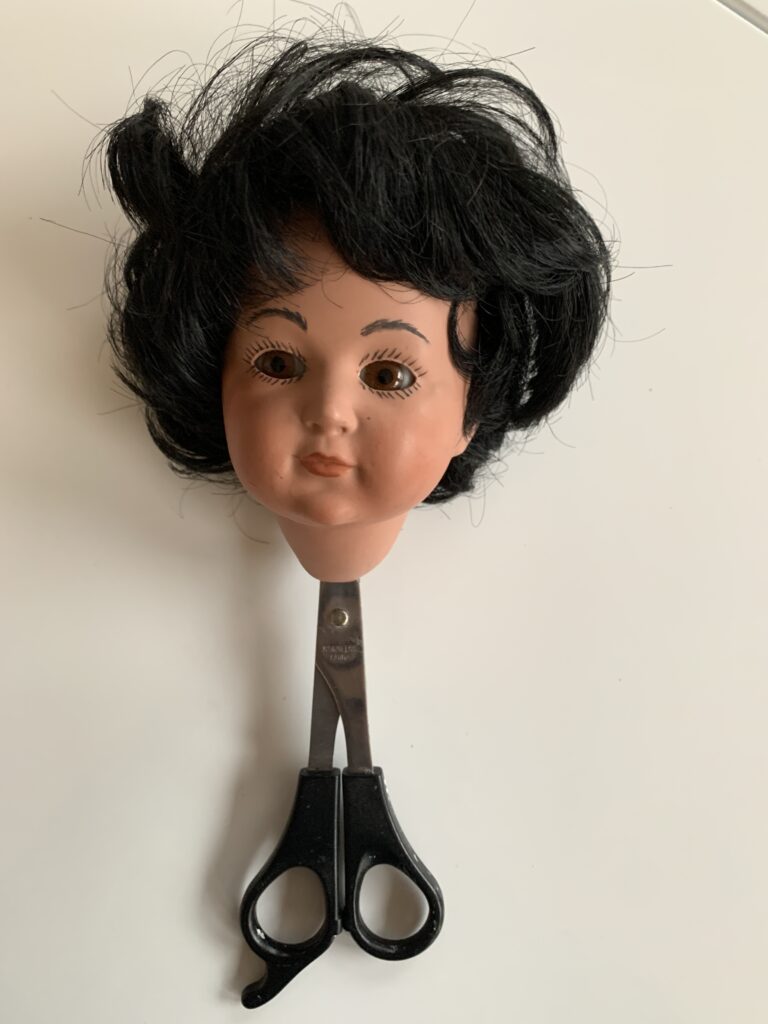 On to Assignment 1 – assemblage
These first entries are not actually directly related to the project, but these are two projects I'm working on, on my own, and so part of what is likely influencing my thinking as I transition from that work into the assignment work.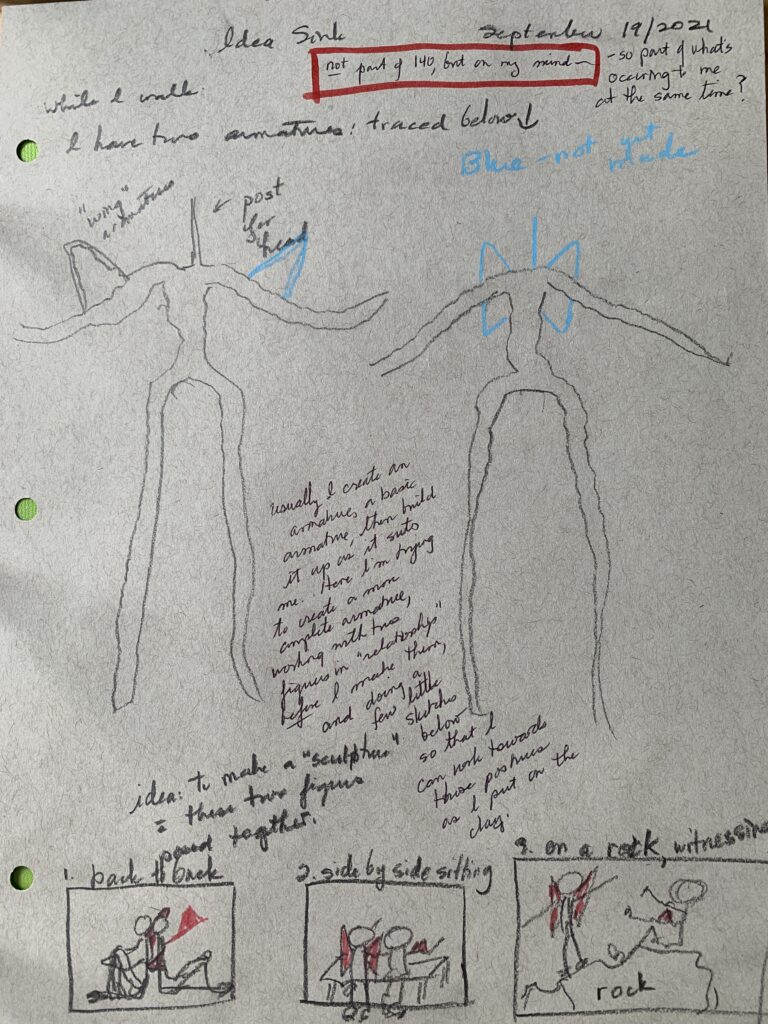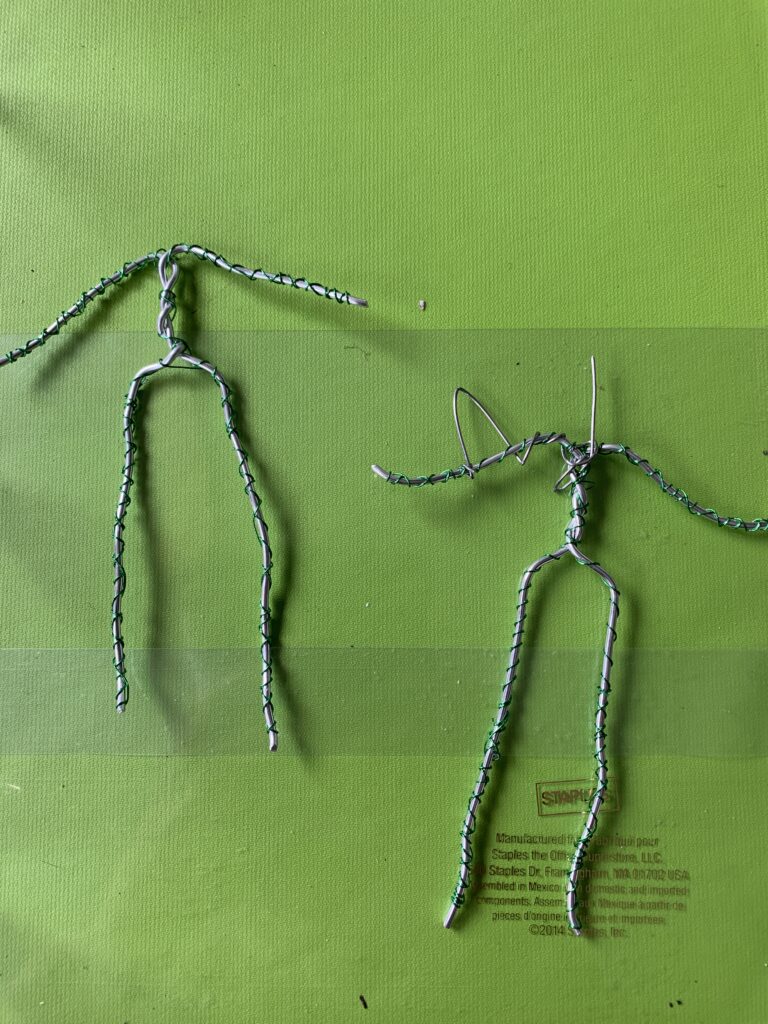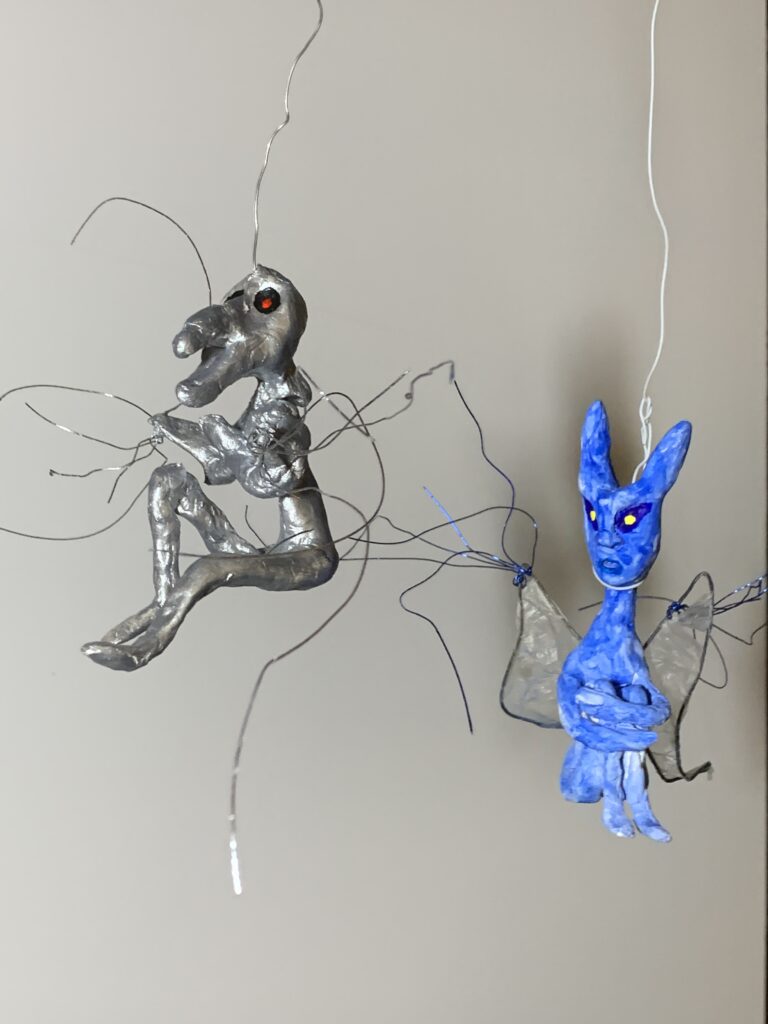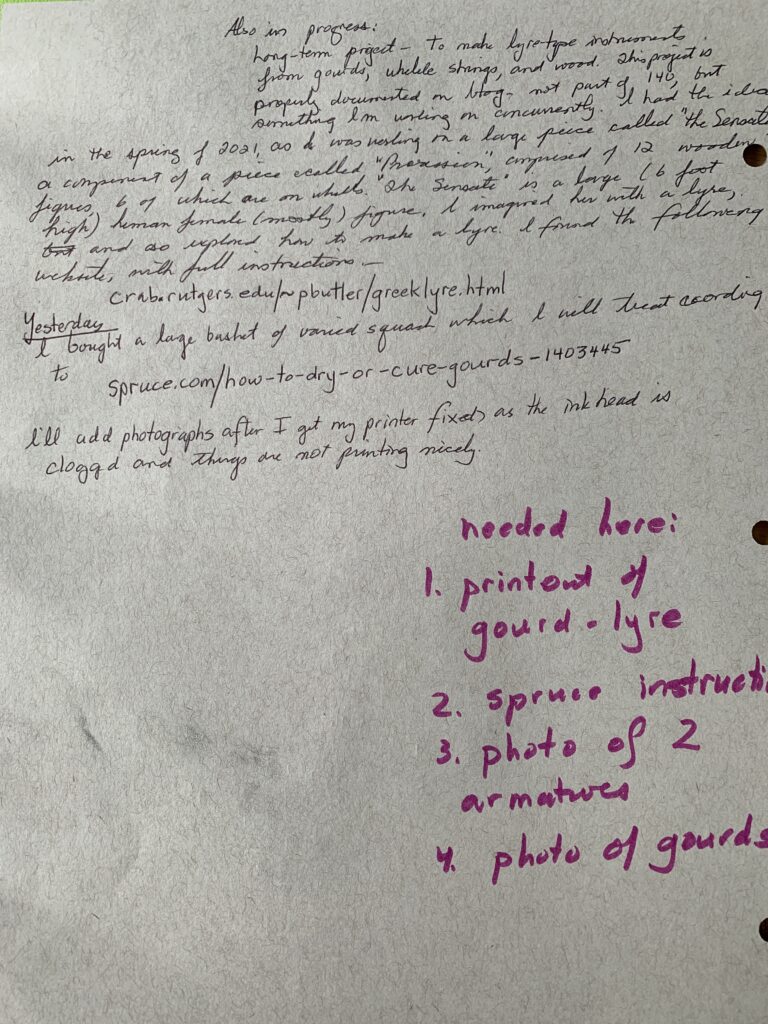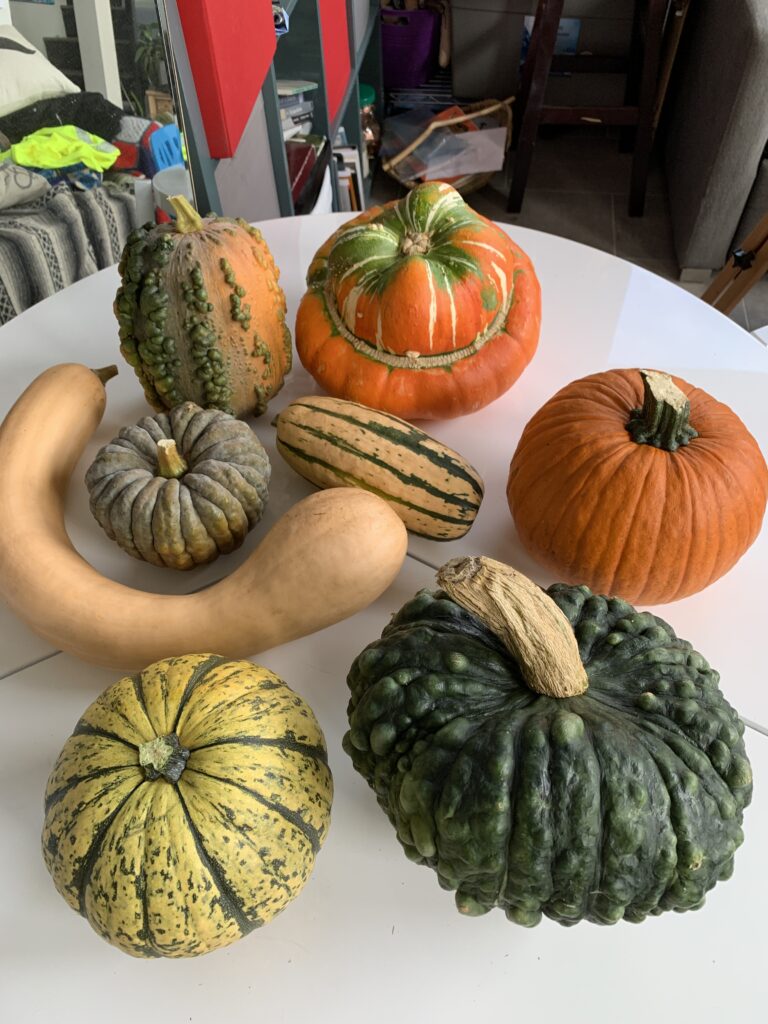 Here are the instructions for making a Greek-style lyre:
crab.rutgers.edu/~pbutler/greeklyre.html
Here are the instructions for preparing the gourds so that they don't rot:
spruce.com/how-to-dry-or-cure-gourds-1403445
Here is where I really start the first project, the assemblage. I'm a bit nervous about my printer not working, as this means I have to keep track of what I want to print and where it needs to go in the book, "at a later date", once I get the printer up. So, I'm using this blog to make sure everything is recorded in the proper order.
I used purple annotations as notes to self so that I will see where and what I need to add.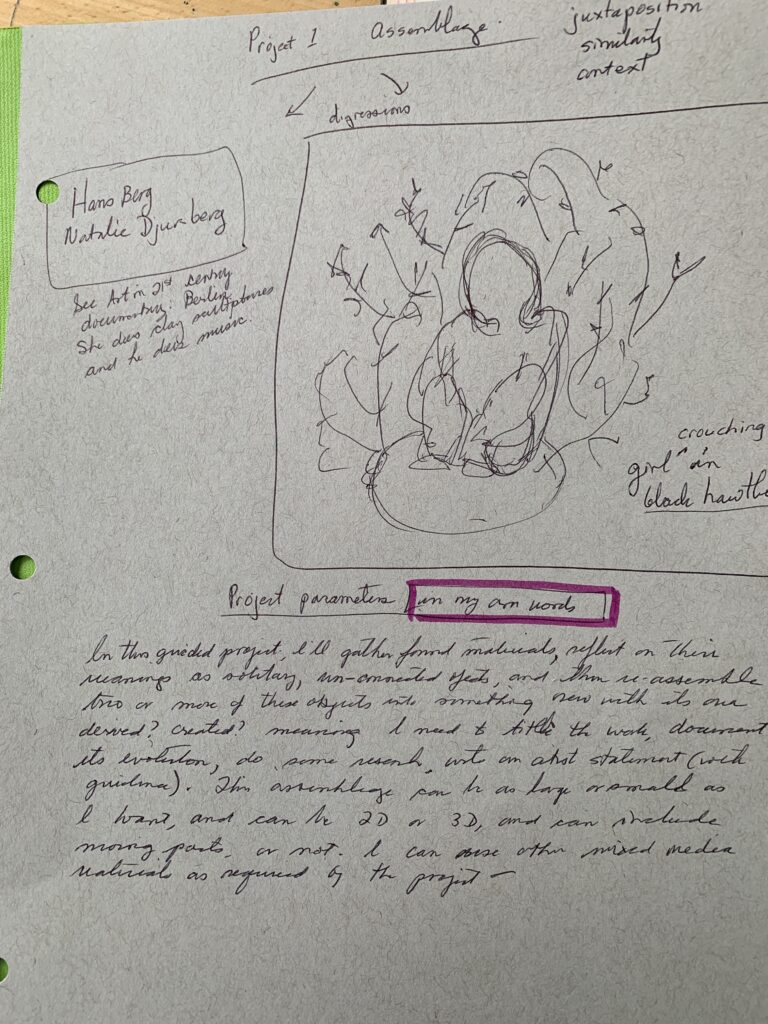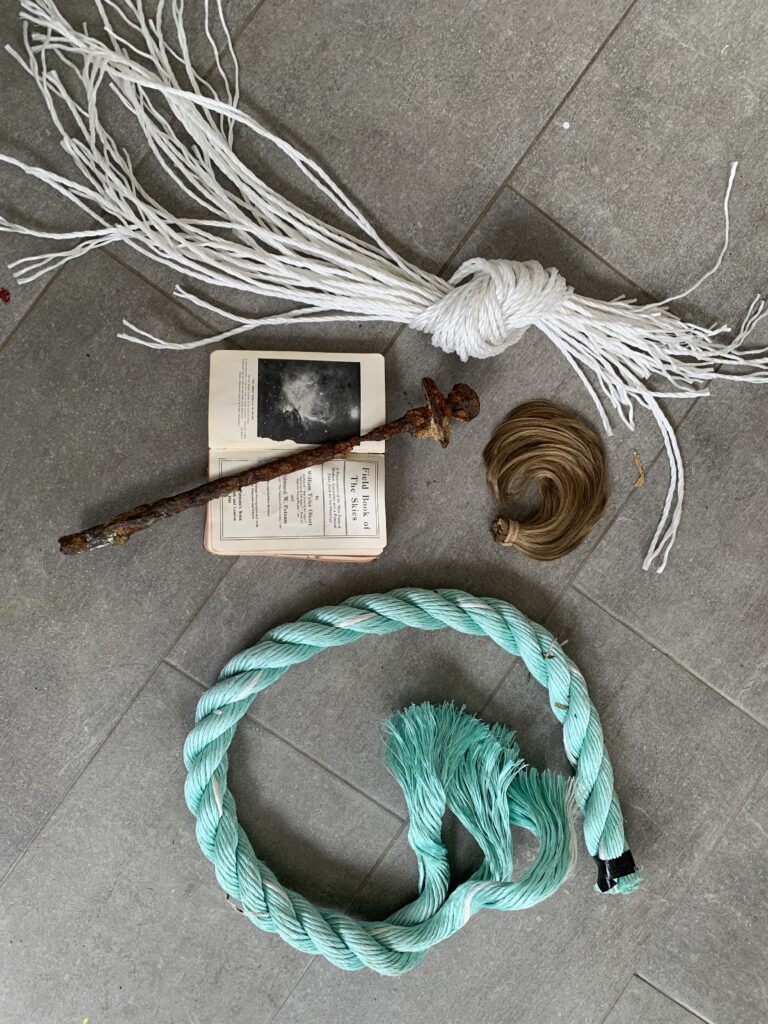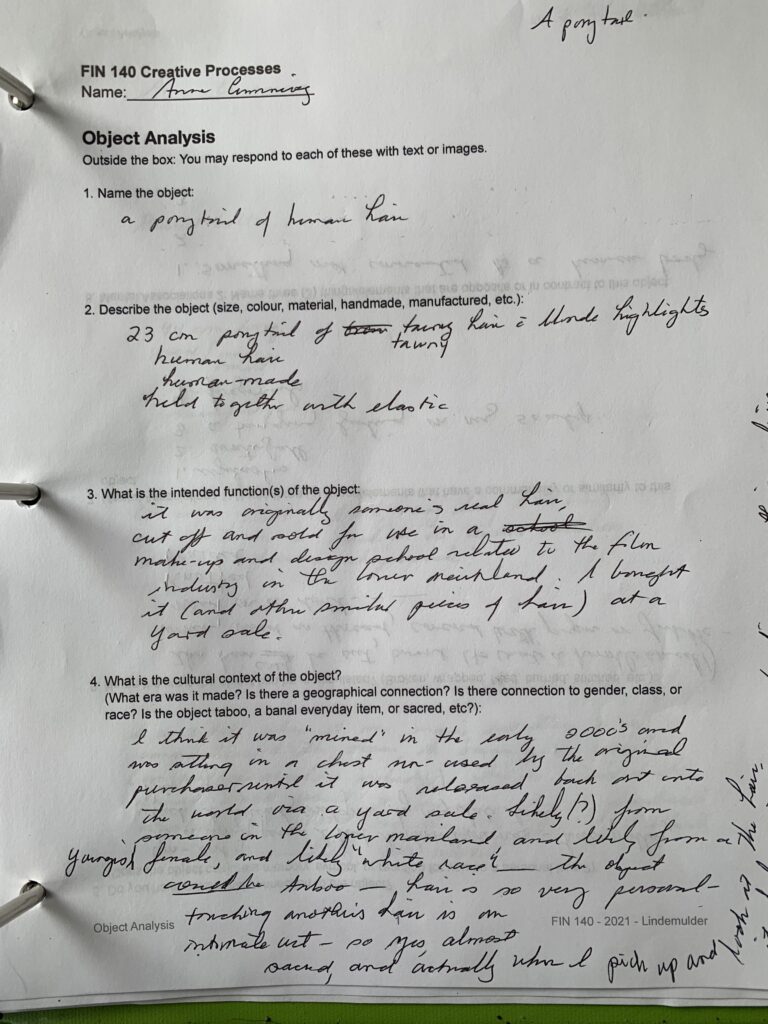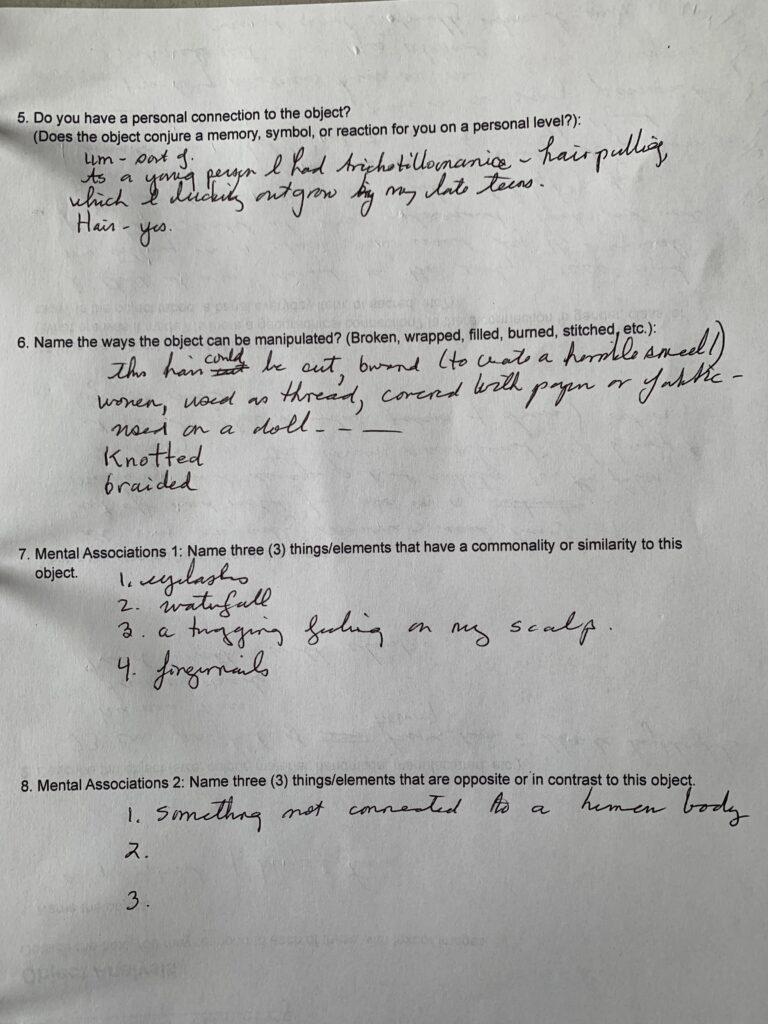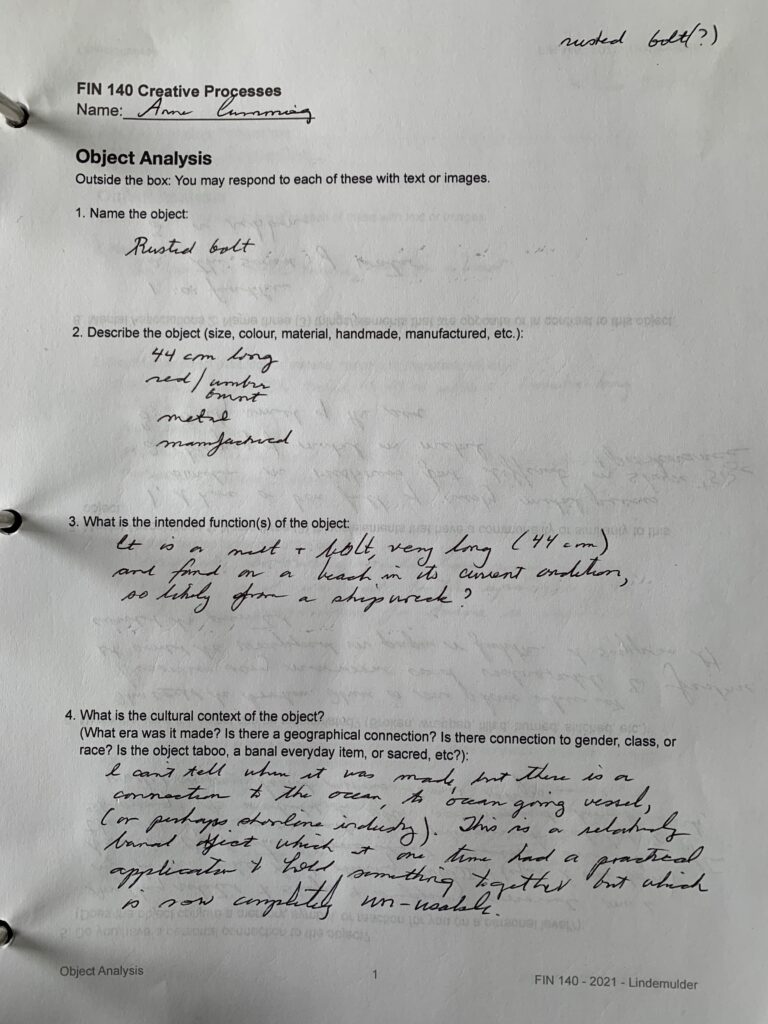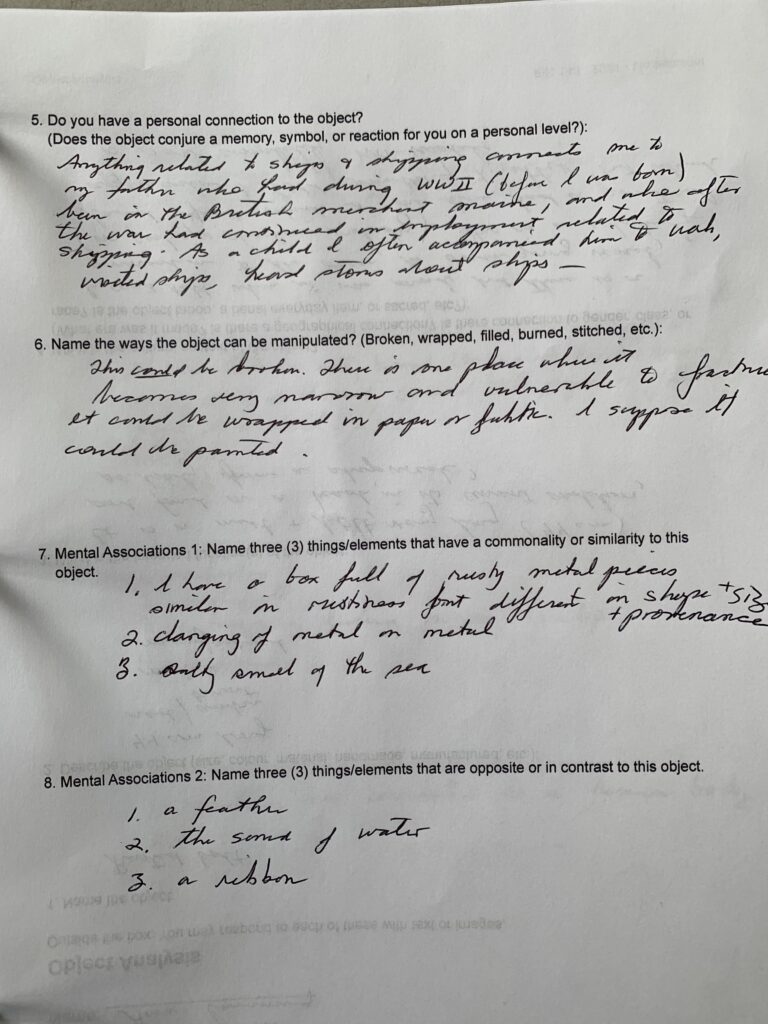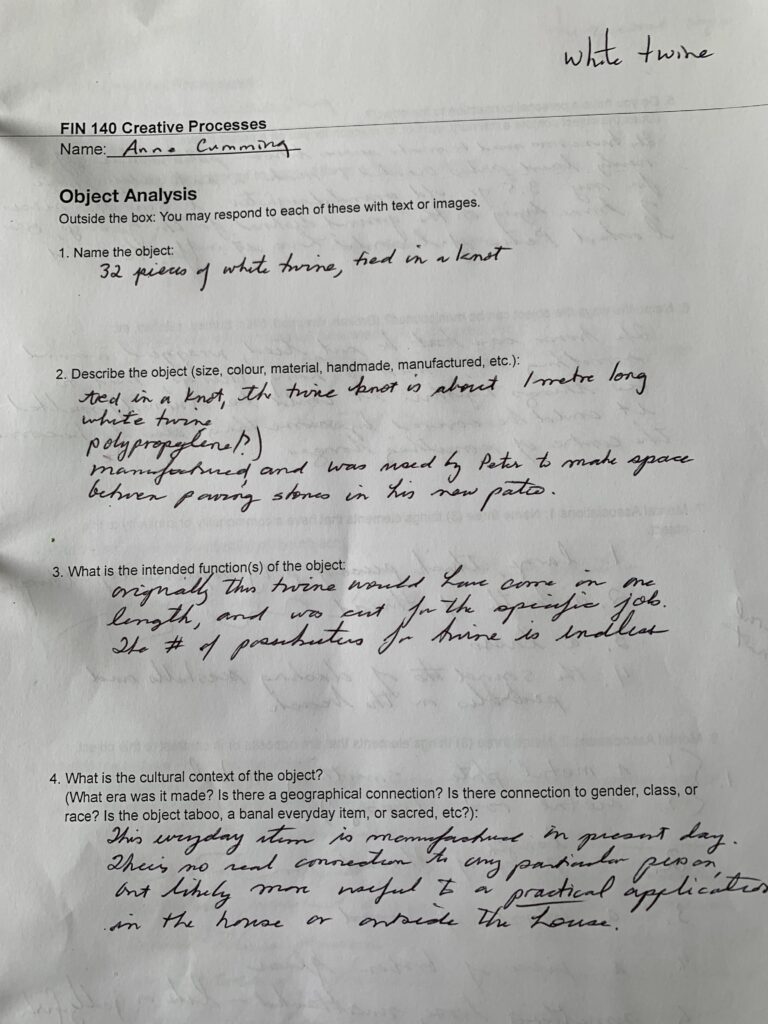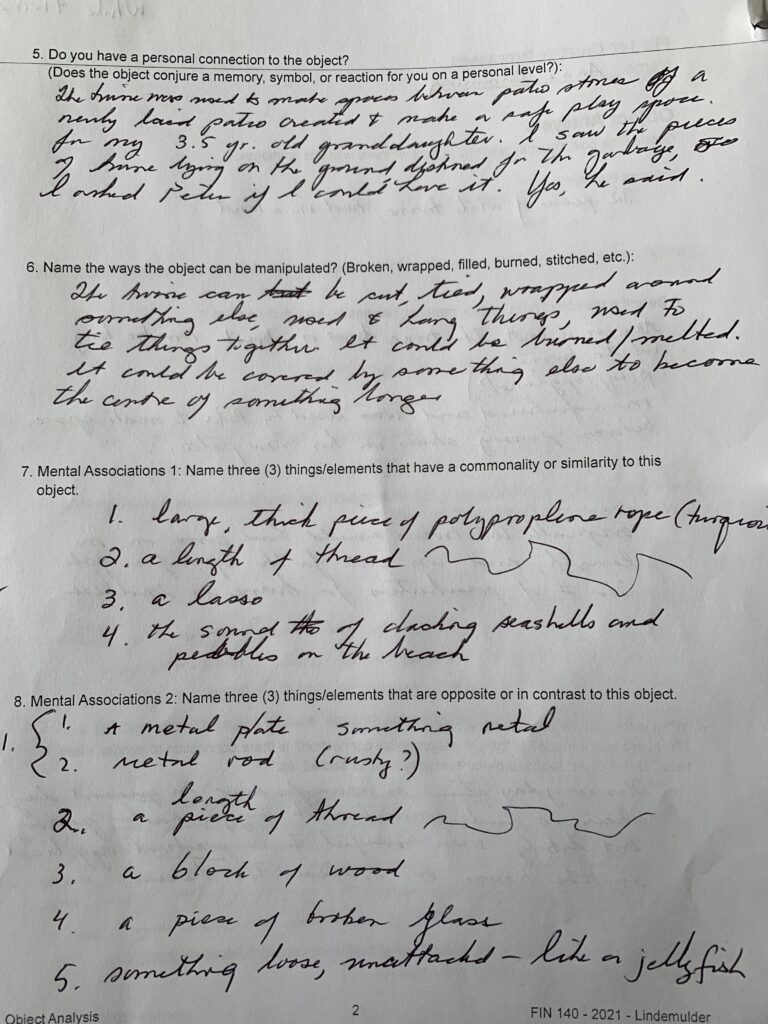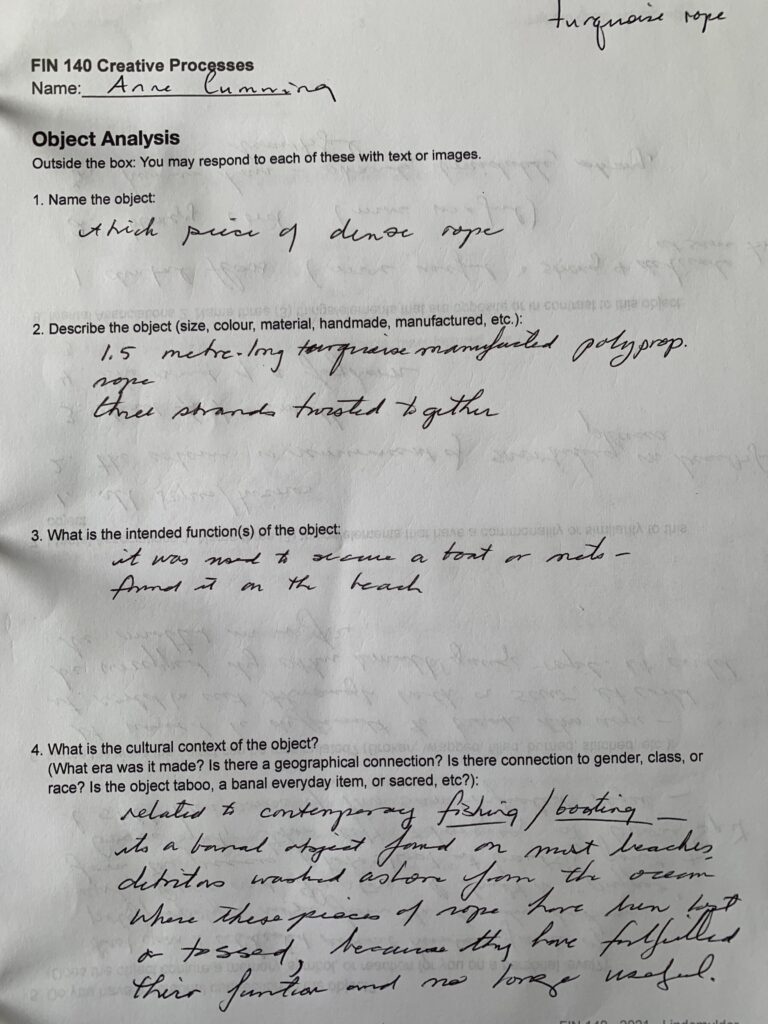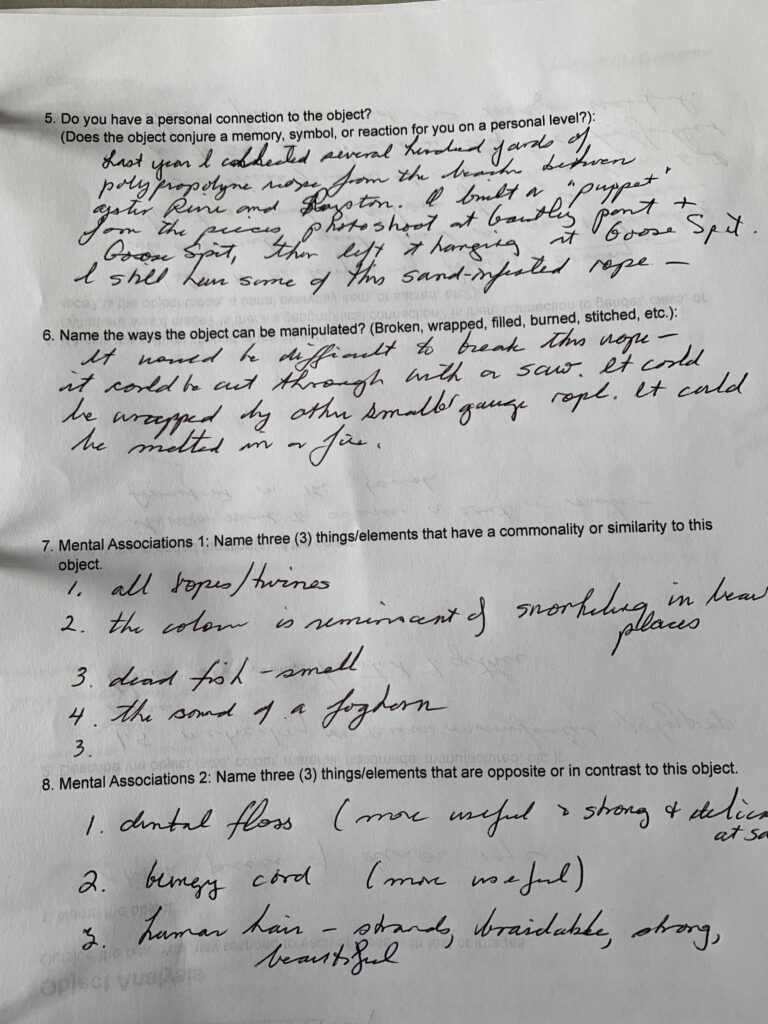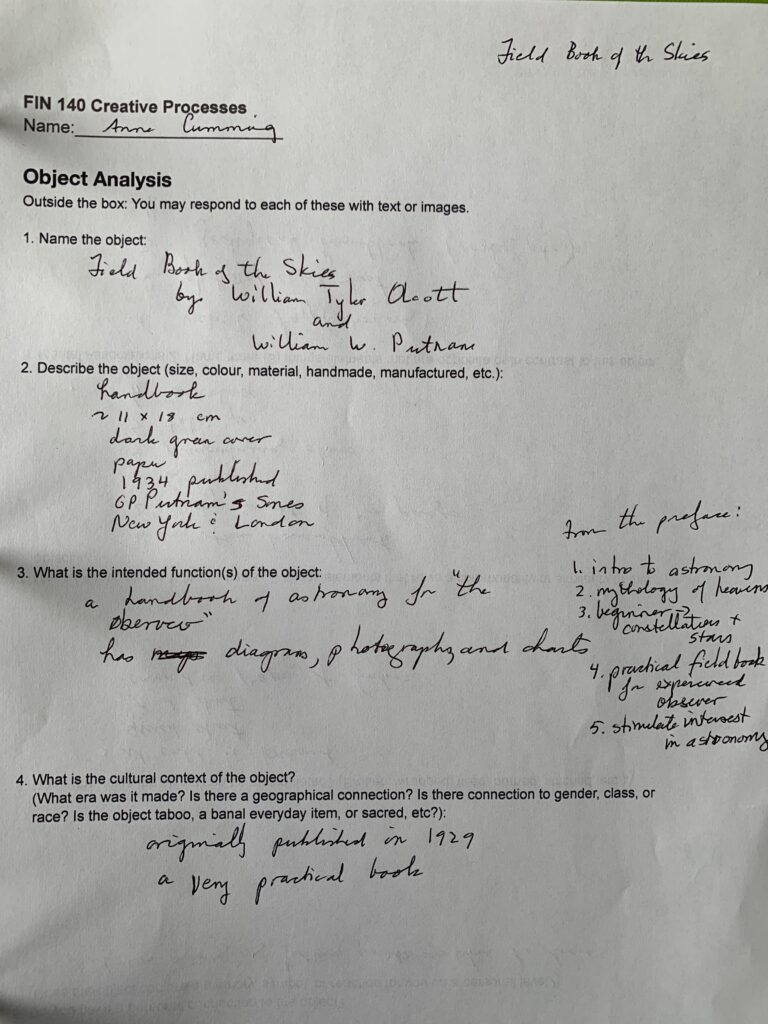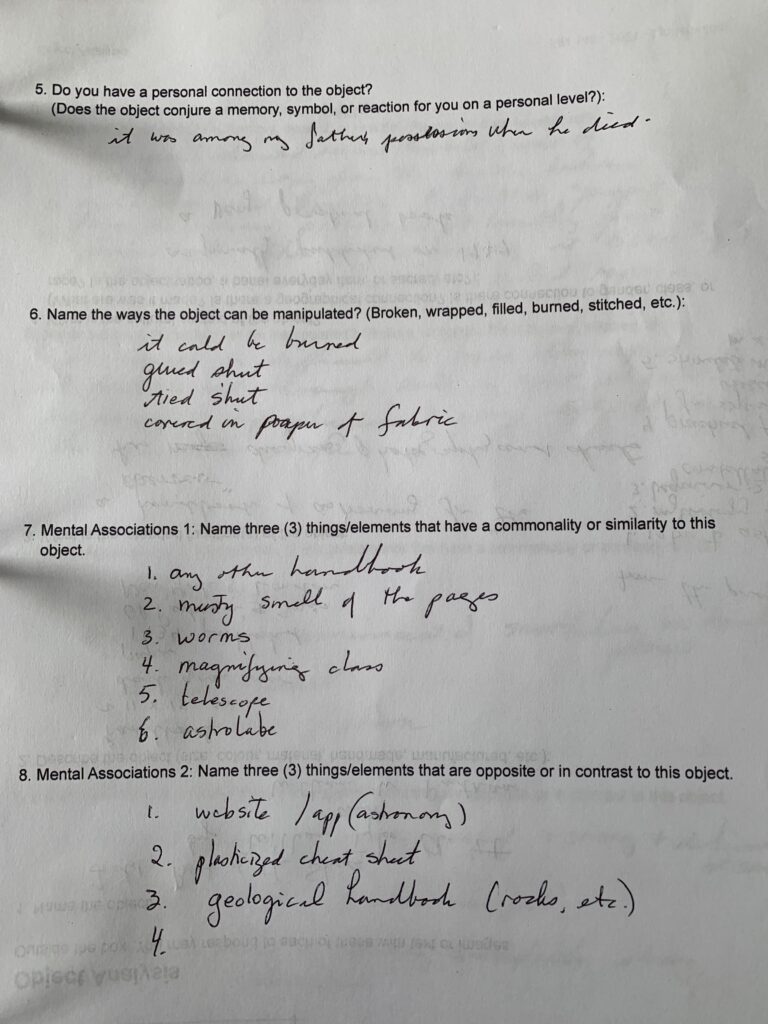 Three ideas for assemblage assignment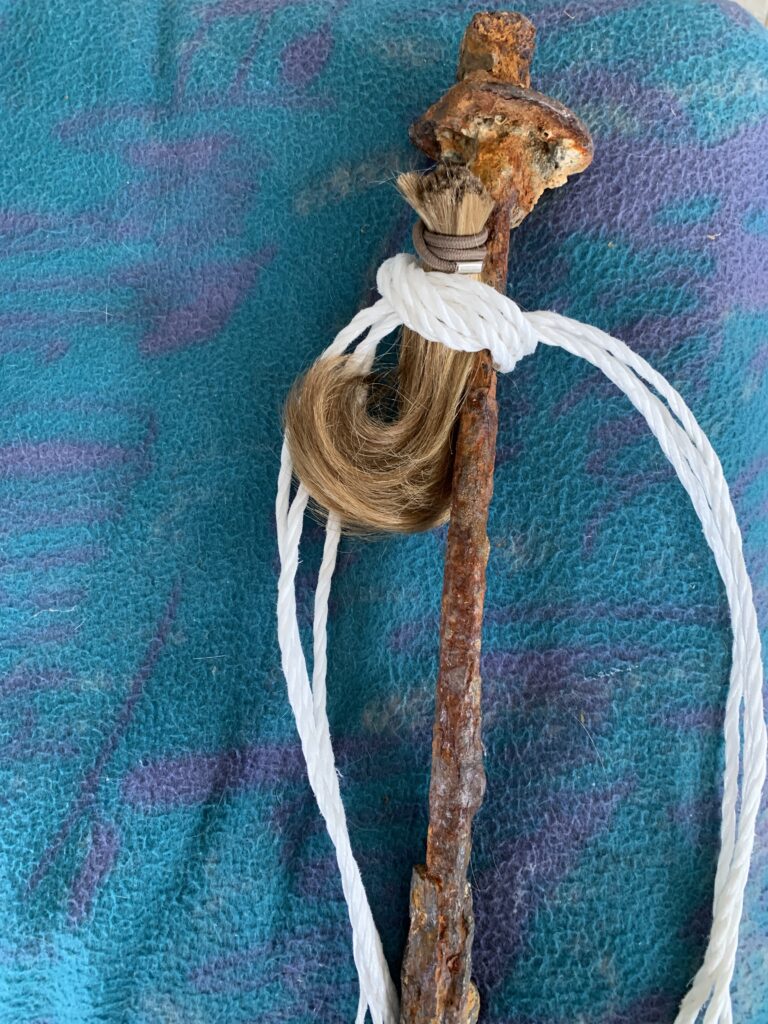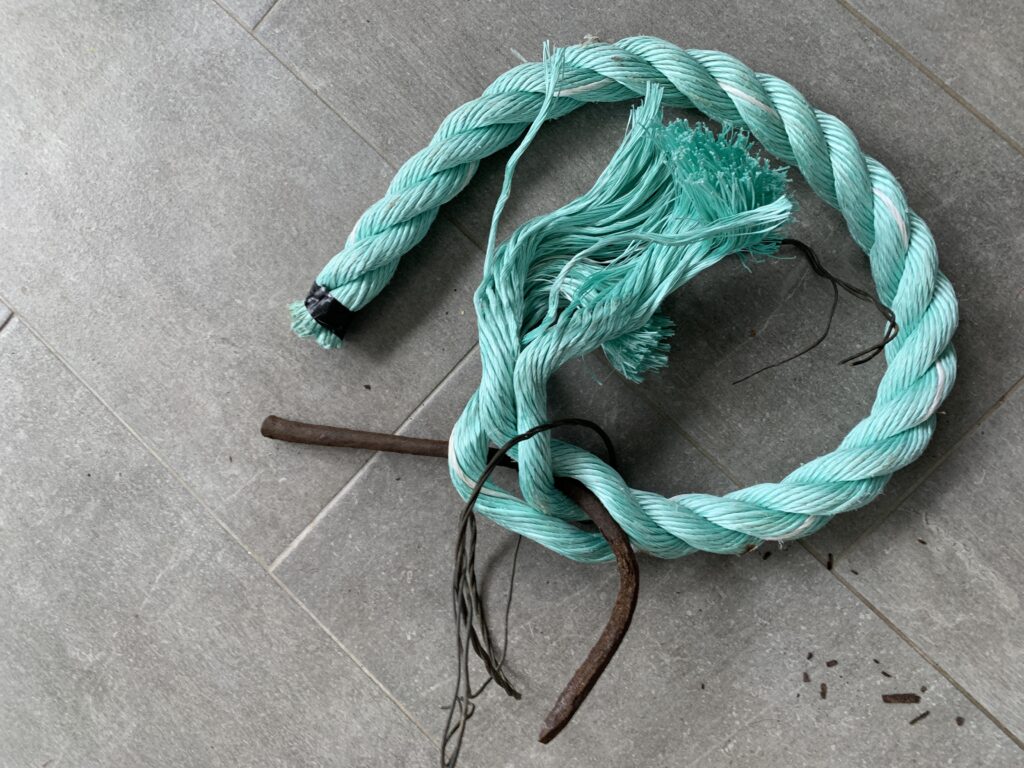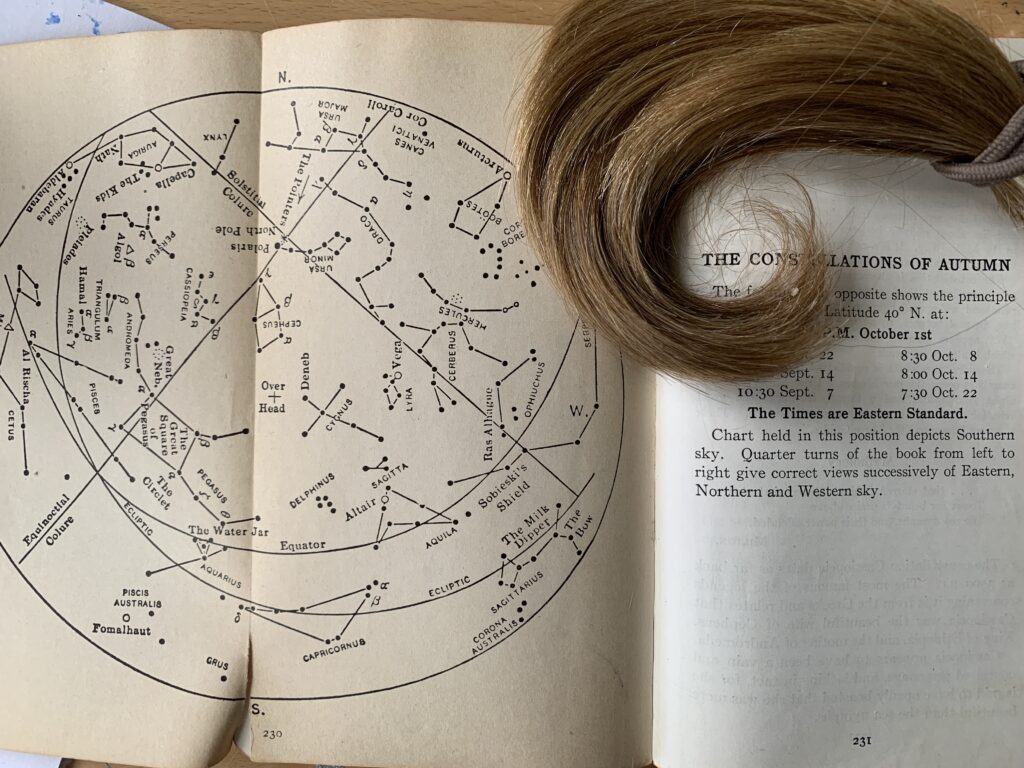 Lauryn Youden Research
"Lauryn Youden is a feminist Canadian performance and installation artist, writer and independent curator" who works out of Berlin, Germany. Born in 1989 (https://universityoftheunderground.org/lauryn-youden), Youden's identity as a queer crip as well as the western treatments she has pursued in their lifetime, informs and drives their work. https://www.berlinartlink.com/2018/10/02/invisible-diseases-an-interview-with-lauryn-youden/
Youden studied at the Universitat Der Kunste Berlin (2011), in Berlin, and has a degree from Emily Carr University of Art and Design in Vancouver (2012). Also according to the Galerie Jerome Pauchant (Paris) website about Lauryn Youden, Youden's "explorations span video, digital media, print, photography and installation, with a particular use of meditation and alternative healing practices, inspired by nature. Her works evoke futuristic soothing atmospheres, images of happiness designed as antidotes to anxiety of the artificial states caused by the daily use and resulting dependencies on digital technologies". http://jeromepauchant.com/en/artistes/cv/5170/lauryn-youden
Youden has been exhibiting since at least 2011; her recent works as depicted on her personal website (https://laurynyouden.net) focus on health, comfort, healing and include works such as Dark Water (2020), described on her site as a
35 MIN PERFORMATIVE LECTURE, RITUAL AND AUTO-THEORETICAL TEXT THAT EXAMINES THE HISTORY OF MOURNING, LAMENTATION AND DEATH AS CENTRAL TO THE DAILY LIVES OF EUROPEAN SOCIETY DURING THE RISE OF CAPITALIST PATRIARCHY AND THE PLAGUE; AS WELL AS THE DIVINATION AND RITUALISTIC PRACTICES USED BY MANY TO ENDURE THIS PERIOD OF TIME. INTERWOVEN BETWEEN PASSAGES ARE YOUDEN'S PERSONAL EXPERIENCES WITH RITUALISTIC LAMENTATION AND INTERGENERATIONAL TRAUMA EXPRESSED THROUGH POETRY AND HEALING FOUND IN CRIP MAGIC PRACTICES,
and Visionary of Knives (2020), described as follows:
AT THE CENTER OF LAURYN YOUDEN'S EXHIBITION ARE TWO WALL-MOUNTED ALTARS, EACH MEASURING JUST UNDER FOUR METERS LONG. FILLED WITH FLOWERS, MEDICINE, HERBS, BOOKS, CANDLES, AND RITUAL-BASED OBJECTS, THE CONTENT OF THESE ALTARS DOCUMENTS THE SURVIVAL STRATEGIES SHE DEVELOPED TO NAVIGATE AN ABLEIST WORLD. 'VISIONARY OF KNIVES' IS A SPACE OF RETREAT AND REST BUT ALSO EDUCATION AND PROTEST. ORIGINALLY CONCEIVED AS A MEETING PLACE FOR A QUEER CRIP COMMUNITY, IT HAS BECOME A PLACE OF ABSENCE DUE TO COVID-19, MIRRORING THE PHYSICAL ISOLATION OFTEN EXPERIENCED BY PEOPLE WITH DISABILITIES. DRAWING TOGETHER YOUDEN'S CARE PRACTICES, AND HER PERSONAL COLLECTION OF LITERATURE AND ZINES MADE BY OTHER CRIP QUEER ARTISTS, HEALERS, WRITERS AND THINKERS, THE EXHIBITION IS AN INVITATION TO ENCOUNTER A SPACE DEDICATED TO YOUDEN'S CARE AND THE DISCOURSES OF HER COMMUNITY.
The works referenced here are large installations and appear to use everyday objects that Youden has collected as part of her practice of healing and self-healing, including beds, bedding, personalized altars, plants, photographed, all arranged to depict the extent to which someone with an invisible illness (Generalized Anxiety Disorder, Seasonal Affective Disorder) goes in order to relieve and treat symptoms in attempts at healing. Her life itself is art, and she presents that art in ways that can highlight to mainstream audiences the way that a non-healthy life may have to be lived; to those who identify as "crip", her art provides expressions of lives lived invisibly and perhaps serves to support those who are also living such invisible lives.
Only looking at photographs of illustrations, the ways in which the installation and sounds and light occupies the space is lost; however, I can imagine walking through the area and looking closely at the details of the altars and imagining the "function" of each element of the altar; I can also, as I look at the photographs of the work, start to imagine (as someone with my own invisible challenges and who has developed personal practices to reduce environmental stressors) what my own version of such an installation might look like, what sounds I might include, which type of lighting, and where I might turn to in my research for the elements that I might include in my healing environment.
Her piece "My Love", viewable on her website, is beautiful piece of art depicting a number of people resting, bundled in blankets and coats, under a geodesic dome while listening to music originally written by Mozart while his wife was ill and in danger of dying, GREAT MASS IN C MINOR, K. 427. She lived to sing the mass.
This piece, "My Love", is also available to see here: https://www.kunststrom.com/lauryn-youden-en.html and this website, an advertisement for the installation's inception on May 29 2021, includes the following description of Youden's work:
Her practice derives from her research and navigation of modern Western medicine, the medical-industrial complex, 'alternative' healing practices and traditional medicine for the treatment of her chronic Illnesses and invisible disabilities. By publicly presenting her personal experiences and re-evaluations of the history of medicine through a feminist, Crip queer lens, her work illuminates and advocates for repressed, marginalized and forgotten practices of care and knowledge.
Youden's work, then, evokes this natural curiosity in me about how her spaces would make me feel and it catalyzes in me a desire to create such environments for others, based on the multi-sensual environments I create for myself.
So far, I have not been able to find much about what Youden says about her own work, other than the interview she did in 2018 with Benjamin Marvin of Berlin Art Link (https://www.berlinartlink.com/2018/10/02/invisible-diseases-an-interview-with-lauryn-youden/)
In this interview, Youden reveals that she suffers from Generalized Anxiety Disorder, "among other invisible diseases" and that she makes most of her work during panic attacks. She states that "I write to produce a record of the experience and life with the disorder". Her goal, she goes on to say, is to "legitimize" the illnesses and to connect with others with similar experiences.
Youden's work helps me to further contextualize and perhaps understand a little better my own suspicions about the wellness industry and it's relationship to privileged Neo-liberal whiteness (see, for example, the recent TV miniseries, The White Lotus, the Mike White written and produced about the appalling behaviours of the wealthy at an all-inclusive hotel in Hawaii, and the subplot in particular of the wealthy white woman being treated by the native Hawaiian Belinda, and the white woman's ability to summon Belinda at will).