Moving on into Body from space
In critique last week, I took in several of my entities and the black box. I set them up on a table and my classmates looked at the display and gave feedback. Demera, I think it was, said something interesting about the reclining figure, that it looked like the whole scene was something he was dreaming. I want to hang on to that idea, as I think it provides a connection and a back and forth of energy between the figure and the black box and includes the many entities.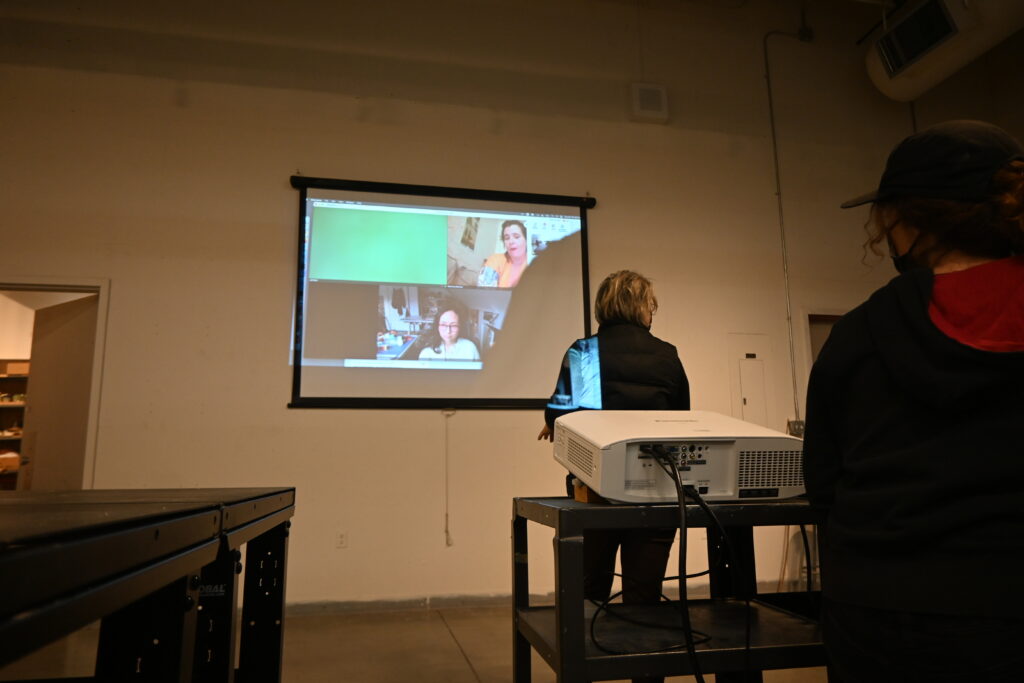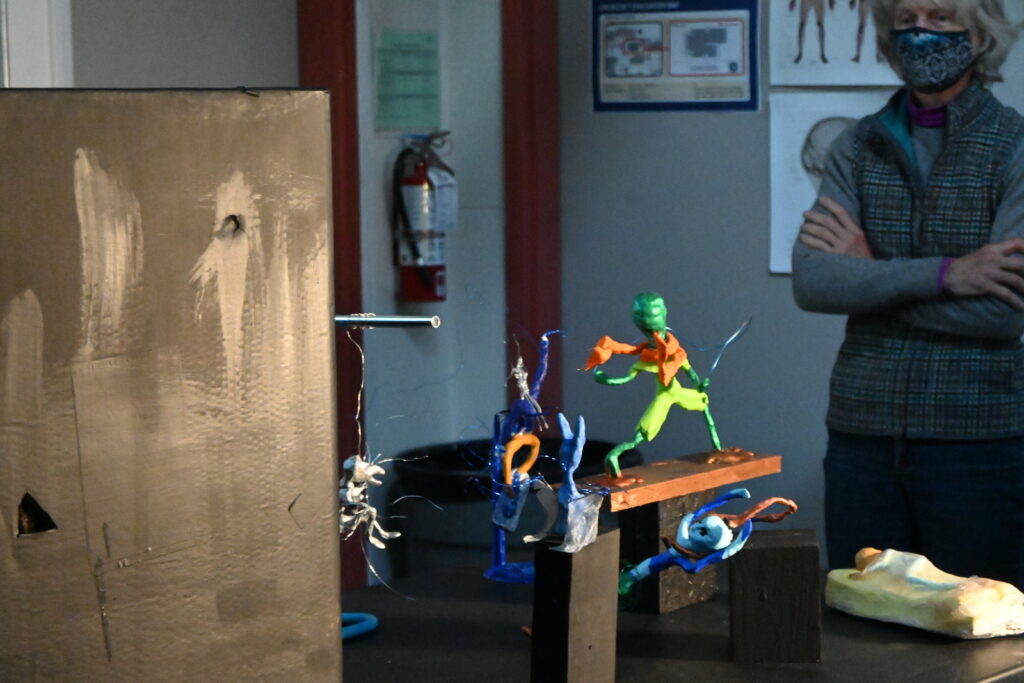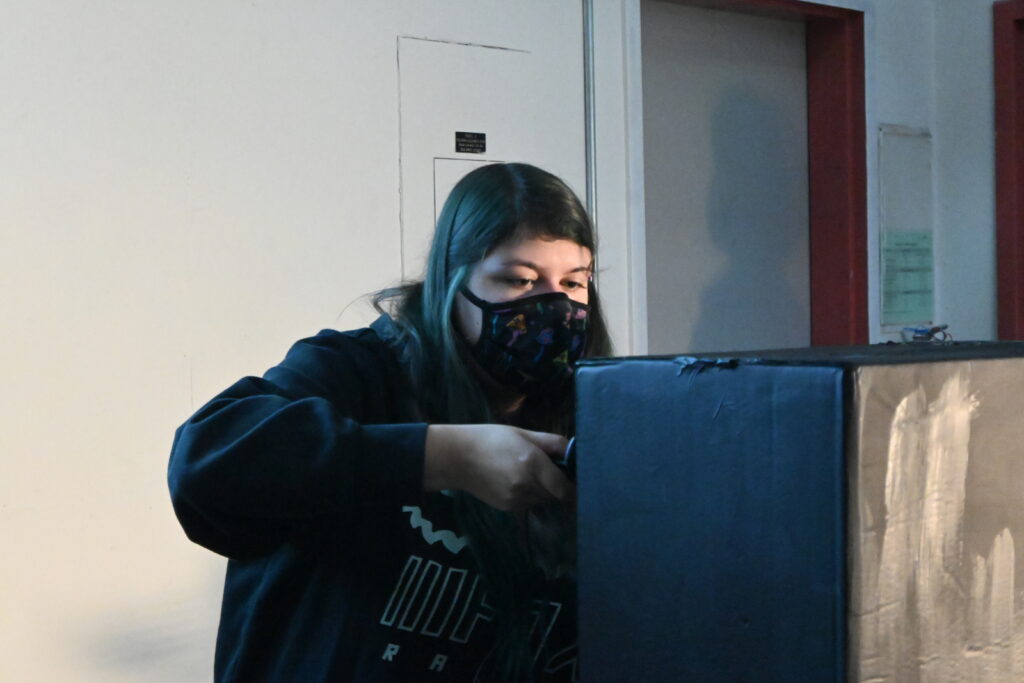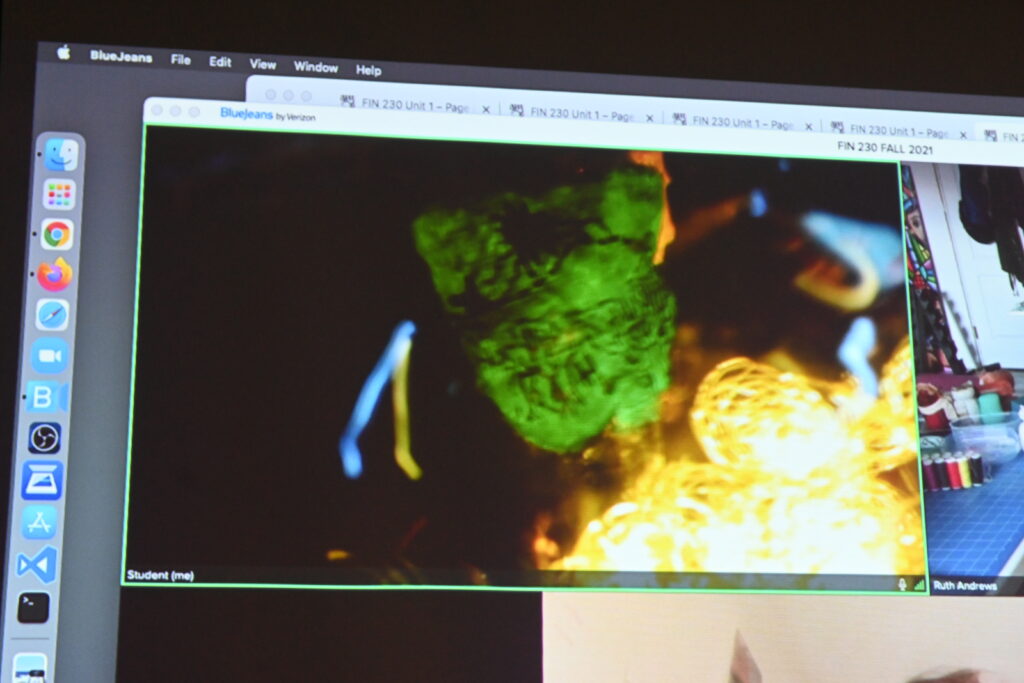 Also during critique we had been given large pieces of paper to draw on; I scribbled the following.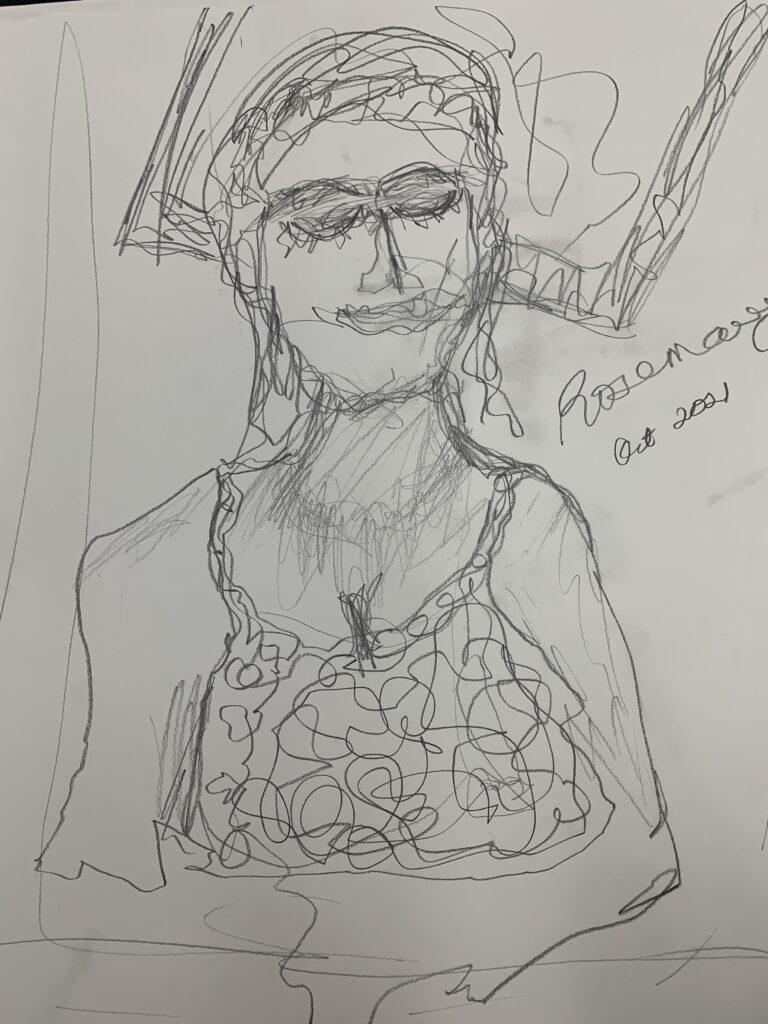 We also did some more slip casting: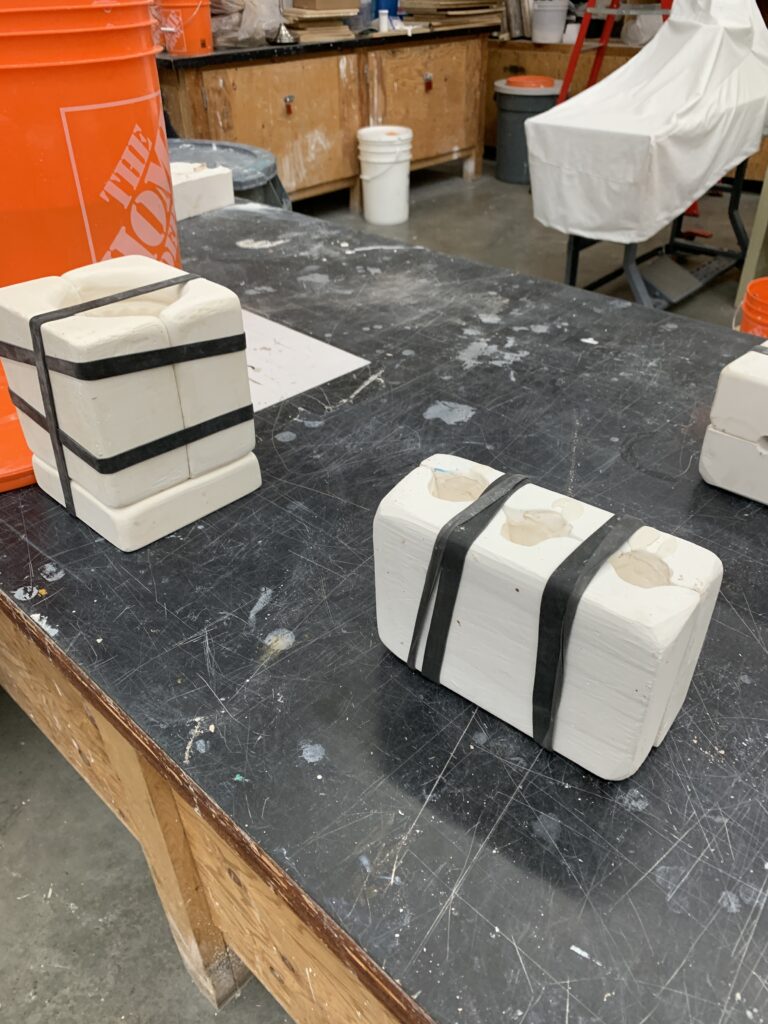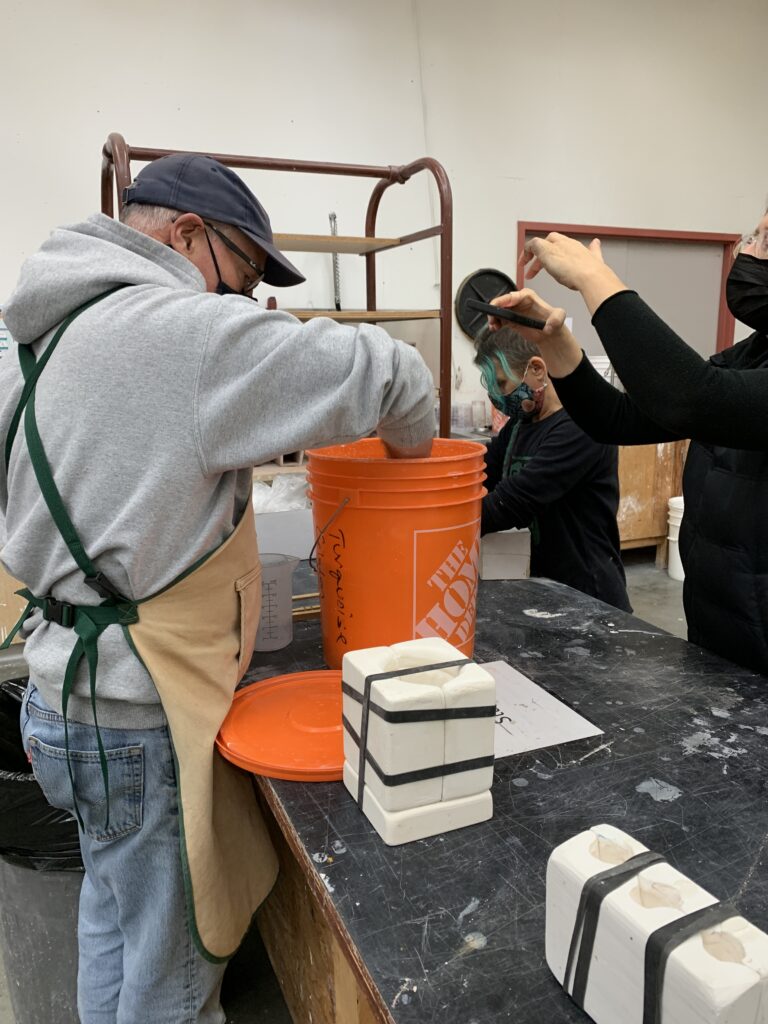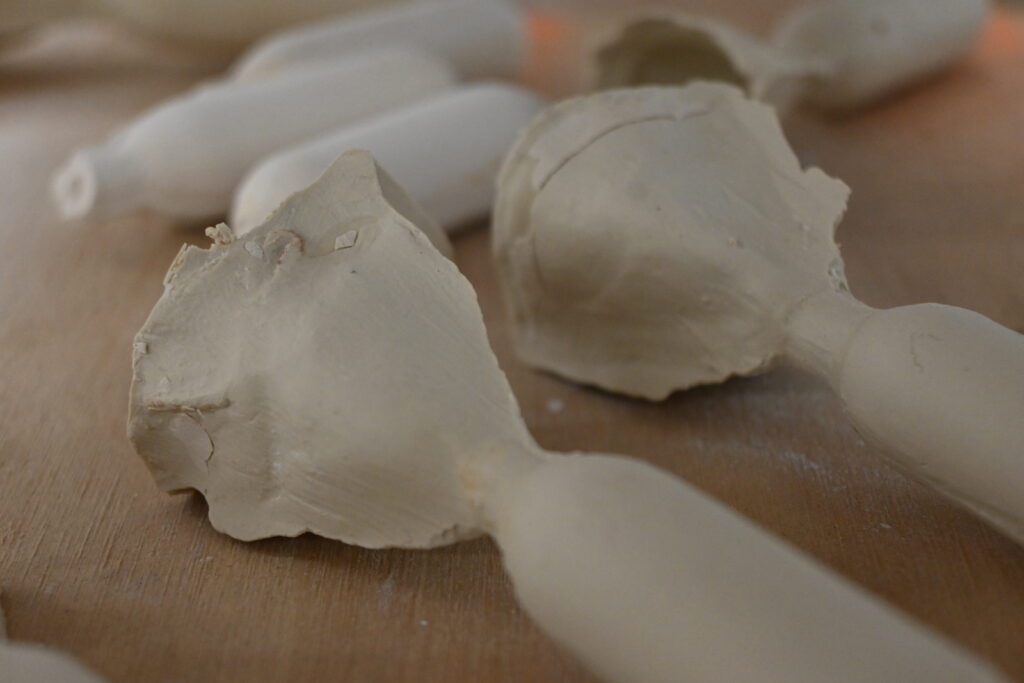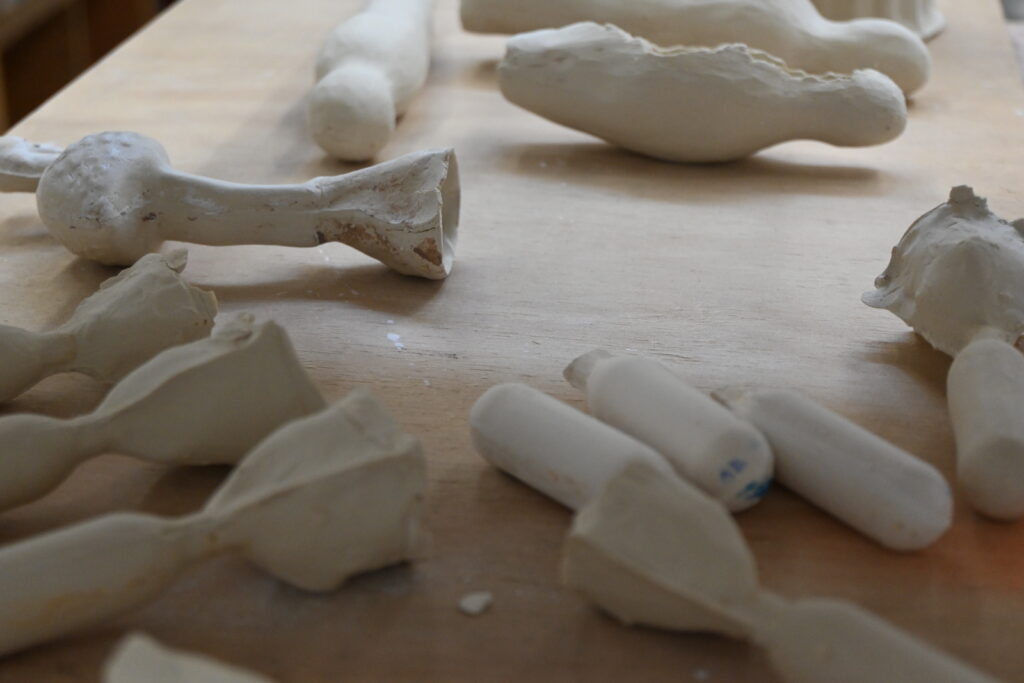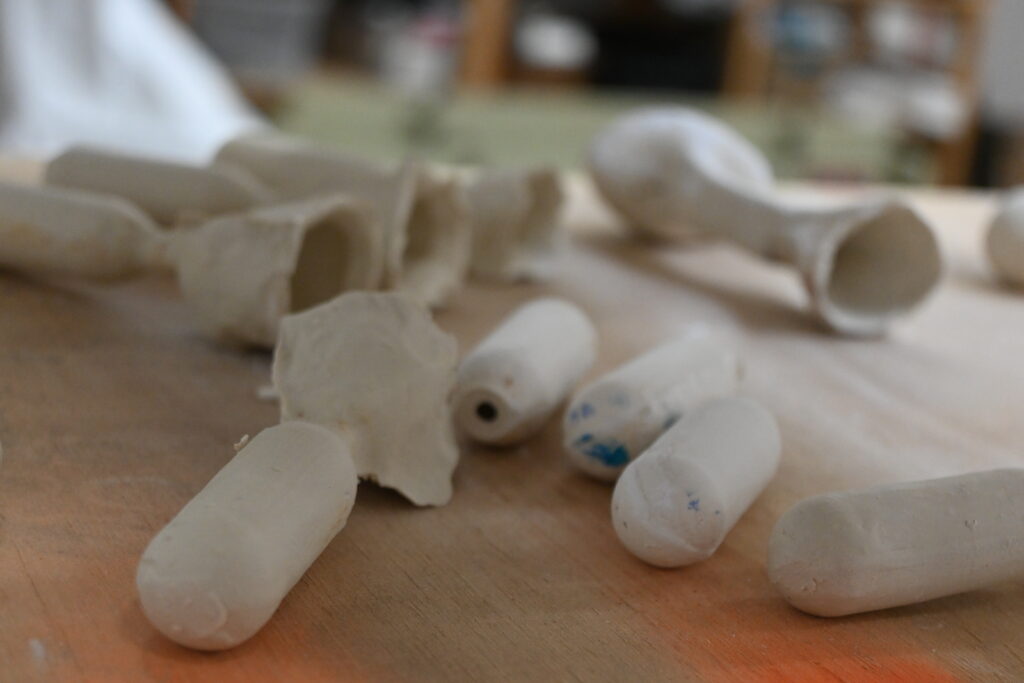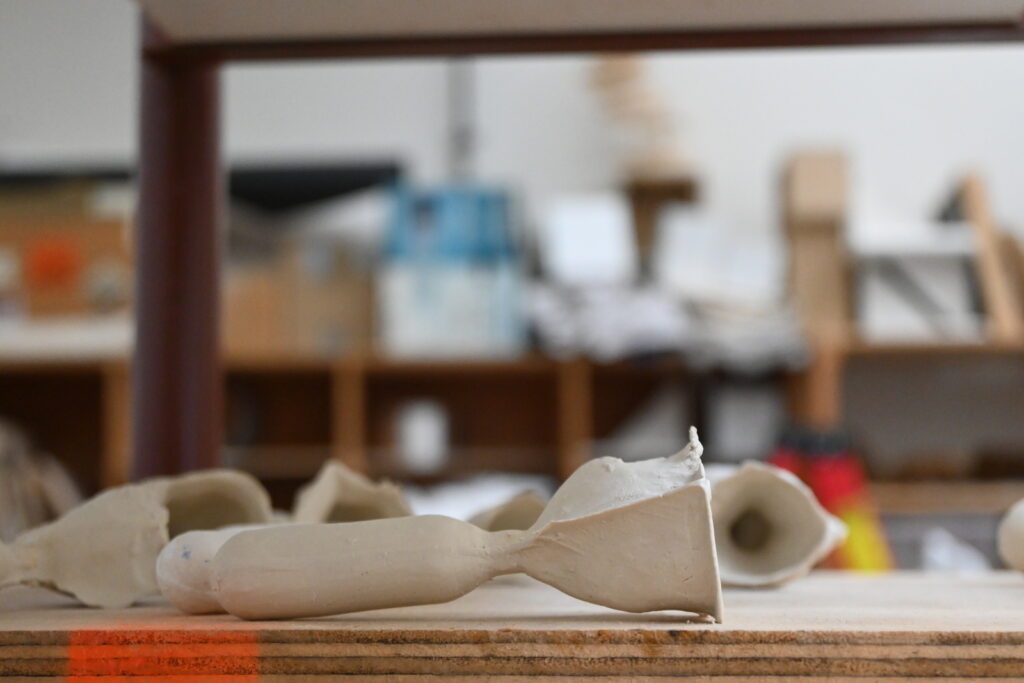 reflections on body(October 23)
How/what would I do for the unit on "body"? Could I continue to build on the current project, keeping the concept of "body" in mind as I keep adding to the entities, or could I take a different direction, challenge myself to conceptualize "body" as something coming more directly from me. I think I might tend to work on the external by continuing to make the entities which are not of my body but are of my mind. Is there some way I can twist things around for the second unit, to engage "body", my body. I'm going to have to reflect on this a bit more. It is not a natural draw for me.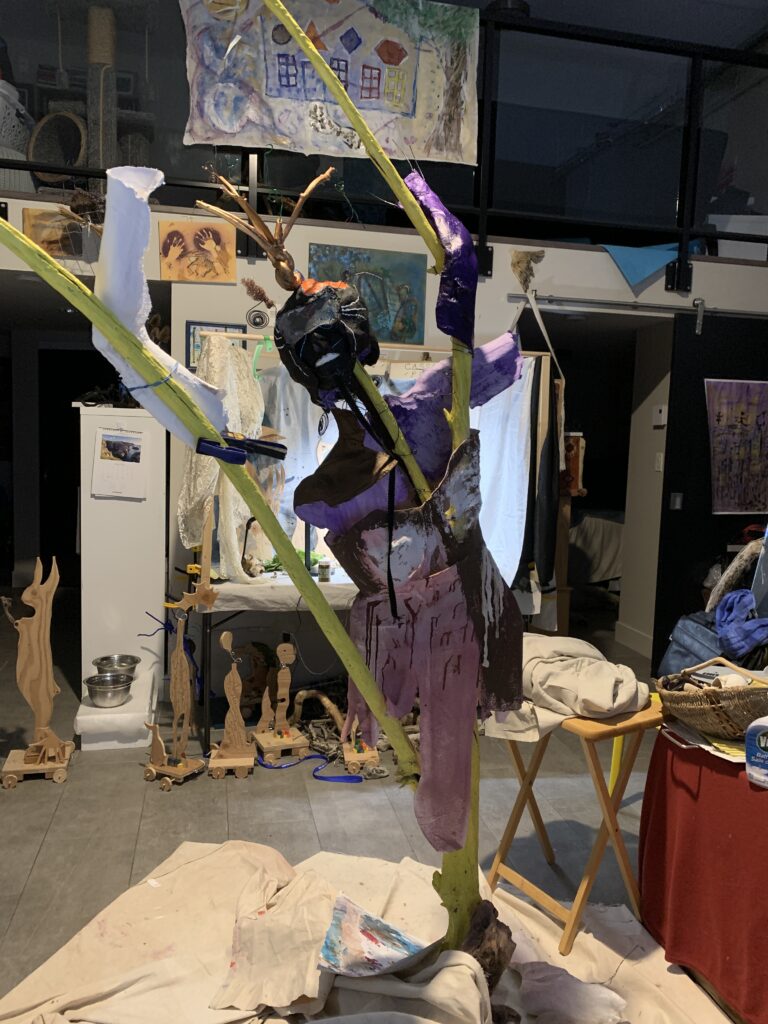 When the Gold Falls from the Hem of Your Dress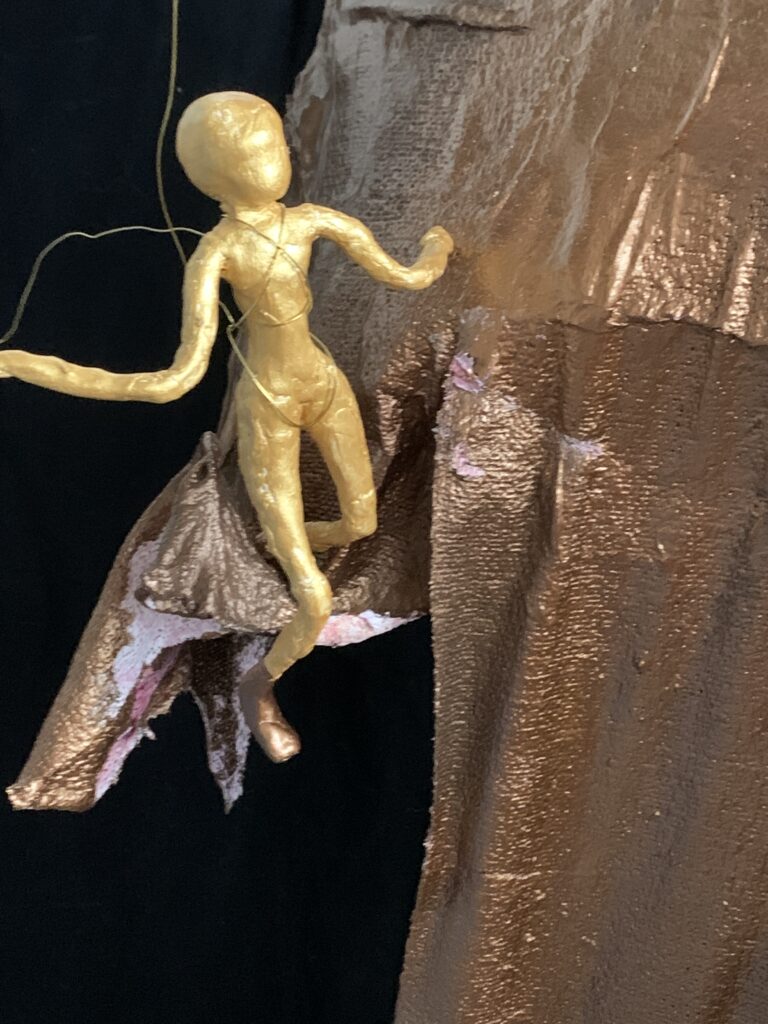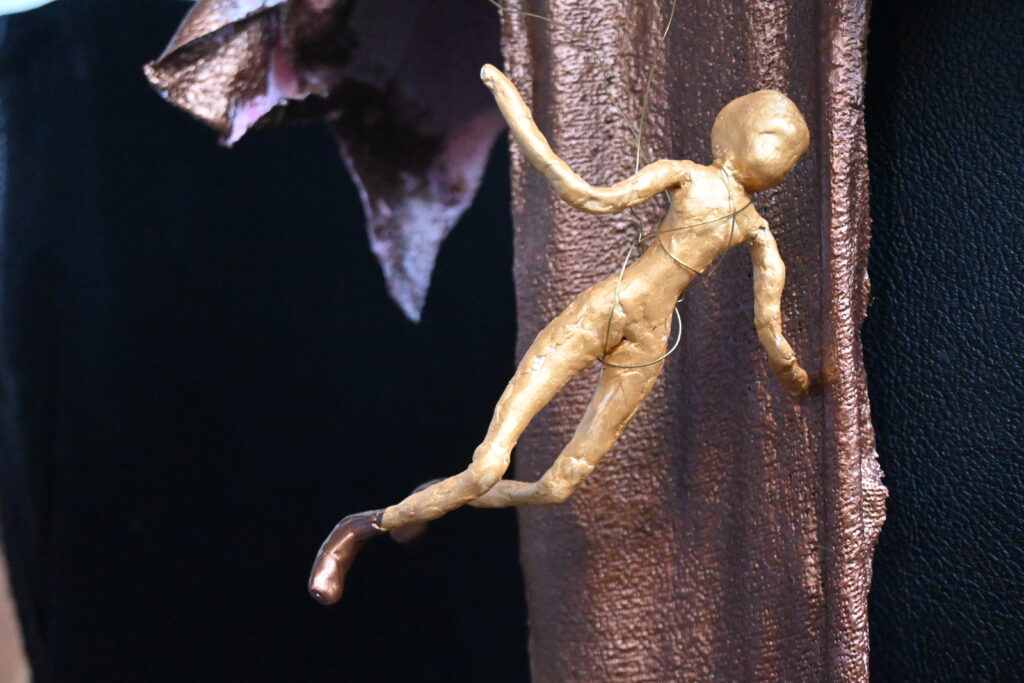 Body Invasions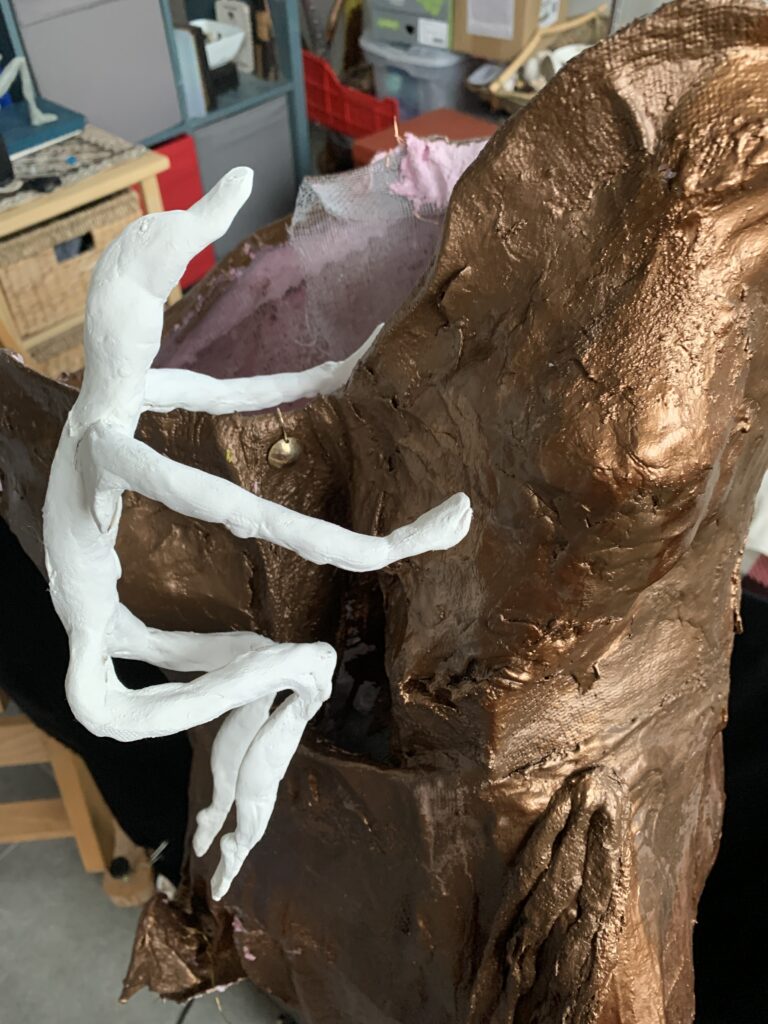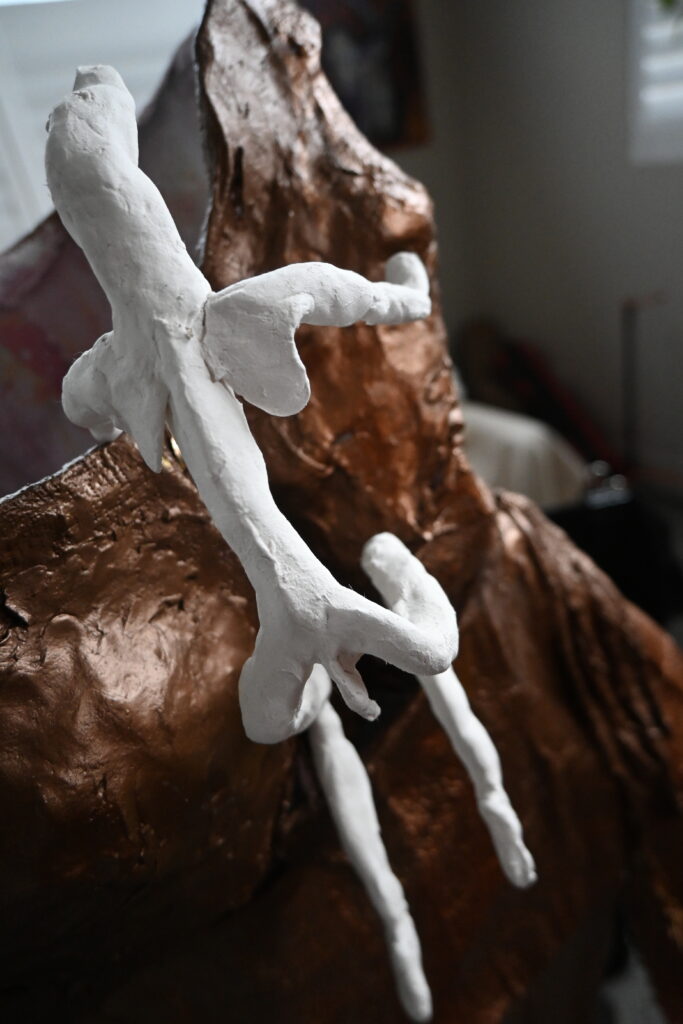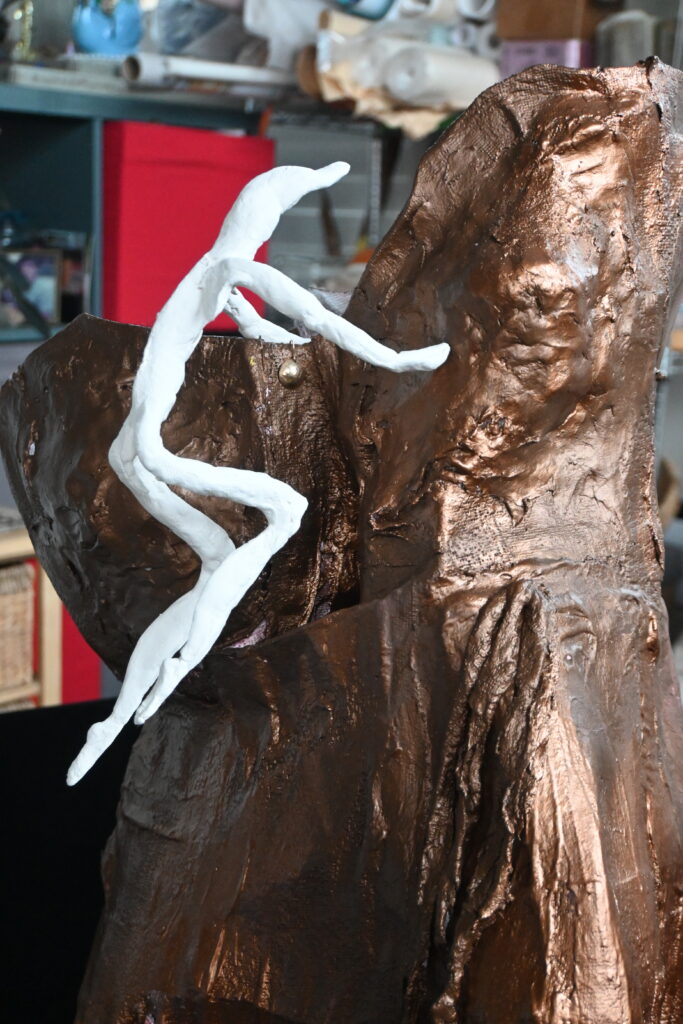 So, this is my exploration of body for this week. I'll continue to work with the torso and the entities and examine the visual and psychological relationships between them, among them.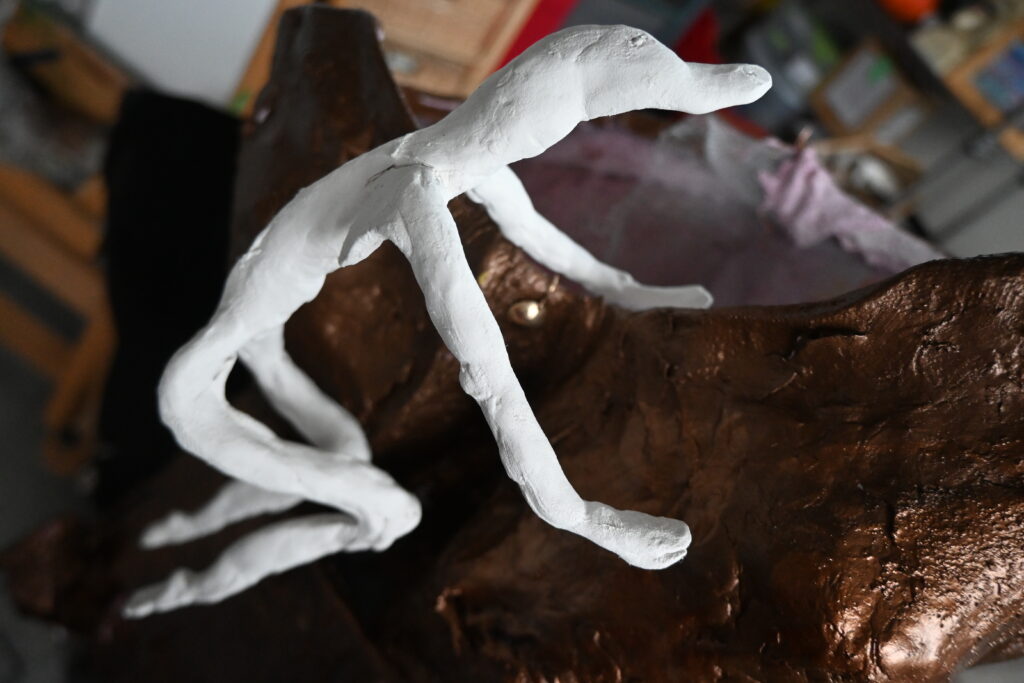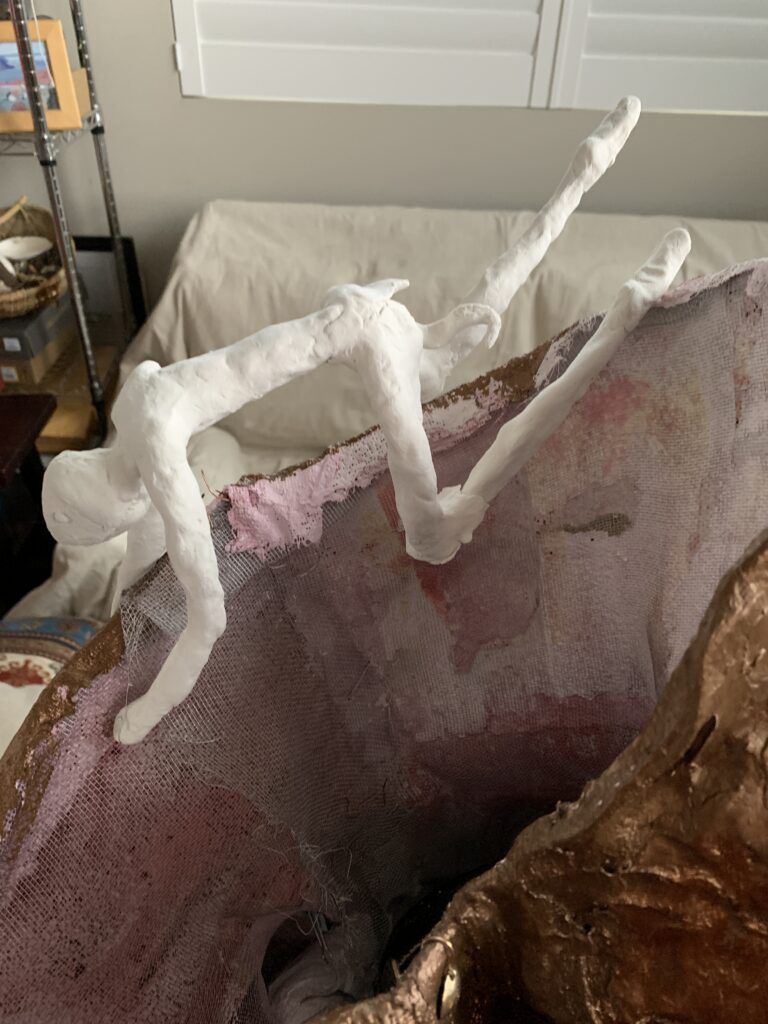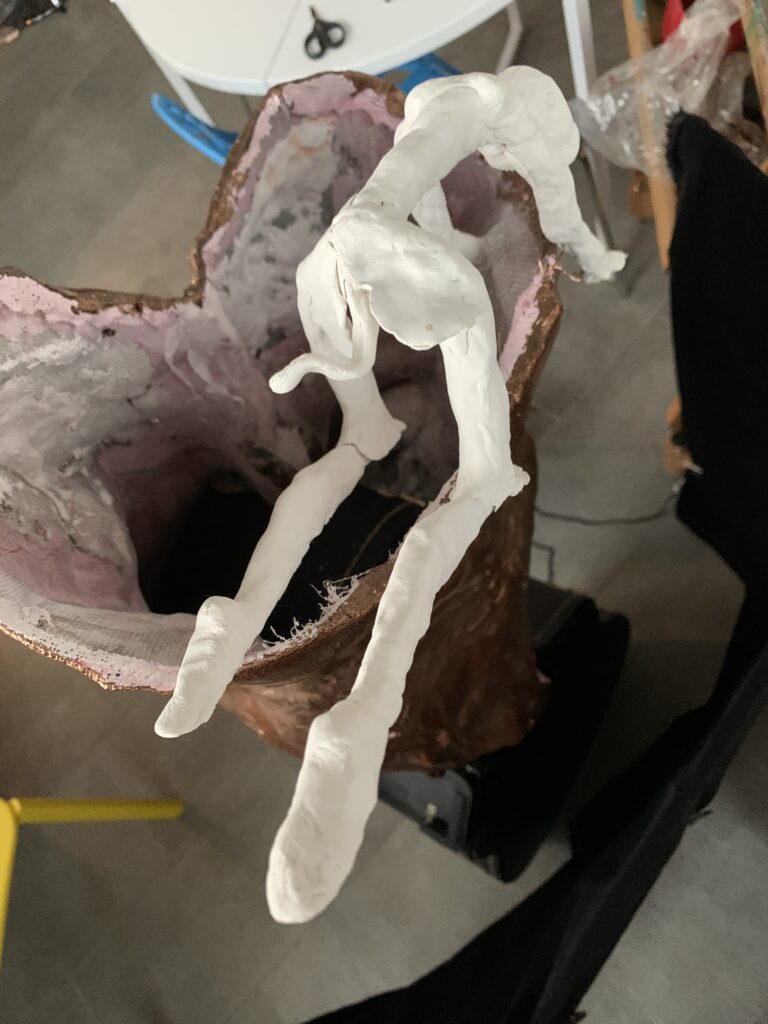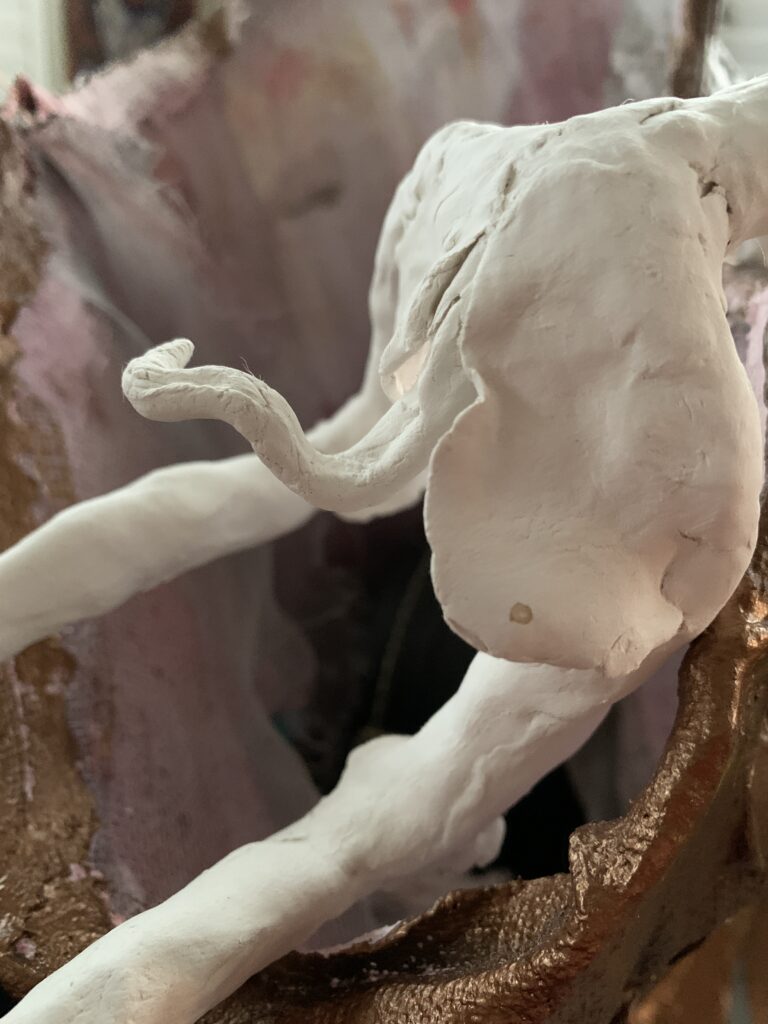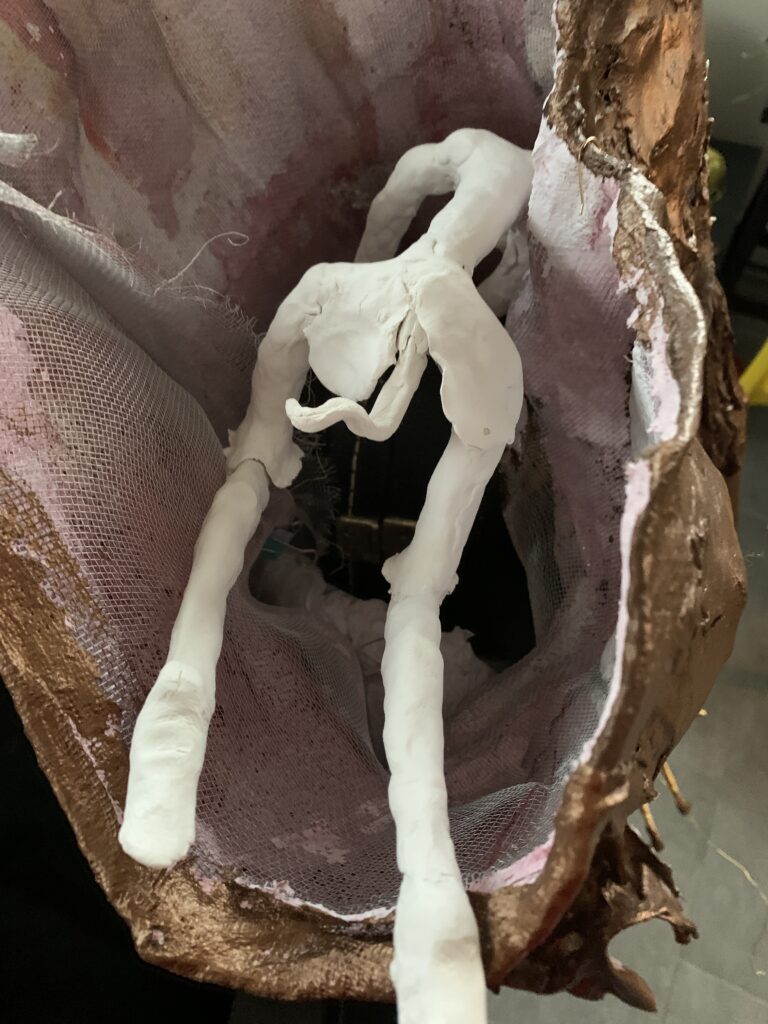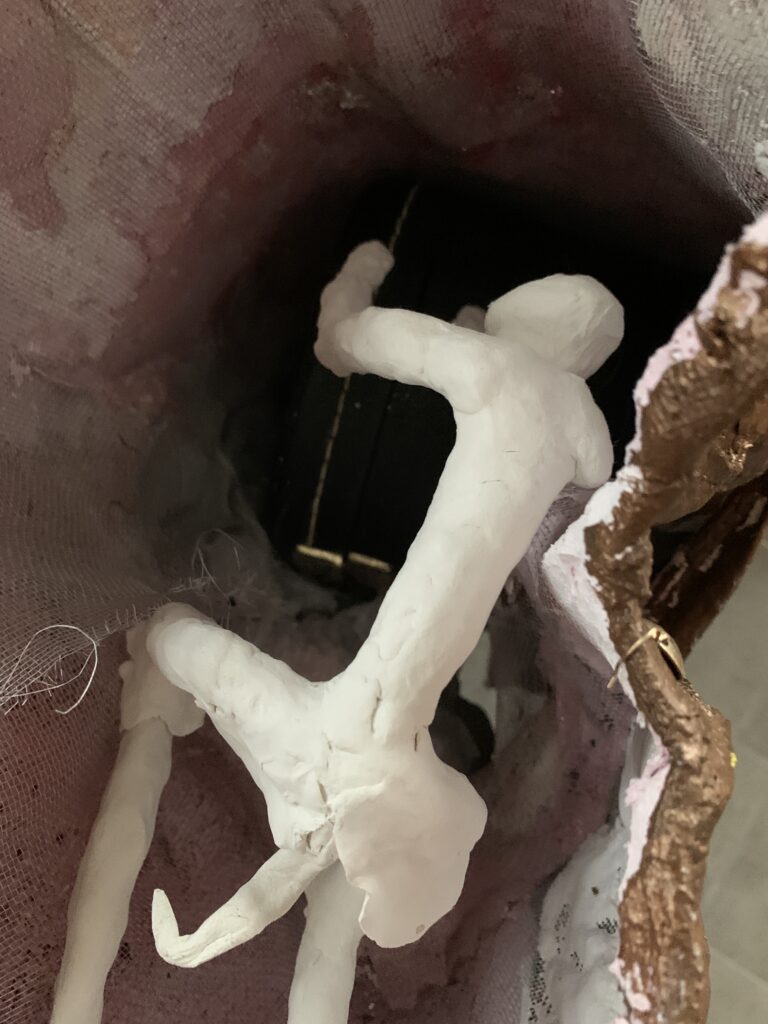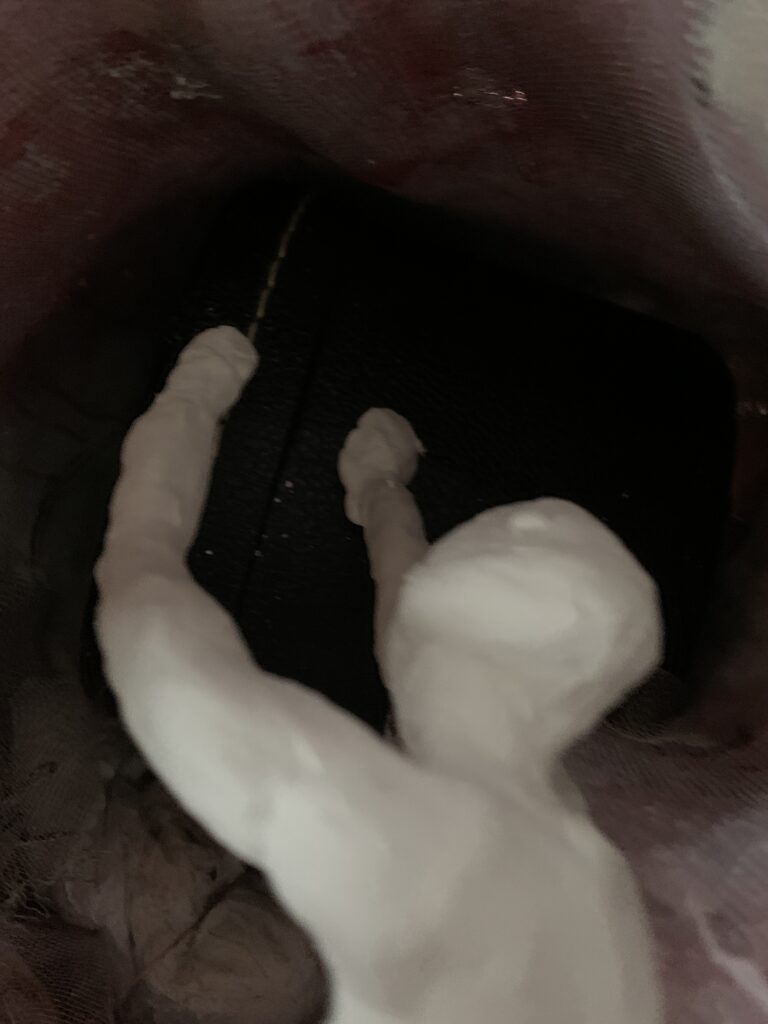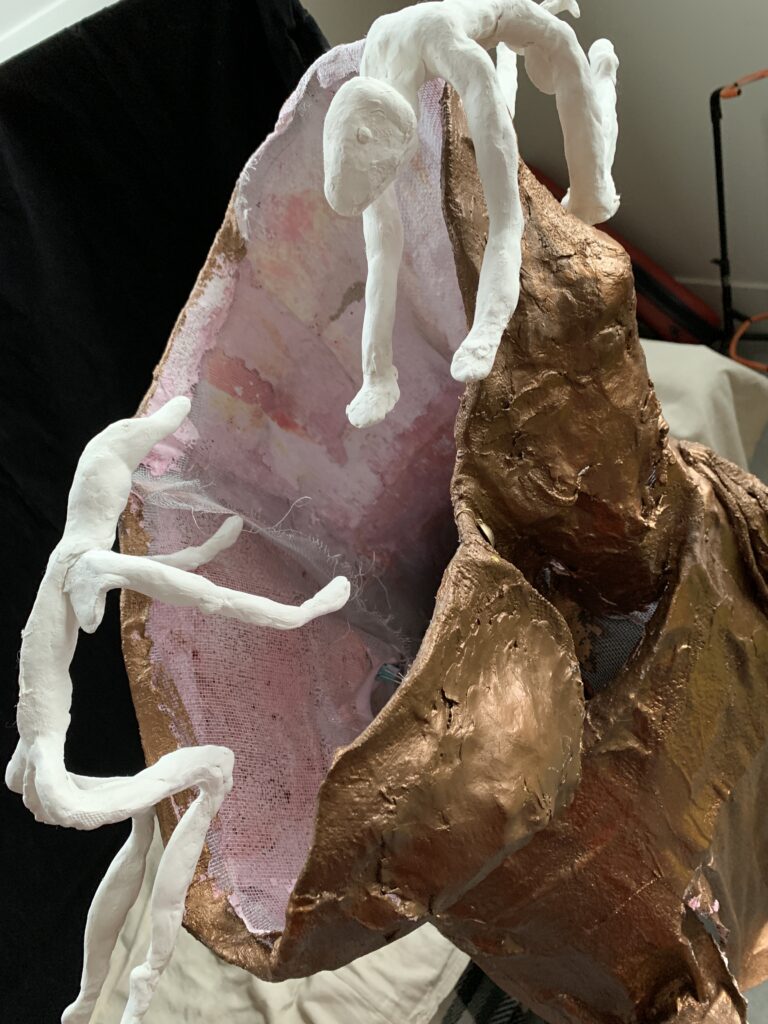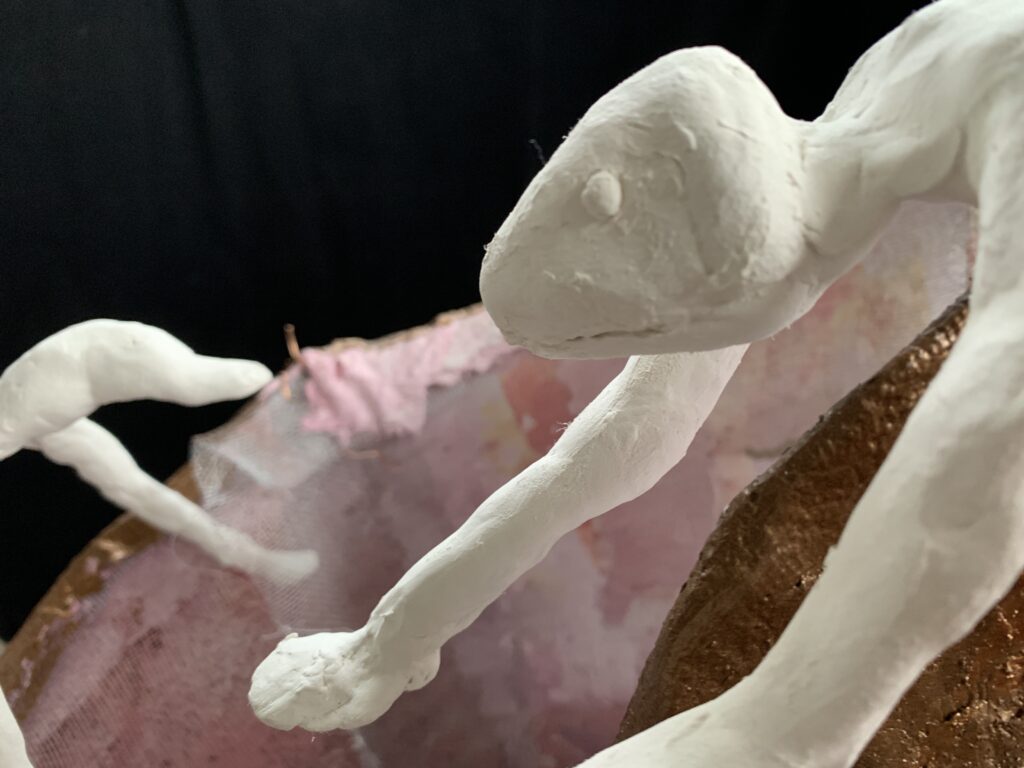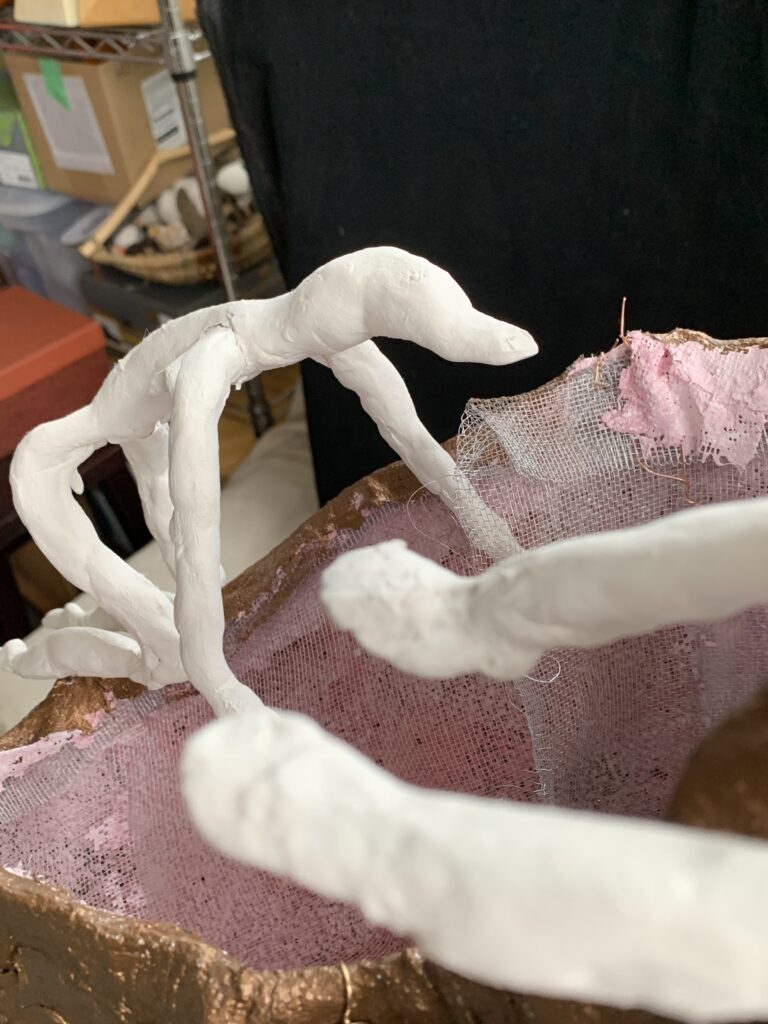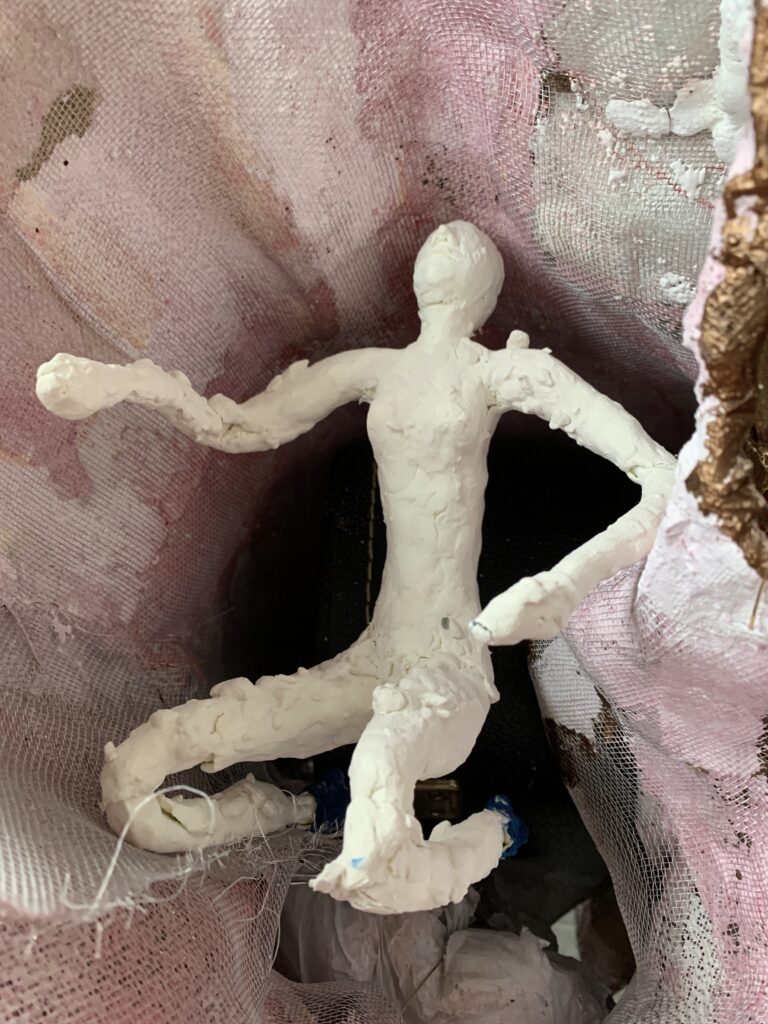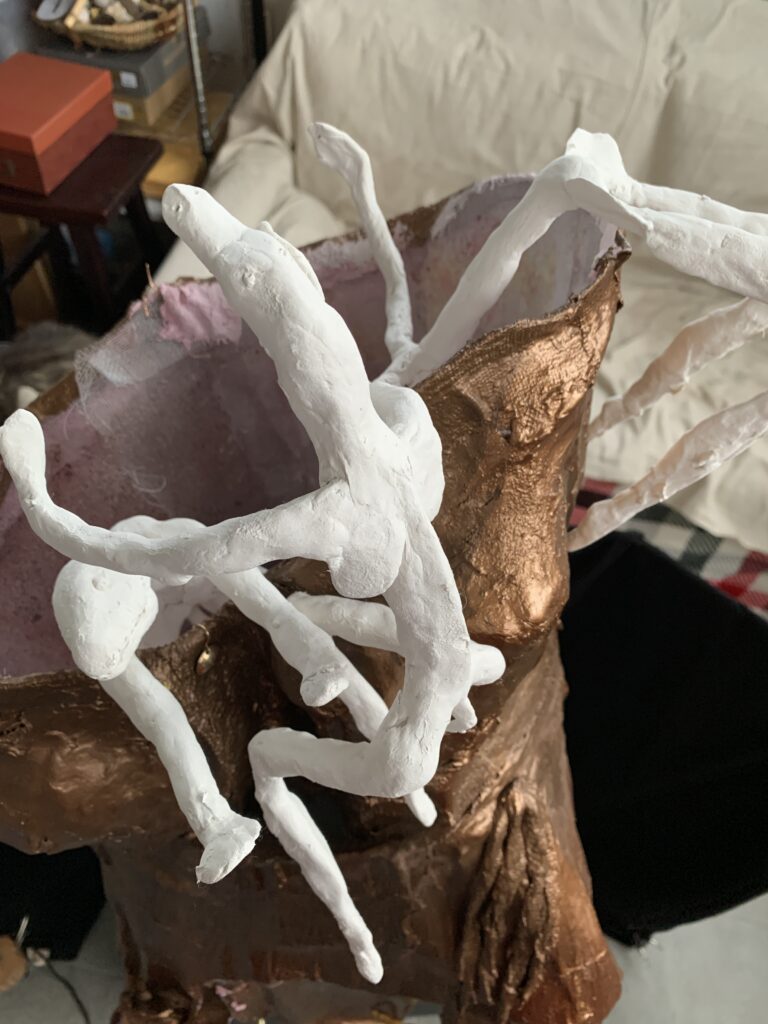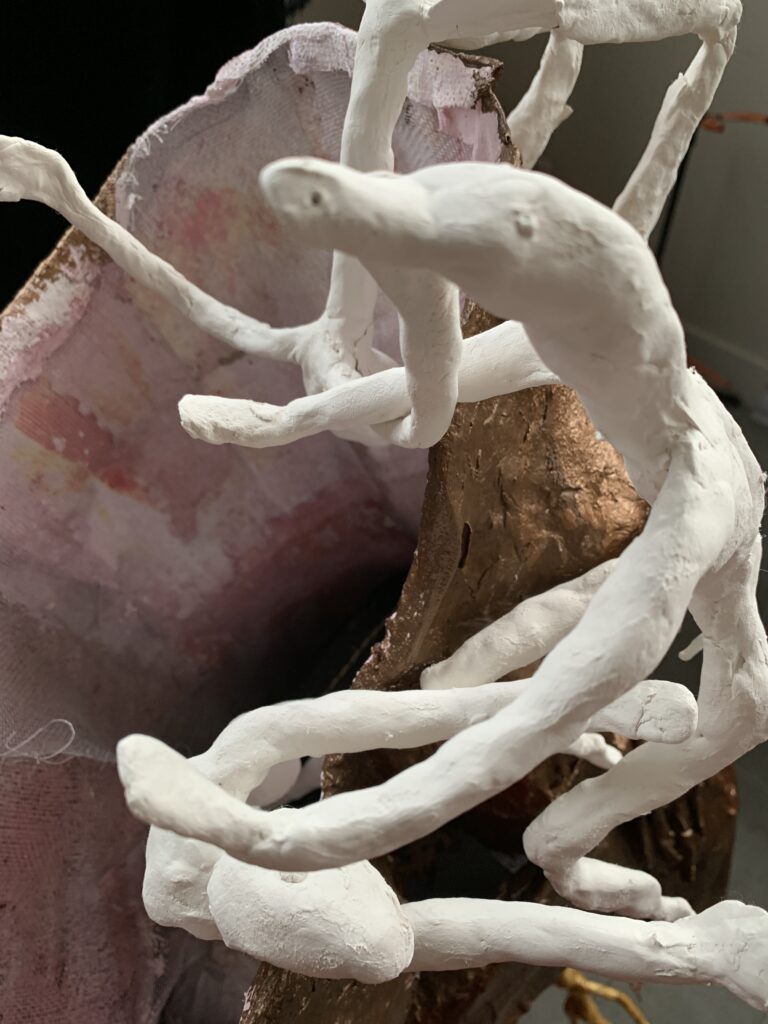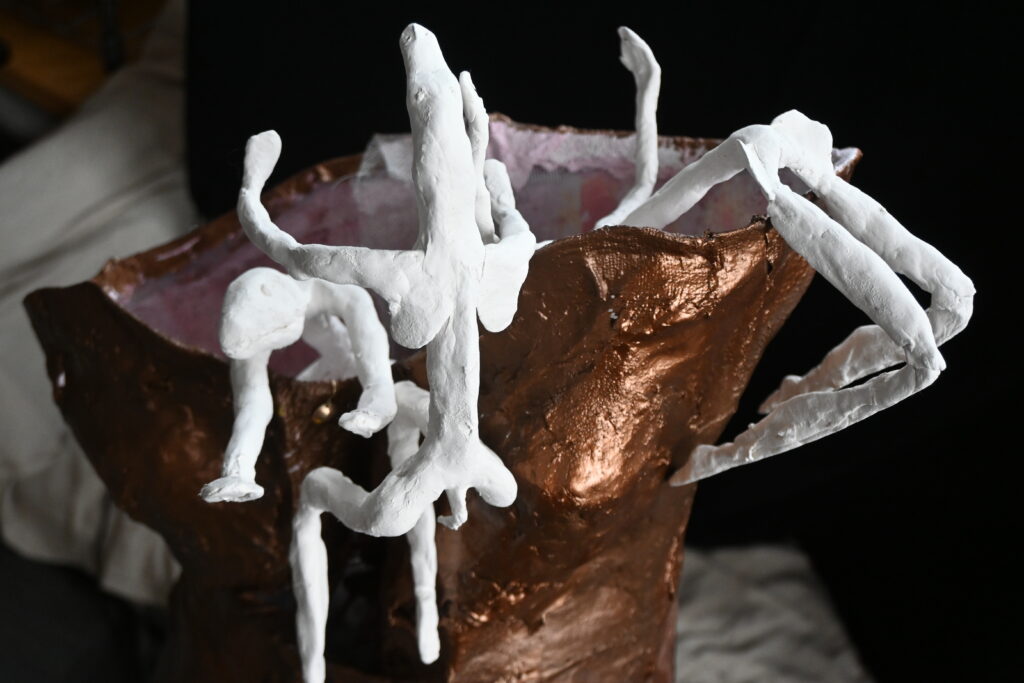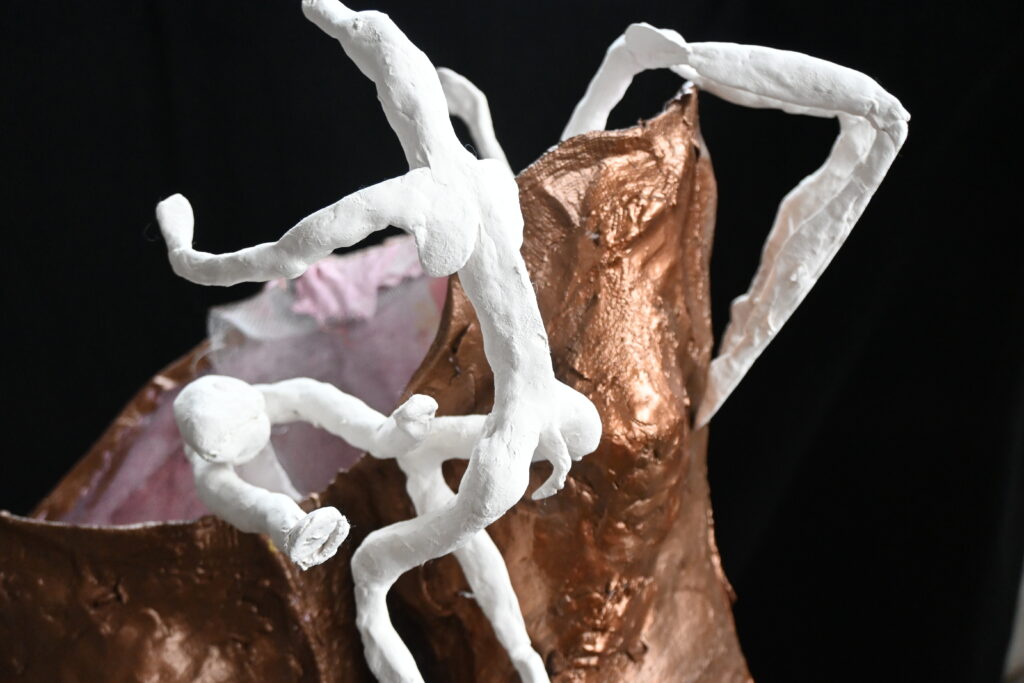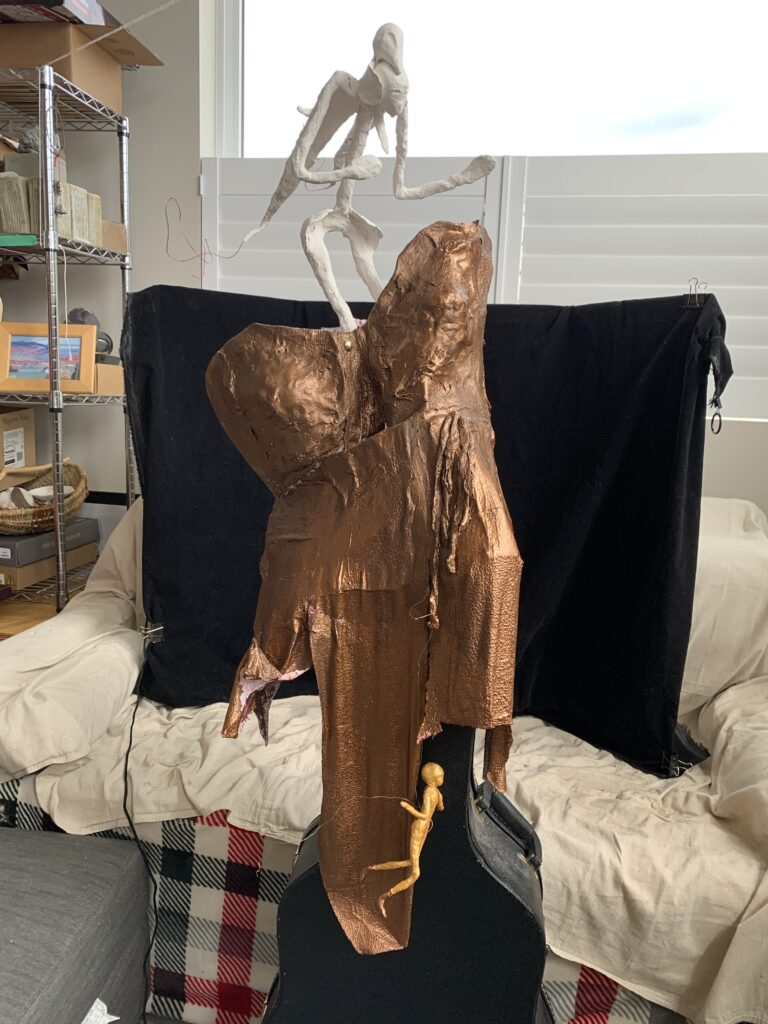 cat body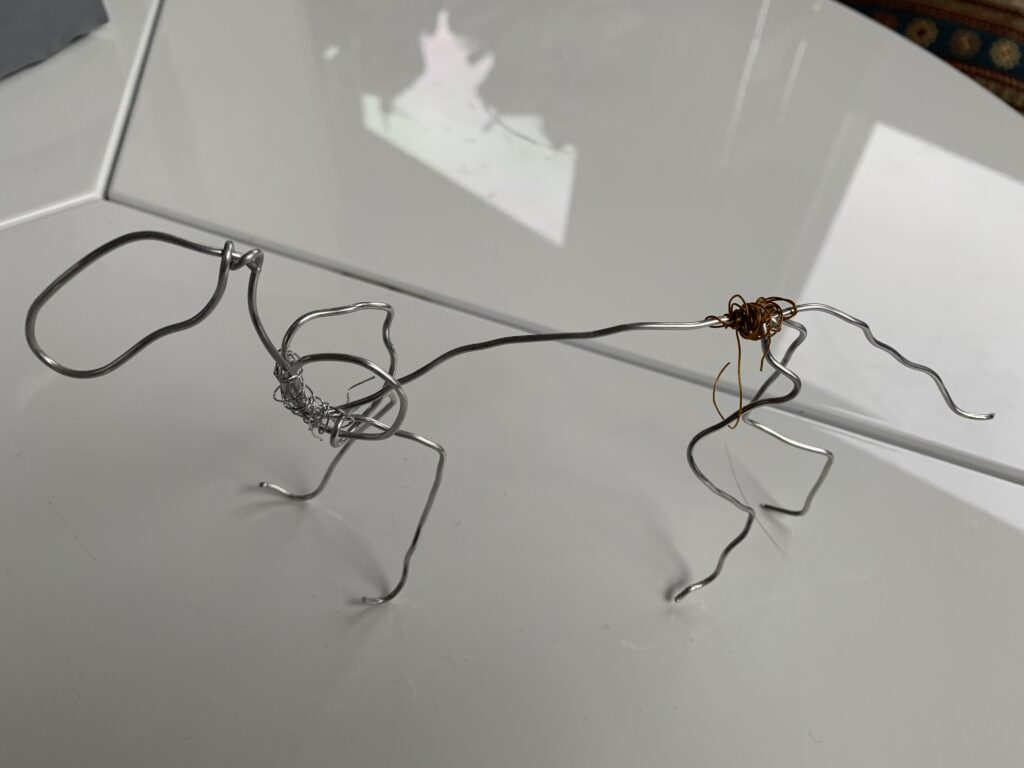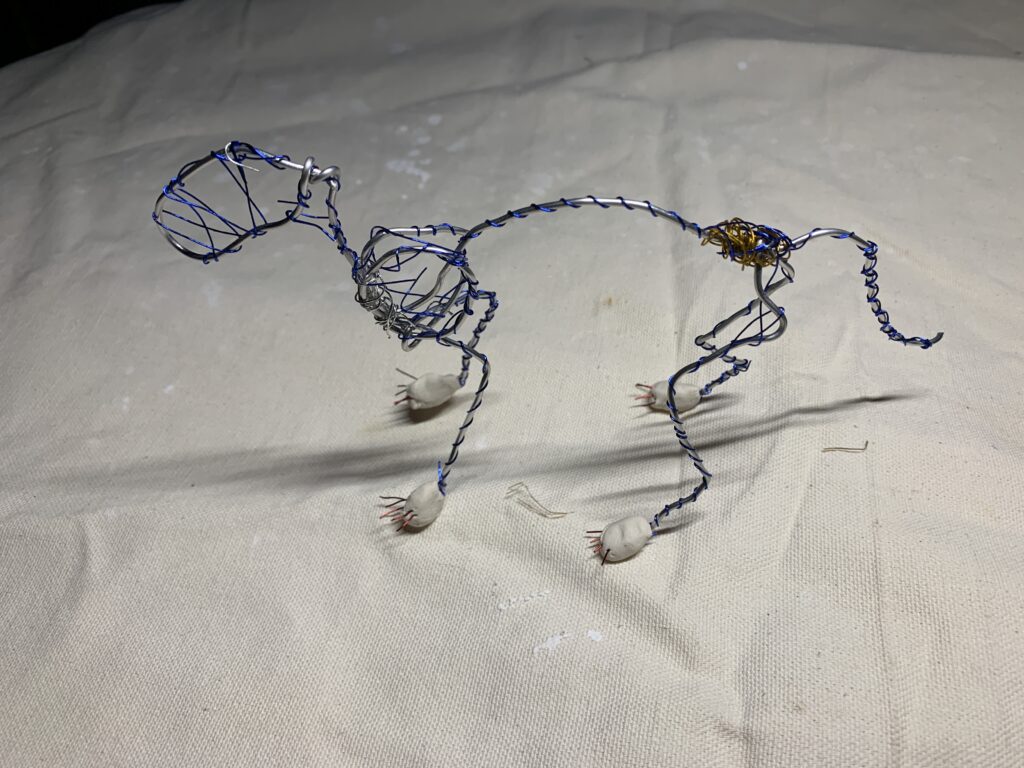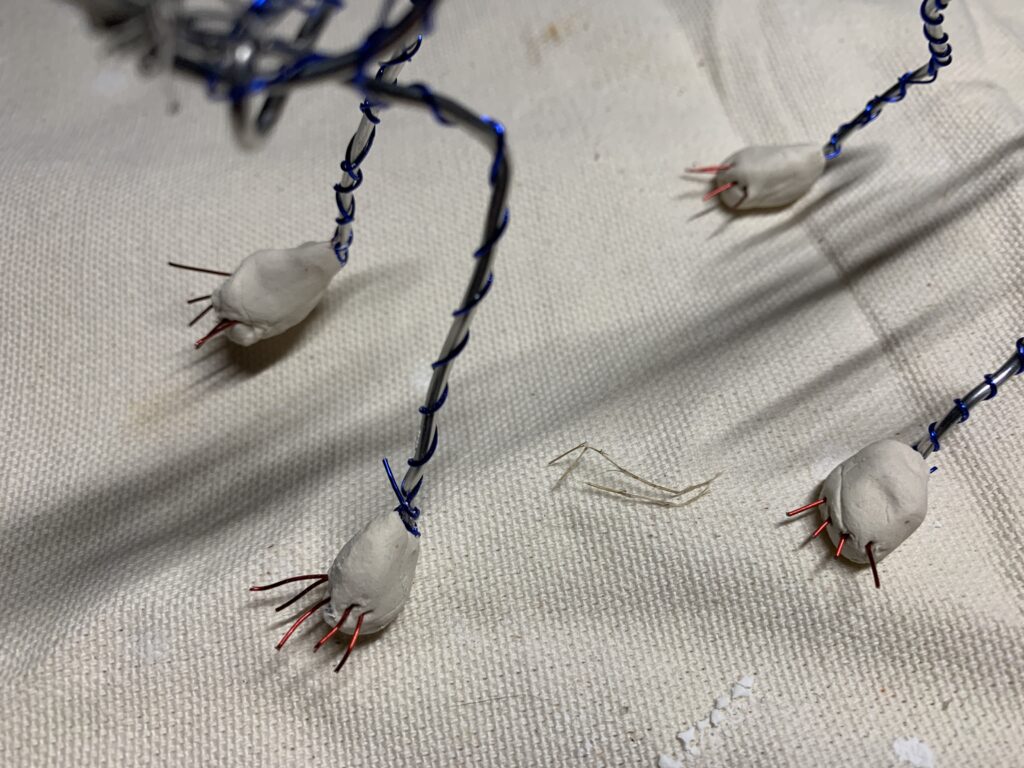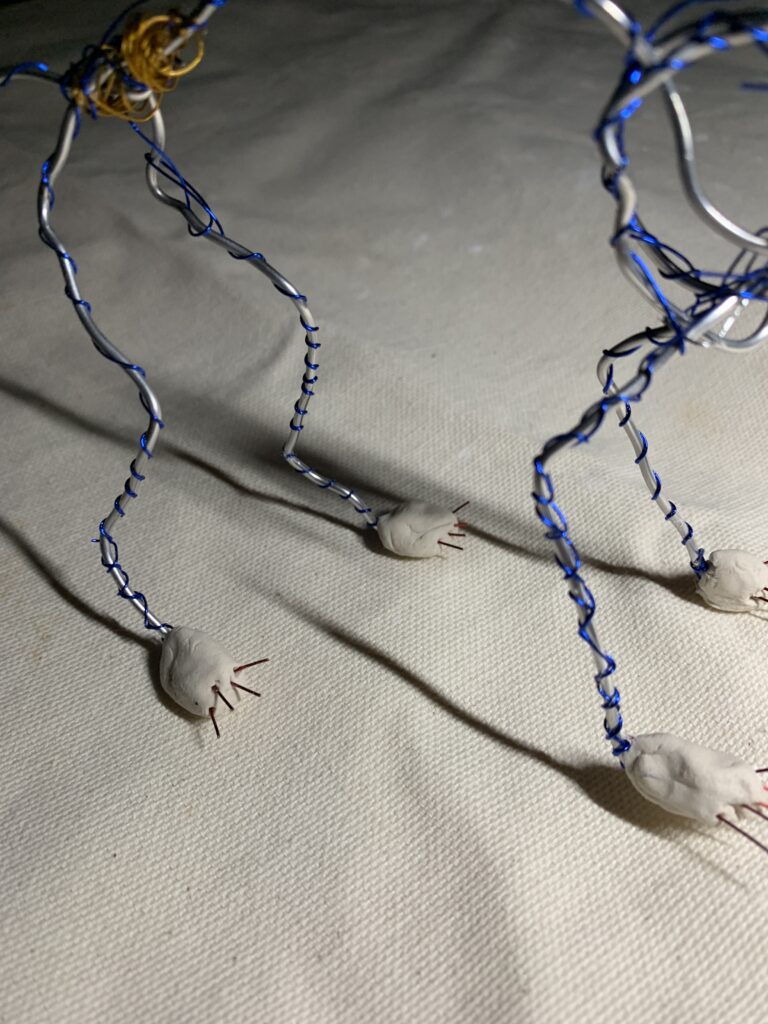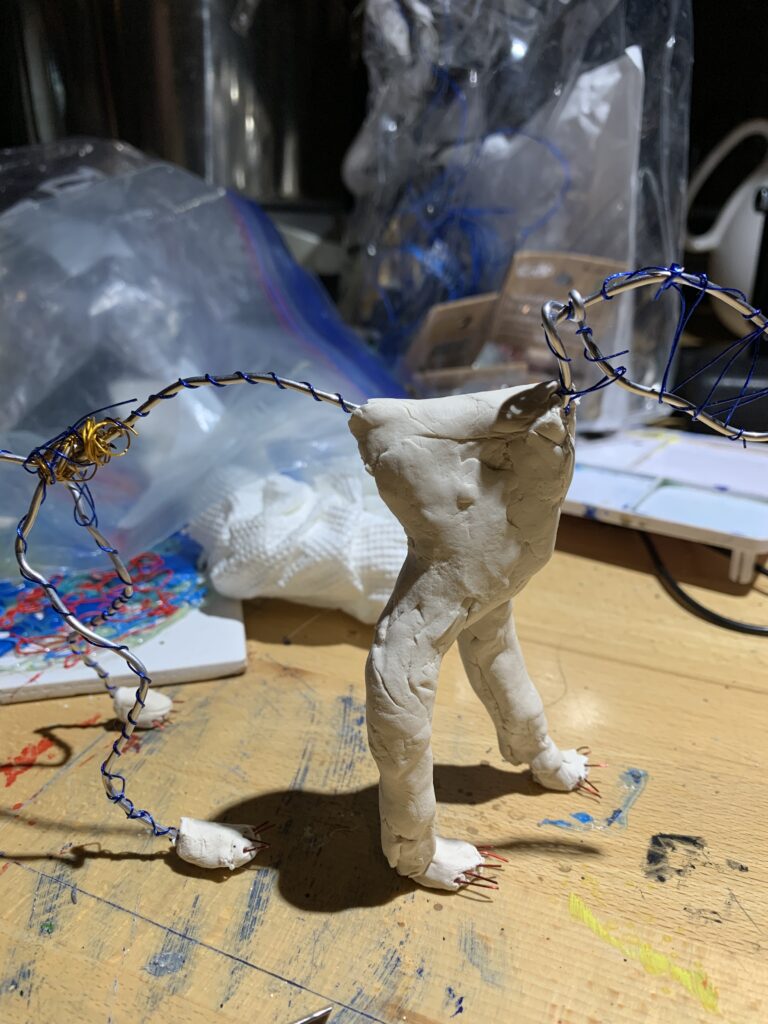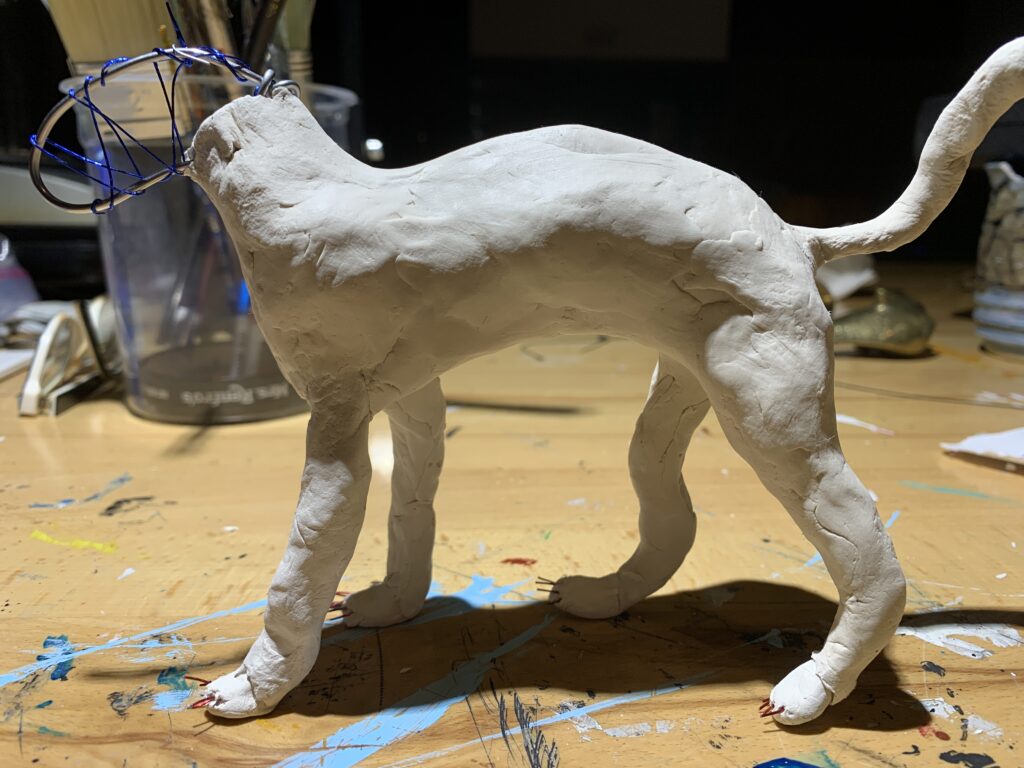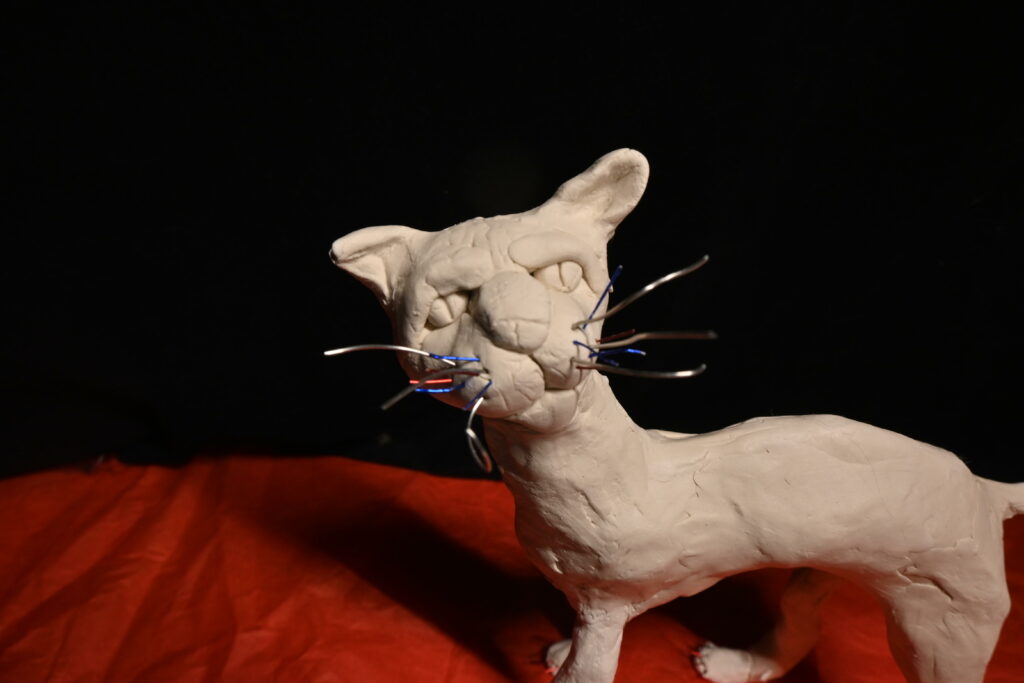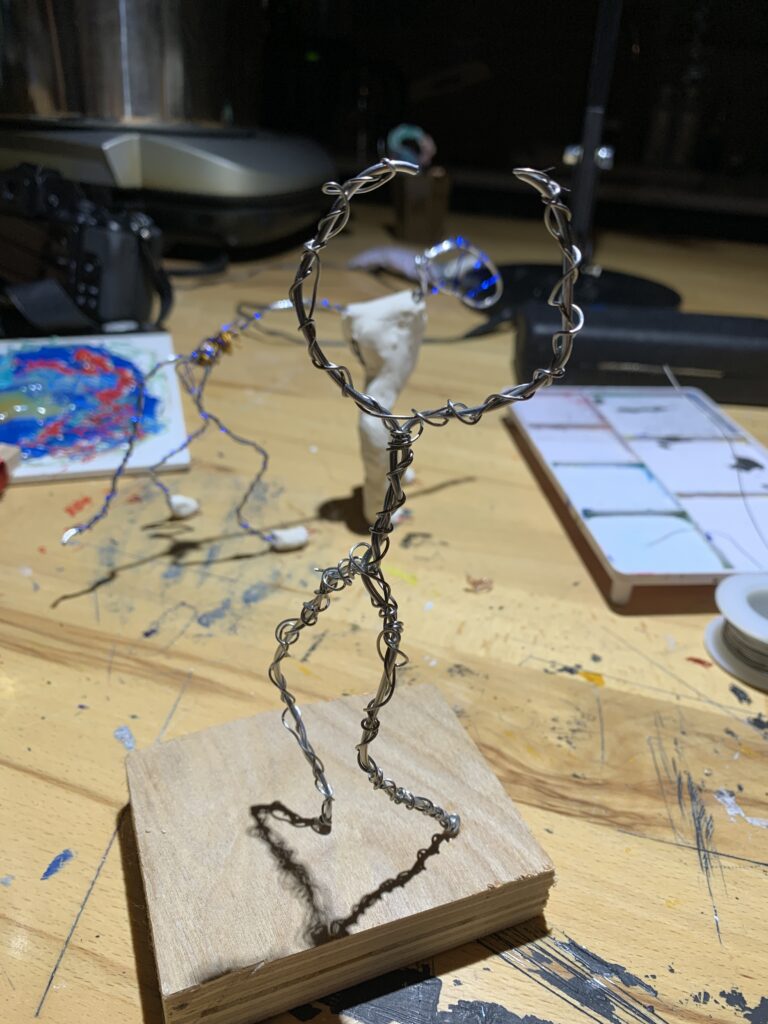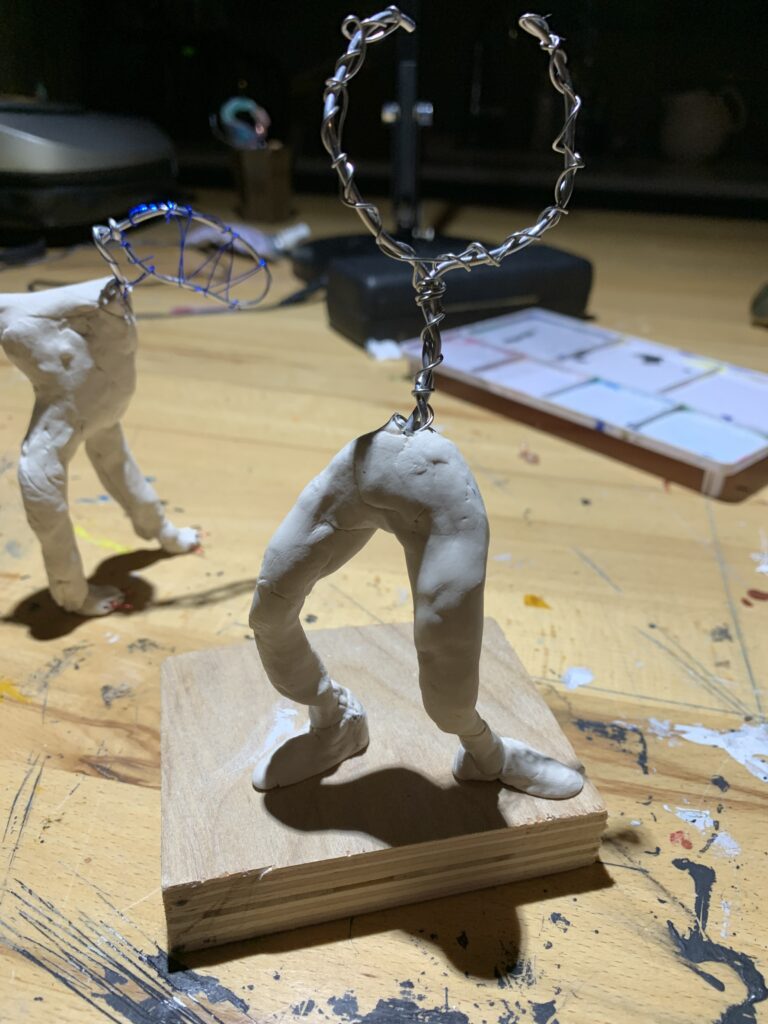 Also, I spent some time in the photo studio at the college on Tuesday, and here are some of the photographs from that photoshoot:
jive body progress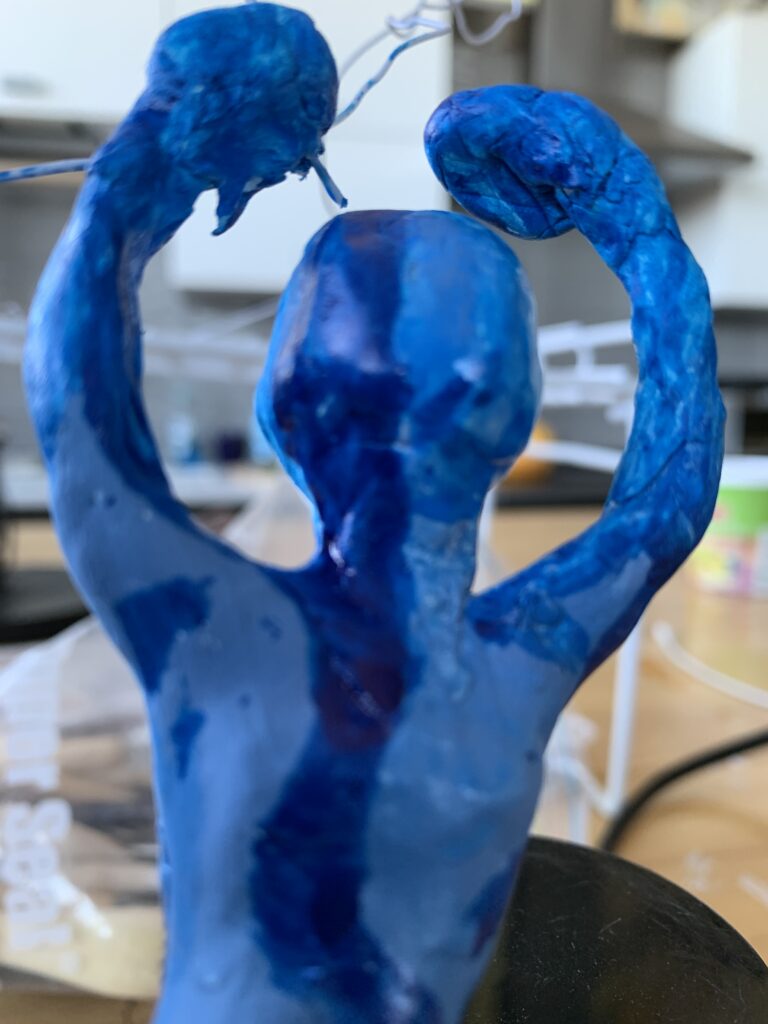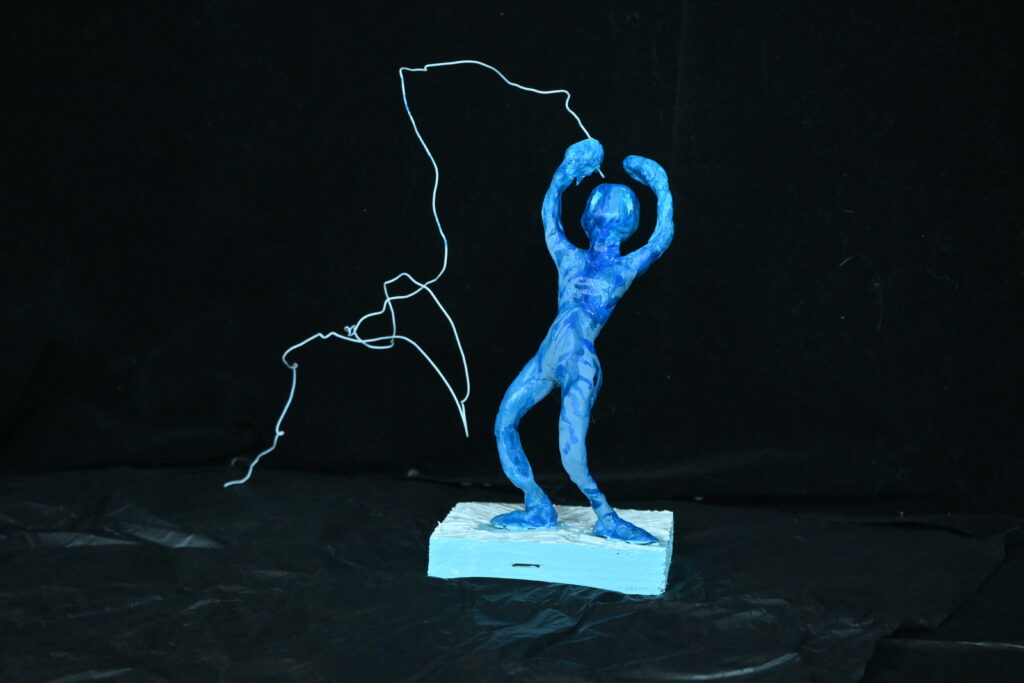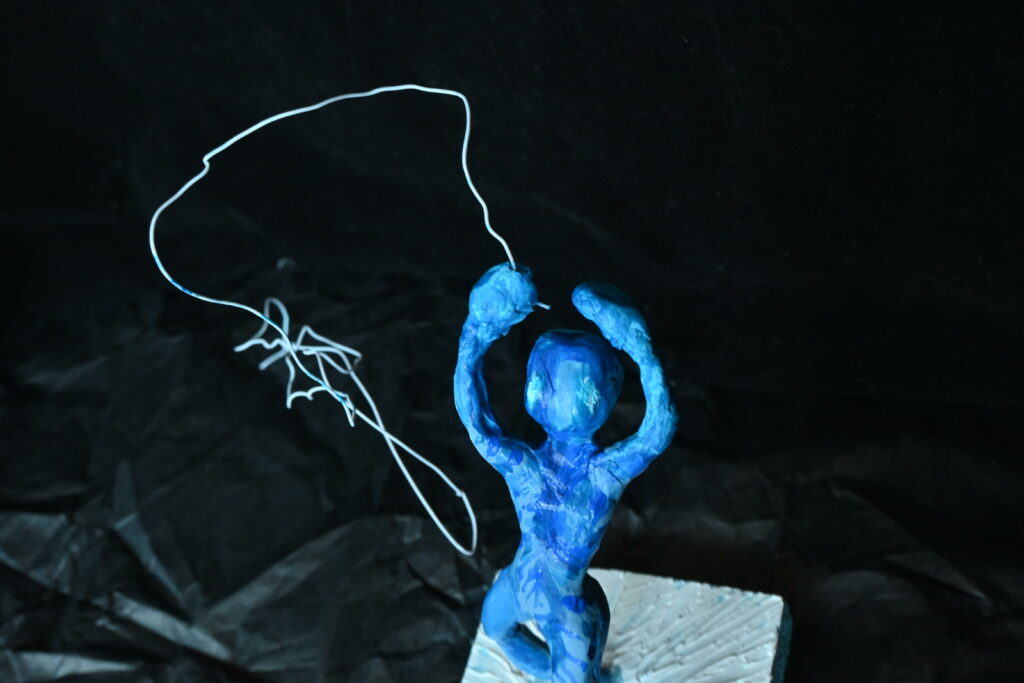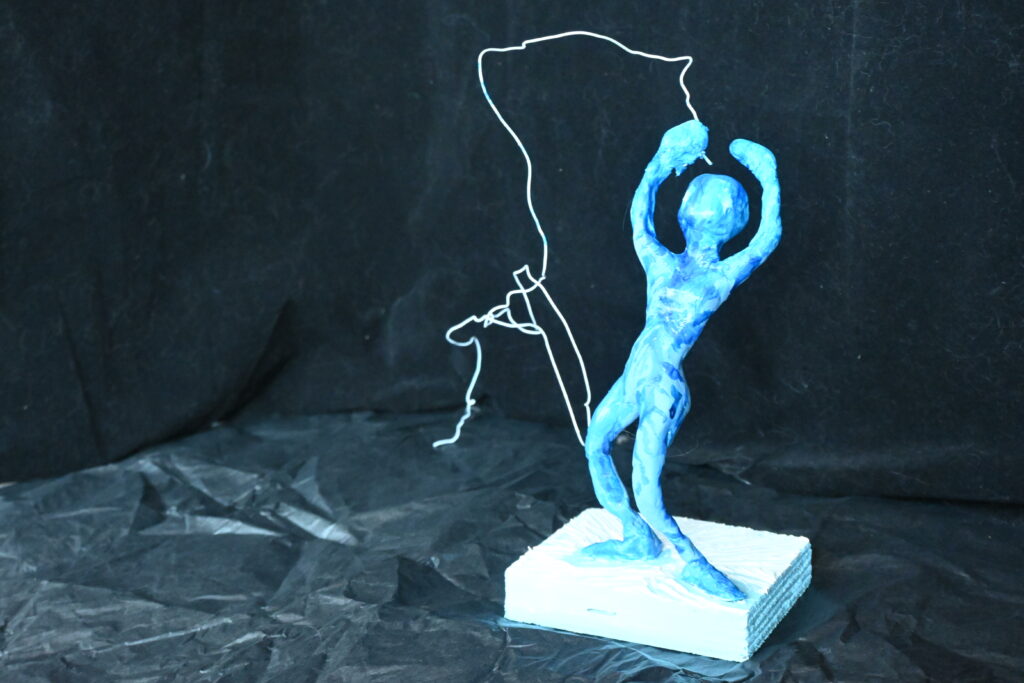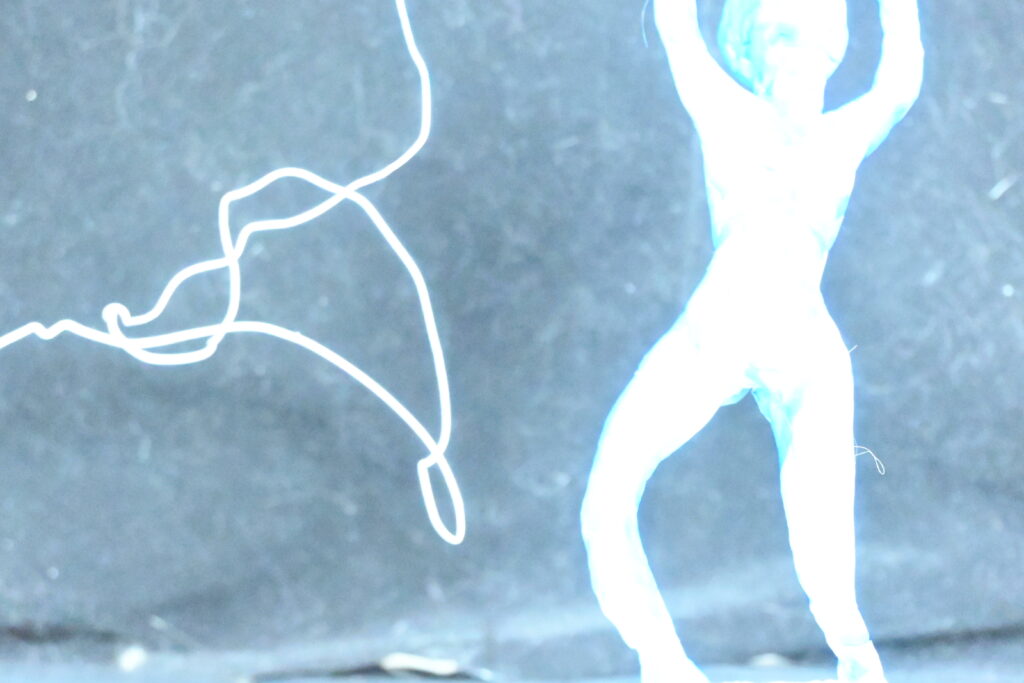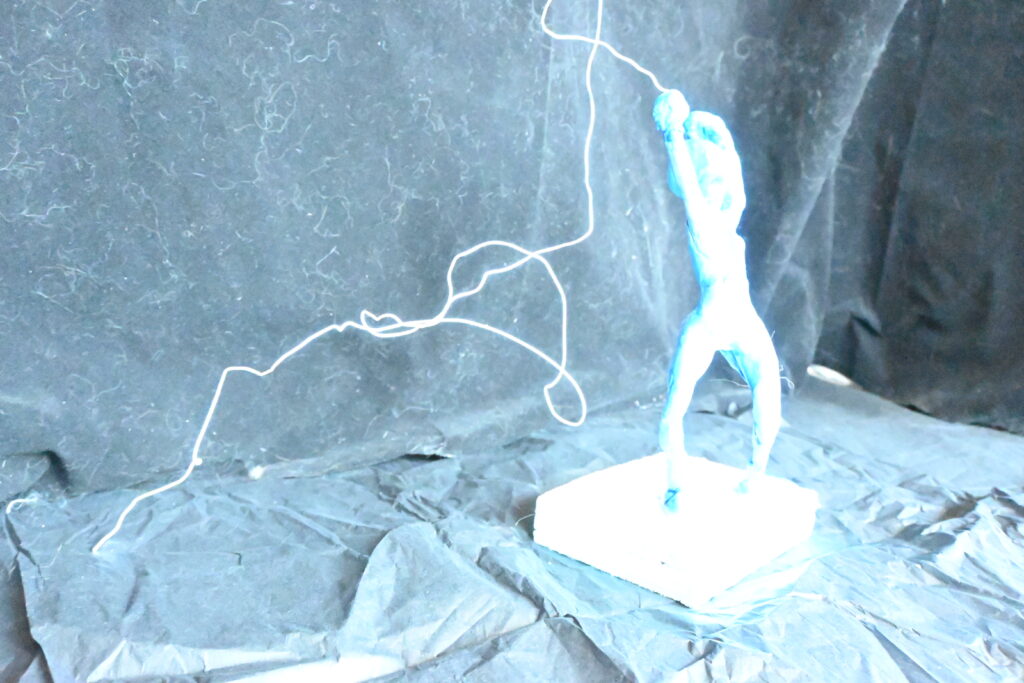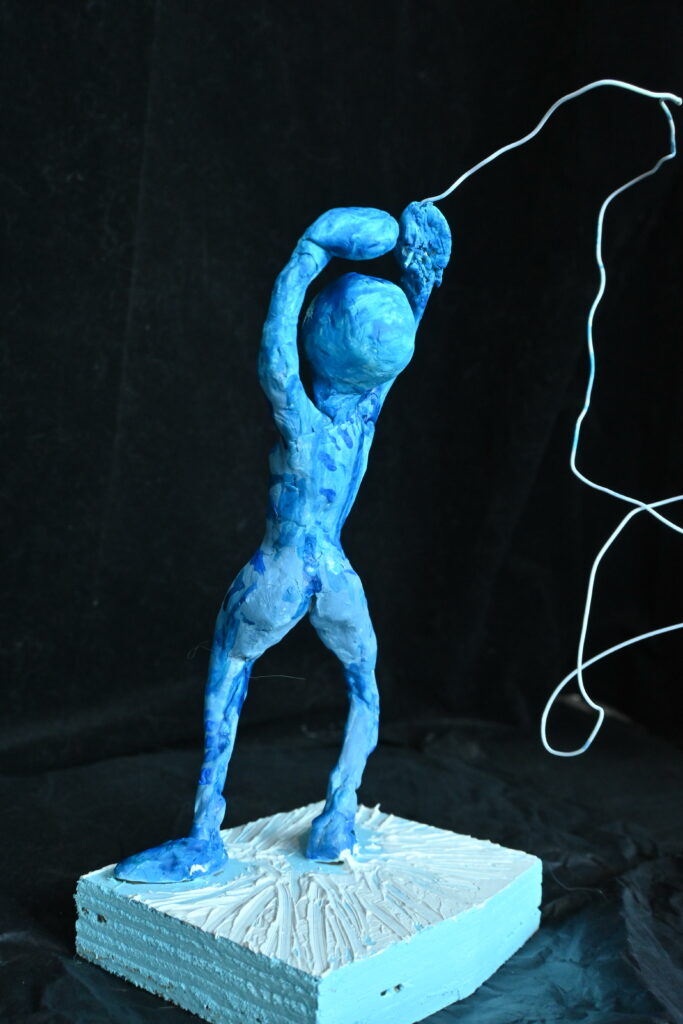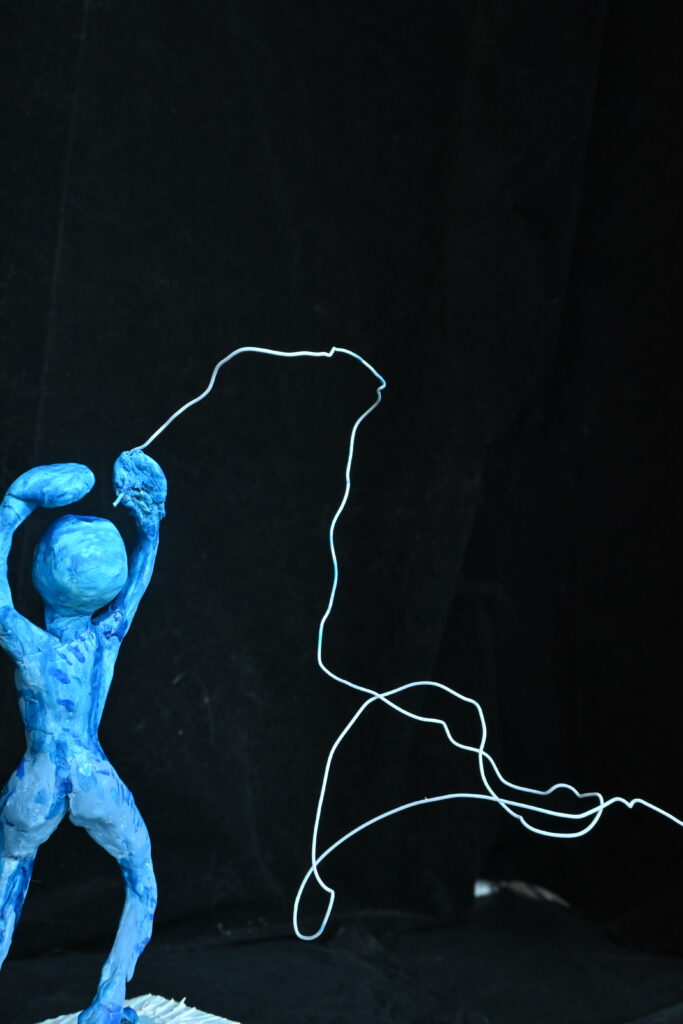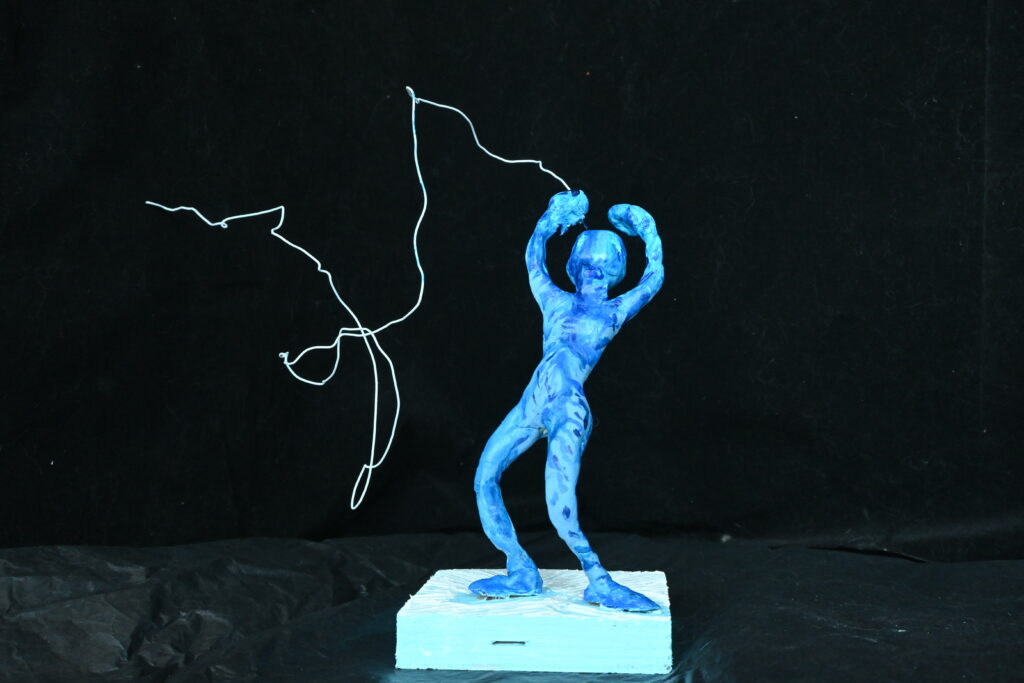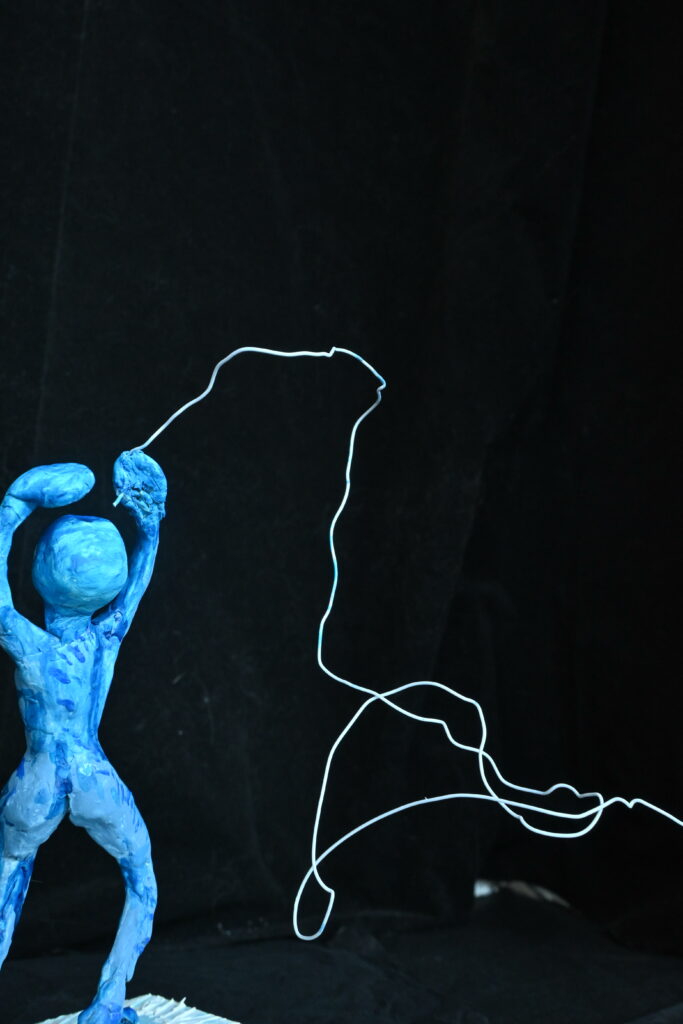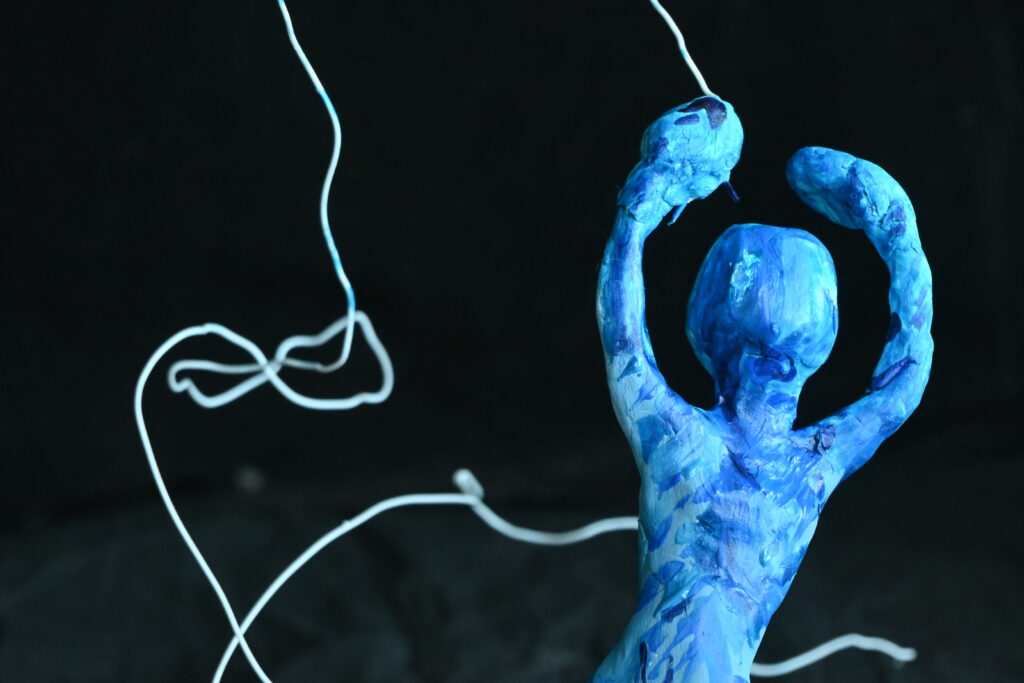 Baby Body (Mother and Child)
Taking photographs last week of all the figures made me start thinking in a new direction about the total number and type of figure. I wanted to make this baby because I felt that it was "missing" from the grouping. As I worked on the baby, I knew that I needed to also make a mother. The mother, I thought, would be another clay figure.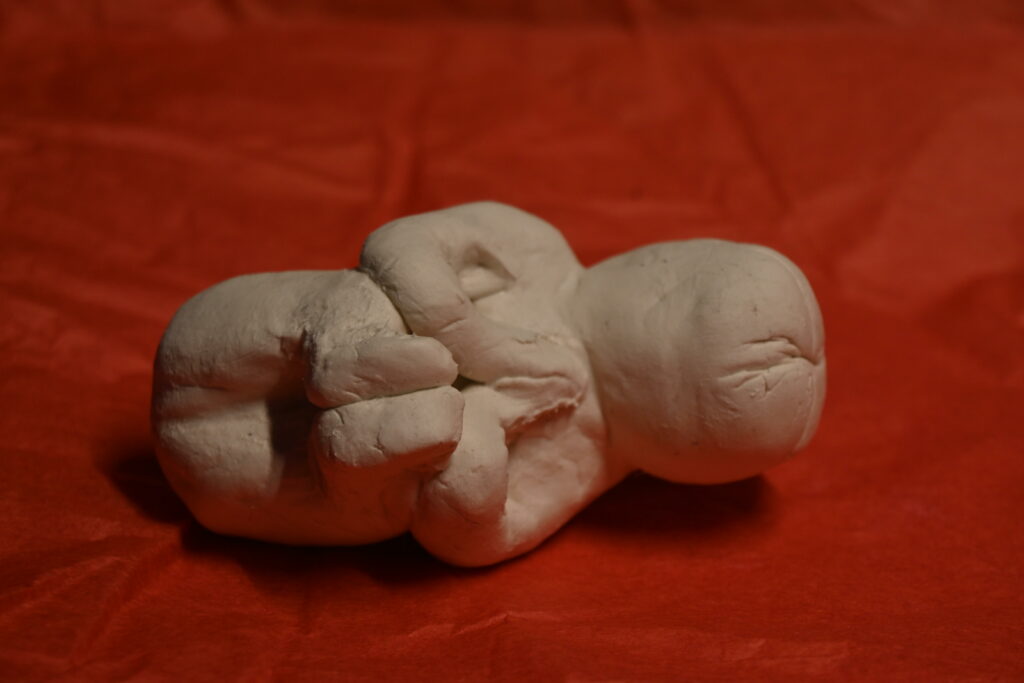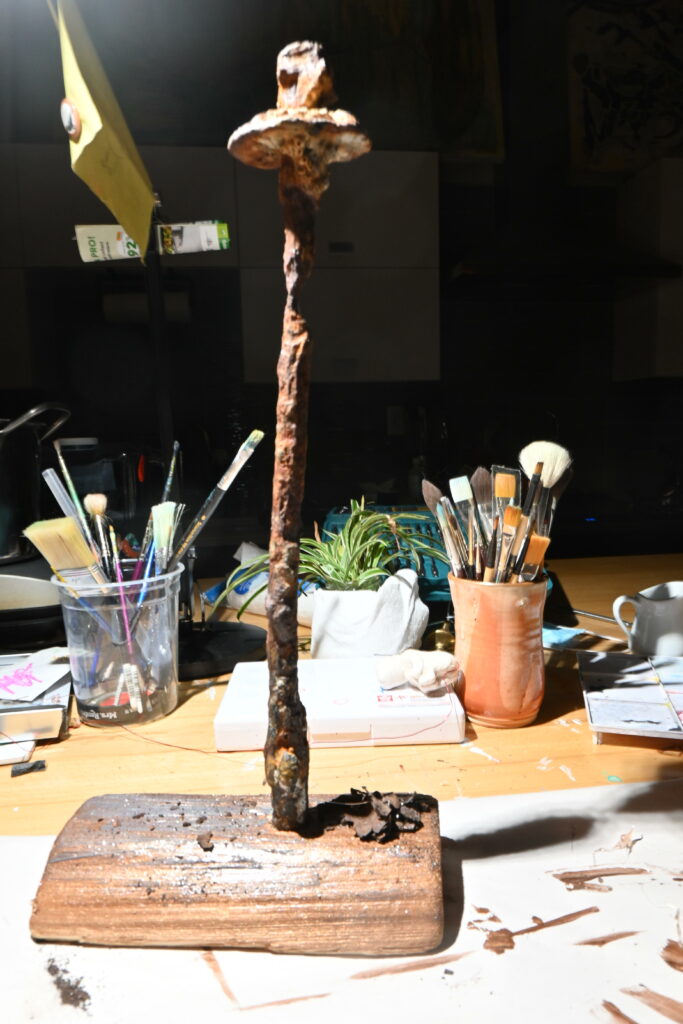 I'm enjoying the changes in direction with this project, with these figures. Cat Body moved me from acrylic paint to watercolour paint; Baby Body (so far) has moved me over a little bit more. The trick will be, as I continue with the "Body" section of the course, to not think that all the "body" pieces need to fit together…but so far, I don't think that they do.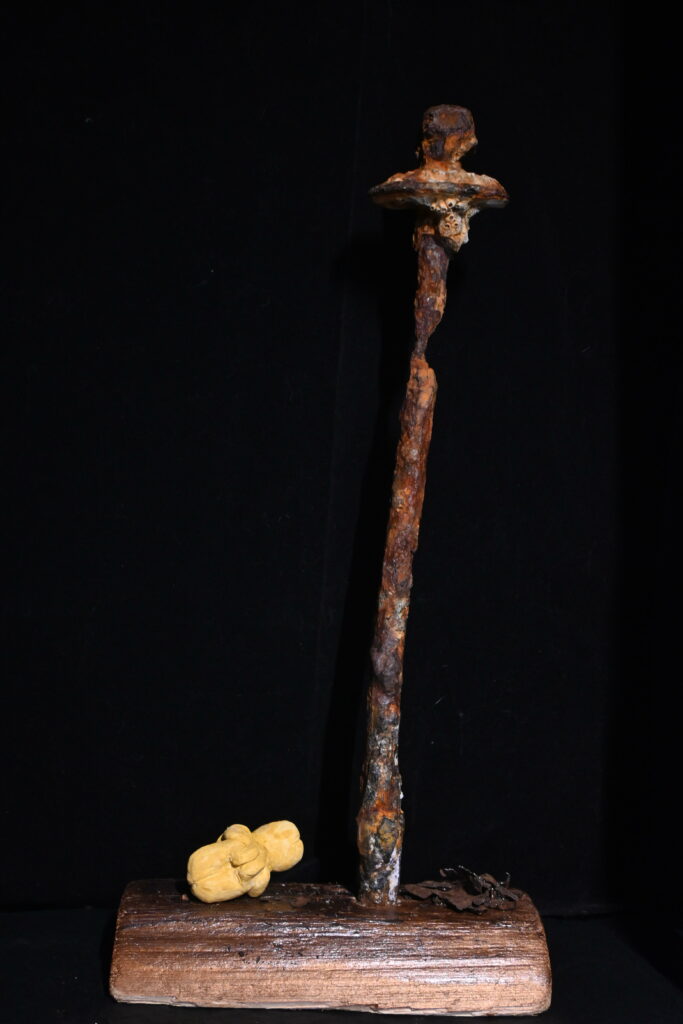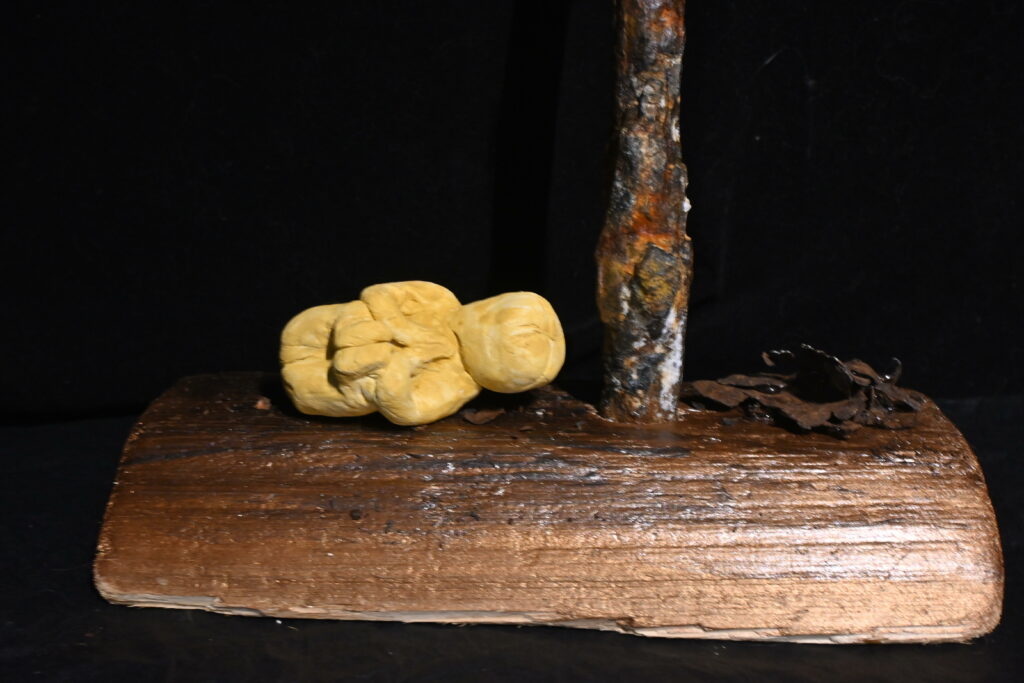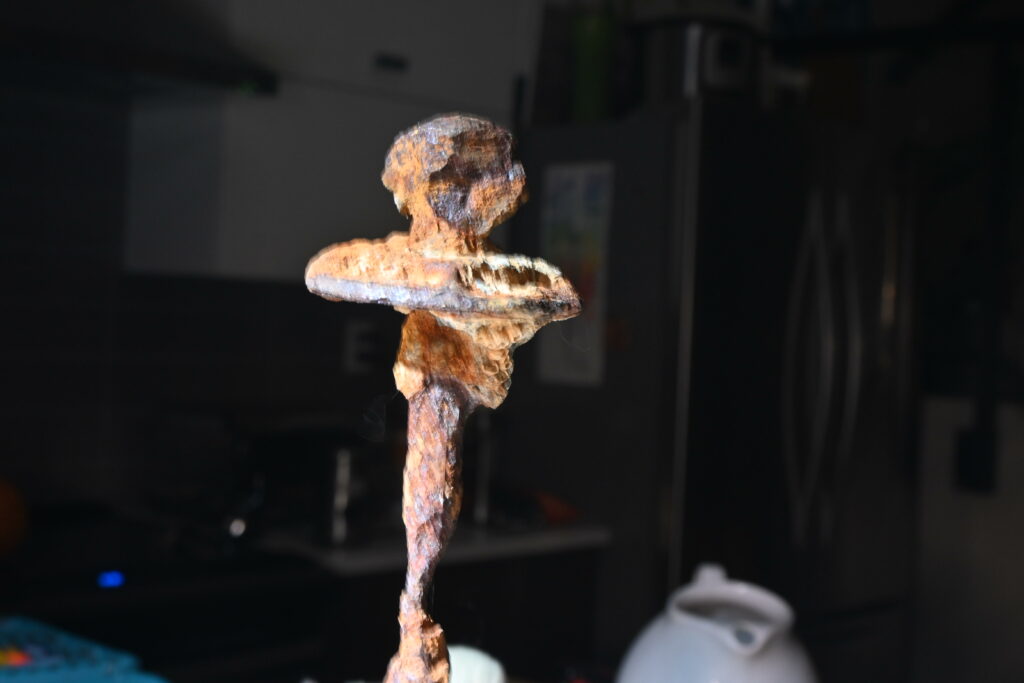 Baby Bodies 2 & 3 November 9 copper day
These next two Baby Bodies appear to me to be expressing "adult" emotions. There seems to be a slight disconnect between the size and age of the body, and the size and age of the emotion being expressed.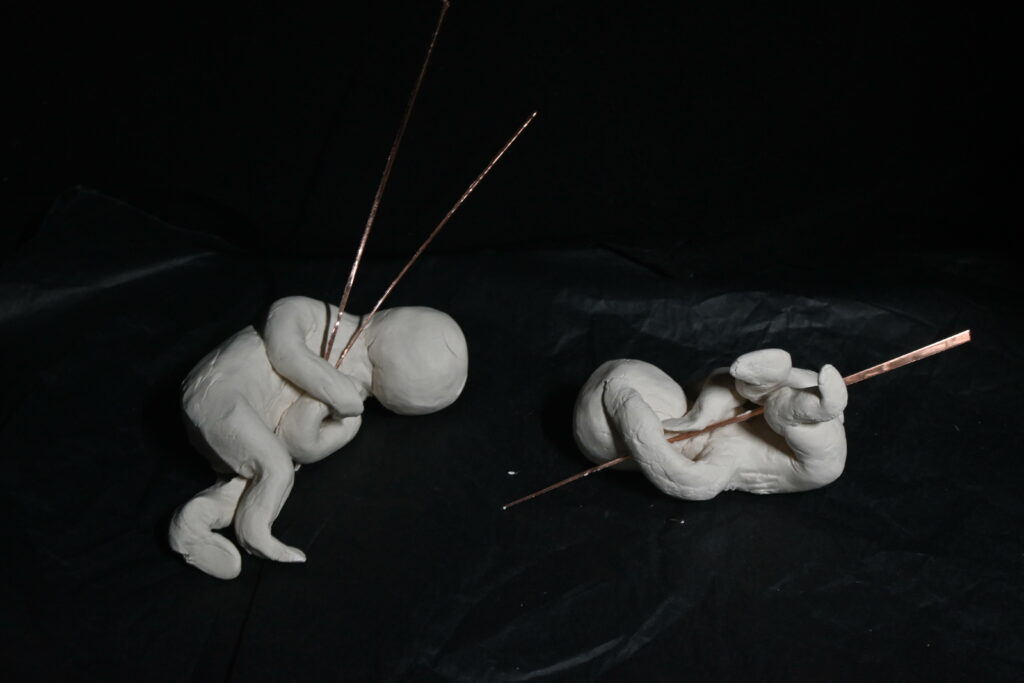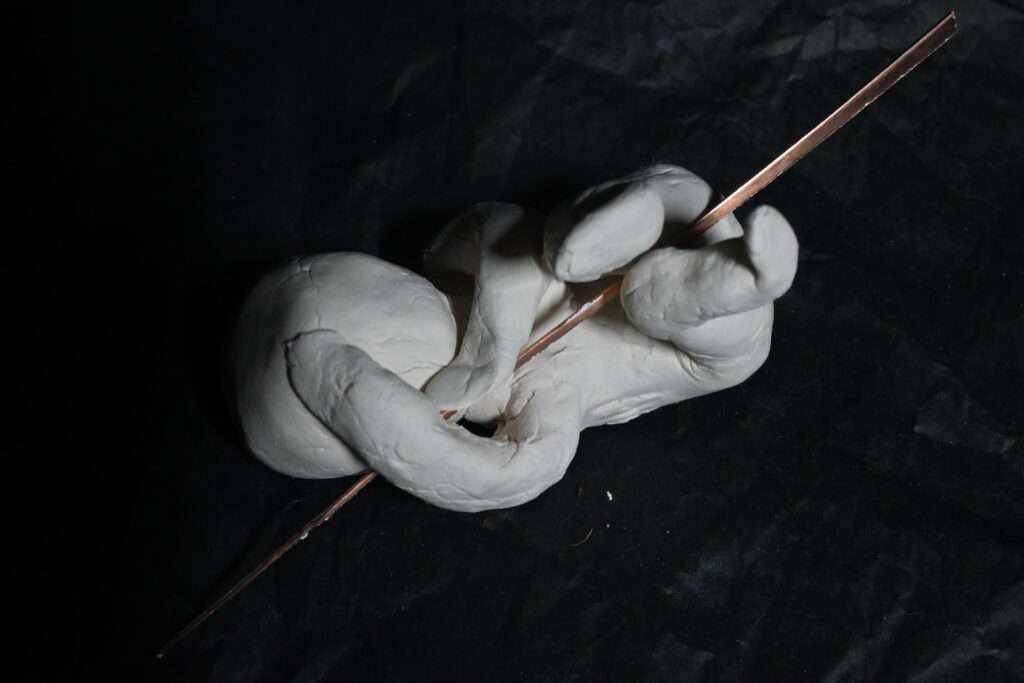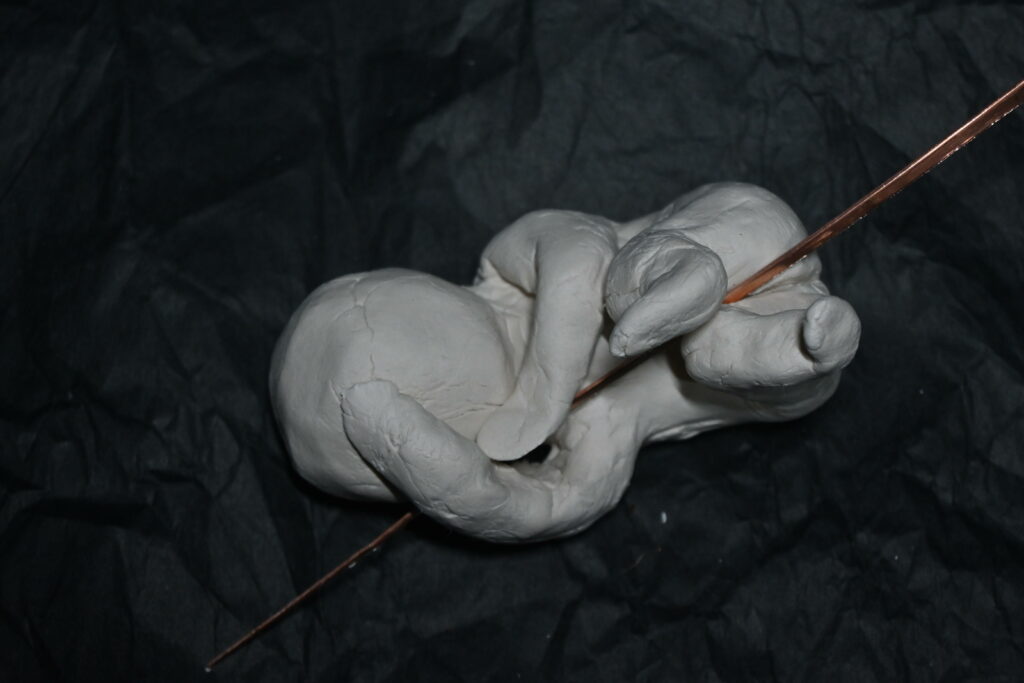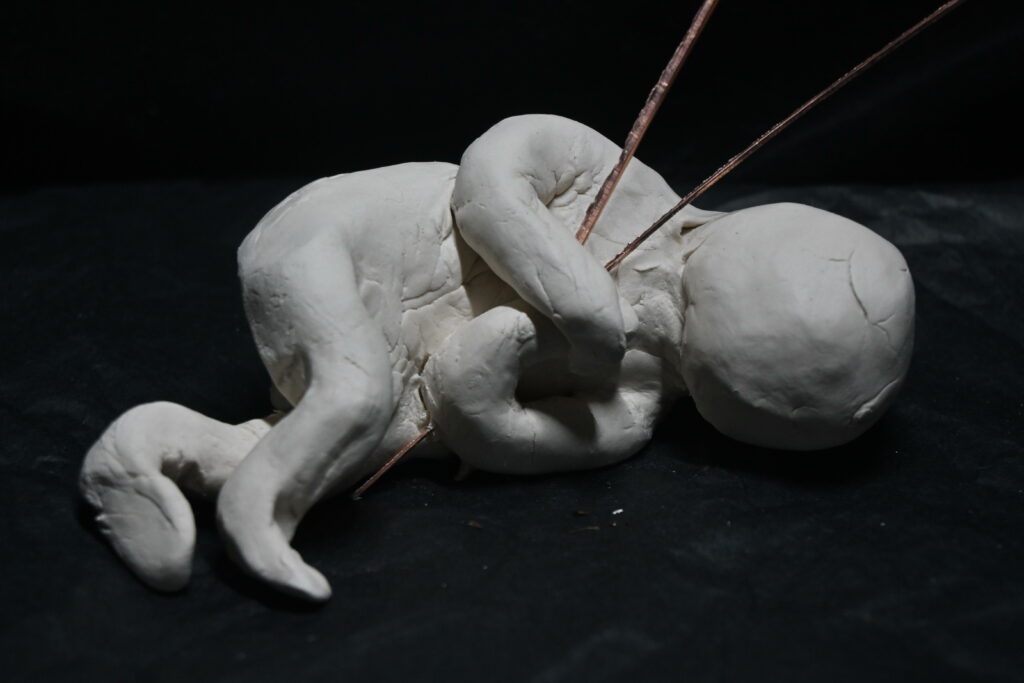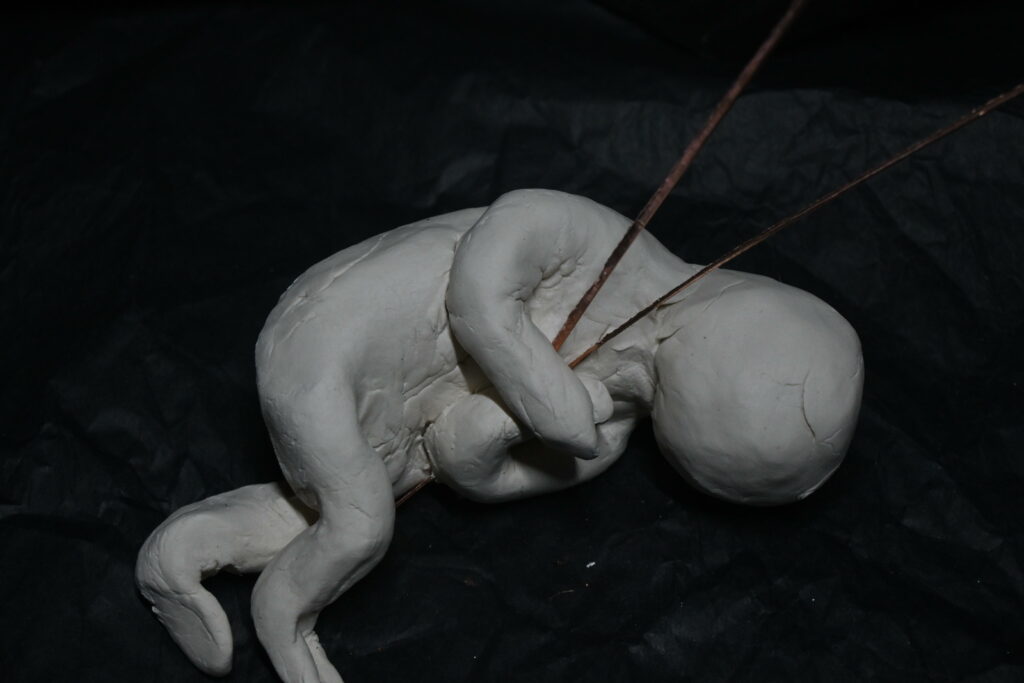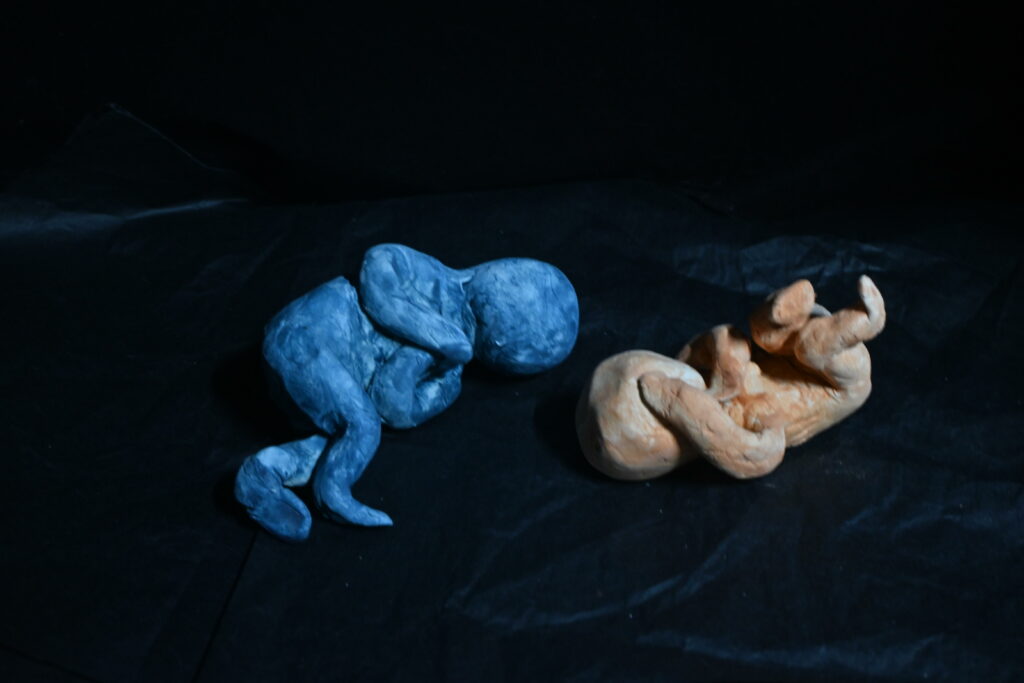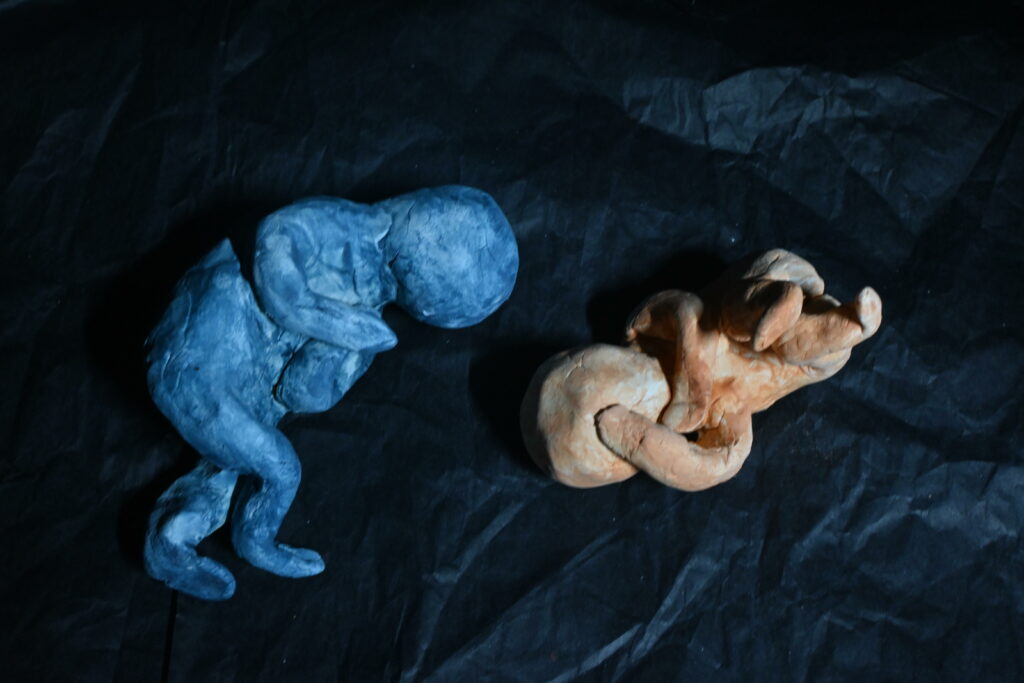 "Mother and Children"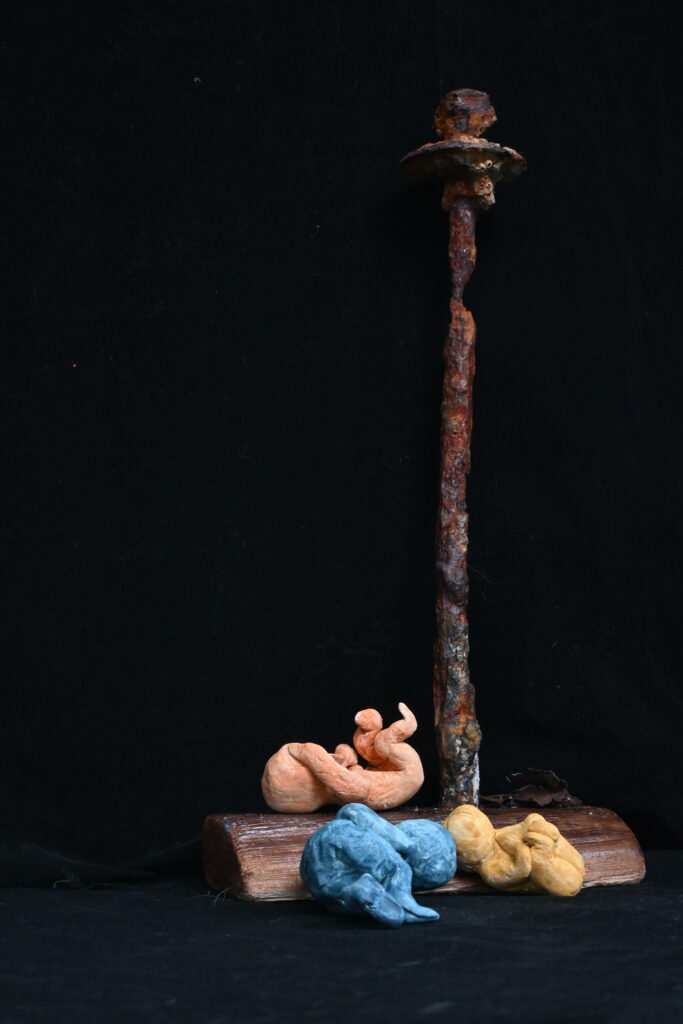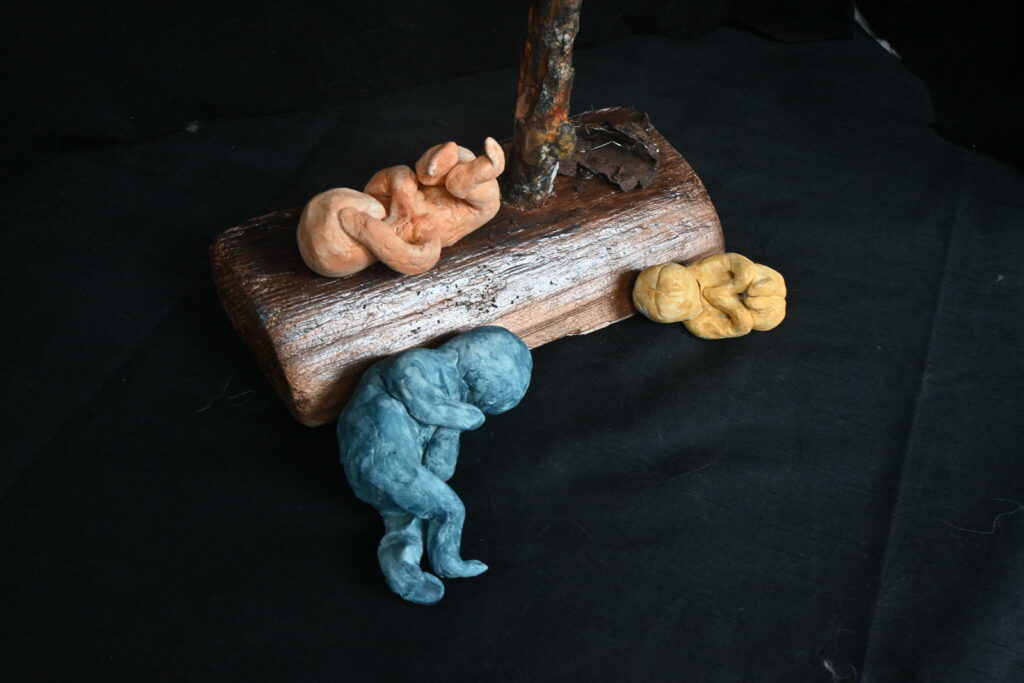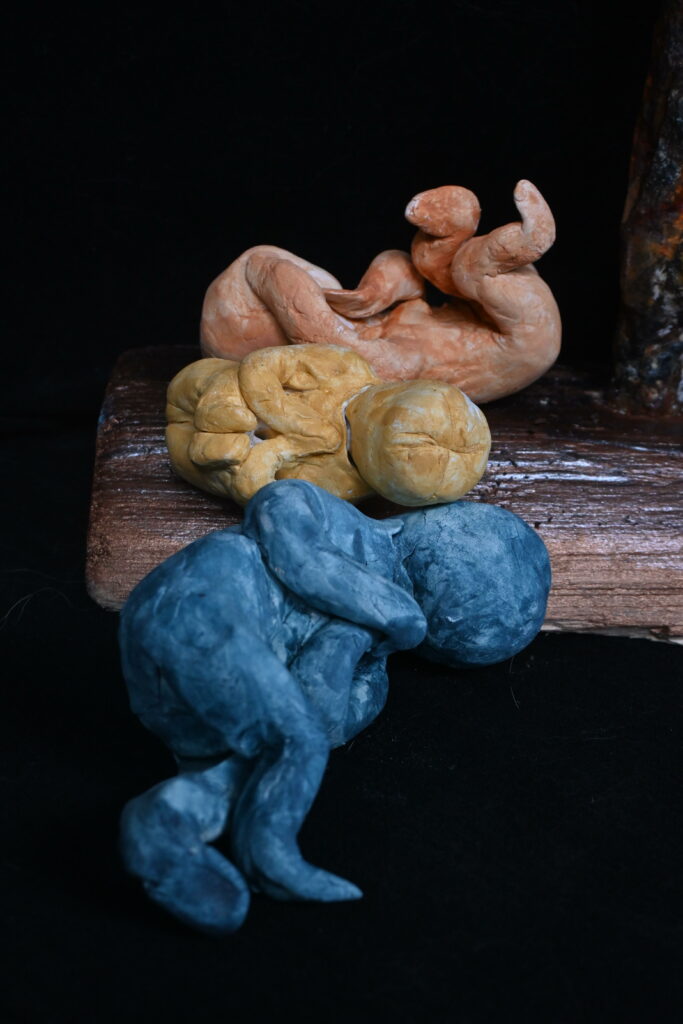 Baby Body #4
On November 13, I started to make another Baby Body, #4.
My fingers would not cooperate, my mind had shut down, and I struggled to work the clay. I persisted, but really was not feeling the process of making this, what will be the last, baby body. For some reason, three has been enough, as decreed by some part of the inside of me.
So, here is the final Baby Body, who will not be photographed or be part of the other three.
The development of "Avarice"